Warriors from China's world-famous Terracotta Army — which is considered the Eighth Wonder of the World* — have arrived in Australia.
Eight life-size warrior figures, two life-size horses, and two half-size chariots* have travelled here as part of a new exhibition at the National Gallery of Victoria.
The Terracotta Army was hidden for thousands of years in China and it was only good luck that discovered it in March 1974.
If a Chinese farmer had dug for water just a few steps further east in his pomegranate orchard in Shaanxi province, one of the greatest archaeological* finds of the 20th century might still remain hidden underground.
Instead of water, he stumbled upon the first fragments of the gigantic life-size army crafted and buried more than 2300 years earlier to protect China's first emperor in the afterlife.
About 2000 individual warriors have since been dug up and painstakingly* rebuilt.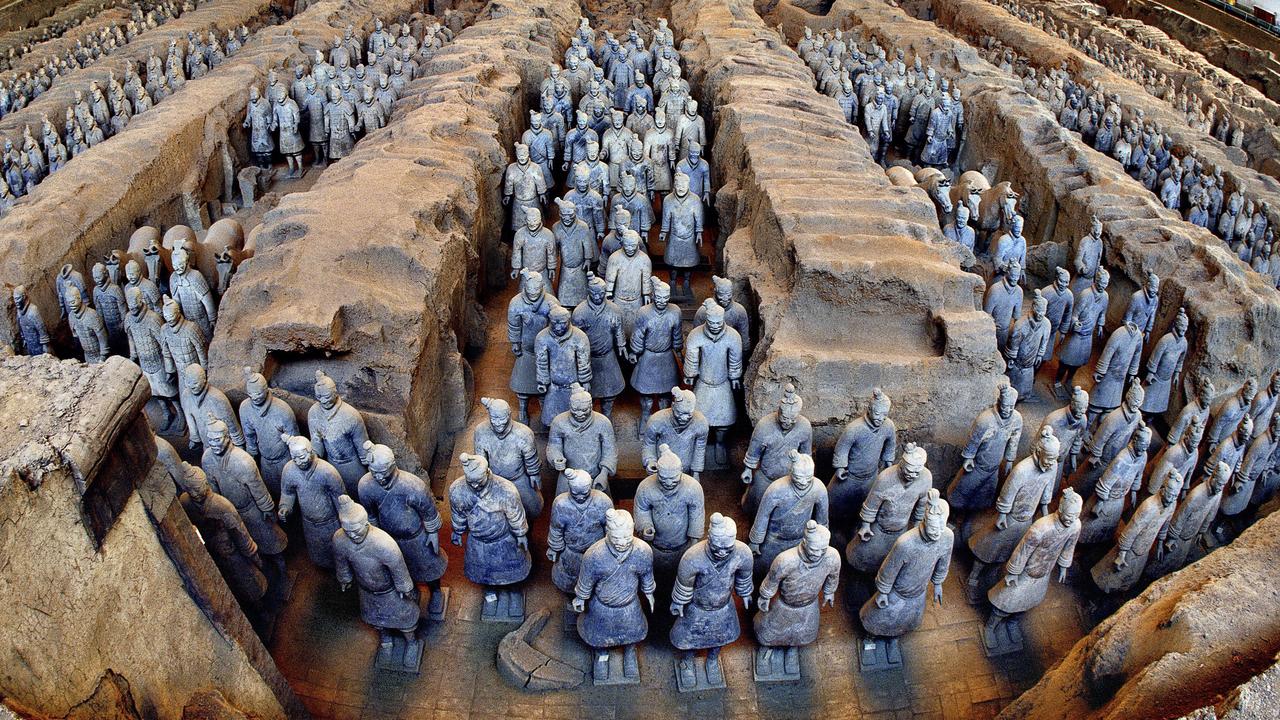 Surprisingly, there were no historical records or local knowledge about the army found 1.5km east of the site of Emperor Qin Shi Huang's tomb at Mount Li, Xi'an.
The total army, estimated at between 6000 and 8000 warriors, has been found throughout three burial pits across the mausoleum* site.
First opened to the public in 1979, the site attracts between 20,000 and 30,000 tourists each day. The army is housed in an enormous hangar* space more than 230m long and 60m wide with columns of warriors presented in battle formation facing east.
It provides a glimpse of the grand life of China's first emperor Qin Shi Huang, who is also famous for making the language, currency, weights and measures consistent across China — the writing system still in use today.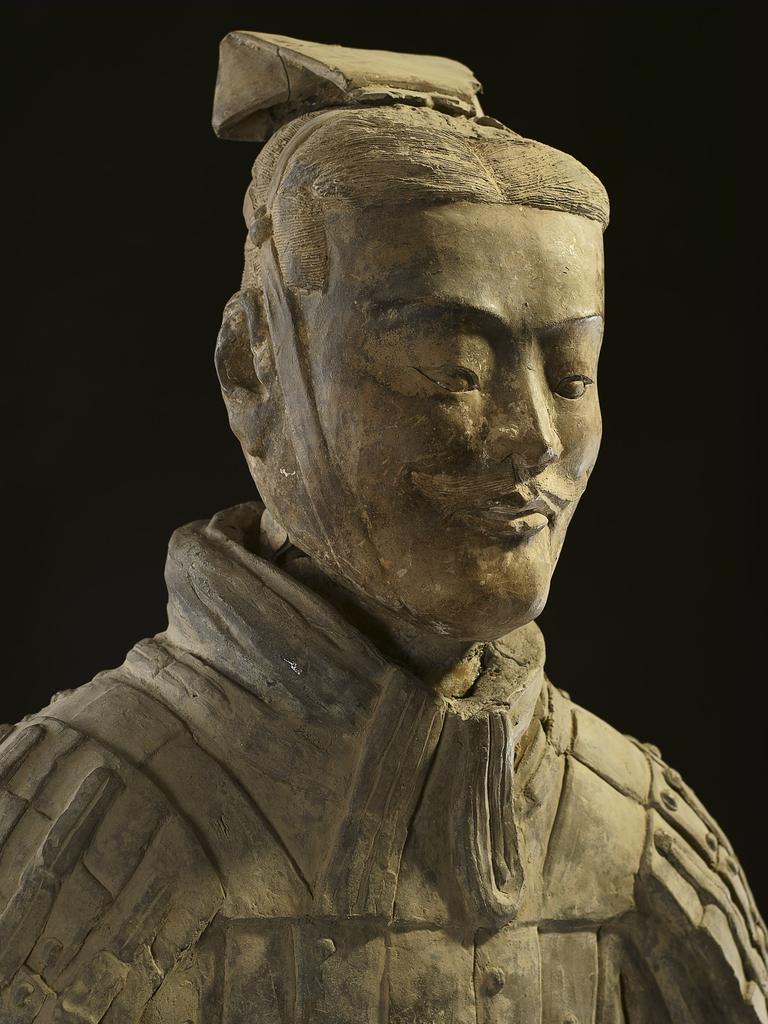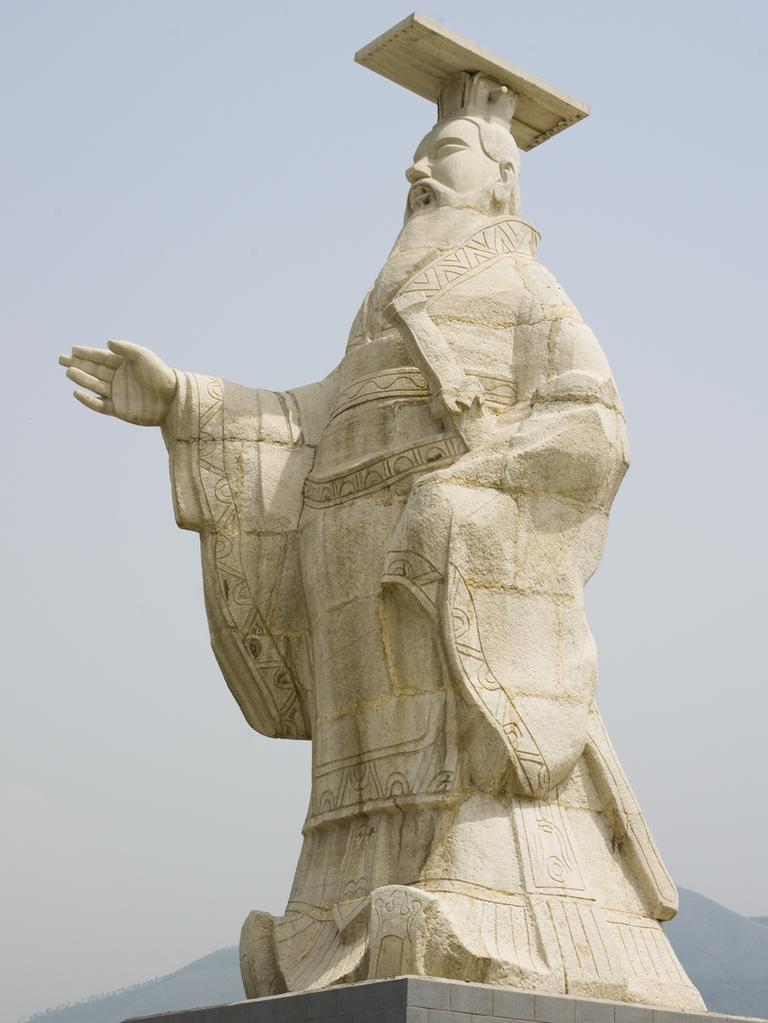 More than 700,000 craftsmen and workers are thought to have worked on building the army and tomb over about 40 years.
The emperor is believed to have ordered work on the tomb even before his coronation* at 13.
Each warrior is almost 2m tall, weighs about 180kg and has unique characteristics, including facial hair and hairstyles. Some have topknots in their hair, others goatees; some wear caps and tunics, others armour. They have different builds, expressions and postures.
Secrets of the Dead: China's Terracotta Warriors
Each warrior takes between two months and a year to recreate from excavated* pieces, with at least 50 archaeologists still working the three main sites.
The warriors represent each of China's seven states.
Other items uncovered include 40,000 pieces of weaponry, mainly arrowheads, and it's thought 150 cavalry horses and 140 battle chariots drawn by 520 chariot horses also exist.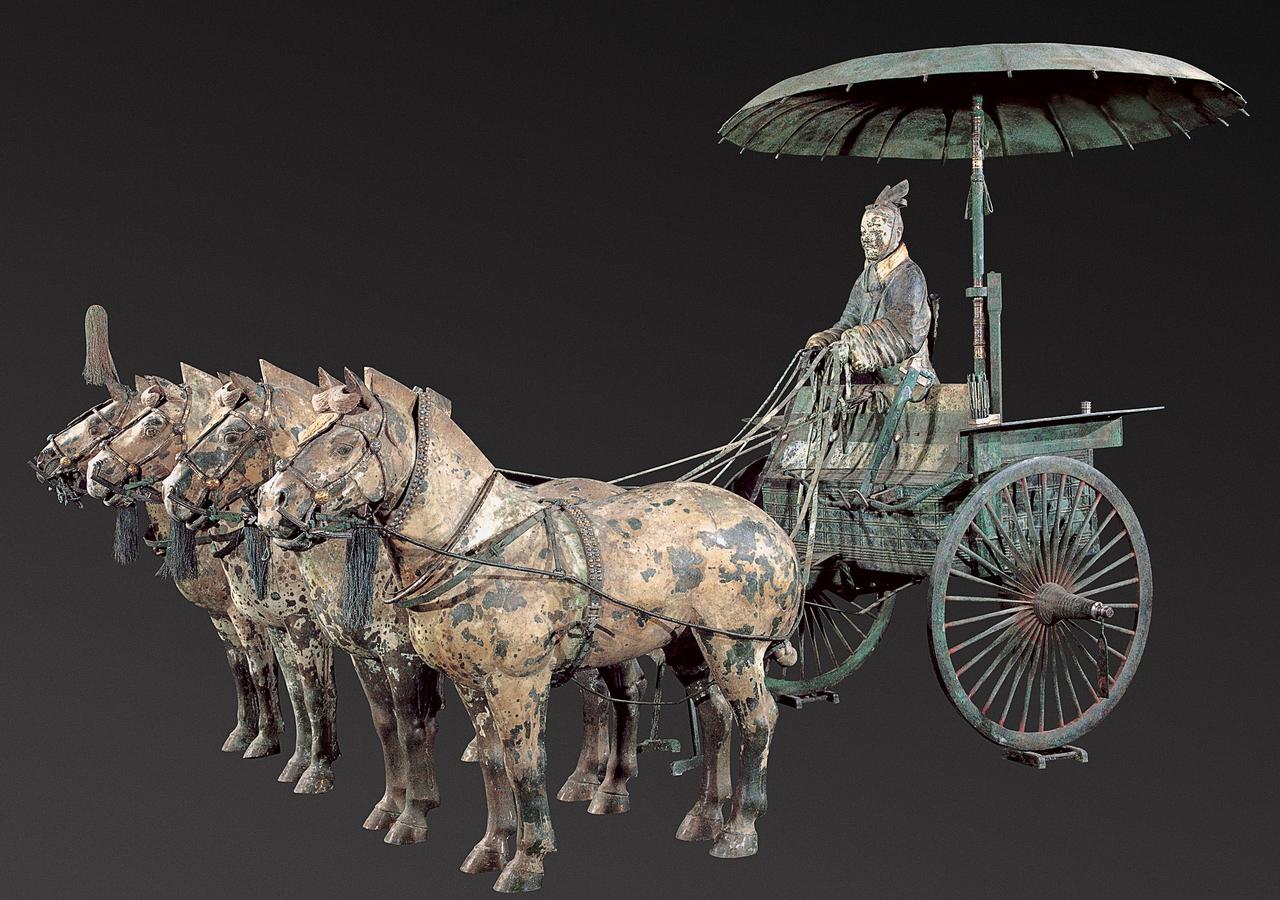 Ma Shengtao, from the Terracotta Warriors Museum in Xi'an, said the work was slow and laborious.
"The goal is to replace the warriors where they were found, once they have been reconstructed," he said. "Eventually, they all will be made whole, but this will take a very long time. For now, we have worked for (the past) 10 years and we have made 200, so it's hard to say (when the work will be finished)."
Six years after the discovery of the warriors, the potential splendour* of the emperor's tomb was confirmed with the discovery of two bronze chariots. Reconstructed from thousands of pieces and decorated with gold and silver, the chariots — one is an open battlefield chariot, the other a covered chariot used to make imperial* tours of the empire — are the only two discovered so far and, as such, do not leave China.
Exact replicas* are part of the Melbourne exhibition.
It's not the first time the Terracotta Army has been exhibited at the NGV. In 1982, the gallery was the first place outside China that the warriors were seen.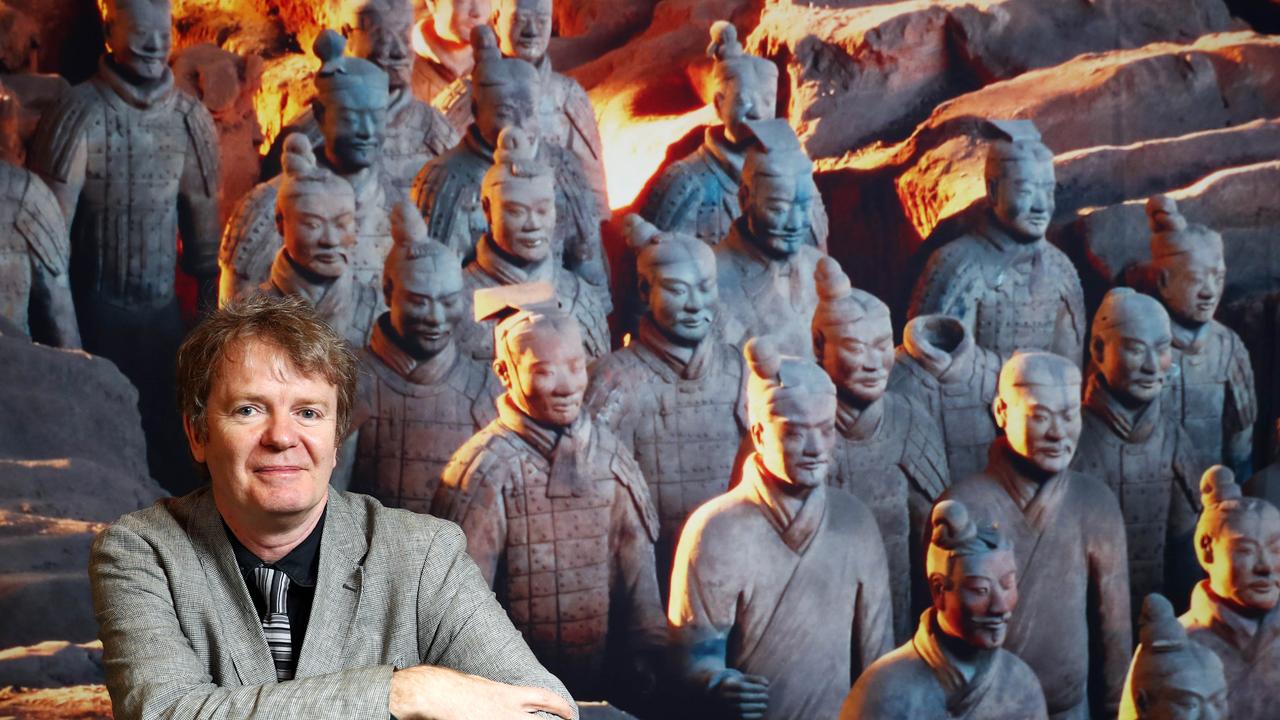 NGV senior curator of Asian art Wayne Crothers said the time was right for them to return.
"They are such an important historical, archaeological, cultural, enlightening discovery that almost 40 years after their initial* exhibition, they are something that inspires people's imagination and curiosity about China, about Chinese history and Chinese history's relevance in a contemporary* context," he said.
Terracotta Warriors: Guardians Of Immortality is at NGV International from May 24 to October 13.

GLOSSARY
Wonders of the World: must-see things around the world
chariots: a two-wheeled vehicle drawn by horses
archaeological: relating to the study of history through digging up sites and artefacts
painstakingly: taking a lot more care or effort
mausoleum: tomb or burial spot
hangar: a large building
coronation: crowning
excavated: dug up
splendour: luxury
imperial: royal
replica: a copy of something
initial: first
contemporary: belonging to the present

EXTRA READING
World's longest dragon lands in Australia
Weird, whacky, wonderful nature photos
Fearless girls for International Women's Day

QUICK QUIZ
Which country is the Terracotta Army found in?
How many are thought to be in the total army?
Which emperor asked for them to be added to his tomb?
How long did it take to build the army?
How much does each warrior weigh?

LISTEN TO THIS STORY


CLASSROOM ACTIVITIES
1. The Real Eighth Wonder
We read in the article that the Terracotta Army is considered the Eighth Wonder of the World. However, there are also numerous other places or constructions that claim to be the Eighth Wonder.
What do you think? Write a convincing exposition to explain why you agree that the Terracotta Army should be considered the Eighth Wonder or explain why some other site is more worthy of the title. Be sure to give reasoned arguments to support your claim.
Time: allow 40 minutes to complete this activity
Curriculum Links: English, History, Critical and Creative Thinking
2. Extension
Find out more about the emperor for whom the warriors were crafted by doing your own research to complete the following fact quest:
Name the seven Chinese states that Emperor Qin Shi Huang united.
What was Emperor Qin Shi Huang's name at birth, how was his name changed and what does it mean?
Explain one way that Emperor Qin Shi Huang improved China.
Can you give an example of a negative act by Emperor Qin Shi Huang?
Time: allow 20 minutes to complete this activity
Curriculum Links: English, History

VCOP ACTIVITY
Retell the story of discovery
It is March 1974 in Xi'an, China. You need to go and dig in the farm for water … Tell us what happens next.
Use the article to collect some more facts to help retell the discovery.
Extension: The biggest jigsaw you have ever done
You have just been assigned to the Xi'an archaeological restoration team. Your team has just found another warrior, but it has been shattered to pieces. Your task is to carefully discover all the pieces and piece it back together. Retell in an abridged format, your time trying to find and rebuild the hardest and biggest jigsaw you have ever made.

HAVE YOUR SAY: What did you like most in this story about the Terracotta Army and its warriors?
No one-word answers. Use full sentences to explain your thinking. No comments will show until approved by editors.