The bushfires that severely damaged the east coast of Australia over the Christmas-New Year period destroyed millions of hectares* of land, people's homes and businesses and took the lives of residents and millions of our native animals.
Numerous* fundraising activities were launched to raise money to assist those affected.
One of those events was this week's Fire Fight Australia concert in Sydney. It was described as one of the biggest line-ups of rock bands and musicians Australia had ever seen, running all day on Sunday to raise funds to help the bushfire recovery process.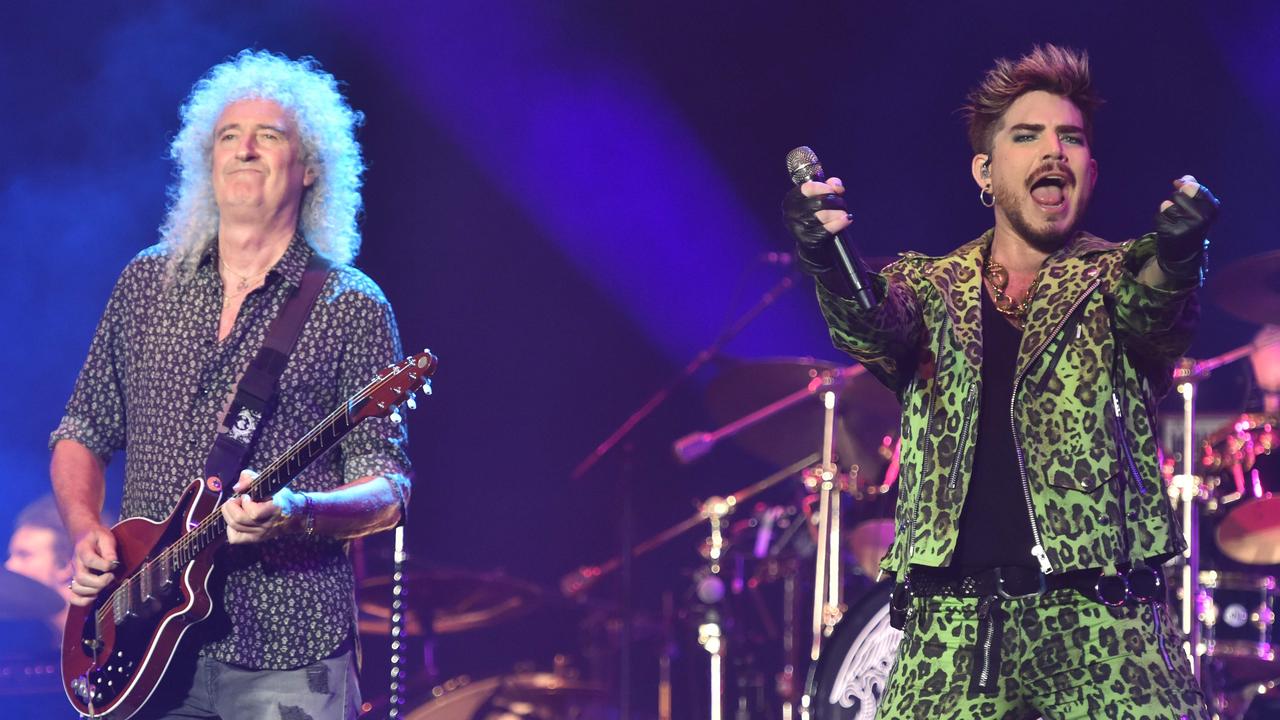 World-famous rock band Queen with frontman* Adam Lambert were among the acts that played along with Australian artists John Farnham and Olivia Newton-John, plus Amy Shark, Delta Goodrem and 5 Seconds of Summer.
As a news story I knew it would dominate* the headlines that day and probably the next so I thought it should be the topic for my daily cartoon.
Fight Fire Australia: The best moments from bushfire relief concert
There are many ways to approach this story but I thought my angle would be about how this huge concert would help those most affected by the fires. Not only would it raise money but it was a welcome break from the pain and anxiety the fires had caused. It was also a chance to thank the firefighters themselves.
When looking at the damage done by the bushfires it seemed to me that our native animal population suffered massive* losses.
So I thought I should recognise that fact. But how?
Mark Knight's cartoon. Right-click and open in new tab for full-sized image.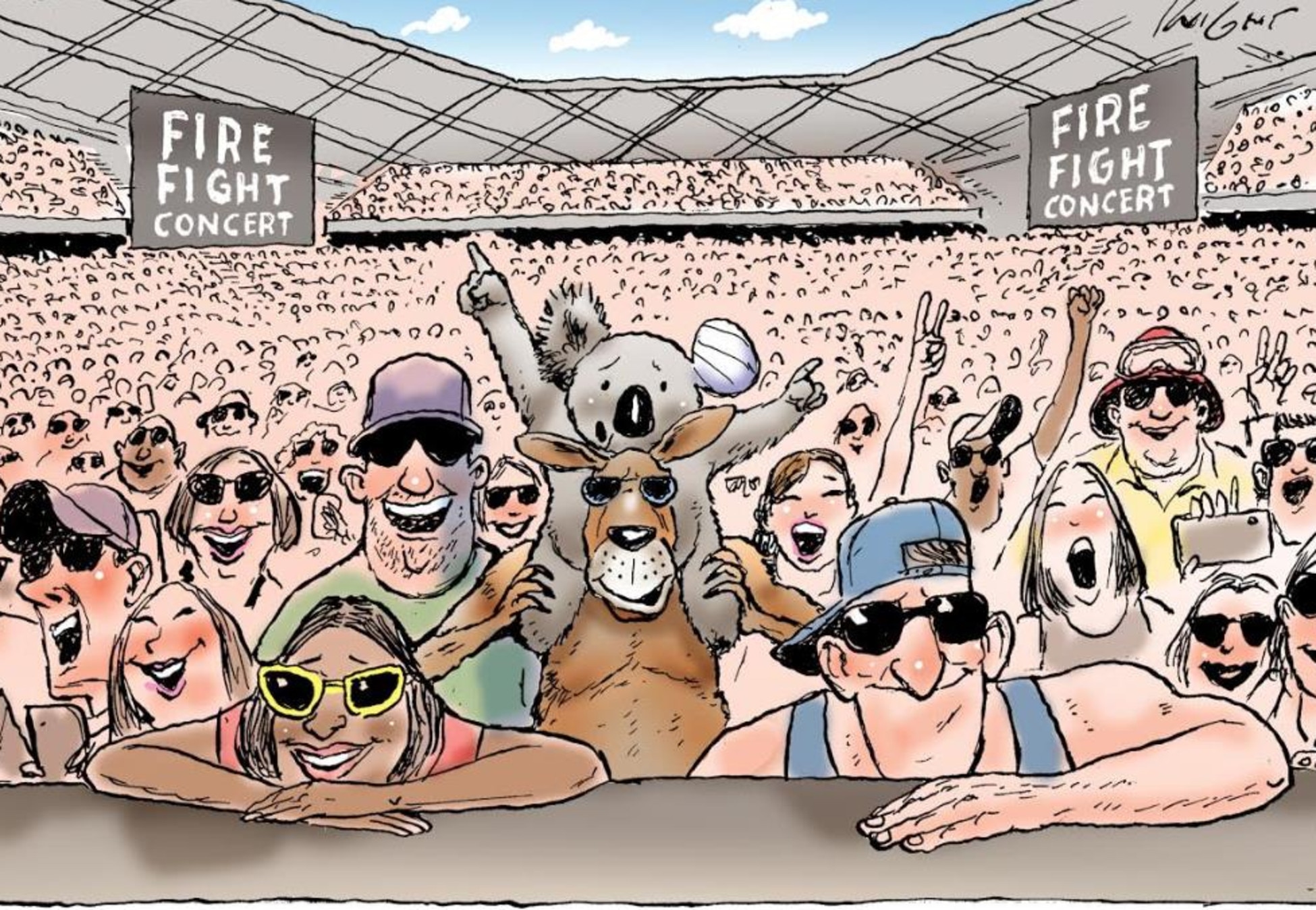 I was watching the concert and I saw people enjoying the day dancing, girls rocking to the music on the shoulders of their boyfriends and that's when I thought some of our native animals should be included, too. They should be front and centre in the crowd.
I created a view from the stage looking out into the huge stadium full of people. I love to draw animals, and a koala on the shoulders of a kangaroo singing along with Delta Goodrem's version of I am, you are, we are Australian said everything that needed to be said about the day.
Drawing animals with human-like qualities is called anthropomorphisation*. Of course in reality, it's not often you see a koala and a kangaroo dancing the day away at a concert, but in cartoons, exaggeration* and caricature* are tools that help in expressing an idea.
GLOSSARY
hectares: a measurement of the size of land
numerous: many
frontman: lead singer
dominate: stand out from or control
massive: huge
anthropomorphisation: attributing human traits or emotions to non-human things
exaggeration: claiming something is better or worse than it is
caricature: cartoon
EXTRA READING
Is vandalising vandalism a new form of art?
Weary firefighters hailed as heroes
Predicting drought and bushfires from space
QUICK QUIZ
What was the name of the concert?
Why did Mark Knight draw a koala and kangaroo in his cartoon?
Name two acts that sang at the concert.
Which song inspired Mark Knight's image?
What is anthropomorphisation?
LISTEN TO THIS STORY
to come
CLASSROOM ACTIVITIES
1. Caption it!
Cartoonist Mark Knight has not used a caption on this cartoon, letting the imagery speak for itself.
Read Mark's explanation of what the cartoon means again and write two, three or four short sentences, just to make sure you understand what the cartoon is saying.
Using your sentences to help you, write a caption for the cartoon or some thought bubbles or quotes from the people or animals in the cartoon that will make Mark's meaning clearer for children or people who haven't been reading the news this week.
Time: allow at least 20 minutes to complete this activity
Curriculum links: English, Humanities, Visual Arts, Critical and Creative Thinking
2. Extension
Look through the most recent stories on Kids News and choose one to draw a cartoon about.
Use Mark's three-step process to get started:
What is my subject?
What do I want to say about this issue?
How do I say it? Do I use visual metaphors (an image that the viewer is meant to understand as a symbol for something else), multiple panels or symbolism (when one idea, feeling or emotion is represented by something else such as a: picture, character, colour or object)?
Time: allow at least 40 minutes to complete this activity
Curriculum links: English, Humanities, Visual Arts, Critical and Creative Thinking
HAVE YOUR SAY: Why do you think Mark Knight imagined the koala and kangaroo dancing to I am, you are, we are Australian?
No one-word answers. Use full sentences to explain your thinking. No comments will show until approved by editors.