Hosier Lane, Melbourne's famous laneway adorned with graffiti and street art, made the news this week after a gang of youths with paint-filled fire extinguishers went on a rampage* spraying and destroying the laneway art.
When the public and Lord Mayor of Melbourne Sally Capp expressed outrage at the attack, it proved how far graffiti art has moved into the mainstream*.
Once upon a time, graffiti art was public enemy No. 1 and the artist was more than likely to be arrested rather than celebrated!
But thanks to world-famous artists like Banksy in Britain, graffiti — or street art as it is called these days — is held up as a genuine form of art. Being an artist myself (well, cartoonists are artists, too!), I was fascinated by the attack and the reaction to it. So I decided to dedicate my cartoon in the paper the next day to the topic.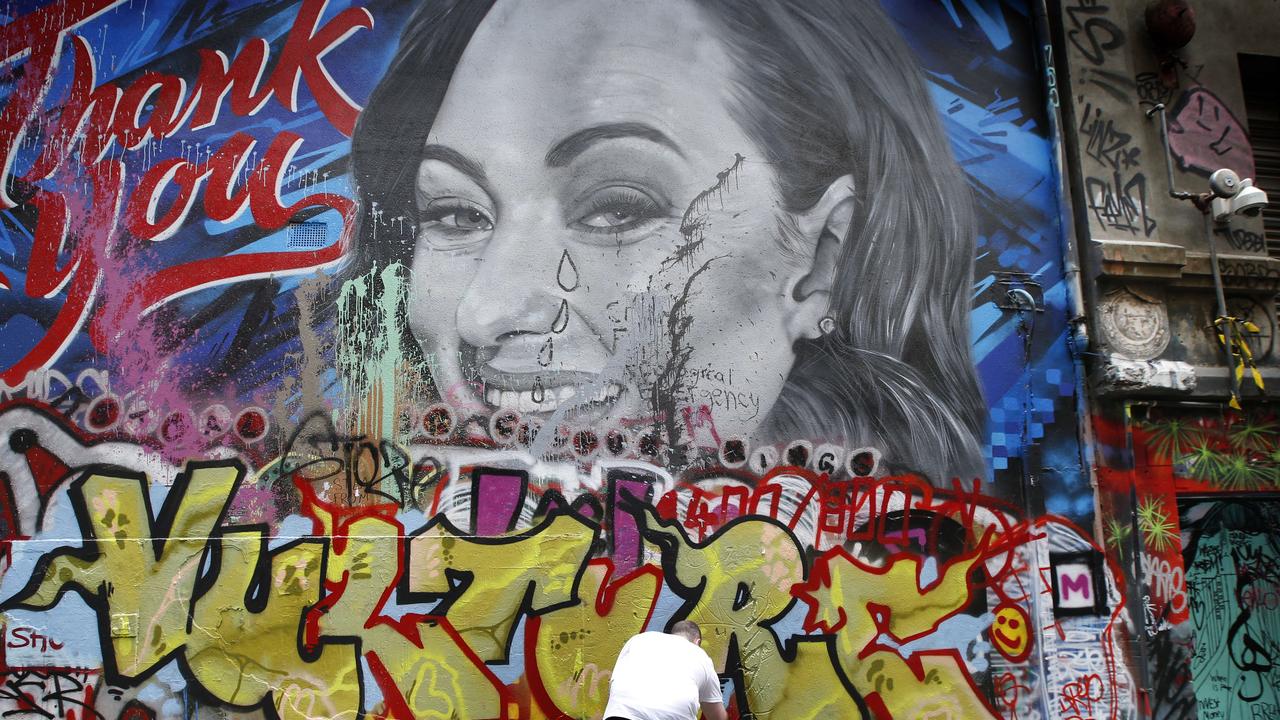 I have always believed graffiti is an art with a limited lifespan*. It is the most "in the moment" art you can get. If it isn't painted over by another graffiti artist that day, it could be pressure-washed off by a council cleaner soon after.
A lot of the artwork is beautiful, the artists really know their craft, with vivid* spray paint colours and outrageous* designs.
But the most powerful and exciting thing about the art form is its limited life expectancy.
Hosier Lane is a major tourist attraction. It has a wonderful grungy* feeling and is always full of people having their photos taken or taking selfies, posed in front of the street art.
But success has its downside. Many purists* in the street art community felt that Hosier Lane was becoming too commercial*. Murals were painted and then models were photographed in front of this art for advertisements.
Mark Knight's Hosier Lane cartoon. Right-click and open in new tab for full screen.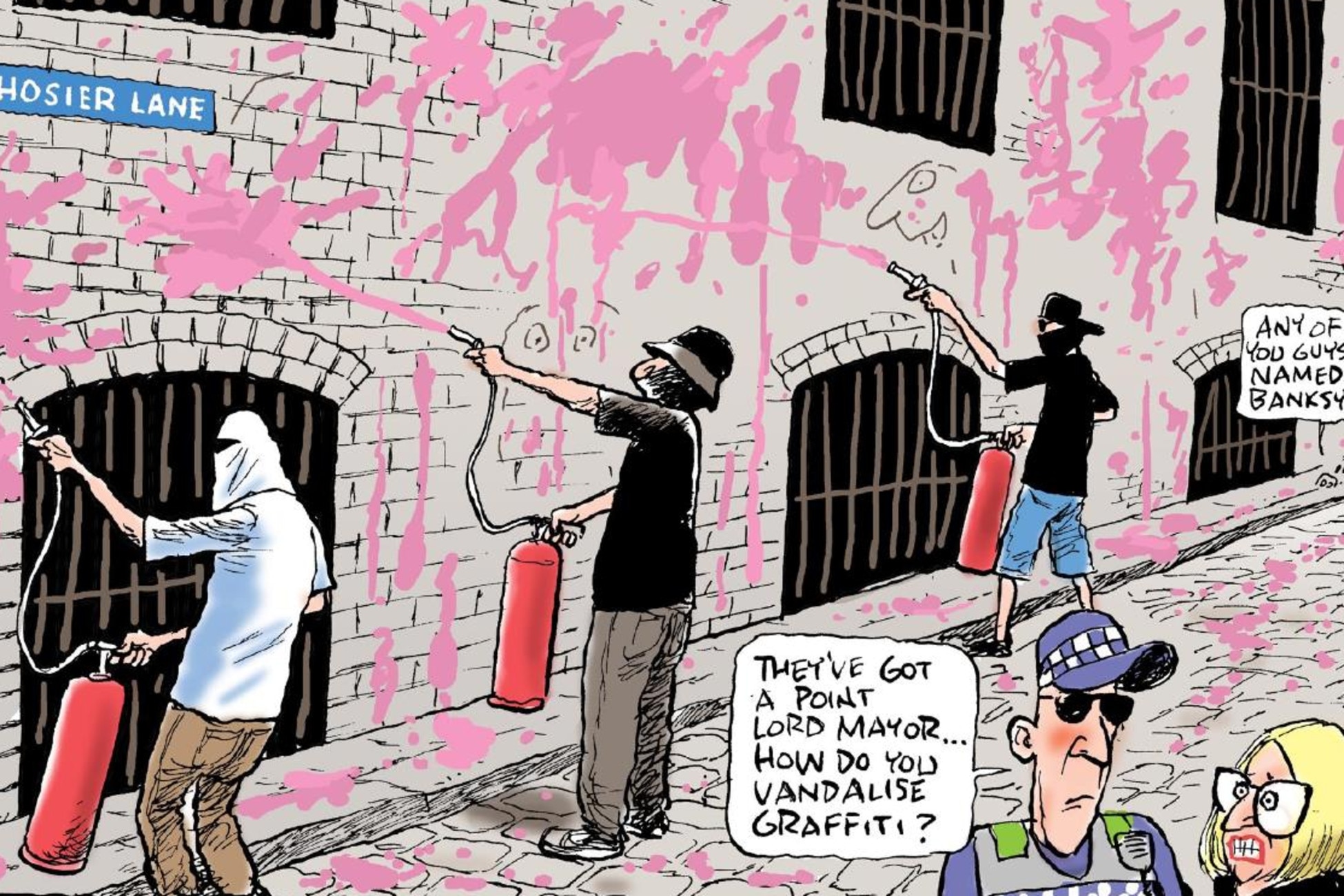 And so a small group of youths took it upon themselves to strike a blow for the rebels of street art and went about spraying over existing art in the laneway. To some its was vandalism.
To others it was a correction in the imbalance of the laneway's original purpose. A move away from commercialism*.
Artists would move in and paint over the destruction with new art and Hosier Lane's gallery of street art would start all over again.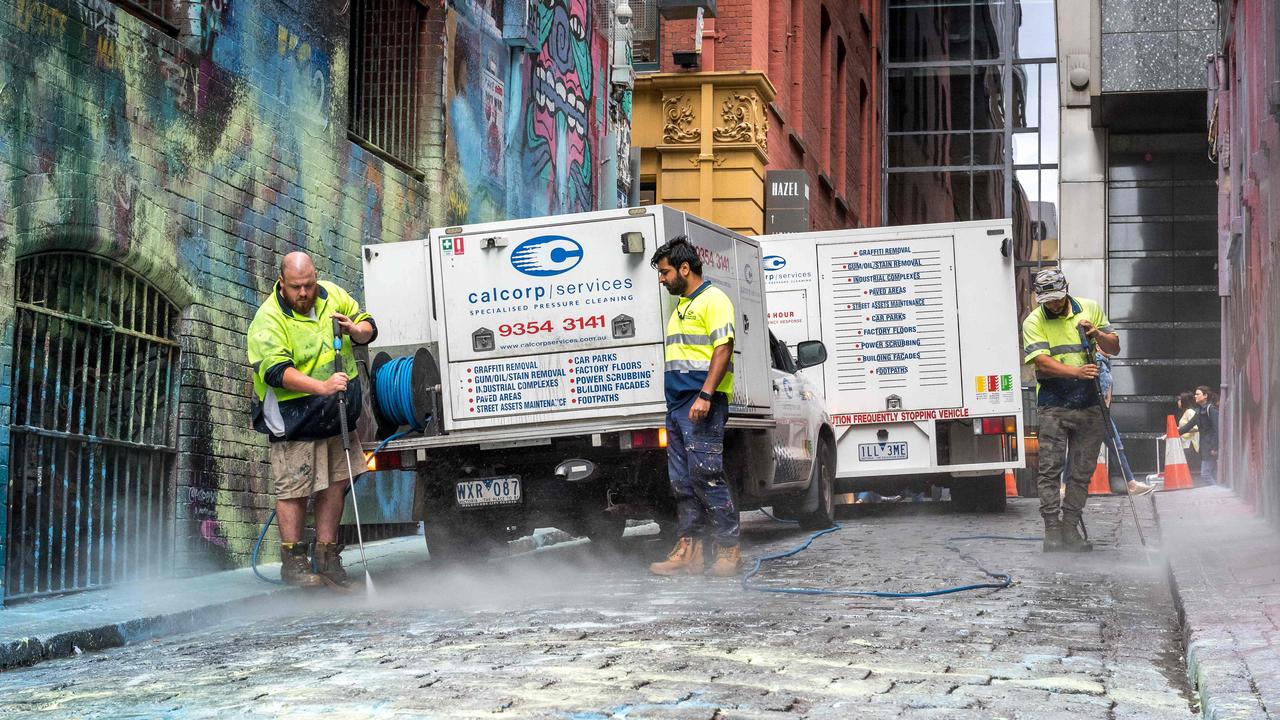 In my cartoon I wanted to show that graffiti is an artistic expression that only lasts till the next artist comes along and paints their art over the top.
And when the Lord Mayor called for the youths who spray-painted the walls to be arrested for vandalism, I thought it ironic*. Graffiti is vandalism! Street art is rebellious* in nature! How can you vandalise vandalism?
My cartoon shows the youths spraying the walls, and a confused policeman asking the Lord Mayor the question … "How do you vandalise graffiti?"
But that's art, it's open to a lot of interpretation*!
GLOSSARY
rampage: out-of-control behaviour by a group of people
mainstream: normal or ordinary
lifespan: how long something survives
vivid: bright
outrageous: bold or eye-catching
grungy: messy and dirty
purists: people who stick to traditional rules or structures
commercial: intended to make money
commercialism: has an emphasis on making money
ironic: happening in a way that is not expected
rebellious: disobedient
interpretation: the action of explaining the meaning of something
EXTRA READING
Not even Ash can drag ScoMo out of strife
Banksy's touching Christmas reindeer mural
QUICK QUIZ
Which laneway in Melbourne was vandalised?
What did the vandals use to cause damage?
What does Mark Knight describe as the most powerful thing about street art?
Why were some people unhappy with the type of art in Hosier Lane?
What did Mark Knight find ironic about this news story?
CLASSROOM ACTIVITIES
1. Street art or vandalism?
Read Mark's explanation about why he found the Hosier Lane vandalism an interesting news story and write two, three or four short sentences, just to make sure you understand what the cartoon is saying.
Now consider a new caption for the cartoon to describe how you feel about the issue. Do you consider graffiti street art or vandalism? What do you think the characters in the cartoon should be saying?
Time: allow at least 20 minutes to complete this activity
Curriculum links: English, Humanities, Visual Arts, Critical and Creative Thinking
2. Extension
Look through the most recent stories on Kids News and choose one to draw a cartoon about. Use Mark's three-step process to get started:
What is my subject?
What do I want to say about this issue?
How do I say it? Do I use visual metaphors (an image that the viewer is meant to understand as a symbol for something else), multiple panels or symbolism (when one idea, feeling or emotion is represented by something else such as a: picture, character, colour or object)?
Time: allow at least 40 minutes to complete this activity
Curriculum links: English, Humanities, Visual Arts, Critical and Creative Thinking
VCOP ACTIVITY
With a partner see if you can identify all the doing words/verbs in this text. Highlight them in yellow and then make a list of them all down your page. Now see if you and your partner can come up with a synonym for the chosen verb. Make sure it still makes sense in the context it was taken from.
Try to replace some of the original verbs with your synonyms and discuss if any are better and why.
Curriculum Links: English, Big Write and VCOP
HAVE YOUR SAY: Do you think graffiti is street art or vandalism?
No one-word answers. Use full sentences to explain your thinking. No comments will show until approved by editors.