Sue Elcock went on a fishing trip to keep her son company — and was shocked to hook a 62kg monster fish longer than herself
On a trip to Perth from her home in the UK to see son Simon and his wife Michelle, the 68-year-old didn't expect to catch more than a tiny fish when she joined him on a charter* boat.
But when she felt a tug on her line during the 5am trip off the coast of Lancelin, 120km north of Perth, she thought she had caught a "fair-sized fish".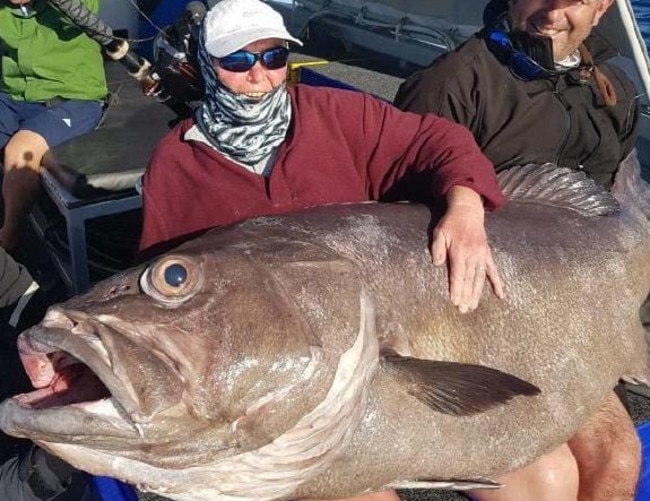 Forty minutes later, Sue, Simon and others on the boat helped haul in the giant fish — a bass grouper which measured 162cm — 5cm longer than petite* Sue.
Sue from Lilleshall, UK, said: "Simon is an experienced sea angler* and I have been out with him before when I have been visiting he and Michelle.
"The biggest fish I've caught before was a snapper about a foot long and when this one took the bait on the bottom, the tug on the line didn't seem much.
"I was using one of Simon's electric reels* but it still took nearly an hour to get him on board.
"And I just couldn't believe the size of it when it reared* its head out the water. It was the size of a settee (couch)."
Sue, who is staying with Simon, 49, until the end of the month, said: "Someone said you would need an awful lot of chips to go with a fish like that.
"But I've helped cut him up and get all that fish into the freezer.
"Simon and Michelle will be enjoying fish barbies for months when I'm long back in the UK."
Simon said: "Mum caught a giant fish and I was thrilled for her. The photo of her holding the fish is one to treasure."
This story originally appeared on The Sun and is republished with permission.
GLOSSARY
charter: the hiring of an aircraft, ship, or motor vehicle
petite: small in size
angler: fisherman/woman
reels: cylinders on which thread is wound
reared: raise up
LISTEN TO TODAY'S STORY
CLASSROOM ACTIVITIES
1. Write a Letter
Imagine you are Sue Elcock and write a letter to a close friend at home about the experience that has made you somewhat 'famous'. Make sure you include the details of what happened. Use adjectives to describe what you could see, hear, smell and feel. What emotions might you have been experiencing? How did Simon feel about you catching this fish?
Extension: Use information in the article to help you answer these problems. You will need to read carefully to ensure you answer correctly. You may also need more information than what is in the article.
— How tall is Sue?
— Is this fish longer or shorter than you? By how much?
— Before catching this fish, how long was the previous fish she had caught?
— Convert this length to centimetres, then compare it to this bass grouper. What is the difference in length between them? (Hint: 1 foot = 30.48cm – this could be rounded to 30.5cm)
Time: Allow 30 minutes
Curriculum links: English, Mathematics
2. Fishing is fun!
Do you agree with the statement that fishing is fun? Write an exposition (persuasive piece) about how you feel about fishing. Try and convince your reader to agree with you. Your piece of writing should have at least two reasons for your point of view with some evidence to support them. Organise your ideas into paragraphs.
Extension: The article says that Simon and Michelle will be enjoying fish barbeques for months. Can you think of different ways to prepare this fish so that they don't become bored eating it?
Think of at least four different ways that this type of fish can be cooked. You might like to look at some recipes to help you. Make sure the way of cooking the fish is different in each recipe (Tip: look for words like; grill, stew, bake, fry, etc to tell you how it is cooked)
How else can Simon and Michelle use up this amount of fish, without wasting it?
Time: Allow 40 minutes
Curriculum links: English, Ethical Capability
VCOP ACTIVITY
With a partner see if you can you identify all the doing words/verbs in this text? Highlight them in yellow and then make a list of them all down your page. Now see if you and your partner can come up with a synonym for the chosen verb- make sure it still makes the context it was taken from.
Try and see if you can replace some of the original verbs with your synonyms and discuss if any are better and why.
Curriculum Links: English, Big Write and VCOP
IN ONE SENTENCE, TELL US WHAT YOU THINK ABOUT TODAY'S STORY
Please do not use one-word answers as they will not be published. Explain what you enjoyed or found interesting about the article. Use lots of adjectives.