Three baboons escaped at Sydney's Royal Prince Alfred Hospital this week, sparking a baboon hunt through the inner western suburbs.
The large male and two smaller female baboons broke free from a truck as it was delivering them to a medical research centre­ in the RPA grounds at Camperdown, NSW, prior to the male having minor surgery. The females were with him to keep him company.
Witnesses filmed the primates as they ambled* into the Queen Elizabeth II carpark at the hospital. Police rapidly sealed the entrance with a tarpaulin* until animal handlers from Taronga Zoo arrived to capture them.
Three baboons on loose at RPA Hosptial
One astonished eyewitness, Michael, called radio station 2GB and said: "I'm deadset* serious. I'm at RPA, I'm six floors up and I just happened to gaze out at the carpark … and there were three baboons in the carpark.
"I'm deadset serious they even had shiny red bottoms … (they were) running around the carpark."
Another woman called and said her daughter saw the baboons­ on the street as she was walking to her car.
"They ran past her and a few of her colleagues ran after them." Her daughter, an occupational therapist at the hospital, said: "I've just helped wrangle* them."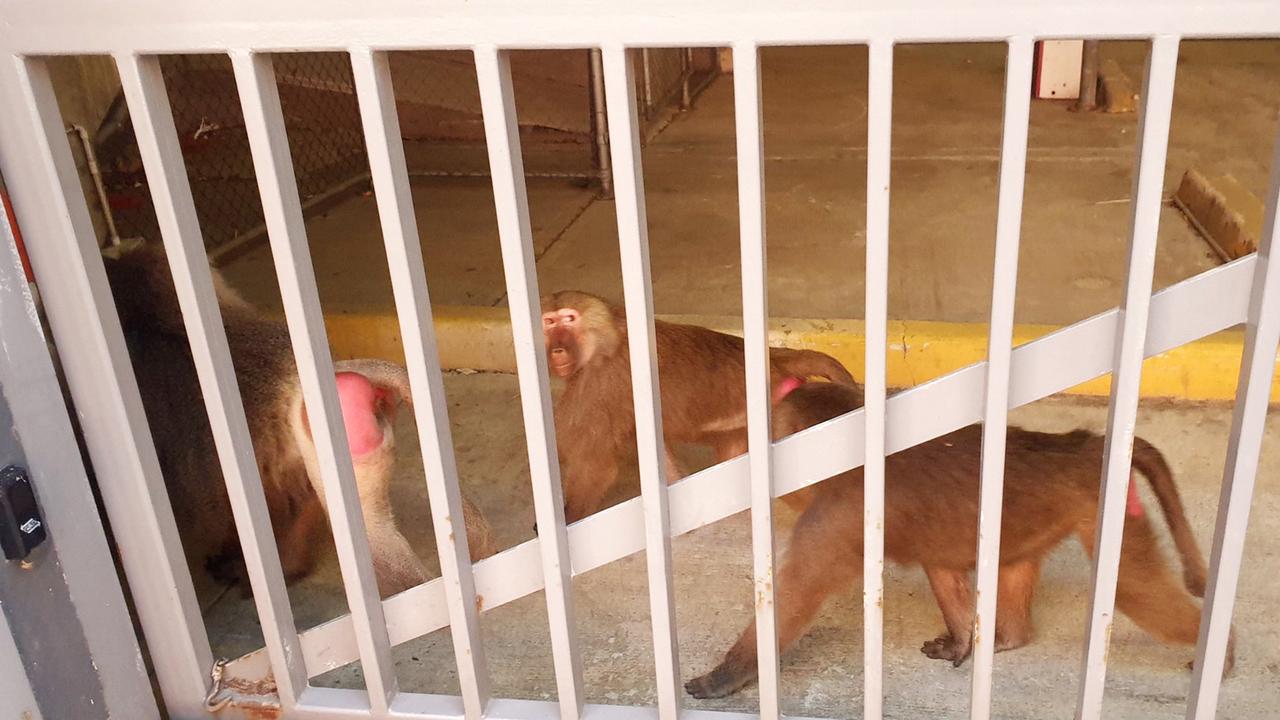 Health Minister Brad Hazzard was among those who found the escape hard to believe at first.
"I thought I had seen just about everything as Health Minister in NSW, but a baboon threesome hightailing* around RPA Hospital like there is no tomorrow?" Mr Hazzard quipped*.
He confirmed the baboons broke loose before being corralled* by police and animal handlers.
"The first advice is that there was a failure in the door of the crate inside the truck and they've gone into a carpark," Mr Hazard said.
The animals had been "behaving very respectfully and responsibly … for baboons.
"They are quite placid* and behaving themselves far better than one would expect."
Cody Carr, John Twohill and Lara Balsom told how they tried to wrangle the fugitive* primates.
The trio of would-be baboon­ catchers ran down from St John's college the moment­ they heard the animals were on the loose.
"I was eating dinner and my phone buzzed. It was a message from a mate who said there were some baboons on the loose," Mr Carr, 18, said.
"We got a bag and just started running around looking for them."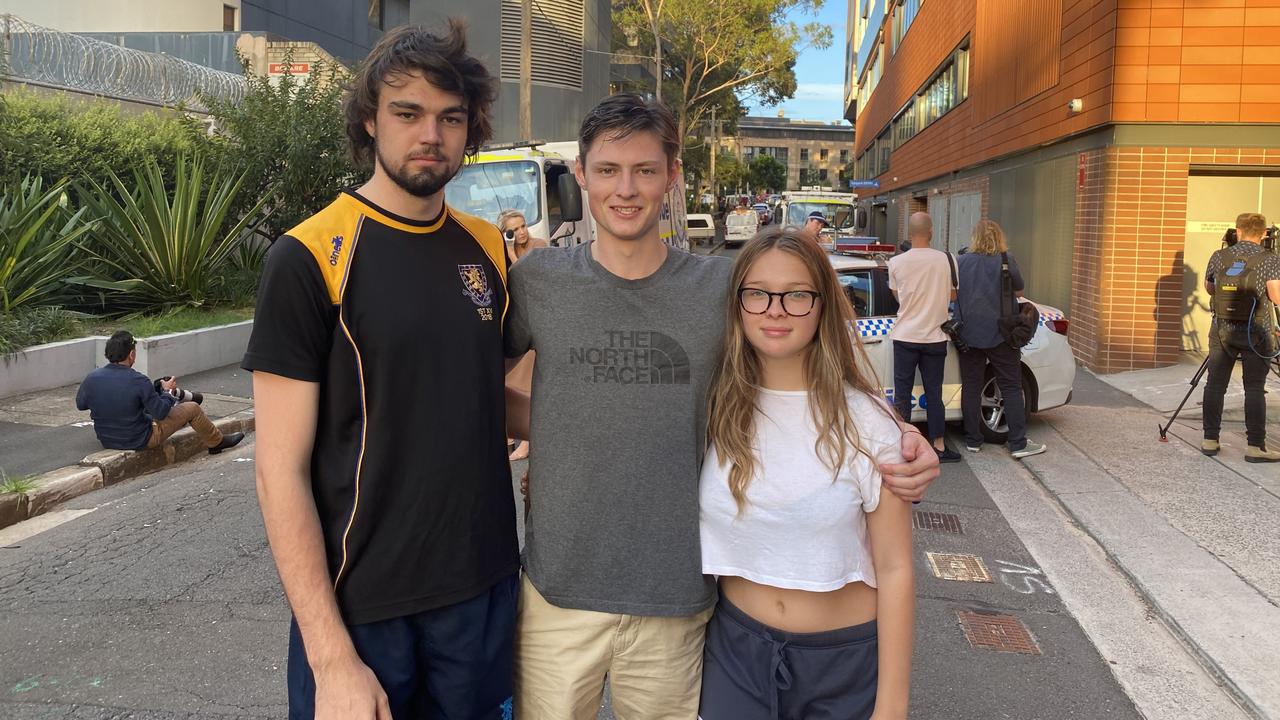 Officers were concerned about the animals escaping the carpark and injuring themselves on the razor wire lining the fences of the Chinese Consulate* next door.
Mr Hazzard said the male baboon was 15 years old and had been "very happily breeding" in the colony in western Sydney before the trip to RPA for the operation, which would mean he would no longer father baby baboons.
The primates are bred for medical researchers who use them to pioneer new treatments for illnesses including complicated diabetes­, kidney disorders and heart disease.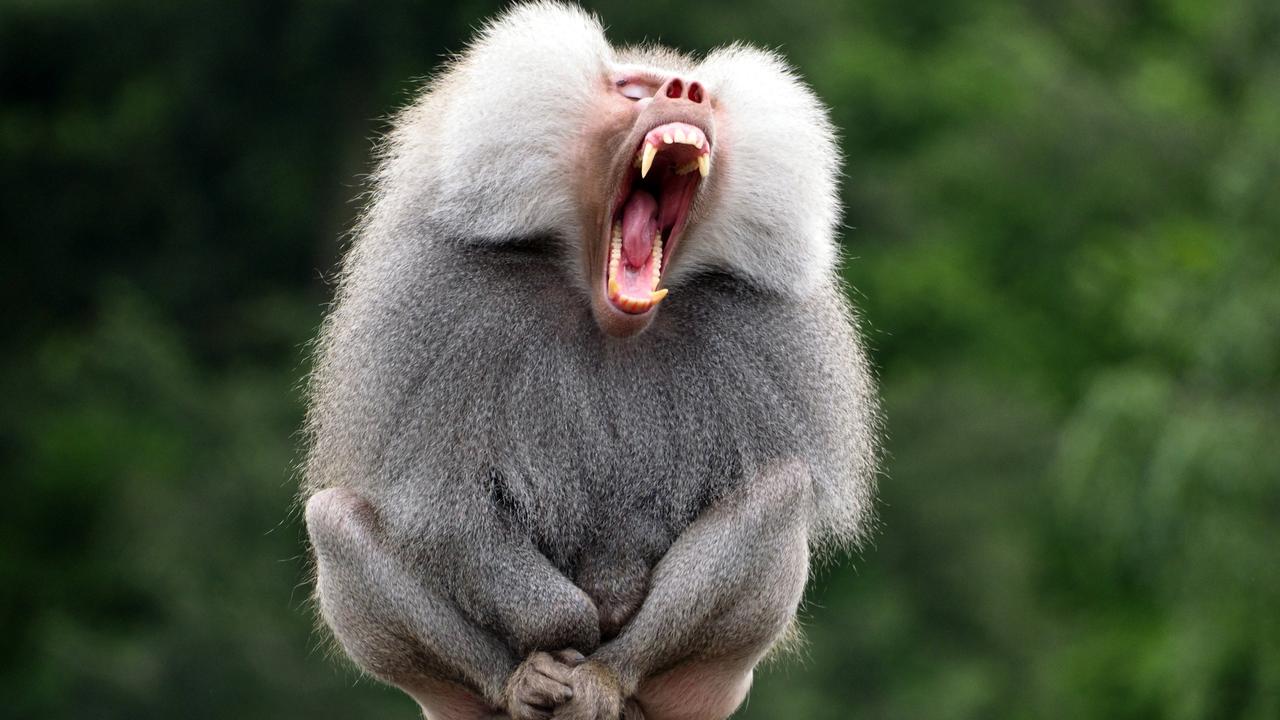 GLOSSARY
ambled: walked casually and slowly
tarpaulin: cover sheet, usually shortened to tarp
deadset: slang for without a doubt; certain
wrangle: wrestle to try to control
hightailing: leave quickly
quipped: joked
corralled: gathered together
placid: gentle
fugitive: escaped and is hiding
consulate: representative office of another country
EXTRA READING
Taking selfies with endangered mountain gorillas
Rare orange monkey born at Australian zoo
Milking platypus for its venom
QUICK QUIZ
In which state of Australia did this happen?
What is next door to the hospital?
What did Cody, John and Lara carry with them?
Why were the baboon being transported in a truck?
How old is the male baboon?
LISTEN TO THIS STORY
CLASSROOM ACTIVITIES
1. Hilarious Headlines!
The hilarious escape of these three baboons, has made headlines across Australia and possibly the world. But I wonder what the story headlines would be in the 'Baboon Bulletin'? (or other suitably named fictitious newspaper, the baboons get their news from).
Would the baboons be portrayed as brave and adventurous or as bumbling fools for failing in their escape plan? Were they opportunistic, finding a means to escape and taking it without further planning of how they would get away with it, or was it an elaborate plan that fell through?
Write a catchy headline for this story and write the article to go with it. Remember you are writing from the perspective of a baboon reporter. You can make up the details of why and how this escape occurred. You can make it funny or serious. You can also include quotes from the recaptured baboons, and comment on human behaviour during the event.
Time: allow 40 minutes to complete this activity
Curriculum Links: English, Critical and Creative thinking
2. Extension
Thankfully, the baboons were recaptured without harm to them or anyone else.
Why would it be dangerous for baboons to wander the streets of Sydney (or any other city)?
Make a list of reasons why baboons need to be cared for in appropriate zoos. Split your list into reasons that protect the BABOONS, protect PEOPLE and protect the CITY.
Time: allow 15 minutes to complete this activity
Curriculum Links: English, Critical and Creative thinking
VCOP ACTIVITY
With a partner see if you can identify all the doing words/verbs in this text. Highlight them in yellow and then make a list of them all down your page. Now see if you and your partner can come up with a synonym for the chosen verb. Make sure it still makes sense in the context it was taken from.
Try to replace some of the original verbs with your synonyms and discuss if any are better and why.
HAVE YOUR SAY: What would you do if you heard there were baboons on the loose near you?
No one-word answers. Use full sentences to explain your thinking. No comments will be published until approved by editors.