The newest baby giraffe at a zoo in the US has been fitted with specially made shoes to help fix problems with his back legs.
Mother giraffe Olivia gave birth to her baby boy giraffe Hasani (hah-SAW-nee), which means "handsome" in the African language Swahili, on May 2.
Vets at Woodland Park Zoo in Seattle, in the US state of Washington, noticed straight away that Hasani's feet were not lined up as they expected.
They X-rayed his legs and when he was only one day old they put casts on them — like people would have on a broken arm or leg — to help keep them stable.
The zoo health team asked other zoo health teams and equine* experts for advice and carefully checked in medical journals and books about what anyone had done around the world in the past to help a baby animal with similar leg problems at birth.
Baby giraffe's special new shoes
Woodland Park Zoo vet Tim Storms said Hasani's condition is quite common in horses.
"The condition is known as hyperextended fetlocks*. It is well documented in horses and has been reported to occur in giraffes," Dr Storms said in an interview on the zoo's blog.
The team that makes the exhibits at the zoo then made a pair of two-piece shoes out of plywood and high-density polyethylene (HDPE). HDPE is a recyclable plastic commonly used to make bottles.
They carved grooves in the plywood to help give him grip when he walks and runs.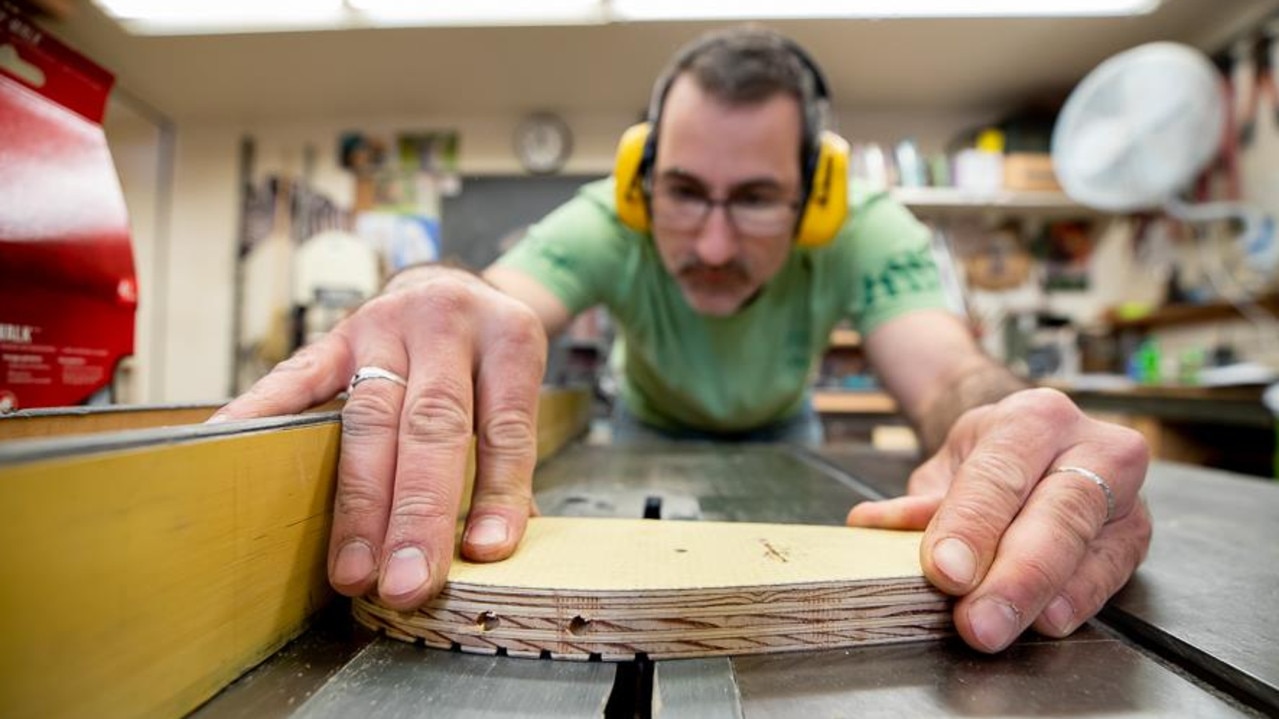 "At this stage, the new therapeutic* shoes are on a trial basis but I'm hopeful that they will help him walk better. We'll continue refining* and improving our approach to find a good balance between supporting his limbs and strengthening his tendons*," said Dr Storms.
"We're so very grateful to our in-house exhibits team for jumping in to help our baby giraffe. We're very touched by their eagerness to lend their expertise* to caring for this new life. It's been all hands on deck for our baby."
Hasani's treatment program is expected to last several months.
"While our baby giraffe is healthy and continues nursing and bonding with mom*, he remains in guarded condition and under close observation. As we move forward with his treatment, we'll continue assessing the best course of action to help him walk and grow normally," Dr Storms said.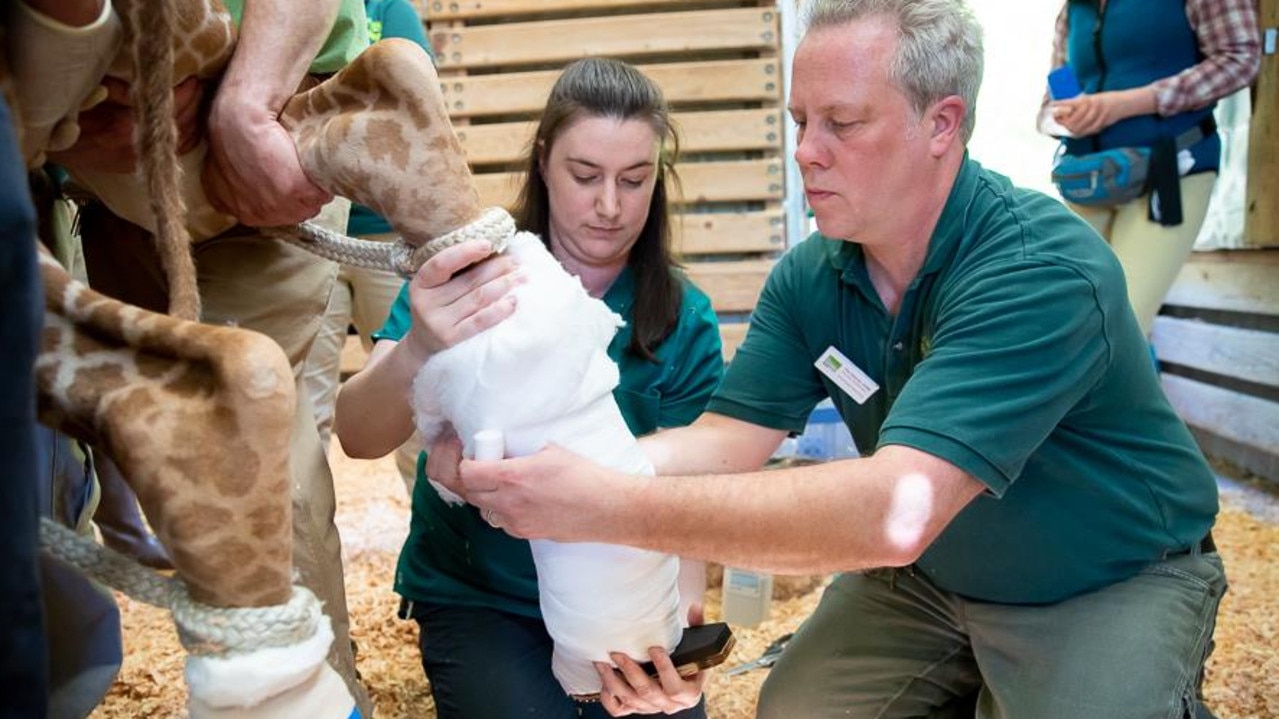 Hasani was about 70kg at birth and has already put on several kilograms. He and mum Olivia are in a barn away from visitors while they get to know one another.
This is the first baby for Olivia, 12, with six-year-old dad giraffe Dave. Olivia had her first baby in 2013 with a different male giraffe.
The last giraffe birth at the zoo was a female, Lulu, born in 2017 to mom Tufani (Olivia's younger sister) and dad Dave.
The zoo posts updates on how Hasani is getting along at www.zoo.org/giraffe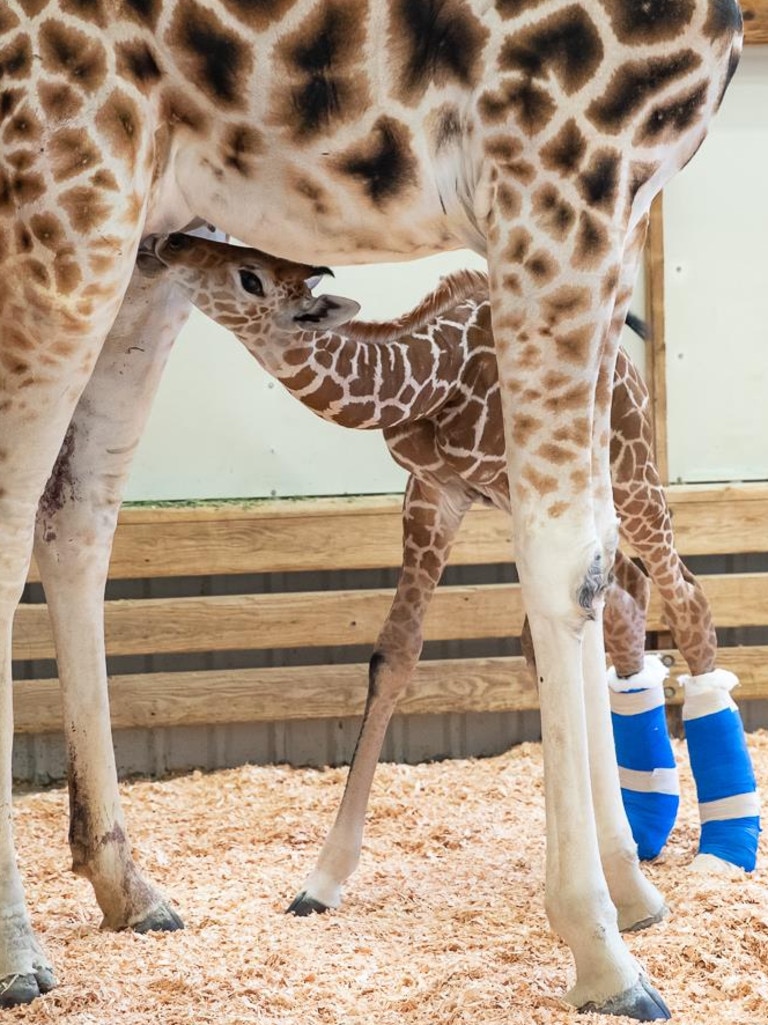 GLOSSARY
equine: to do with horses
fetlocks: the lower joint on the legs of horses, giraffes and similar animals, in a similar place to humans' ankle joint
therapeutic: to help heal an injury or disease
refining: making it better and better
tendons: flexible and non-stretchy cord that joins muscle to bone
expertise: expert skill or knowledge in a particular area
mom: US spelling for mum
EXTRA READING
Great great grandfather giraffe Mukulu has died
Ghostly white giraffes spotted
Baby koala saved in world-first operation
Rare baby otters pass first test
QUICK QUIZ
What language is the name Hasani from? Why would the zoo have used that language?
What is a fetlock?
What two common materials were used to make the shoes?
How heavy was Hasani when he was born?
What is Olivia's sister's name?
LISTEN TO THIS STORY
CLASSROOM ACTIVITIES
1. Send a get-well message
It must feel strange for poor Hasani. He would be just getting used to life and also has to put up with all the poking and prodding of zookeepers (who are doing their best to care for him and help him). He may feel confused and scared about the treatment and probably just wants to be near his mum.
Write Hasani a thoughtful and detailed message to help him cope through his treatment and help him understand why he has to have x-rays and wear special shoes. Use information from the article to show you have an understanding of why Hasani needs treatment and what the treatment involves. Remember that Hasani is a baby, so make sure your message is simple and encouraging.
If you have time, write your message in a card and decorate it appropriately for a baby giraffe.
Time: allow 20 minutes to complete this activity
Curriculum Links: English, Personal and Social Capability
2. Extension
In the past, zoos have had a bad reputation for caging animals inappropriately, putting them on show to the public for profit and not looking after them well. Is this a fair assessment of the zoos of today?
Draw up a two-column chart and write the POSITIVES and NEGATIVES of zoos. Use examples from this article to help you get started. Include also other points that you know about the good work and concerning practices that zoos may have.
Time: allow 15 minutes to complete this activity
Curriculum Links: English, Ethical Understanding
VCOP ACTIVITY
If the shoe fits!
Design a pair of funky shoes for the baby giraffe. If he has to wear shoes, they should be stylish.
But it won't be as easy as just presenting your design to Hasani and the Woodlands Zoo staff. You'll need to convince them as to why Hasani should select your design. Along with your drawing, write a paragraph convincing Hasani and the zoo staff why they should choose your super hip and funky design.
Don't forget your VCOP to help uplevel your language and make your paragraph stand out.
HAVE YOUR SAY: What animal would you like to make shoes for?
No one-word answers. Use full sentences to explain your thinking. No comments will be published until approved by editors.