A MELBOURNE resident believes the extinct Tasmanian tiger may be alive and well and living in our outer suburbs.
Michael Moss suspects the wildlife around the Warrandyte and Wonga Park area might be more diverse than official reports suggest.
After reading a recent article about wildlife wreaking havoc* at Mt Lofty, Mr Moss has called on locals to help him determine if there are more exotic animals living in the area than dogs, cats and birds.
Mr Moss has been on the trail of the Thylacine, more commonly known as the Tasmanian tiger, for more than 20 years.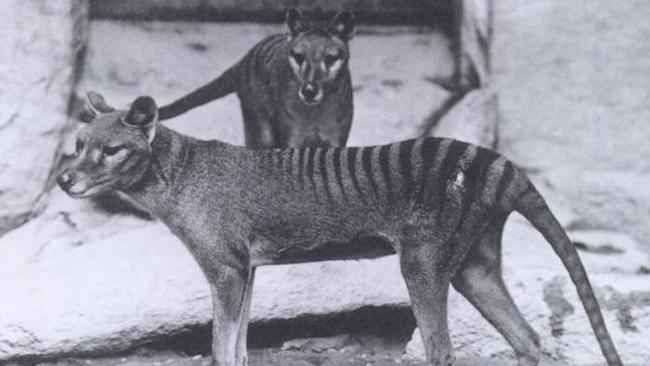 The last known Tasmanian tiger died in captivity* in 1936 but that hasn't stopped people claiming to have since seen the large carnivorous* marsupial*.
But now Mr Moss wants anyone from Warrandyte, in particular, to give him a call if they believe they've seen a Tasmanian tiger.
"It's perfectly possible there are Tasmanian tigers in Victoria," Mr Moss said.
Mr Moss, who claims to have video footage of a Tasmanian tiger taken in 1998, said he was interested to hear of any recent sightings of either Tasmanian tigers or big cats in the area.
"I also have an open mind as to whether there are panthers and pumas on the mainland — it's scientifically possible," he said.
Anyone who thinks they've seen a Tasmanian tiger in the eastern suburb of Warrandyte can call Mr Moss on 0434 904 944.
Parks Victoria area chief ranger Faye Williams said the organisation wasn't aware of any "actual sightings" of Tasmanian tigers in its parks, including Warrandyte State Park.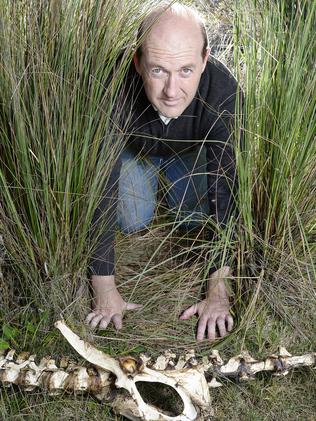 Over the years there have been several reports in the outer areas of Melbourne of sightings of big cats that looked similar to black pumas.
The latest was Lilydale's Kevin Manners, who claimed to have spotted a muscular jet-black big cat 20m from him on a walking track in Warburton in April.
EXTINCT AUSTRALIA
Sadly the Tasmanian tiger is not the only extinct Aussie creature.
In fact, more than 30 native mammals have become extinct since Europeans arrived in Australia.
Some scientists believe we are experiencing an extinction crisis with reasons for the loss of native animals including feral animals, habitat* clearing and severe wildfires.
Extinct wildlife includes:
– the big-eared hopping-mouse, last seen in 1843,
– the dusky flying fox, last observed in the late 1800s and
– the desert rat-kangaroo, last sighted in 1935.
GLOSSARY
havoc: chaos
captivity: in a zoo
carnivorous: eats only meat
marsupial: mammal that carries babies in a pouch
habitat: where things live

LISTEN TO TODAY'S STORY
CLASSROOM ACTIVITIES
Activity 1.
What are the reasons why Michael Moss believes that there are Tasmanian tigers and maybe panthers and pumas living in the suburbs?
For each reason, write down other things that could explain why this has happened.
Extension:
Write a story that begins with:
"Who was going to believe that I saw a panther, a real live panther, on my way to school this morning?"
Time: allow 45 minutes to complete this activity
Curriculum inks: English, Critical and Creative Thinking

Activity 2.
In the story you read about four Australian animals that have become extinct.
What do you think these animals looked like?
Think about it and draw each of them in as much detail as you can.
See if you can find out what they really looked like and check your work.
Extension:
Find out about animals that are endangered today.
Choose one animal that is in danger of becoming extinct.
Find out what is being done to help save these animals.
Use the information that you have found to create an action plan to save this animal.
Time: allow 100 minutes to complete this activity
Curriculum inks: Science, Visual Art, Critical and Creative Thinking

VCOP ACTIVITY
(Vocabulary, Connectives, Openers, Punctuation)

Compare and contrast
Choose a glossary term and list as many synonyms as possible.
Then choose two synonyms and compare and contrast each word.
Although they are similar, synonyms can often be subtly or vastly different.
For example: fun
Synonyms: enjoyment and amusement
Enjoyment is a feeling you experience when you like something and amusement is when you like something but also find it funny.
Time: allow 15 minutes to complete this activity
Curriculum links: English, Big Write, VCOP
EXTRA RESOURCES
CHOCOHOLIC FOX CAUGHT ON CAMERA
IN A SENTENCE, SHARE YOUR THOUGHTS ON TODAY'S STORY
Kids News loves reading your best grammar, vocabulary and spelling.
We publish the best comments.