Swiss farmers in a ding-dong battle to keep cowbells on their cattle after villager complaints
Residents of a small village in Switzerland are fighting to keep traditional cowbells on their cattle after new residents complained the noise was keeping them awake at night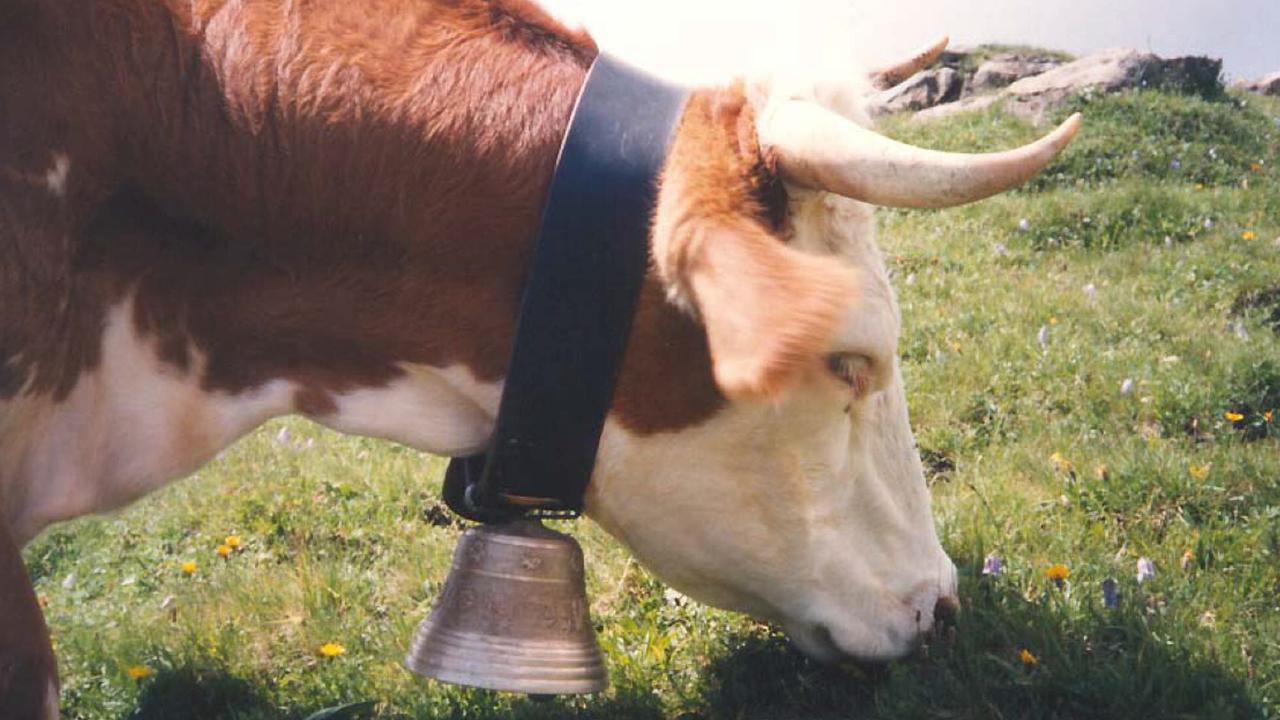 A cowbell is worn around the neck of a cow in the Swiss Alps. Picture: Getty Images
Bells clanging* around the necks of dairy cows grazing* lazily on an emerald green meadow may sound idyllic*, but if you live next door, it can be a noisy nuisance.
Two residents who recently moved to the small village of Aarwangen in the Swiss Alps, which has a population of just 4700 people, filed complaints with the village council about the constant ringing of cowbells. They asked for the cows' bells to be removed at night so they can sleep.
Long-term residents, and the village's remaining farmers — just five or six, according to the village mayor — were outraged* at what they felt was an attack on their traditional culture*.
A petition was organised and soon had 1000 signatures. It read: "We, the Swiss (want to) preserve and maintain our lived traditions in the future".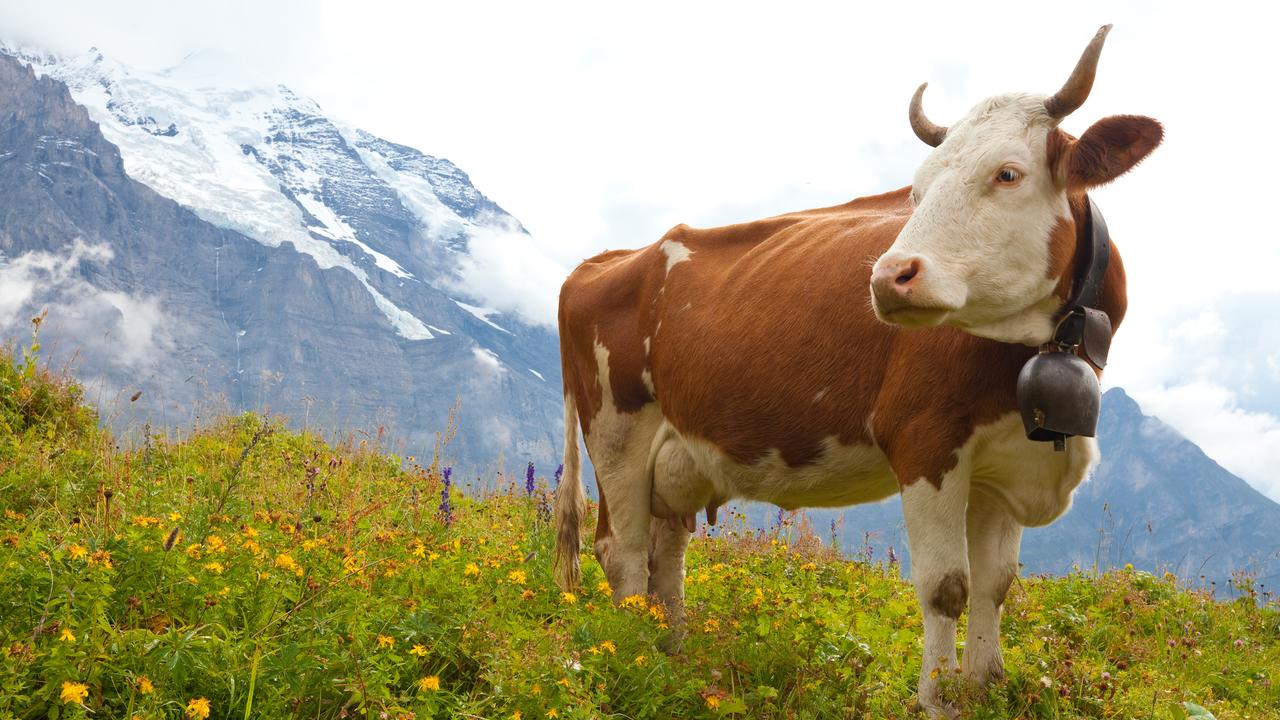 A brown milk cow in a meadow of grass and wildflowers near the Swiss Alps. Picture: iStock
Cowbells have been used in rural* Switzerland for centuries. They were once useful for tracking herds grazing high on steep slopes in the Alps in summer.
The noise level of these cowbells is usually between 90 and 113 decibels* — which is the equivalent of the noise from an alarm clock, hairdryer or some power tools.
Older farmers say they can hear each individual cow by the sound of its own bell.
In modern times, however, many farmers have switched to using electronic chips instead of bells.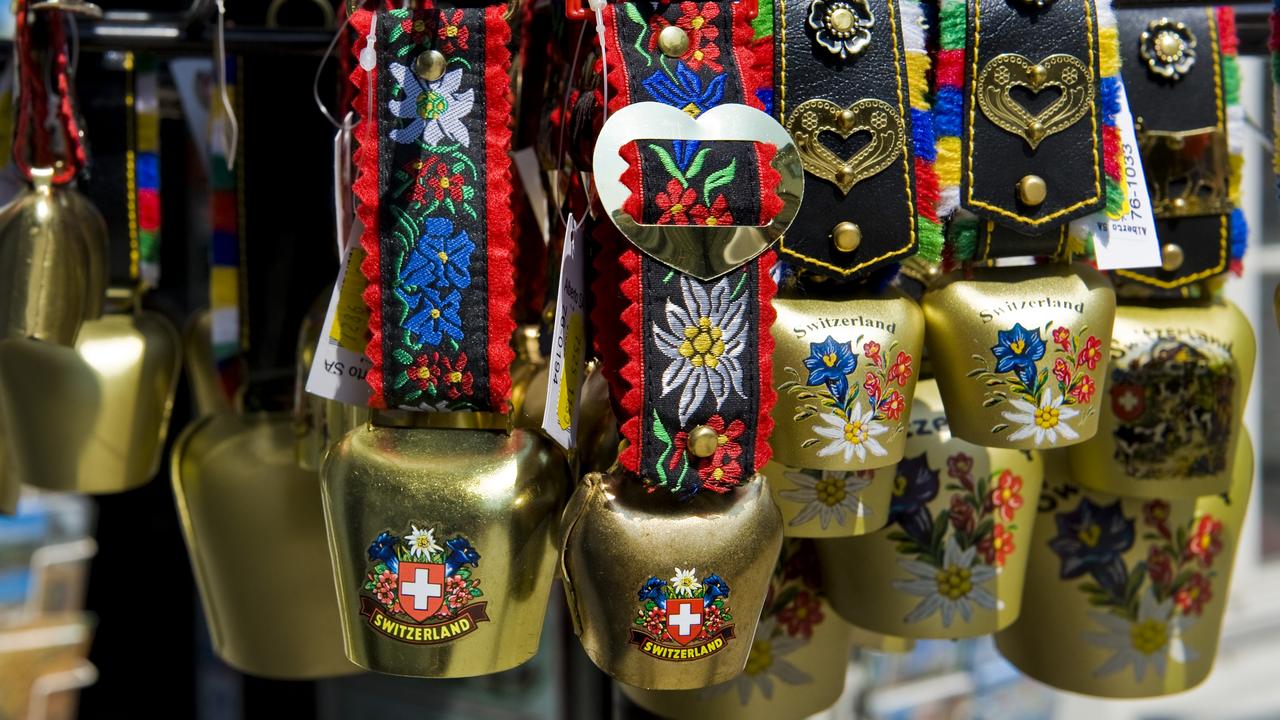 Swiss cowbell souvenirs in St Gallen in Switzerland. Picture: Giovanni Mereghetti/Education Images/Universal Images Group via Getty Images
Aarwangen has seen many changes over the decades, with new homes built close to the meadows where the cattle graze. The village mayor told the BBC in Britain that most people who have recently moved are "not necessarily from cities, but from urban outskirts*, and are less familiar with the agricultural* way of life".
Another resident, Mr Andreas Baumann, said cowbells were an essential part of the Swiss soul*.
Referring to the sound of cowbells along the walkways at Zurich Airport, he told the BBC: "As soon as I hear them, I know I'm back home."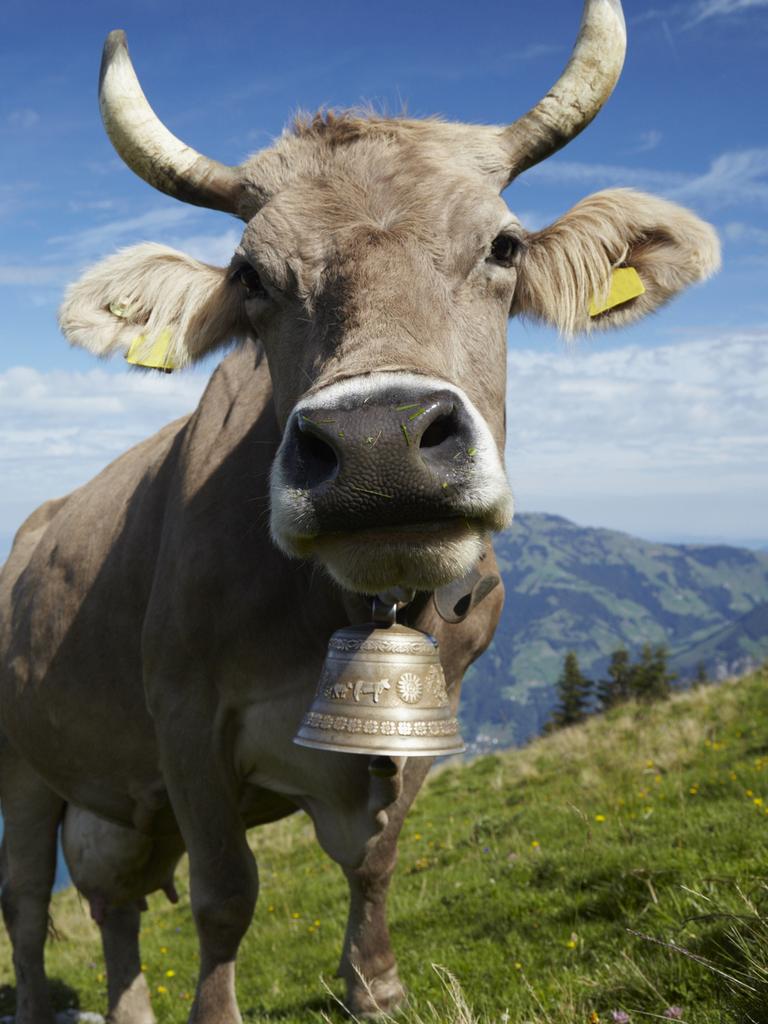 The size of the cowbells can be quite large and they can be noisy.
This year's battle is not the first time residents have complained about cowbells.
In 2015, a Zurich appeals court ordered a farmer to remove the bells from his 27 cows from 10pm to 7am, since they were safe in a paddock and keeping the neighbours awake.
Next month, Aarwangen's villagers will gather for a public meeting to vote on the future of their bells. They will decide how the sound of the bells can continue without breaking noise pollution laws.
And what about the residents that complained? According to the BBC, one of those who objected to the noise has withdrawn* their complaint and the other has moved away.
POLL
GLOSSARY
clanging: the bonging sound a bell makes
grazing: eating for long periods of time
idyllic: peaceful and beautiful
outraged: becoming angered
culture: the ideas, customs, and social behaviour of a particular people or society
rural: country areas
decibels: a measurement of noise levels
urban outskirts: outer parts of a city
soul: a person's emotional centre
agricultural: relates to farming and the land
withdrawn: removed
EXTRA READING
Pill to cut methane emissions from farting cows
Zoo denies standing bear is a human in disguise
Meet Earl, the hardest-working dog in Australia
QUICK QUIZ
1. Why are farmers outraged at the move to ban cowbells?
2. How loud are the bells and what is the noise equivalent to?
3. What percentage of residents in Aarwangen have signed the petition?
4. What were cowbells traditionally used for in the past?
5. What is the modern equivalent of a cowbell?
LISTEN TO THIS STORY
CLASSROOM ACTIVITIES
1. For and against Swiss cowbells
Work with a classmate to discuss the pros and cons of this town discussion and meeting taking place soon about whether or not the cowbells should stay or go.
Imagine you are the mayor of the village and it will ultimately fall on you to make a decision that you see best for the Swiss village you're in charge of.
Make a list of pros and cons from the perspective of each of the parties involved in the debate. Whichever one has the longest list of pros might be the answer you decide upon.
What is your ruling on the cowbells? Write your answer below the table.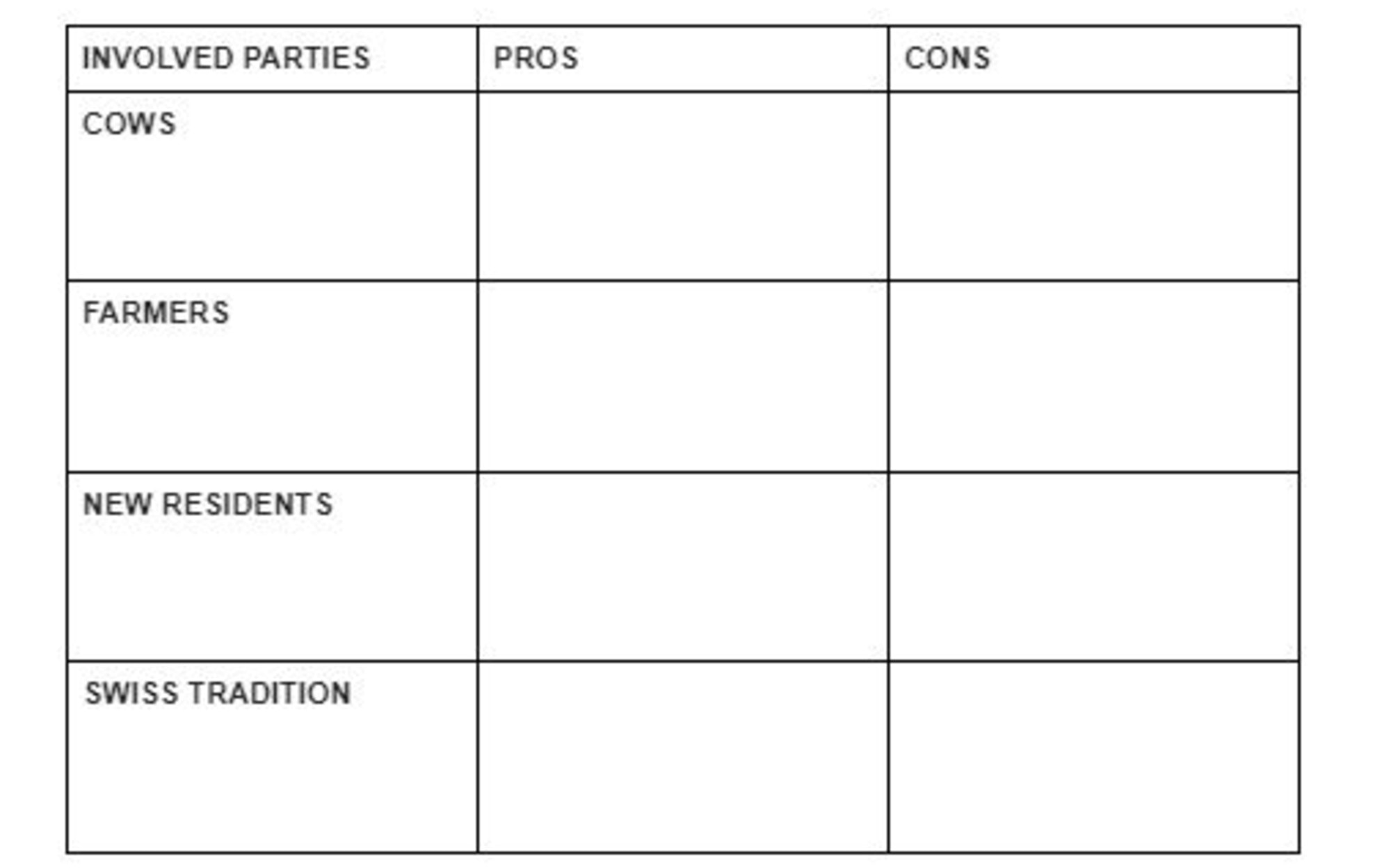 What are the pros and cons suggested by the cowbells article?
Time: allow 30 minutes to complete this activity
Curriculum Links: English, Health and Physical Education, Personal and Social, Critical and Creative Thinking.
2. Extension
If you were moving to a Swiss village where the cows still wore bells, would it affect your decision to move or not?
Would you prefer the bells and Swiss tradition to continue or move to more updated processes of tracking the cows? Explain your answer.
Time: allow 10 minutes to complete this activity
Curriculum Links: English, Personal and Social, Critical and Creative Thinking
VCOP ACTIVITY
To sum it up
After reading the article, use your comprehension skills to summarise in a maximum of three sentences what the article is about.
Think about:
What is the main topic or idea?
What is an important or interesting fact?
Who was involved (people or places)?
Use your VCOP skills to re-read your summary to make sure it is clear, specific, and well punctuated.