Are sharks the new dolphins?
A new study involving Flinders University shark experts shows that the more people dive with Great Whites sharks the more likely they are to have a favourable view of the animals, similar to that normally reserved for dolphins and whales.
South Australia is one of only a handful of places on Earth where people can view Great White sharks, with three businesses running cage-diving operations at the Neptune Islands.
A total of 136 divers completed a survey for the study, carried out by Flinders and Southern Cross universities, with results reflecting a changing attitude towards sharks.
Responses revealed a significant increase in behaviours linked to saving the animals and a positive shift in participants' understanding, awareness, attitudes and concern for sharks following their cage diving experience.
In other words, people who get into the water with sharks feel more inclined* to protect them.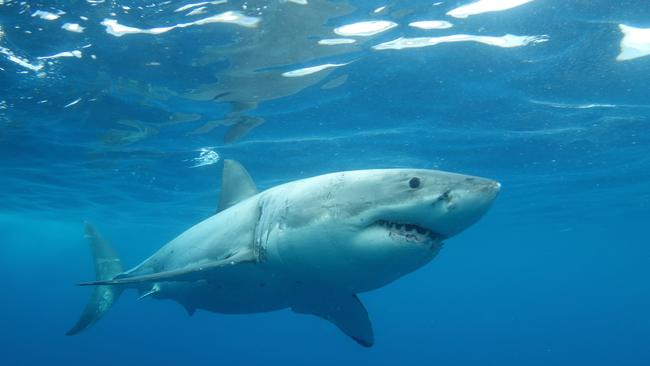 Flinders' Southern Shark Ecology Group head, Associate Professor Charlie Huveneers said the study showed the shark tourism provided more than an adrenaline rush.
"Sharks play important ecological* roles in marine ecosystems, and improving human perception is key to increasing conservation awareness and behaviour," Assoc Prof Huveneers said.
PhD candidate Kirin Apps, from the School of Environmental Science and Engineering at Southern Cross University, agreed.
"Many are surprised by their experience," Ms Apps said.
"They come with the idea that it's going to be a scary experience, but they get out of the water and use words such as beautiful, peaceful and majestic*; words they wouldn't usually associate with sharks.
"There was a lot of respect for these animals once they saw them in the wild. Their emotional connection through engagement was one of the big things that changed their ideas about sharks."
Tourism Minister Leon Bignell, who has been on a cage dive, said he understood how it could be a life-changing experience.
"They are the kings of the sea," Mr Bignell said.
"Once you relax under water it becomes almost hypnotic, then this massive beast comes out of the darkness."
Mr Bignell said that according to the most recent figures from 2016, Port Lincoln's shark cage industry was worth $12.8 million and provided 80 direct and indirect jobs. He said that 10,322 people went cage diving in 2016.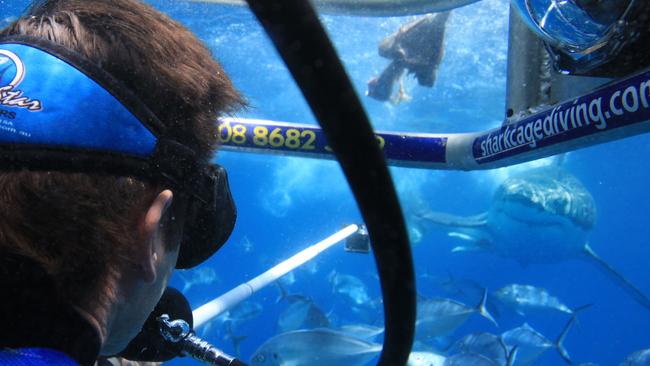 Not everyone, however, is pleased with the industry. The region's abalone divers have long expressed concerns that shark cage diving "trained" great whites to associate boats with food.
Abalone Industry Association of South Australia president Jonas Woolford said he'd welcome more studies into how cage diving potentially changed shark behaviour.
Mr Woolford said a recent Senate inquiry into shark deterrents* and mitigation* concluded that more research needed to be done into the potential for cage diving to change shark behaviour.
GLOSSARY
inclined: more willing to do something
ecological: relating to or concerned with the relation of living organisms to one another and to their physical surroundings.
majestic: having impressive beauty or size
deterrents: something that discourages you from doing something
mitigation: the action of reducing the severity, seriousness, or painfulness of something.
LISTEN TO TODAY'S STORY
CLASSROOM ACTIVITIES
1. Looking at the stakeholders
In order to better understand news like this we need to think about the motivations of the stakeholders — what is it they would like to see happen? Each of the following groups expressed an opinion about the findings of the study or the implications of shark cage diving in general. Write a paragraph for each group explaining what their position is and why it is of importance to them.
Flinders and Southern Cross Universities
Cage Diving Operators
SA Tourism
Abalone Divers
Extension: Are there any other stakeholders you can think of in addition to the ones already mentioned above? Who are they and what is their interest in the topic?
Time: Allow 30 minutes
Curriculum links: English, Ethical Capability
2. A change in perception
Write a description of how you imagine cage diving with a Great White shark would be. Try to convey how your perception of sharks might change from negative to positive during the experience like those of people surveyed for the study in the article.
Extension: Why do you think sharks have a negative image while dolphins and whales are viewed more favourably? Aside from having everybody go cage diving, what are some other ways that the perception of sharks could be improved?
Time: Allow 20 minutes.
Curriculum links: English
VCOP ACTIVITY
Find a basic boring sentence in the article. What makes it boring?
Use your VCOP skills to up level it. Then highlight all the VCOP you used.
Curriculum Links: English, Big Write & VCOP
IN ONE SENTENCE, TELL US WHAT YOU THINK OF TODAY'S STORY
Please avoid one-word responses and explain exactly why you liked it.