IT'S the award to get tongues wagging*.
But despite world fame, eight-year-old St Bernard Mochi "Mo" Rickert isn't letting celebrity go to her head.
The American canine has just been named Guinness World Records holder for the longest tongue on a dog. It's 18.6cm, smashing the previous record holder's effort, a Pekingese called Puggy whose tongue was merely 11.4cm long.
Mo's owner Carla Rickert adopted her as a rescue dog when she was two years old.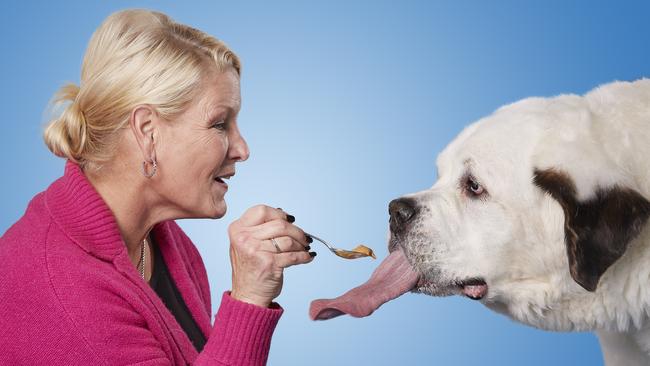 "She's so humble, she never brags* or boasts but I know that she is as proud of her new record as we are," Ms Rickert said.
Although she enjoys some celebrity status in her US hometown in South Dakota, with passers-by stopping her to get selfies, poor old Mo has some breathing problems and struggles to pick up objects.
She also produces a lot of slobber because of the space her huge tongue takes up in her mouth.
GLOSSARY
wagging: moving back and forth
brags: shows off
LISTEN TO TODAY'S STORY
C LASSROOM ACTIVITIES
Activity 1. World record
Outline what Mo the St Bernard set the world record for.
What was the previous record?
What are the problems associated with the dog's long tongue?
Draw a tongue the same size as Mo's.
Extension:
Look up some other Guinness world records that interest you. Make a sheet of fun facts about the records that you find funny or interesting.
Time: allow 20 minutes to complete this activity
Curriculum links: English
Activity 2. Classroom records
Make your own book of class records.
You can measure things such as your classmate's height, arm, finger or toe length etc.
Be creative as you like.
Make sure you get permission before measuring.
Extension:
Compare your measurements to those listed in the Guinness World Records book.
Time: allow 45 minutes to complete this activity
Curriculum links: Mathematics, Personal and Social
VCOP ACTIVITY
(Vocabulary, Connectives, Openers and Punctuation)

Write an acrostic poem about Mochi Rickert.
Use descriptive phrases and figurative language to make your poem as interesting as possible.
Extension:
Look through a copy of Guinness World Records or search online.
Find a photo that catches your eye.
Brainstorm as many WOW words as you can.
Use the photo and your words to infer who and what you think it is all about.
Time allow 30 minutes to complete this activity
Curriculum links: English, Big Write, VCOP
EXTRA RESOURCES
TASMANIAN TIGER 'PROOF' ON FILM
GUIDE DOGS CELEBRATE 50 YEARS OF HELPING