Snakes are on the move – here's how to stay safe as it gets hotter
As the weather warms up in Australia, snakes are becoming more active – learn about where they live, what to do if you spot one, and how to stay safe during snake season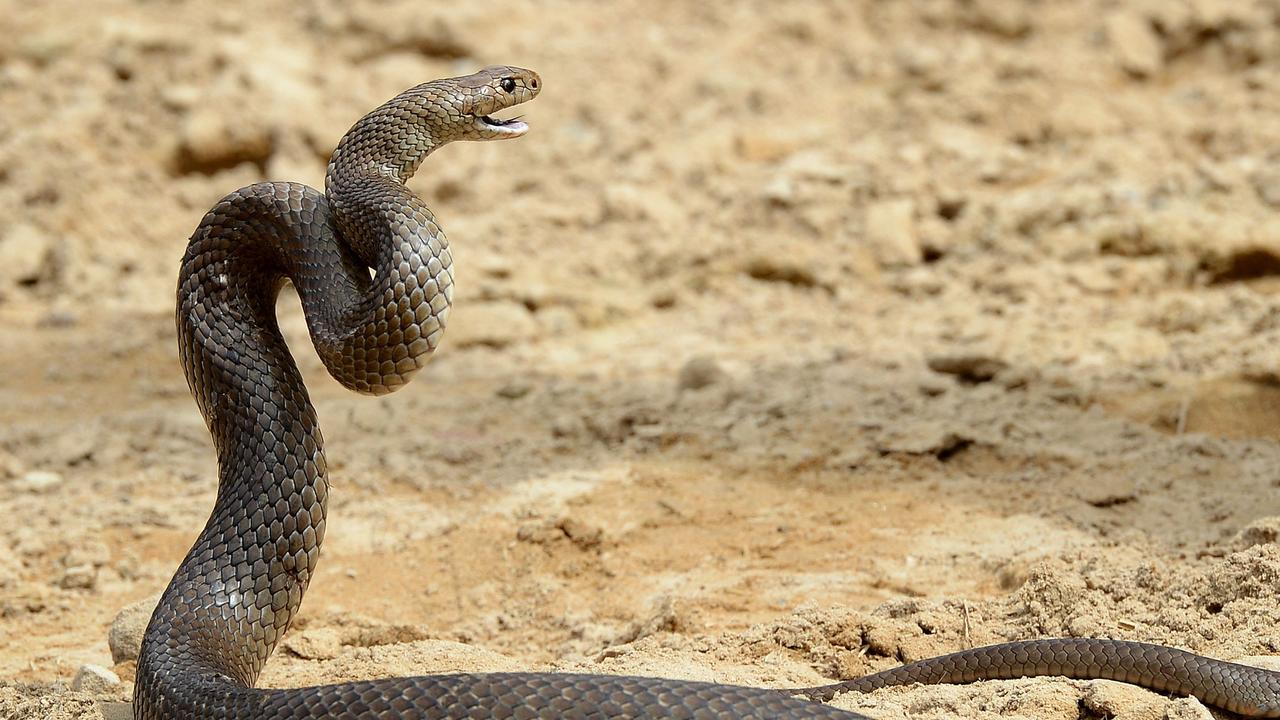 The deadly eastern brown snake is one of Australia's most frequently encountered venomous snakes. Picture: William West/AFP
With winter behind us and the weather warming up, snake catchers around the nation are reporting higher than usual demand for their services, prompting them to predict one of the busiest snake seasons in years.
While coming into contact with any snake can be a frightening experience, it's important to understand how to behave around these slithering creatures.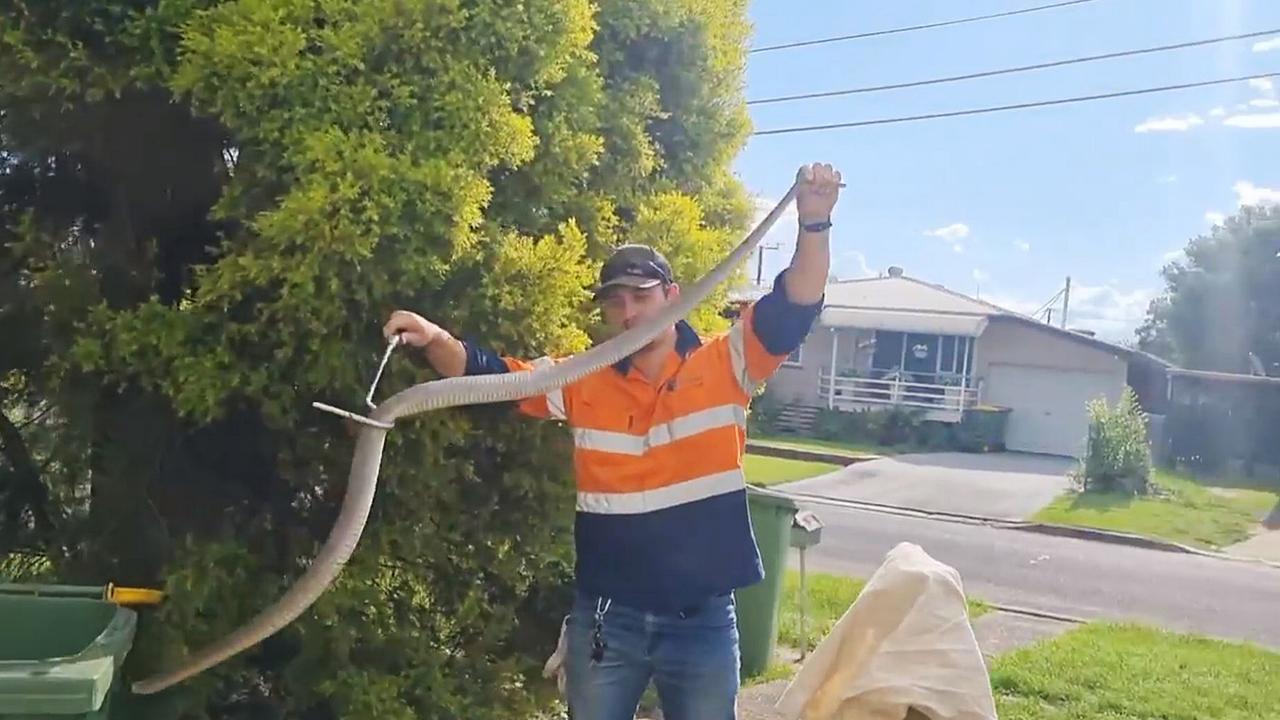 Screenshot of a large eastern brown snake found in a bin. Picture: Snake Catchers Brisbane Gold Coast
Kids News explores why we're seeing more snakes at this time of year, where they hide and live, plus what to do if you spot one and what steps to take if you, someone you know or a pet is bitten by one.
WHY WARMER WEATHER MATTER
Snakes are reptiles, which means they are cold-blooded or ectothermic* animals, and their body temperature depends on the environment.
When it's warm, their bodies warm up, and they become more active.
This common feature in reptiles is why you might see more snakes and lizards in your backyard or while walking outside during the spring and summer months.
SNAKE HOMES
Snakes can live in various places, depending on their species*. Some common hiding spots include:
Under rocks: many snakes love to hide under rocks to escape the heat and stay safe from predators*.
In tall grass: grasslands provide excellent cover for snakes. They can easily slither through the tall grass without being noticed.
Tree hollows: some snakes, like tree snakes, make their homes in hollow trees.
Burrows: burrowing snakes, such as the woma python, create tunnels underground where they can find shelter from the sun.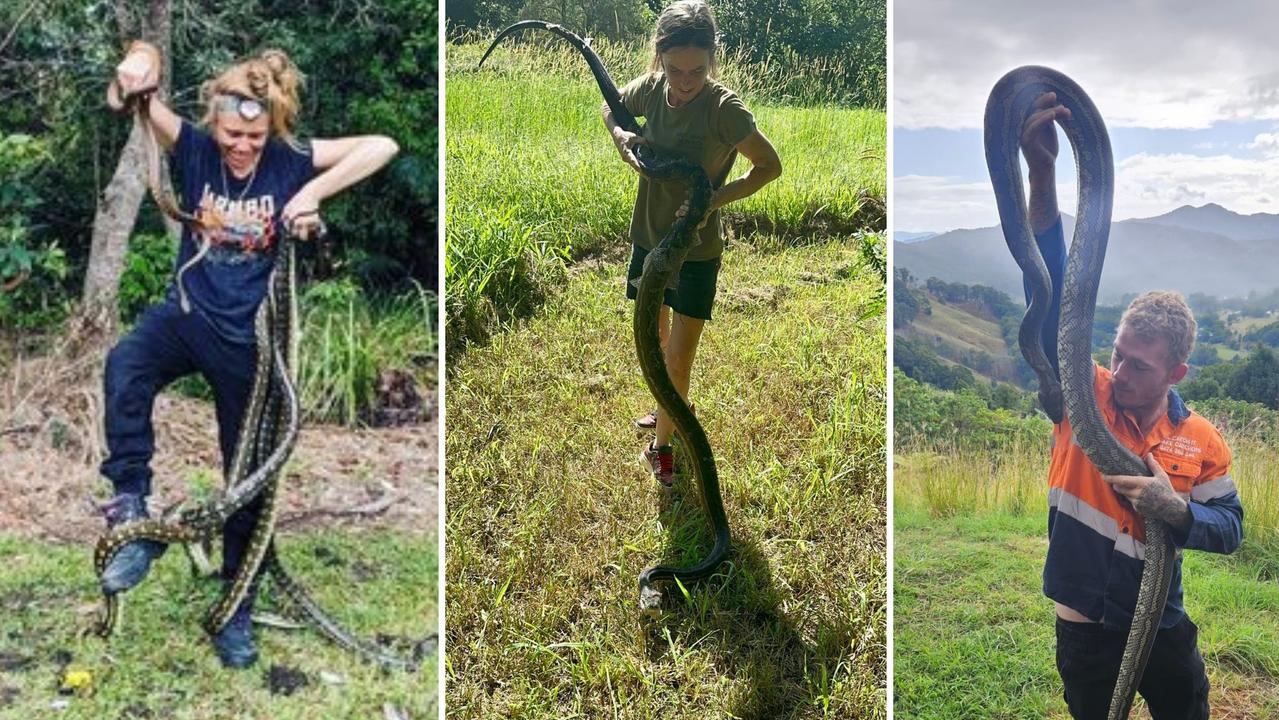 Northern NSW snake catchers relocating some of the snakes out and about on the North Coast. Picture: supplied
WHAT DO I DO IF I SEE A SNAKE?
If you come across a snake, it's essential to stay calm and follow these steps:
Back away slowly: do not approach the snake. Instead, take slow steps backward to create distance.
Give it space: snakes usually only strike if they feel threatened*. By giving them space, you reduce the chances of a close encounter*.
Keep your pets away: make sure your pets are on a leash and away from the snake.
Do not try to handle it: even if it looks harmless, never try to touch or pick up a snake. It's always best to leave snake-handling to the experts.
IF YOU SEE A SNAKE WHILE BUSHWALKING
Snakes can detect low-frequency sounds like footsteps, and they typically respond by either retreating or finding a hiding spot to remain unnoticed.
Stick to clear trails to minimise the chances of a snake encounter.
In more overgrown or bushy terrain, use a stick to make noise and signal your approach to snakes.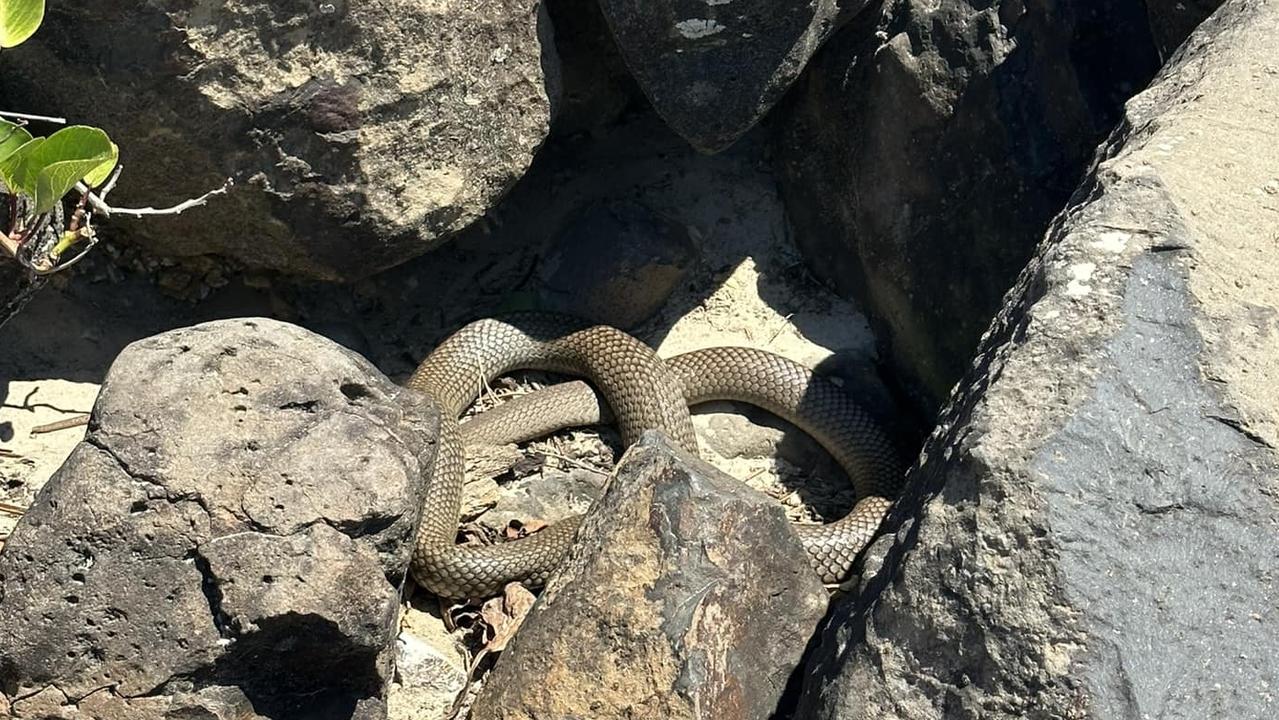 An eastern brown snake spotted in popular area of Palm Beach in NSW. Picture: Facebook
Wear clothes that stand out from the natural surroundings, usually darker attire, so snakes can spot you in advance.
Steer clear of densely vegetated areas, particularly during the spring season when snakes are more active.
When crossing fallen logs, step onto them rather than over them, as a snake may be on the other side.
Avoid placing your feet or hands in areas where visibility is limited or restricted.
For added protection, wear loose-fitting long pants and boots that cover your ankles.
WHAT DO I DO IF I GET BITTEN BY A SNAKE?
While snake bites are rare and the country's environmental departments say most snake bites happen when people try to catch or kill them, it's essential to know what to do if you or someone you know gets bitten.
Here is some further advice:
Stay calm: panicking can make things worse. Try to stay as calm as possible.
Call for help: dial emergency services on triple-0 immediately.
Keep still: encourage the person who's been bitten to stay still and keep the affected limb as immobile* as possible.
Don't try to suck out the venom*: contrary to popular belief and what you may see in movies, trying to suck out the venom with your mouth is not recommended.
Remove tight clothing and jewellery: if it's safe to do so, remove tight clothing and jewellery near the bite site, in case those areas of covered skin later swell.
Do not cut the wound: avoid cutting the bite wound or using a tourniquet*. These methods can be dangerous.
CAN I KEEP A SNAKE IF I FIND ONE?
No. Australian wildlife regulations are strict to protect native wildlife, including snakes.
Many snake species are protected, and capturing or keeping them without the proper permits* or licences is illegal.
WHAT ARE THE MOST DANGEROUS TYPES OF SNAKES?
Australia is home to a wide variety of snake species, but not all of them are deadly.
In fact, only a small number of Australian snakes are venomous* and pose a significant threat to humans.
Deadly Snakes
Eastern brown snake: found in eastern and central parts of Australia and known for its aggressive nature when threatened, the eastern brown snake has venom that can be deadly if not treated promptly. It's one of Australia's most frequently encountered venomous snakes.
Inland taipan: found in semi-arid regions of central and eastern Australia. It is quite reclusive* and rarely encountered by humans.
Coastal taipan: typically found in northern and eastern parts of Australia. This snake's venom is highly potent* and can cause severe illness if bitten.
Red-bellied black snake: despite its menacing name, the red-bellied black snake is less aggressive and rarely poses a serious threat to humans. However, its bite can still be painful and should be treated. This snake is native to eastern Australia.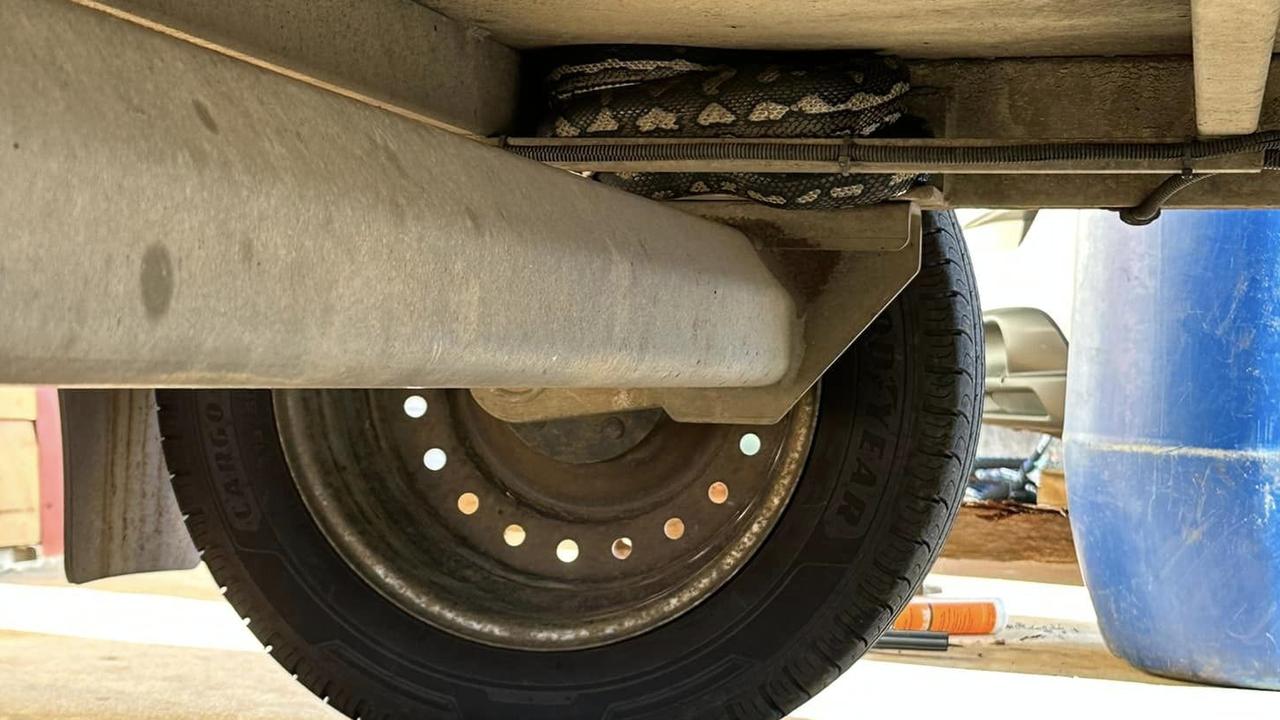 Safe Snake Catchers Marion Nel was called out to catch this python stowaway from Mcleans Ridges. Picture: supplied
Non-venomous Snakes
The majority of snakes in Australia are non-venomous and play essential roles in the ecosystem*. Some common non-venomous snakes include: carpet python, children's python,
green tree snake and the common blind snake.
WHAT ARE THE SYMPTOMS OF A SNAKE BITE?
The most common symptoms are:
Nausea*, vomiting, or diarrhoea;
Puncture marks at the wound;
Rapid* heart rate, weak pulse, low blood pressure;
Redness, swelling, bruising, bleeding, or blistering around the bite;
Severe* pain and tenderness at the site of the bite;
Laboured breathing (in extreme cases, breathing may stop altogether);
Disturbed vision.
For dogs, the symptoms usually include swelling of the head and face, weakness, particularly in the hind limbs, paralysis* and disorientation*.
GLOSSARY
ectothermic: animals whose body temperature depends on the temperature of their environment
species: a group of living organisms consisting of similar individuals capable of interbreeding
predators: animals that hunt and eat other animals
threatened: in danger or at risk of harm
encounter: unexpectedly come across or experience something, often something unusual or dangerous
emergency services: organisations that provide help in times of crisis or danger, such as the police, firefighters, and paramedics
immobile: to make something or someone unable to move
venom: a poisonous substance usually injected into another animal through a bite or sting
venomous: capable of injecting venom or poison through a bite or sting
regulations: rules or laws established by authorities
permits: official documents that allow someone to do something, like keeping a certain animal
tourniquet: a device used to stop bleeding by constricting blood flow to a limb or part of the body
reclusive: tending to avoid the company of others, solitary
potent: very strong or powerful
ecosystem: a community of living organisms and their interactions with each other and their environment
nausea: a feeling of sickness with an inclination to vomit
rapid: happening very quickly or at a fast pace
blistering: the formation of fluid-filled pockets on the skin caused by burns or other injuries
severe: very serious or intense
paralysis: the loss of the ability to move or control certain muscles
disorientation: a state of confusion or loss of one's sense of direction
EXTRA READING
What is dyslexia? Is there a cure?
What makes eyes different colours?
What and where is the equator?
QUICK QUIZ
What is the main reason snakes become more active in warm weather?
If you see a snake while bushwalking, what should you do?
Can you keep a snake if you find one in Australia?
Which snake species is considered one of Australia's most frequently encountered venomous snakes?
What are some common symptoms of a snakebite in humans?
LISTEN TO THIS STORY
CLASSROOM ACTIVITIES
1. Snake season
Why are experts predicting a busier than ever snake season this year?
After reading this article, what's the best advice you could give a visitor to Australia about how to avoid a snake encounter?
While they can be dangerous, what do some people love about these reptiles?
Are you afraid of snakes? Does this article make you feel a bit more confident about what to do if you do come across one?
Time: allow 15 minutes to complete this activity
Curriculum Links: English, Science, Critical and Creative Thinking
2. Extension
Why are snakes an important part of our ecosystem? Explain your answer in as much detail as you can.
Time: allow 10 minutes to complete this activity
Curriculum Links: English, Science, Critical and Creative Thinking
VCOP ACTIVITY
Animal alliterations
With a partner, choose one of the pictures from the article.
Make a list of nouns you could use to name the animal in the picture. For example, instead of a tiger, you could also say cat, or feline.
Pick your favourite noun and identify its initial sound — what sound it starts with, not necessarily what letter.
Now, using the initial sound, make a list of adjectives to describe the animal. Try to be specific. Don't just look at the animal as a whole, look at their different features as well.
Build on these same sound words, and add any verbs and adverbs you could use to describe the animal and their movements.
Try to put it all together and use as many same sound words in a sentence, to create an alliteration about the animal in the picture. For example: the terrifying tiger, tiptoed through tangled trees chasing his prey.