Seals fitted with hi-tech helmets help researchers study Antarctica
Japanese researchers have fitted eight Weddell seals with hi-tech monitors to help survey the waters under the thick ice sheet of Antarctica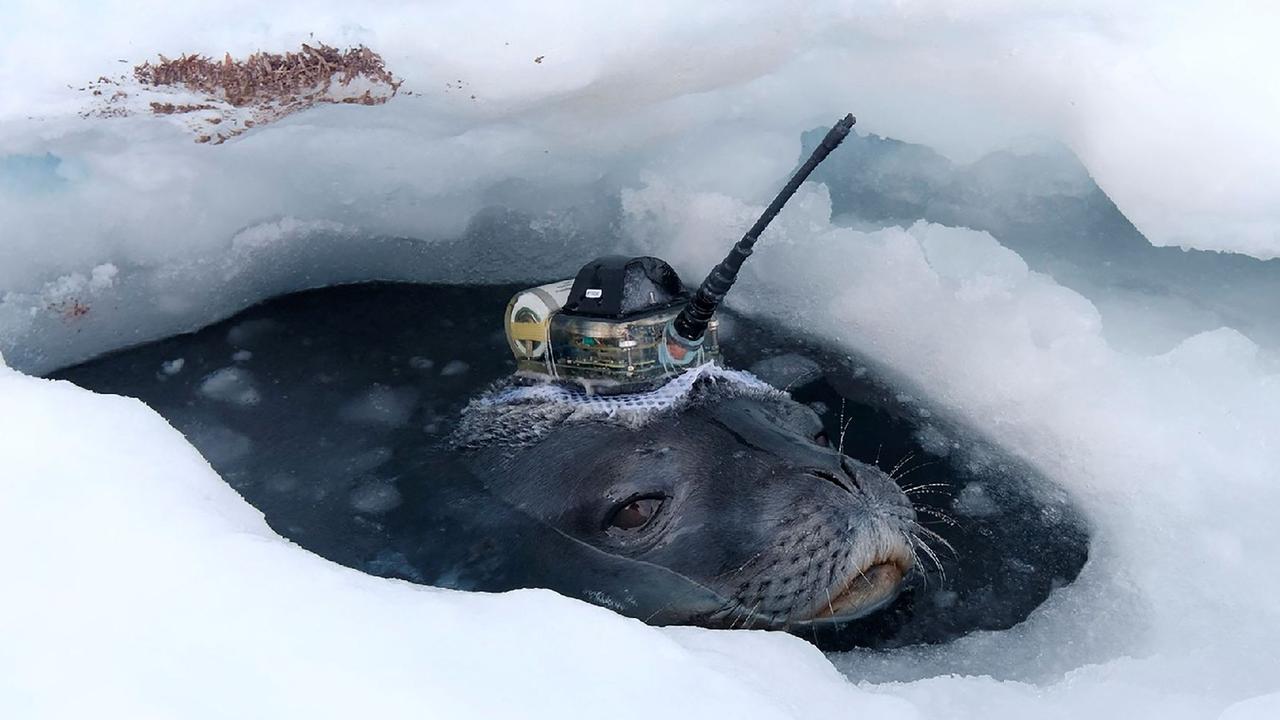 Hi-tech monitoring devices were fitted to the heads of eight Weddell seals to help Japanese researchers survey under the ice sheet during the Antarctic winter. Picture: Nobuo Kokubun, National Institute of Polar Research
A seal wearing a helmet with an antenna might look unusual, but eight Weddell seals did just that to help Japanese researchers survey the waters under the thick ice sheet in Antarctica.
The seals were recruited for a research project between March and September 2017, the Antarctic winter when harsh conditions make it extremely difficult for researchers to reach the area by ship.
Special glue was used to stick a monitoring device – weighing 580g and about the size of a small Rubik's cube – to the head of each seal. The monitoring devices contained sensors that allowed scientists to collect observational data*, such as water temperatures and salt levels.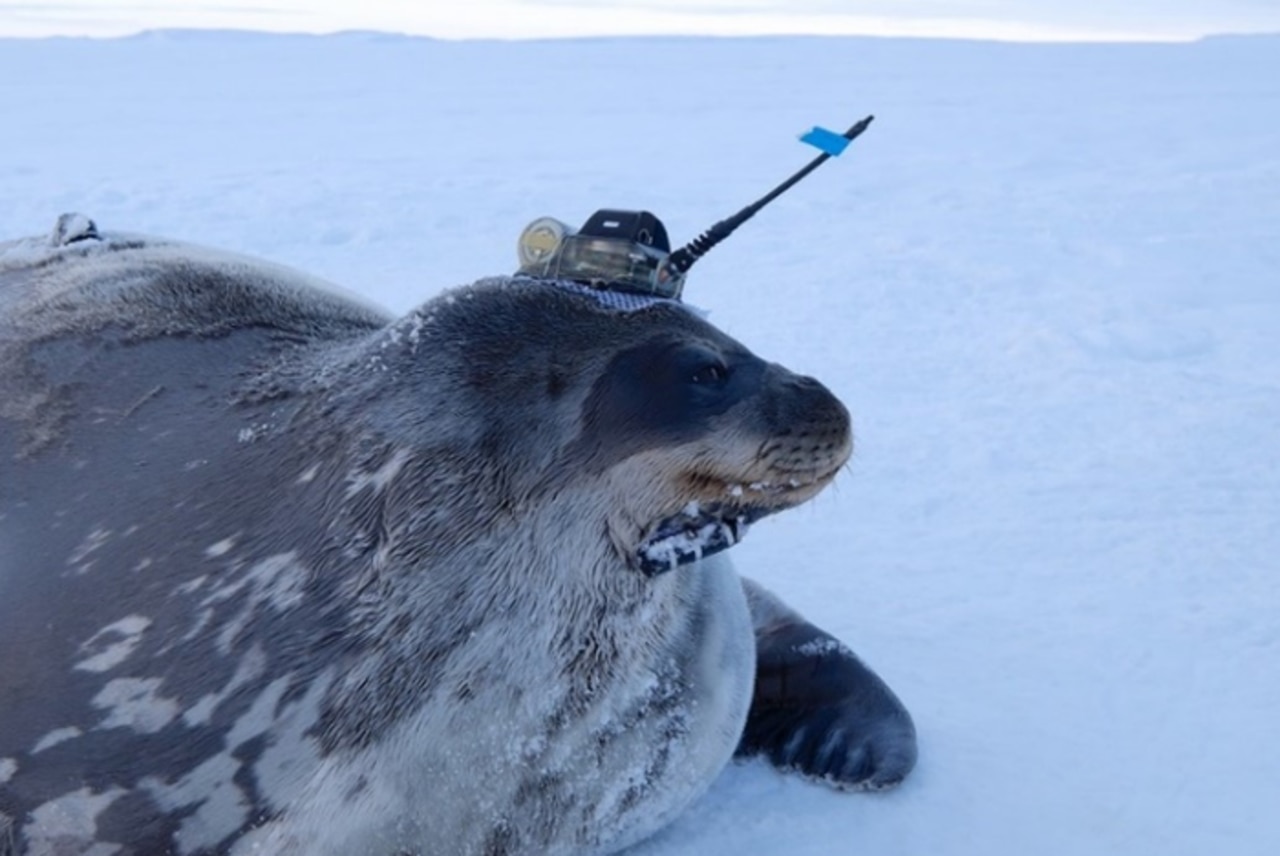 One of the eight Weddell seals wears the hi-tech monitoring device that has helped Japanese researchers understand their Antarctic environment during winter. Picture: Nobuo Kokubun, National Institute of Polar Research
Project leader Nobuo Kokubun, from Japan's National Institute of Polar Research, said the study helped scientists trace the animals' behavioural patterns and ecology*.
"During the summer, we can go to Antarctica on icebreakers* to conduct actual research activities, so that we can collect data there," he said.
"But during the winter, such things cannot be done in so many places.
"However, even in such a situation, many animals such as seals are living in the area of Antarctica, so I thought we should have them collect the data."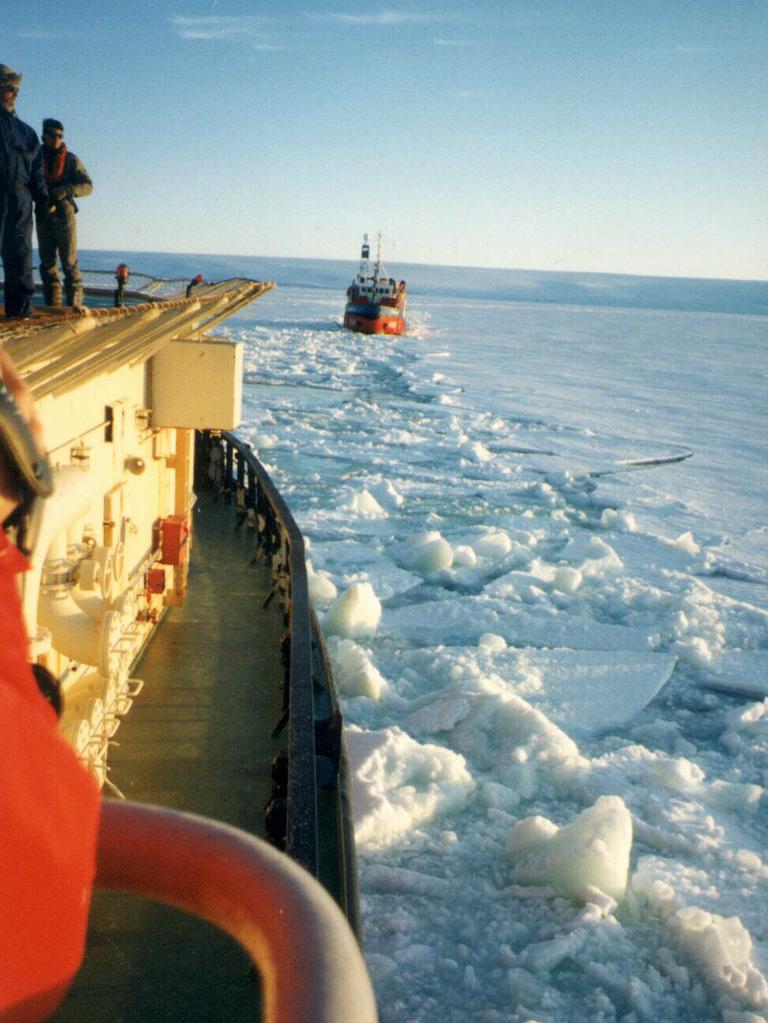 Winter makes it difficult for icebreakers, like this Russian ship called the Kapitan Khlebnikov, to reach many parts of Antarctica.
The data successfully gathered from seven seals showed one of them had travelled as far as 633km from the coast of Japan's Showa Station in Antarctica, while another had descended* to a depth of 700m.
Assistant Professor Kokubun said the scientists also learned from the data that warm seawater from the upper layer in the open sea reached Antarctica from March through winter that year. The water flowed below the ice, bringing in sea creatures like Antarctic krill, a major food source for seals.
Assistant Professor Kokubun aims to further examine the impact of global warming on Antarctic coastal areas by making the device small enough to fit on other animals at the South Pole such as penguins.
"The advantage with penguins is that they come back to the same place and we can collect the data from them immediately," he said.
"Also, we can use the devices on a large number of penguins so they can cover a wide area."
Penguins, like this group of Adelie penguins, could be the next animals to wear monitors that help researchers survey Antarctica during winter.
GLOSSARY
observational data: information that is gathered by observing, or watching, something
ecology: the study of the relationship between living things and their environment
icebreakers: ships designed to break a channel through ice
descended: moved downwards
EXTRA READING
Robot lizards solve prey puzzle
Getting to know the mysterious blue whale
QUICK QUIZ
What species of seal took part in this research?
How many seals were fitted with the monitoring devices?
Why did the researchers use the seals during winter?
How deep did one of the seals dive?
What other Antarctic animal would Assistant Professor Kokubun like to fit the monitoring devices to?
LISTEN TO THIS STORY
CLASSROOM ACTIVITIES
1. Post-project presentation
Pretend that you were one of the researchers on this project. Create a short post-project presentation that explains the research project – how and why it was conducted and what the findings were. Use pictures or diagrams to support the information in your presentation.
Time: allow 40 minutes to complete this activity
Curriculum Links: English; Science
2. Extension
What other things do you think researchers could find out from attaching monitoring devices to animals? Think of a question you would like answered about an environment. Then explain what type of animal you would use to answer your question and why. Explain how you might attach a device to this animal so that the animal is not harmed and still behaves in its natural way.
Draw a picture of the animal with the device attached.

Time: allow 25 minutes to complete this activity
Curriculum Links: English; Science
VCOP ACTIVITY
Imaginative dialogue
Imagine you were there during the event being discussed in the article, or for the interview.
Create a conversation between two characters from the article – you may need or want to include yourself as one of the characters.
Don't forget to try to use facts and details from the article to help make your dialogue as realistic as possible.
Go through your writing and highlight any punctuation you have used in green. Make sure you carefully check the punctuation used for the dialogue and ensure you have opened and closed the speaking in the correct places.