A baby seal was a long way from home after an epic swim all the way from the Antarctic to the Australian mainland last week.
The young Sub-Antarctic Fur Seal swam 2000km from Macquarie Island in the Antarctic to land at Whisky Beach in Victoria's Wilson's Promontory.
Parks Victoria ranger Jonathon Stevenson said it was a massive journey.
"When we received calls from members of the public that a seal was on the beach looking sick or injured, we weren't surprised, knowing how far he had travelled," Mr Stevenson said.
"We know it had come from Macquarie Island because that is the nearest colony of this species."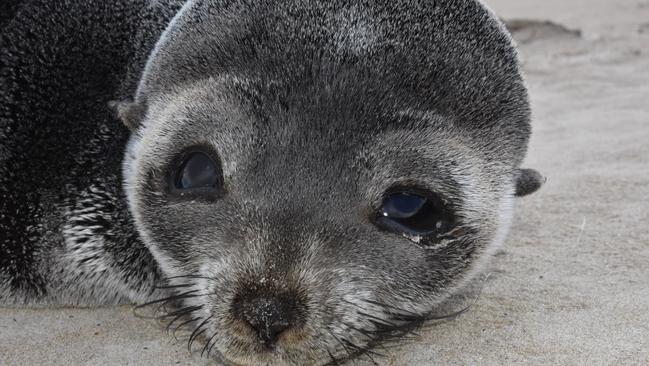 Two other seal pups from the same species were sighted earlier this month in other Victorian locations at Anglesea (later the same seal was seen in Point Lonsdale) and Portland.
"Only 36 of these pups have been seen in Victoria since records began in the mid-1980s but it's even more rare to get so many within a few weeks," he said.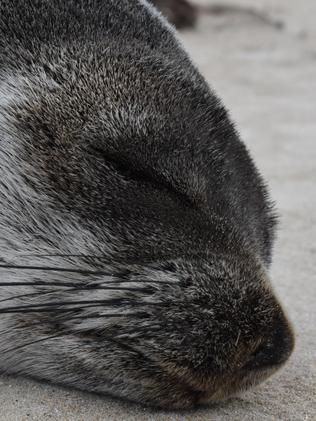 "Something strange must be happening in Macquarie Island for them to travel so far away.
"One possibility is that food sources nearby are limited so young seals are travelling further afield* resulting in them turning up in Victoria."
The seal spent the day relaxing on the beach before returning to the water later that night.
As soon as seals are weaned, they are left alone to forage and hunt for themselves.
They feed on a variety of fish, octopus, cuttle fish and sometimes eat little penguins.
Mr Stevenson said it is possible more seals will appear on Victorian beaches until November and it is important to stay 30m away. Dogs should be kept 50m away from a seal.
"They may look playful in the water but, on land, they know they're not so strong so they can easily feel threatened," he said.
"If you approach a seal on land, they're likely to lunge.
"They have very big teeth and their mouths are full of bacteria so you want to avoid being bitten at all costs."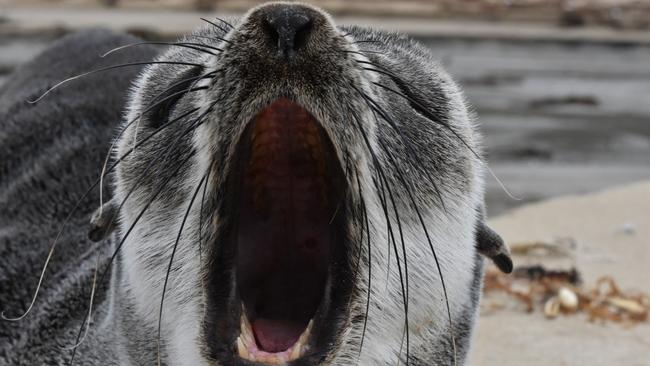 But seals aren't the only unexpected visitors Australia has welcomed recently, with giant fish and even a small shark making an appearance in Sydney last week.
Huge bluefin tuna arrived off the NSW coast last week far closer to shore than ever before, according to Daily Telegraph fishing columnist Al McGlashan.
The tuna were up to almost 2m long and weighed a whopping 100kg.
After illegal Japanese fishing for southern bluefin tuna, which devastated their numbers and saw them vanish from NSW water, was curtailed* the tuna have made an amazing comeback.
Bluefin traditionally turn up off Sydney in July but this season they were a no-show and then popped up out of the blue in September.
And who could forget Fluffy the great white shark who turned up on a Sydney beach last week.
The endangered baby shark was spotted struggling in the surf around Manly's Fairy Bower before being transferred into a saltwater pool, then an aquarium and finally back into sea the following day.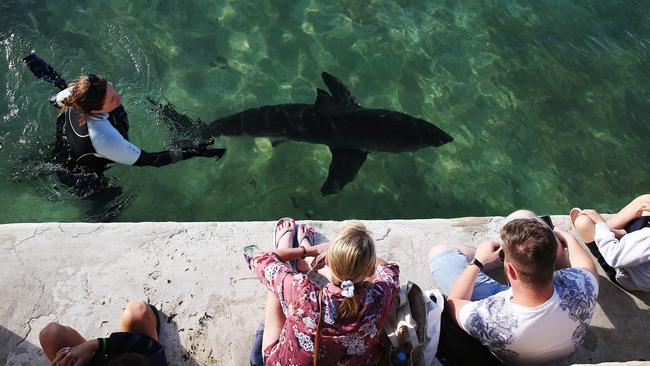 GLOSSARY
further afield: longer distances away
curtailed: reduced
LISTEN TO TODAY'S STORY
CLASSROOM ACTIVITIES
1. Swimming seal pup
Write a fact file on this baby seal using all the information contained in the article.
Give the baby seal a name.
Extension
Brainstorm some other possible reasons why these seals are swimming so far from their colony at Macquarie Island.
Time: allow 25 minutes to complete this activity.
Curriculum links: English
2. Lazy day at the beach
Using the photographs in story, write some speech or thought bubbles for each image.
Try to capture what the baby seal might have been thinking or feeling.
Extension
Turn the images from the story into a comic strip on the baby seal's big adventure.
Time: allow 25 minutes to complete this activity
Curriculum links: English, Critical and Creative Thinking
VCOP ACTIVITY
Look at the photos of the baby seal. Write adjectives and phrases to describe the deal.
List all the different emotions the seal might have felt on the journey.
Extension
Read the story carefully and create a story board about the seal's adventure.
Use your list of emotions to create phrases to describe each frame of your narrative.
Time: allow 40 minutes to complete this activity
Curriculum links: English, Big Write and VCOP
EXTRA RESOURCES
HOW DID A GREAT WHITE END UP IN THE POOL?
CAPTURING OUR WONDERFUL, WILD WORLD
GHOSTLY WHITE GIRAFFES SPOTTED
TASMANIAN TIGER 'PROOF' ON FILM
IN A SENTENCE, SHARE YOUR THOUGHTS ON TODAY'S STORY
Kids News loves reading your best grammar, vocabulary and spelling. We publish the best comments.