Robert Irwin has had a close call with a cranky croc while filming his family's television show.
The 18-year-old was clearly following in the footsteps of his late* father, "crocodile hunter" Steve Irwin, when attempting to feed Australia Zoo's near 4m long "white" croc, Casper, on the finale* of Crikey! It's the Irwins.
In the gripping episode, which airs on Animal Planet on Foxtel, Robert was testing whether 350kg Casper was comfortable to participate in the Queensland zoo's famous croc shows.
But it did not go to plan when Casper neglected the food on offer and instead jumped at Robert, who shouted, "Bail! Bail! Bail!" and darted out of the way of Casper's snapping jaws.
Robert Irwin narrowly escapes croc jaws (Animal Planet)
Taking to Instagram, Robert said it was "one of the most intense croc feeds I've done."
"We prioritise* natural behaviour with our crocs. By getting in their enclosures with them, and letting them put on those huge strikes from the water's edge, they get to use all of their predatory* instincts* and they just love it," he added.
"But safety for us is also crucial and you definitely have to know when to call it. And with such a powerful and quick croc like Casper we had no choice but to bail!"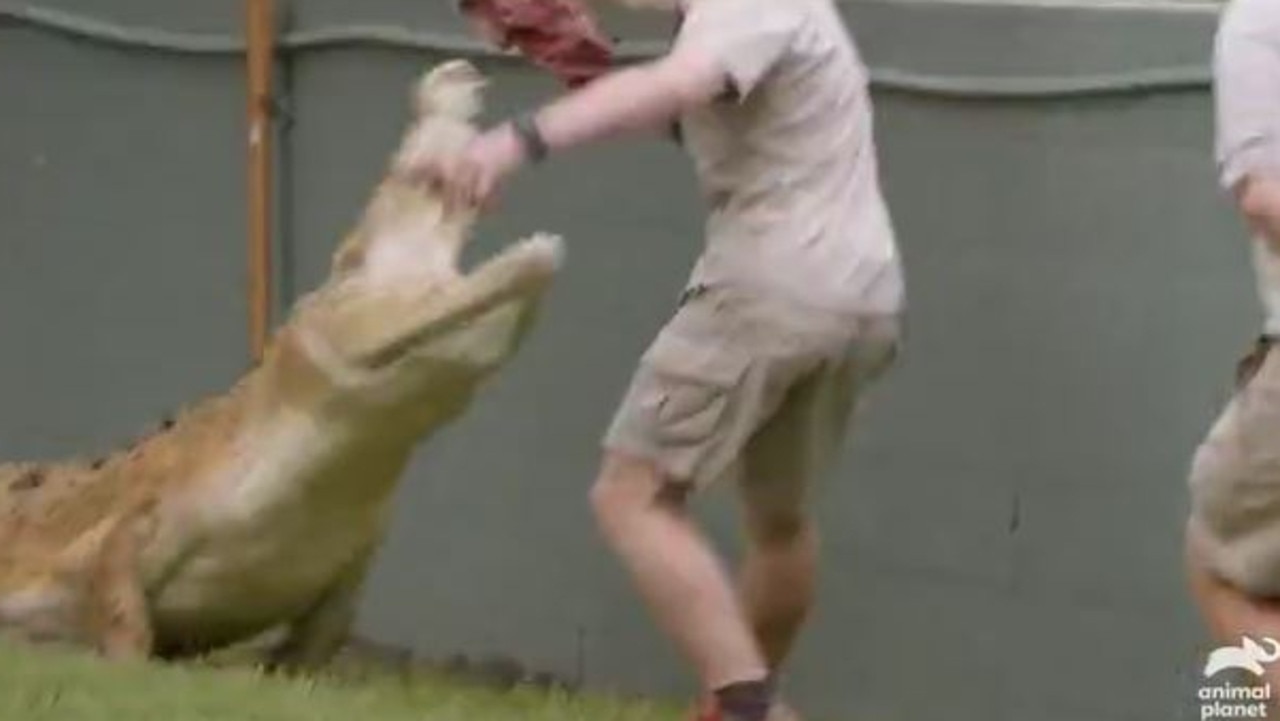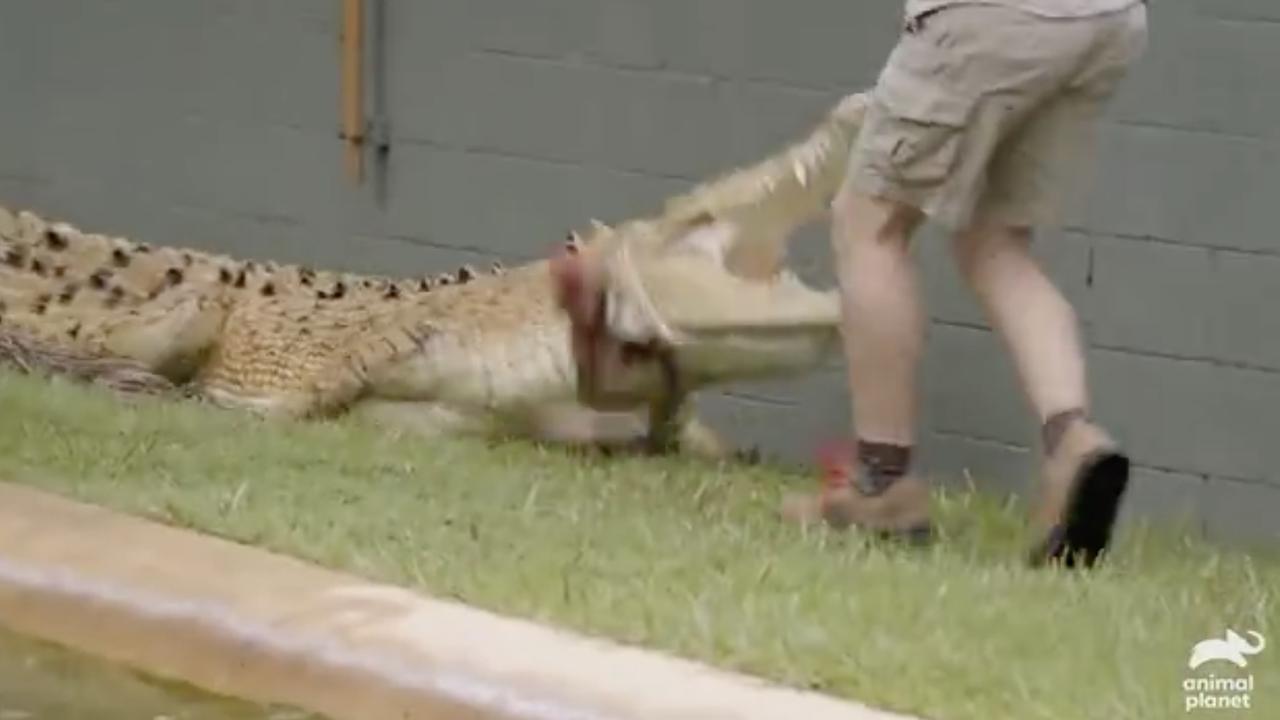 Steve Irwin rescued Casper, a leucistic* saltwater crocodile, in 2002. Leucistic means the crocodile lacks skin pigment*, leaving him a much lighter colour than other crocs. The rare condition, which affects about one in 10,000 animals, would have made Casper a target of predators at a young age in the wild.
He was being kept in a small enclosure at a crocodile farm in the Kimberley region of WA when he was rescued and taken back to Australia Zoo.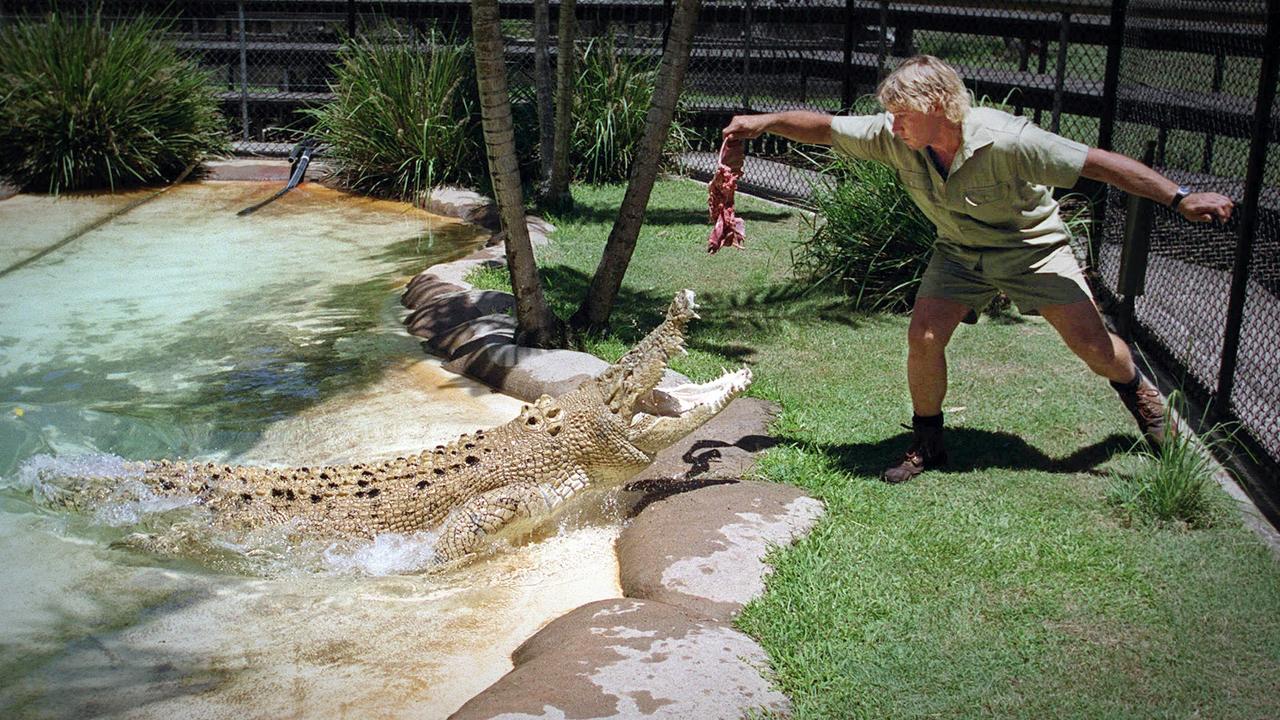 Steve Irwin wrote an article for International Crocodile Rescue at the time he relocated Casper from WA to Australia Zoo.
"His aggression was astounding* and it sure made top jaw-roping him exciting, but unfortunately, just as I predicted, he bit the pool pole off and it was caught in his mouth under the ropes," he wrote.
"Now we had to come up with a name for the most spectacular-looking crocodile we'd ever seen. It was easy – Casper; although he's still not even remotely friendly like his ghostly namesake*.
"We absolutely love our big boy Casper. He's nearly 12ft (3.6m) long and to this day remains very, very aggressive – Mate, he is a snappy croc."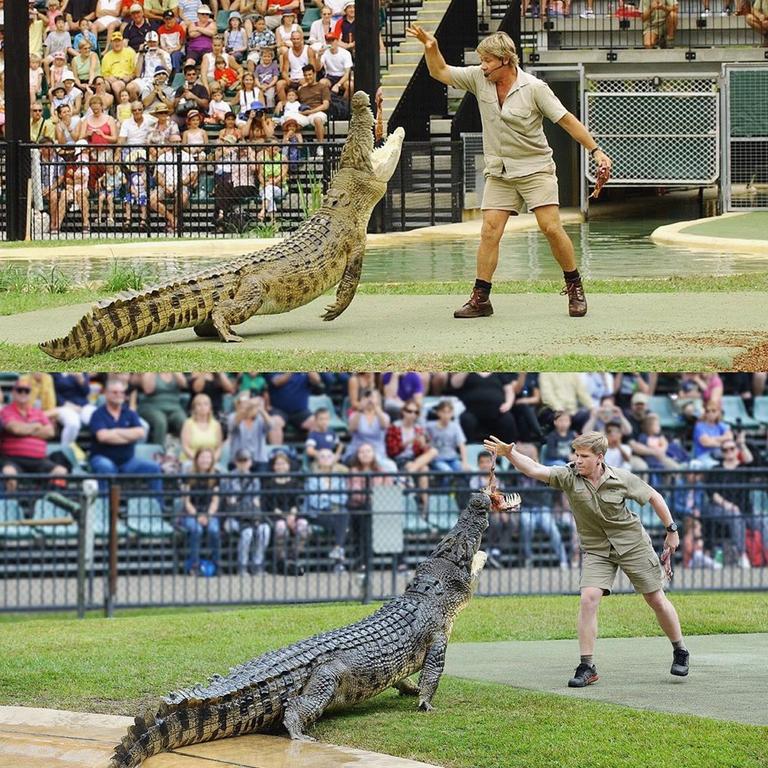 GLOSSARY
late: deceased, dead
finale: final episode
prioritise: make a priority, treat as the most important thing
predatory: preying on other animals to kill and eat them
instincts: the natural ways an animal (or a person) behaves or thinks
leucistic: a condition that results in loss of pigmentation in an animal, causing its skin, hair or feathers to appear white or patchy
pigment: a substance that gives skin its colour
astounding: very surprising or shocking
namesake: the person or thing that someone is named after. In Casper's case, he was named after the cartoon character Casper the Friendly Ghost
EXTRA READING
Robert Irwin urges kids to go wild in their own backyard
Calling all kids: our wildlife needs your help
Meet 'terror croc' with banana-sized teeth
QUICK QUIZ
What is the cranky croc's name?
How much does the crocodile weigh?
What did Robert Irwin yell when the croc charged at him?
Why does the crocodile have light coloured skin?
How did Robert Irwin describe his close call with the croc on Instagram?
LISTEN TO THIS STORY
CLASSROOM ACTIVITIES
1. What would Casper say?
Imagine that you could interview Casper for Kids News. Write five questions that would help you to learn his side of the story. Then, write the answers that you think that he would give you! Include lots of information in the answers so that your readers can really understand Casper and his experiences.
Time: allow 30 minutes to complete this activity
Curriculum Links: English, Science
2. Extension
Some people believe that animals like Casper should not be living in zoos. What do you think? Give specific reasons, examples from the story and other points from your own knowledge that will make your opinion convincing.
Time: allow 30 minutes to complete this activity
Curriculum Links: English, Science, Critical and Creative Thinking
VCOP ACTIVITY
Stretch your sentence
Find a "who" in the story – a person or an animal. Write it down.
Add three adjectives to describe them better.
Now add a verb to your list. What are they doing?
Add an adverb about how they are doing the action.
Using all the words listed, create one descriptive sentence.