A dog that was abused* by her previous owners and left scared of all people has struck up a sweet friendship with a baby.
English Pointer Nora was so badly treated that she would spend her days quivering* and had to be taken to a dog shelter where she was rescued by Canadian mum Elizabeth Spence.
However, the new family pet struggled to fit in and wouldn't bond with any of the humans in her new family or outside world.
But as soon as Elizabeth gave birth to her son, Archie, the pair developed an incredible bond, with the baby becoming the only person Nora wasn't scared of.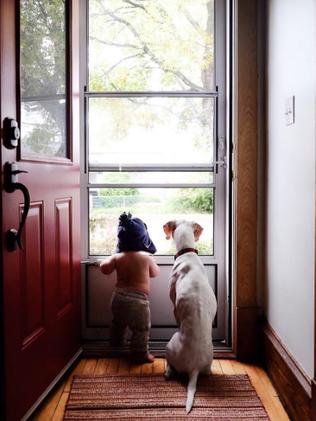 The pair are so at ease with each other's company that they are often snapped sleeping side-by-side or playing together.
And sometimes, even the family cats get involved as they all snuggle up together on the bed.
Mum-of-three Elizabeth said she thinks the unlikely pairing is down to Archie's chilled personality.
"Archie is an extremely laid-back*, happy, good-natured baby and all the animals seem to really respond to that, particularly Nora," she told pet website, Dodo.
"She came from an abusive background and is afraid of almost everything. Not Archie, though. She absolutely adores him.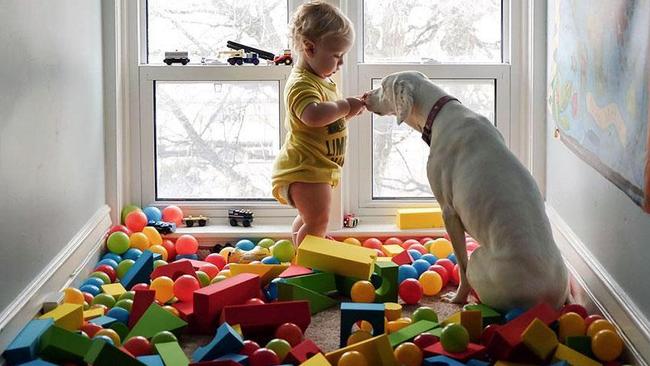 "If Archie is having a bath, Nora is lying on the bath mat waiting for him to get out. If I'm nursing him she wants up on my lap, too."
Spence charts what the pair get up to everyday as they grow up together on Instagram and they already have close to 100,000 followers online.

This story originally appeared in The Sun and is reprinted with permission.
GLOSSARY
abused: mistreated or injured
quivering: shaking
laid-back: relaxed or at ease
LISTEN TO TODAY'S STORY
CLASSROOM ACTIVITIES
Activity 1. Nora and Archie
Think about the similarities and differences between an abused dog and a newborn baby and write them in the columns.
Nora and Archie have almost 100,000 followers on Instagram.
Why do you think they are so popular?
Would you like to see what they get up to by looking at their photos?
Extension:
Look up the local pet rescue service in your area.
How could you help these animals find a loving home?
Time: allow 20 minutes to complete this activity
Curriculum links: English
Activity 2. Pet adoption
Work with a partner and look up the Victoria website to see what animals are up for adoption or need new loving homes.
Create a poster advertising some of these pets.
On your poster include a picture and some details about the pet and what sort of people that pet would suit
Also look up the costs of adopting a pet so people know how much money is involved.
Pets can cost a lot of money and aren't suitable for everyone.
Extension:
Add up the costs of adopting different types of pets.
What are the ongoing costs of looking after an animal?
Time: allow 40 minutes to complete this activity
Curriculum links: Health and Physical Education, English, Personal and Social
VCOP ACTIVITY
(Vocabulary, Connectives, Openers, Punctuation)
Connective capture
Connectives are joining words used to connect phrases together into longer sentences and improve the flow of their writing.
They can be conjunctions used to join two or more thoughts or ideas together in the same sentence, or prepositions and adverbs which can join two or more thoughts or ideas together in separate sentences or paragraphs to create flow.
Go through the article and highlight all the connectives with your highlighter.
Extension:
Get a partner to use your highlighted connectives in a verbal or written sentence.
Do the same with their article.
Time: allow 15 minutes to complete this activity
Curriculum links: VCOP, Big Write, English
EXTRA RESOURCES
TASMANIAN TIGER 'PROOF' ON FILM
GUIDE DOGS CELEBRATE 50 YEARS OF HELPING
GHOSTLY WHITE GIRAFFES SPOTTED
IN A SENTENCE, SHARE YOUR THOUGHTS ON TODAY'S STORY
Kids News loves reading your best grammar, vocabulary and spelling.
We publish the best comments.