A one-eared puppy that looks like a unicorn is capturing hearts around the world.
Rae, a 12-week-old golden retriever pup, lost one ear during her birth and as she grew her remaining right ear shifted to the middle of her head.
Rae's carer Brianna Aardema, who works at the vet hospital in Grand Rapids, Michigan in the US that treated the unique puppy, adopted her into her care after emergency surgery.
"The minute I saw her, I knew I wanted to raise her and be there for her even though I knew the road to recovery wouldn't always be easy," Ms Aardema said.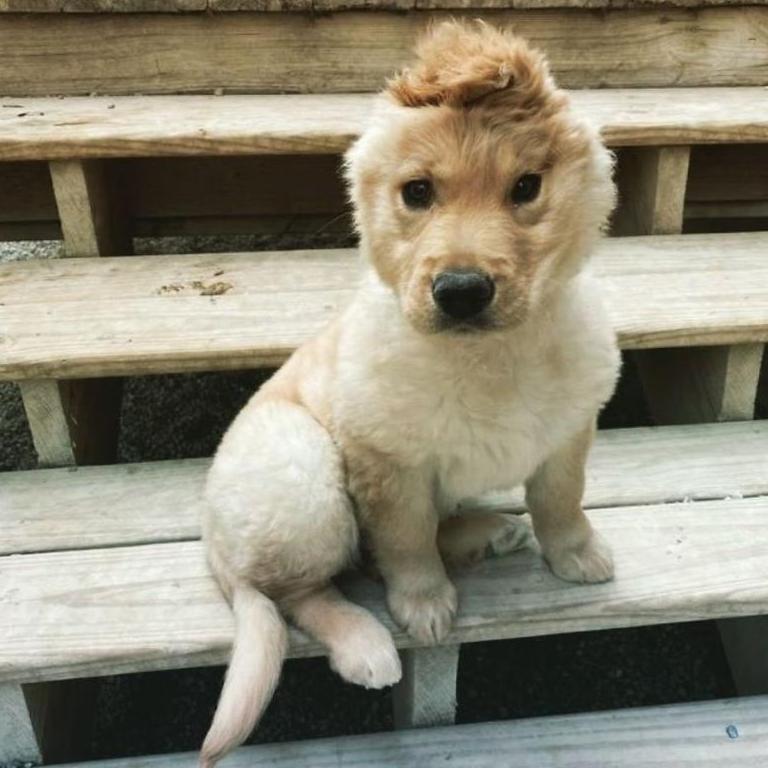 The dog's breeder isn't sure what happened at birth to injure Rae — which is ear spelled backwards — but suspects Rae's mother was cleaning off the placenta* or amniotic sac* and was a little too aggressive.
Rae's entire ear was gone and all that was left was the canal with all of the skin peeled off.
After her surgery, the remarkable movement of her remaining ear began.
"We're assuming because of the sutures* is why the ear migrated* to the top of her head," Ms Aardema told CNN. "I think as her skin grew, and she started to grow, that it just kind of migrated up there."
Ms Aardema said the puppy has no issues with hearing or pain.
"She can hear and plays in daycare here at work almost every day," Ms Aardema said. "She has best friends and is the most confident puppy ever. She's a normal puppy, just with one ear."
GLOSSARY
placenta: a circular organ in mammals that feeds an unborn baby through the umbilical cord
amniotic sac: the fluid-filled sac that contains and protects an unborn baby in the womb
sutures: stitches
migrated: moved
EXTRA READING
Narhwal the unicorn puppy with a tail on his head
Real unicorn walked among humans
QUICK QUIZ
Which ear was Rae missing at birth?
Why is she called Rae?
Which US state was Rae born in?
Does Rae have pain or hearing issues?
How did she lose the ear?
LISTEN TO THIS STORY

CLASSROOM ACTIVITIES
1. Introducing Rae
Let's pretend that you are Rae's owner. You are playing at the dog park with Rae and another dog owner asks you about Rae's unusual appearance. Write down how you would introduce Rae and explain her unique story in your own words.
Time: allow 15 minutes to complete this activity
Curriculum Links: English
2. Extension
Fold a sheet of paper into quarters. Draw 4 pictures that convey information from the news story about Rae. Each picture may have up to 3 words in it only to help give meaning.
Time: allow 20 minutes to complete this activity
Curriculum Links: English; Visual Arts
VCOP ACTIVITY
1. Proper Noun Police
A proper noun is a noun that names a particular person, place or thing. It always has a capital letter.
How many proper nouns can you find within this article? Find them all and sort them into the category of name, place, time (date/month).
Can you find any proper nouns included in your writing?
What are they?
Can you sort them into their categories?

HAVE YOUR SAY: Describe how this story about Rae the unicorn puppy makes you feel.
No one-word answers. Use full sentences to explain your thinking. No comments will show until approved by editors.