Onkaparinga Council has saved a pig called Bacon, allowing his owner, Alison Huveneers, to have her beloved pet pig stay at her home.
The council this month gave Mrs Huveneers development approval to keep him, even though he has been with her since 2012.
Bacon is the ideal pet. He sits on the couch for a cuddle, watches TV, is toilet trained and loves his daily walks around town, where he is a celebrity*.
But two years ago Onkaparinga Council, south of Adelaide in South Australia, learned that the miniature pig was living at Mrs Huveneers' Christies Beach home and ruled that permission to keep him was needed.
Thankfully for Bacon and his owner, Onkaparinga Council was satisfied Mrs Huveneers was a capable owner.
" … the owner demonstrated that Bacon is well cared for and his environment is maintained in a clean and hygienic manner," a council spokesman said.
The conditions of the approval include that his home must be kept neat and clean, his food kept in sealed containers and noise and odour managed.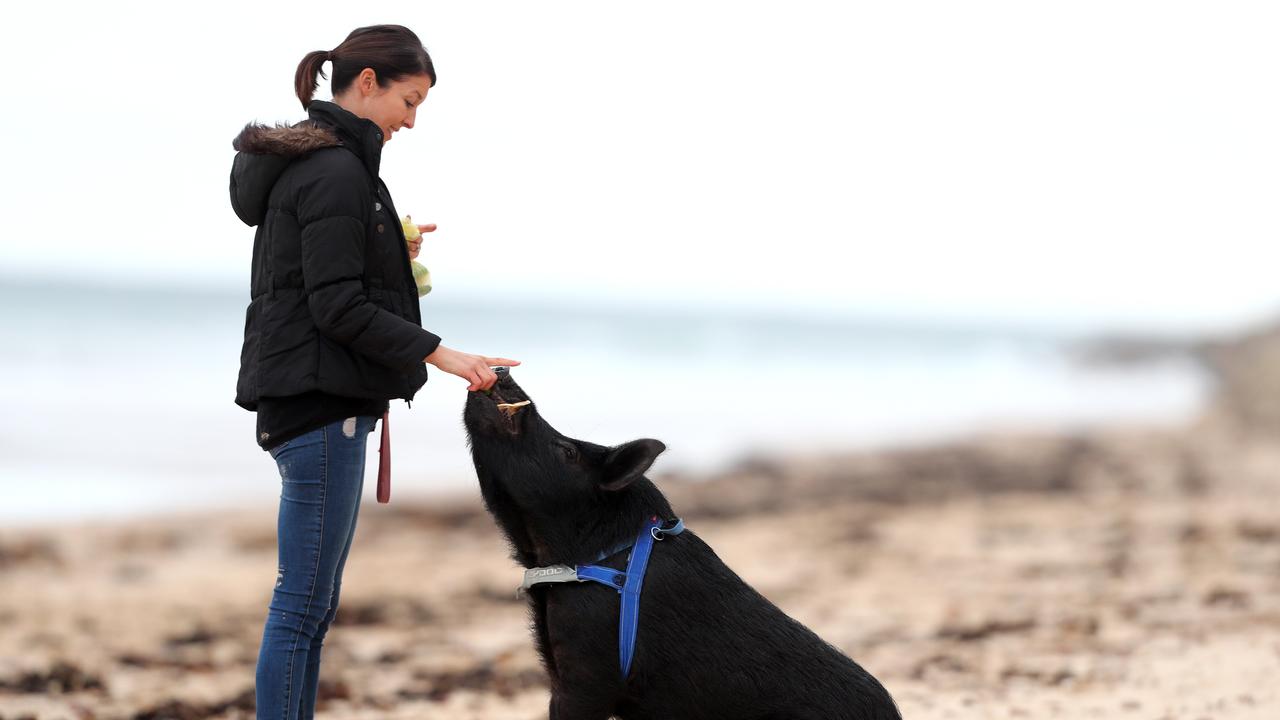 It was a worrying time for Mrs Huveneers when she learned she had to apply to keep her pet.
"Apparently* the council had a phone call from someone to say we were housing a pig … so we basically had the council come and check the state he lives in," she said.
"They said they had never had something like this before and they weren't quite sure about how they should deal with it."
Mrs Huveneers said Bacon, now a healthy six year old, turns heads wherever he goes.
"I have always loved pigs and when someone said you could get one as a pet, I did some research and basically found they are easy to train and keep clean," she said.
"So I found a breeder in New South Wales that did miniature pigs and when the next litter* came around, we got him shipped over to Adelaide and we've had him ever since."
Her husband, Charlie, suggested naming him Bacon "as a bit of a joke", but bacon is not on the menu at their house.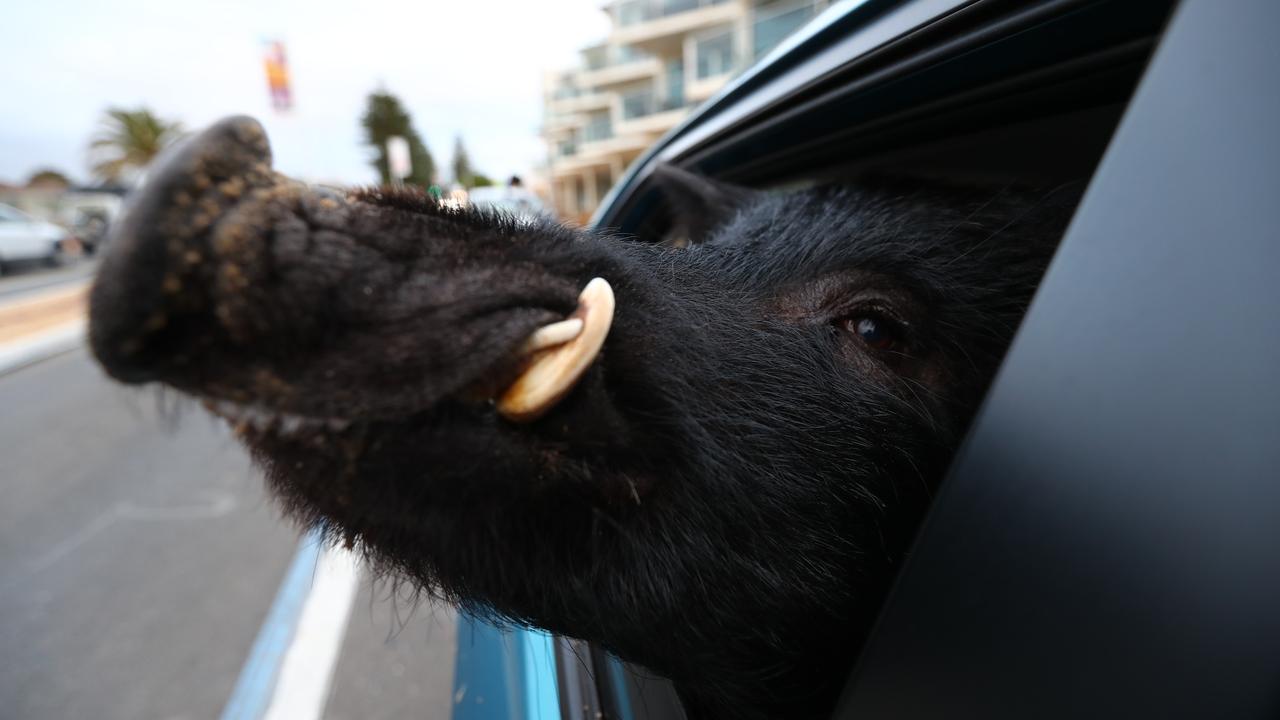 "He is super-placid* and easygoing, but if he wants something he can be pushy — like when there is food around," Mrs Huveneers said.
"He is very social so if we are inside he wants to be inside with us and loves to mingle* when people are over.
"He can be a little pig-headed at times, and stubborn, but he is really good and clean."
He even graduated from dog school through Paws Galore Puppy School at Christies Beach in 2012.
"He learnt to sit, jump through hoops, walk on a skateboard and come to us when called," Mrs Huveneers said.
"He is obedient and friendly.
"But I am more than happy to have him microchipped and registered like a dog."
Mrs Huveneers said Bacon, who also responds to the name Pigsy and is expected to live at least another nine years, is well known in the local community.
"Everyone who walks past our house knows him and they give him a pat if he's on the front lawn," she said.
"The ladies across the road bring their scrap food for him.
"I think it's nice when we are at the beach. People just come up and pat him and kids love him."
An Onkaparinga spokesman said no one had complained about Bacon, but the council was required to seek development approval.
"Any decision will be based on the potential impacts* on the neighbours, the management of the animal and the land on which it is kept," he said.
EXTRA READING
Mini pony has a big impact
GLOSSARY
celebrity: star
uncertain: unsure or unknown
apparently: it seems
litter: set of sibling piglets
placid: calm and docile
mingle: join in
impacts: effects
LISTEN TO TODAY'S STORY
QUICK QUIZ
1. Give three examples of how Bacon behaves like a regular pet.
2. What is the name of the Christies Beach council?
3. What is Mr Huveneers' first name?
4. How old will Bacon be if he lives another nine years?
5. Has anyone complained about Bacon?
CLASSROOM ACTIVITIES
Should Mrs Huveneers have been allowed to keep her pet pig?
Think about this question from each of the following viewpoints and give reasons FOR and AGAINST for each.
You may get some ideas from the article but you will also have to think as if you were each person (or animal).
Mrs Huveneers and her husband
The neighbours
The local council
Bacon or Pigsy (the pet pig)
Extension: After looking at this problem from a number of perspectives, what do you believe was the right outcome. Was the council right to let him stay?
Write a letter to the Onkaparinga Council stating your point of view and your reasons for it. As this is a formal letter make sure you address it and set it out correctly and make your points using polite and persuasive language.
Time: Allow 40 minutes
Curriculum links: English, Critical and Creative Thinking, The Humanities — Civics and Citizenship
VCOP ACTIVITY
After reading the article, with a partner, highlight all the openers you can find in blue. Discuss if they are powerful and varied openers or not. Why do you think the journalist has used a mix of simple and power openers? Would you change any, and why?
IN ONE SENTENCE, TELL US WHAT YOU THINK ABOUT THIS STORY
Please do not use one-word answers. Explain what you enjoyed or found interesting about the article. Use lots of adjectives.