OMAR is not your average cat — but his size is fur real.
Weighing in at 14kg — three times the size of a normal feline — three-year-old maine coon* Omar is now in the running to be crowned the longest cat in the world, thanks to the power of social media.
Owner Stephy Hirst, from Croydon, started an Instagram account for Omar two weeks ago, and his popularity exploded after his photo was featured on the Cats of Instagram account, which has 8 million followers.
Ms Hirst, 29, was then contacted by Guinness World Records, who said Omar could be the longest cat in the world.
"At first I thought 'is this real?'," she said.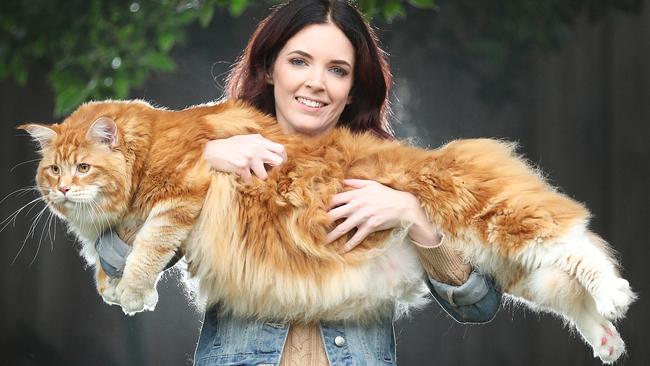 But after confirmation it was real, she said she would now send Omar's measurements in for verification*.
The current record holder is UK-based Ludo, also a maine coon, which measured in at 118.33cm long in October 2015.
Ms Hirst said she recently measured Omar at about 120cm.
"We thought he might be (the longest cat in the world) but we hadn't done anything about it because he might not be fully grown yet," she said.
Ms Hirst and partner Rowan Lawrence got Omar when he was a kitten.
"Rowan always wanted a big cat," she said.
"(Omar) was tiny when we got him but then he just started growing and was 10kg at one year old," she said.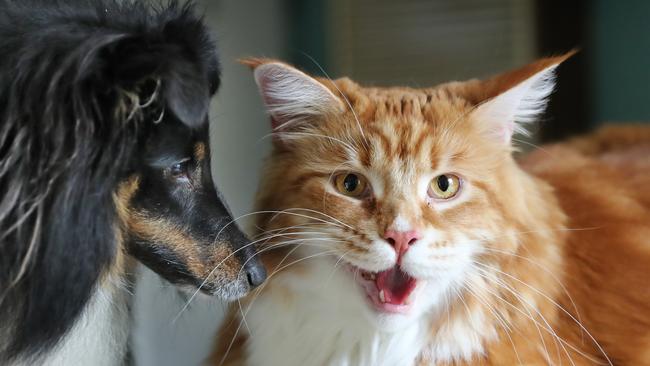 A typical day for Omar includes waking up at 5am for breakfast — a couple of scoops of kibble* specially made for maine coons — and napping outside on the trampoline.
He eats raw kangaroo for dinner.
"He doesn't jump the fence, and he likes to hide in small places like the kitchen cupboard," she said.
She said Omar was placid, and ran away at the sign of trouble.
But she has to lock him out of their bedroom at night.
"He sleeps on the couch … because he takes up too much room on the bed and he demands we cuddle and pet him all through the night," she said.
"But he is really good at opening doors, sliding doors, kitchen cupboards, shower doors, wardrobes, he'll get past all of them.
"He just likes to be able to go wherever he pleases so he will do whatever to find a way."
Please enable Javascript to watch this video
"
GLOSSARY
maine coon: a long-haired cat breed
verification: making sure
kibble: dry cat food
LISTEN TO TODAY'S STORY
CLASSROOM ACTIVITIES
Activity 1.
Write a story titled 'The Incredible Adventure of Omar, the Biggest Cat in the World.'
Extension:
Design at least three illustrations to go with your story about Omar.
Your drawings should help to tell part of the story.
Time: allow 65 minutes to complete this activity
Curriculum links: English, Critical and Creative Thinking, Visual Communication and Design
Activity 2.
If you could have any animal in the world as your pet, what would it be?
Write down why you chose that animal.
What would be the challenges having this animal as a pet?
Write them down.
Being as creative as possible, how might you solve the challenges?
Extension:
What do you need to do to be a responsible pet owner?
Do you need to be someone who makes sure their pets are safe and well looked after?
Create a poster that encourages people in your school to be responsible pet owners.
Your poster should include information about what a good pet owner should do.
Time: allow 55 minutes to complete this activity
Curriculum links: English, Critical and Creative Thinking, Visual Communication and Design
VCOP ACTIVITY
(Vocabulary, Connectives, Openers and Punctuation)
Activity: Proper Noun Hunt
Go through the article with a yellow highlighter and highlight all the proper nouns being used. Then make a chart to sort them in to two categories — proper noun of name (someone's name) and proper noun of place or date (places, months, weekdays etc).
What do all the proper nouns start with?
Time: allow at least 15 minutes to complete the task
Curriculum Links: English, Big Write & VCOP
Activity provided by Andrell Education www.andrelleducation.com.au
EXTRA RESOURCES
MEET THE LION CUBS, NAMED BY YOU
IN A SENTENCE, SHARE YOUR THOUGHTS ON TODAY'S STORY
Kids News loves reading your best grammar, vocabulary and spelling.
We publish the best comments.