They might be small but these baby quolls have a big role to play in saving their species at the Territory Wildlife Park (TWP) in the Northern Territory.
Weighing in at just 50g, 15-week-old siblings Aquila and Khaleesi are being hand reared* as part of the TWP's Northern Quoll Breeding Program.
TWP manager of visitor experience Simon Ferguson said it was vital* for zoo keepers to hand rear the Northern Quolls as part of the breeding program.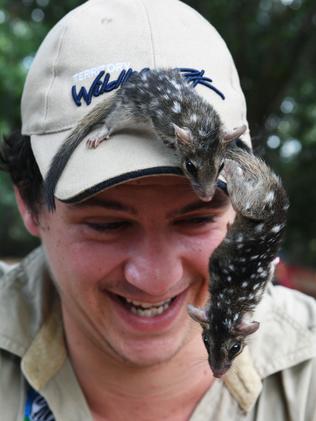 "We hand rear so we can have encounter* animals at the park, so these two will effectively be ambassadors* for their species," he said.
"The Northern Quoll is listed as critically endangered in the Northern Territory and endangered throughout the whole of Australia and the world so it's important for us to convey that conservation message to the public."
Introduced pests, including cats and cane toads, and habitat destruction are big problems for quolls in the wild.
Mr Ferguson said looking after the furry critters was no easy task, with zoo keepers feeding the babies every four hours.
"When we first pulled them from their mother at around the 25g mark they were feeding every three hours," he said.
"We are now feeding them every four hours — at the moment they are on milk but they are also starting to eat insects as well."
Four species of quoll occur in Australia — the northern, spotted-tailed, eastern and western quolls. Once, most parts of Australia were inhabited by at least one of the species, but these numbers have greatly diminished.
You can still find quolls in Western Australia, the NT and Tasmania. A reintroduction program is also taking place in the Flinders Ranges in South Australia.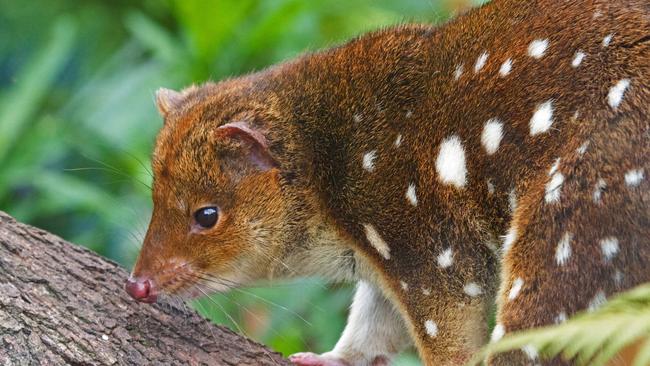 Mr Ferguson urged members of the public to make a trip out to the TWP to see the little marsupials* while they were still babies.
"We often have lots of babies at the nocturnal house so it's always worth visitors sticking their head in to have a look — you never know what you might find in there," he said.
Nocturnal animals are most active at night and spend their days sleeping and resting.
GLOSSARY
reared: raised
vital: needed
encounter: meeting
ambassadors: representatives
marsupials: mammal that carries it young in a pouch
LISTEN TO TODAY'S STORY
CLASSROOM ACTIVITIES
Activity 1. A Day in the Life of a Quoll
Write a daily schedule for the baby quolls in the story, setting out what they are doing at different times of the day.
The article will give you a good idea of how often they eat and which part of the day they generally spend sleeping.
A little bit of extra research should give you an idea of other things quolls do that you could write into their schedule.

Extension:
Make a comic strip of a day in the life of a quoll that matches up with the schedule you created.
Time: allow 15 minutes to complete this activity
Curriculum links: English, Mathematics

Activity 2. Get acquainted with a quoll
The two baby quolls in the story are being hand reared so that they can become encounter animals at the Territory Wildlife Park.
Create a brochure to advertise the quoll encounters to visitors. It should include some information about quolls, their current population status and what to expect as part of the encounter experience.

Extension:
Make a list of other nocturnal animals.
Time: allow 30 minutes to complete this activity
Curriculum links: English, Science
EXTRA RESOURCES
WHY CATS COULD STEAL DOGS' JOBS
ABUSED DOG'S SPECIAL BOND WITH BABY
SOGGY MOGGY A SEASIDE SENSATION
SEAL PUP'S EPIC SWIM FROM THE ANTARCTIC
IN A SENTENCE, SHARE YOUR THOUGHTS ON TODAY'S STORY
Kids News loves reading your best grammar, vocabulary and spelling. We publish the best comments.