Scientists have identified a new species* of great ape on the Indonesian island of Sumatra.
Researchers say the small population of orangutans living in the Batang Toru forest is different enough from the two existing orangutan species to be recognised as a third species.
The shaggy, reddish tree dwellers boast genetic, skeletal and tooth differences.
The development would bring the number of great ape species worldwide to seven, aside from people, alongside Africa's eastern and western gorillas, chimpanzees and bonobos.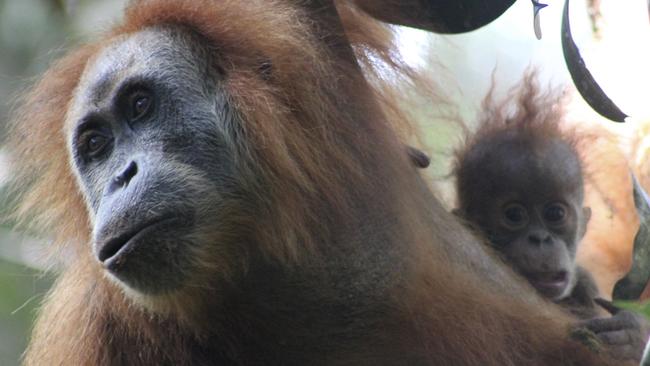 Scientists labelled the species the Tapanuli orangutan, with the scientific name Pongo tapanuliensis.
But scientists are worried about the future of the newly identified apes, one of humankind's closest relatives.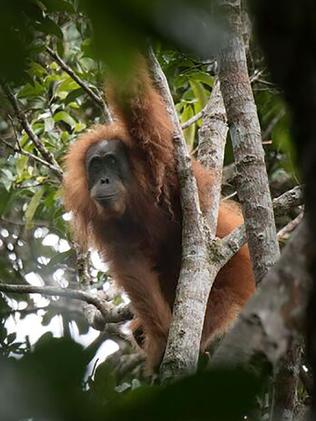 "There are no more than 800 individuals remaining across three fragmented* forest areas," said conservation biologist Matthew Nowak of the Sumatran Orangutan Conservation Program.
He said large areas of the Tapanuli orangutan's habitat were under threat from agriculture, mining, the building of a hydro-electric scheme and plantations.
Orangutan means "person of the forest" in the Indonesian and Malay languages.
They are the world's biggest arboreal mammals, animals that spend the majority of their lives in trees. Koalas are also arboreal mammals.
Orangutans have adapted to living in trees, with arms longer than their legs. They live more solitary* lives than other great apes, sleeping and eating fruit in the forest canopy and swinging from branch to branch.
"It's pretty exciting to be able to describe a new great ape species in this day and age," said University of Zurich evolutionary geneticist Michael Krutzen, adding that most great apes species are listed as endangered* or critically endangered.
"We must do everything possible to protect the habitats in which these magnificent animals occur, not only because of them, but also because of all the other animal and plant species that we can protect at the same time."
The research was published in the science research journal Current Biology.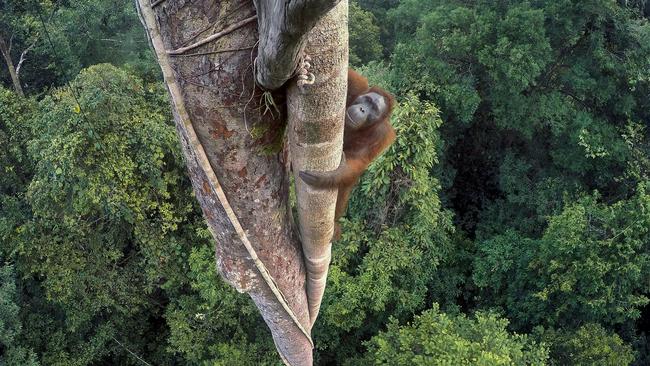 GLOSSARY
species: related group of living organisms
fragmented: separated
hydro-electric: creating power out of water
solitary: by themselves
endangered: very few still alive, in risk of becoming extinct
LISTEN TO TODAY'S STORY
CLASSROOM ACTIVITIES
Activity 1. Comprehension
In a sentence, summarise the new discovery.
Explain why scientists are worried about the newly discovered orangutan species.
Describe some ways in which orangutans are similar to two other types of animals.
What are some common behaviours of orangutans?
How might other animals be helped by efforts to protect orangutans?

Extension:
Write some sentences containing similes to describe orangutans.
Time: allow 25 minutes to complete this activity
Curriculum links: English, Science

Activity 2. Great Apes
Create a poster showing the eight great ape species with a drawing and unique fact about each one.
Extension:
On a map of the world, mark where each of the great ape species live.

Time: allow 45 minutes to complete this activity

Curriculum links: English, Science, Geography
VCOP ACTIVITY
(Vocabulary, Connectives, Openers, Punctuation)

Ape vocabulary!
Think up some words to describe different apes.
Shaggy and reddish are some great describing words from the article.
Extension:
Make some sentences out of your descriptive words.
Time: allow 15 minutes to complete this activity
Curriculum links: English, Big Write, VCOP

EXTRA RESOURCES
GHOSTLY WHITE GIRAFFES SPOTTED
CAPTURING OUR WONDERFUL, WILD WORLD
TASMANIAN TIGER 'PROOF' ON FILM
GUIDE DOGS CELEBRATE 50 YEARS OF HELPING
IN A SENTENCE, SHARE YOUR THOUGHTS ON TODAY'S STORY
Kids News loves reading your best grammar, vocabulary and spelling.
We publish the best comments.