Anti-poaching* rangers have shared a series of incredible selfies posing and relaxing with the gorillas they risk their lives to protect.
The photos were taken at Virunga National Park in the Democratic Republic of the Congo only days after a ranger died while doing his job.
At least 600 rangers work at the UNESCO World Heritage park in Africa to protect the mountain gorillas, which can each weigh up to 180kg.
Describing the rangers' work on its website, the park said it has been "deeply" impacted by war and armed conflict over the past 20 years.
In total, around 1790 rangers have died trying to save the lives of gorillas.

In one selfie a young man grins as he stands next to a gorilla on its legs, appearing very much like a human.
The animals appear to lean back and shrug their shoulders, with one leaning forward to make sure its entire head can be seen in the selfie.
The snap captioned* "family time" generated* thousands of likes on social media platform Facebook.
Another photo shared immediately after showed another ranger kneeling down, with a gorilla leaning on him to get right in the shot.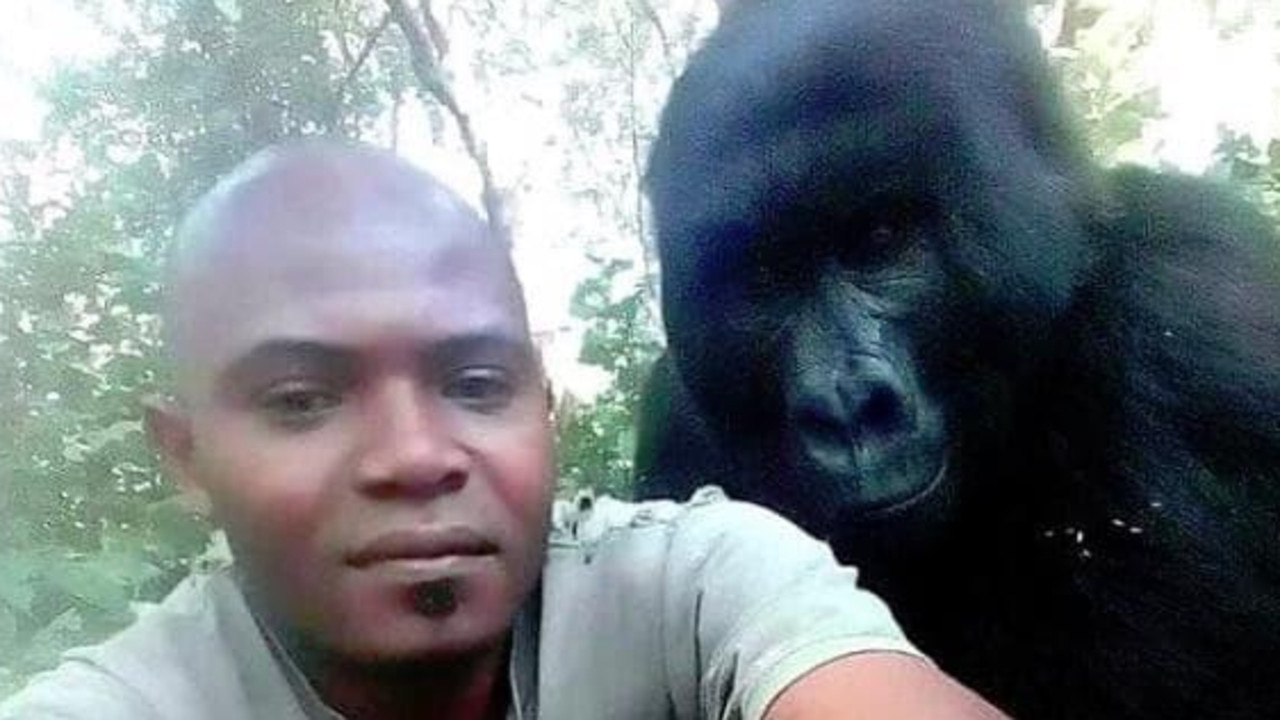 Beside the photo captioned, "another day at the office", a Facebook user commented: "Wow, that is an amazing office you've got there.
"Stay safe and thank you for the amazing work you do."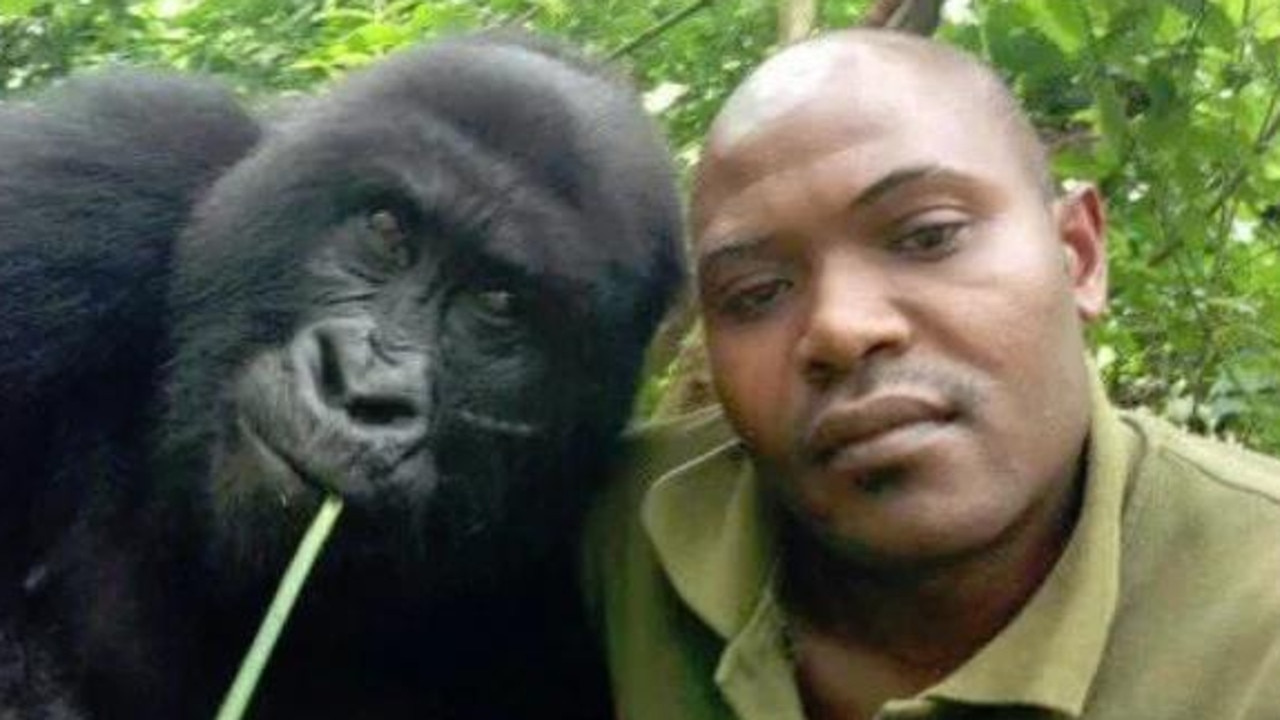 A ranger died on March 29 after he was attacked by a hippopotamus.
Just days later another ranger was struck by lightning.
In order to become a ranger at the park, applicants* must complete a six-month training program.
The park said on its website: "These local men and women go through intensive* training, risking their lives on a daily basis to safeguard* the park's exceptional wildlife, including the last of the world's critically endangered mountain gorillas."

This article was originally published in The Sun and has been republished with permission.
THE GORILLAS
Scientific name: Gorilla Beringei Beringei
There are only about 1000 left in the wild and are critically endangered.
They live in just two groups, one in the Virunga volcanoes area (which spans parts of the Democratic Republic of the Congo and neighbouring countries Uganda and Rwanda) and Bwindi Impenetrable* National Park in Uganda.
The gorillas live at high altitude in forests, where they eat plants.
Humans are the biggest danger to the gorillas, because poachers continue to hunt them and we have destroyed large areas of their forest habitat.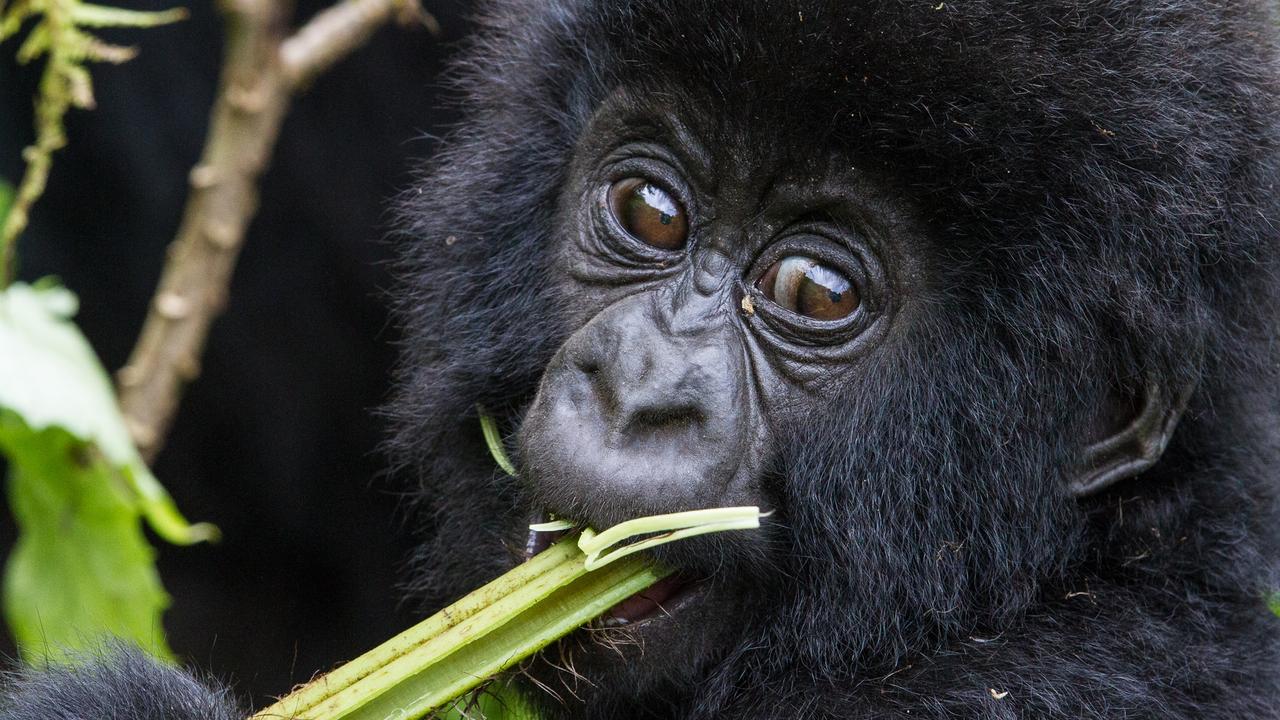 They usually live in family groups of several females and their young and at least one dominant male. This male is called a silverback because of the patch of silvery grey hair on his back and hips.
Their numbers may have slightly increased in recent years with the help of the national park rangers.
Source: World Wildlife Fund for Nature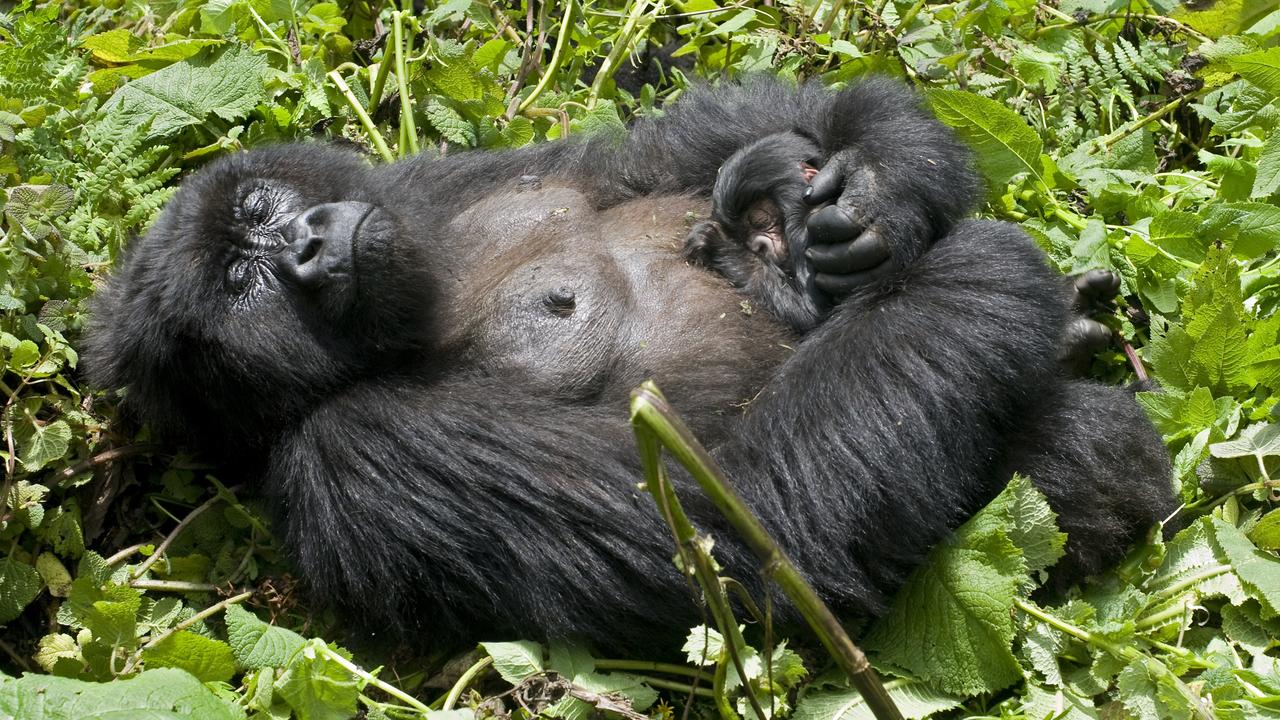 VIRUNGA NATIONAL PARK
The park covers 8000 square kilometres and is home to one of the world's largest mountain gorilla populations.
There are hundreds of other species of rare animals in the park. It contains more bird, mammal and reptile species than any other part of Africa.
The park was created in 1925 and was among the first protected areas in Africa.
It is in a country in Africa called the Democratic Republic of the Congo, where there have been many wars in recent years.
In 2013, it was estimated that at least six mountain gorilla families, of about 100 gorillas, lived in the area.
Although the land has some protection as a national park, there is still a possibility that in the future it will be used for mining, including for oil and gas.
GLOSSARY
poaching: illegal hunting or killing or wildlife
captioned: explained in words, as in below or beside a photo
generated: made happen
applicants: people who apply
intensive: concentrated on a single subject and very thorough
safeguard: rule or protection
impenetrable: can't get through it, as in a thick forest
EXTRA READING
World's richest prize for teacher of the poor
Is Africa starting to split in two?
Great, great grandfather giraffe Mukulu
QUICK QUIZ
Name the country and the continent this national park is in.
How many mountain gorillas are thought to be left in the wild?
What species is the biggest threat to mountain gorillas? How?
What land area does the national park cover?
What has oil and gas got to do with this story?
LISTEN TO THIS STORY
CLASSROOM ACTIVITIES
1. Write a Job Ad
Write a job advertisement for an anti-poaching ranger at Virunga National Park. Your ad should encourage the right people to apply, so include a description of the work, the skills that are needed, the dangers and the type of person who would be good at this job. Make your ad as detailed as you can.
Time: allow 25 minutes to complete this activity
Curriculum Links: English
2. Extension
Social media: good or bad? Write a piece of persuasive writing giving your opinion on this question. Use today's story and other examples that you know to be as convincing as you can.
Time: allow 25 minutes to complete this activity
Curriculum Links: English, Civics and Citizenship
VCOP ACTIVITY
After reading the article, with a partner, highlight all the openers you can find in blue. Discuss if they are powerful and varied openers or not. Why do you think the journalist has used a mix of simple and power openers? Would you change any, and why?
HAVE YOUR SAY: What is your favourite primate species? Why? Have you seen one at a zoo?
No one-word answers. Use full sentences to explain your thinking. No comments will be published until approved by editors.