Miniature shetland pony Andre doesn't look like the horses you'd expect to see hanging around racing tracks but he has been to his fair share of racing days — just not as a competitor.
Andre is a companion pony, which means his job is to keep his racing horse friend company while travelling to and from the venues* and throughout the day.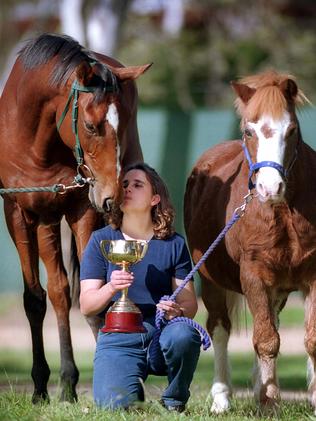 Andre was bought off a Buy, Swap and Sell page for $100 by Courtney Hatch and Stirling Osland, owner of Trident Racing in Armidale, NSW, as a companion for their racehorse Prada.
His job is to help keep the racing horse calm while they are in the float* or in the stables.
In some cases a companion pony might walk with their friend out to the starting gates, attached to them by a rope, to help keep them focused.
After the race the two horses meet back up and the pony might walk a few laps with the racing horse to help them settle back down, just generally being a great friend.
Courtney said Andre and Prada love hanging out together on race days and they miss each other when they aren't together.
"Some days they miss each other like crazy when they're apart. Prada would be absolutely going crazy in the stables. She'd be missing her little friend," she said.
While Prada and Andre are a perfect pairing, horses often have other pets as their companion animals.
Dogs, goats, rabbits, chickens and cows have all been used before.
Famous American racing horse Seabiscuit had a range of companion animals he relied on, from Pumpkin the horse and Pocatell the dog to a spider monkey named Jo-Jo.
GLOSSARY
venues: places where events happen
float: vehicle for transporting horses
LISTEN TO TODAY'S STORY
CLASSROOM ACTIVITIES
Activity 1. Horse talk
Write a funny conversation between Andre and Prada based on what you think they would say to each other if they could talk.
The dialogue should be in two parts. First write what they might say before Prada races and then after.
Try to create distinctive personalities for the two animals with the words that you use.

Extension:
Andre and Prada miss each other when they aren't together.
Write a letter from one of them to the other explaining how they feel being apart.
Time: allow 30 minutes to complete this activity
Curriculum links: English
Activity 2. Companion animals
Explain the purpose of having a companion for a racehorse.
Give some examples of the types of animals that have been used for companions for racehorses.
Give some examples and the purpose of other types of companion animals that you know about.
If you could have your own companion animal, what would it be, what would it help you with and why do you think it is a better choice than other types of animals?
Extension:
Make a list of all of the things you would need to have and do to take proper care of the companion animal you chose.
Time: allow 15 minutes to complete this activity
Curriculum links: English
VCOP ACTIVITY
(Vocabulary, Connectives, Openers, Punctuation)
Synonym search
Choose five adjectives from a chunk of text.
Create five synonyms for each adjective.
Play around with putting these synonyms into the text and see if the sentences still work.
Extension:
Use each word to create a list of antonyms too.

Time: allow 15 minutes to complete this activity
Curriculum links: English, Big Write, VCOP
EXTRA RESOURCES
THE RACE THAT STOPS THE NATION
WHY CATS COULD STEAL DOGS' JOBS
ABUSED DOG'S SPECIAL BOND WITH BABY
SOGGY MOGGY A SEASIDE SENSATION
SEAL PUP'S EPIC SWIM FROM THE ANTARCTIC
IN A SENTENCE, SHARE YOUR THOUGHTS ON TODAY'S STORY
Kids News loves reading your best grammar, vocabulary and spelling.
We publish the best comments.