Man saves his unleashed dog after encounter with stressed kangaroo
Video of a man saving his dog from the grips of a wild kangaroo has been watched more than 2.4 million times – but was there more than one victim in this story? WATCH THE VIDEO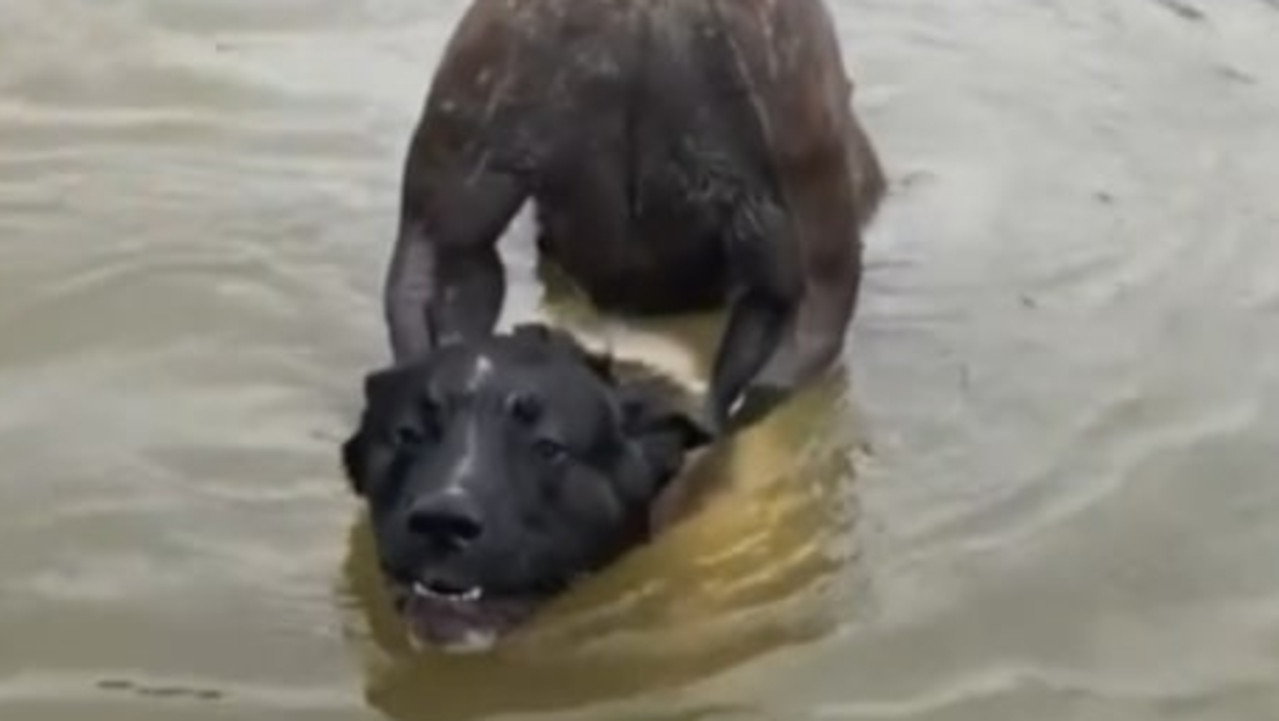 A pet dog caught in the grips of a very large male kangaroo. Picture: TikTok
In a heart-pounding scene, a man has become an internet sensation* for documenting* a daring rescue mission to save his dog from a wild kangaroo.
The video was shared by the Mildura Martial Arts school in Victoria, and it quickly went viral on TikTok, amassing more than 2.5 million views in just 10 hours.
Despite his expertise* in Brazilian Jiu-Jitsu*, the man said his skills were put to the test when he leapt into action to save his dog from the towering* "7ft kangaroo".
In the video, humorously captioned* "Martial arts are for everyone, even kangaroos", the kangaroo is seen holding the dog just above the water's surface.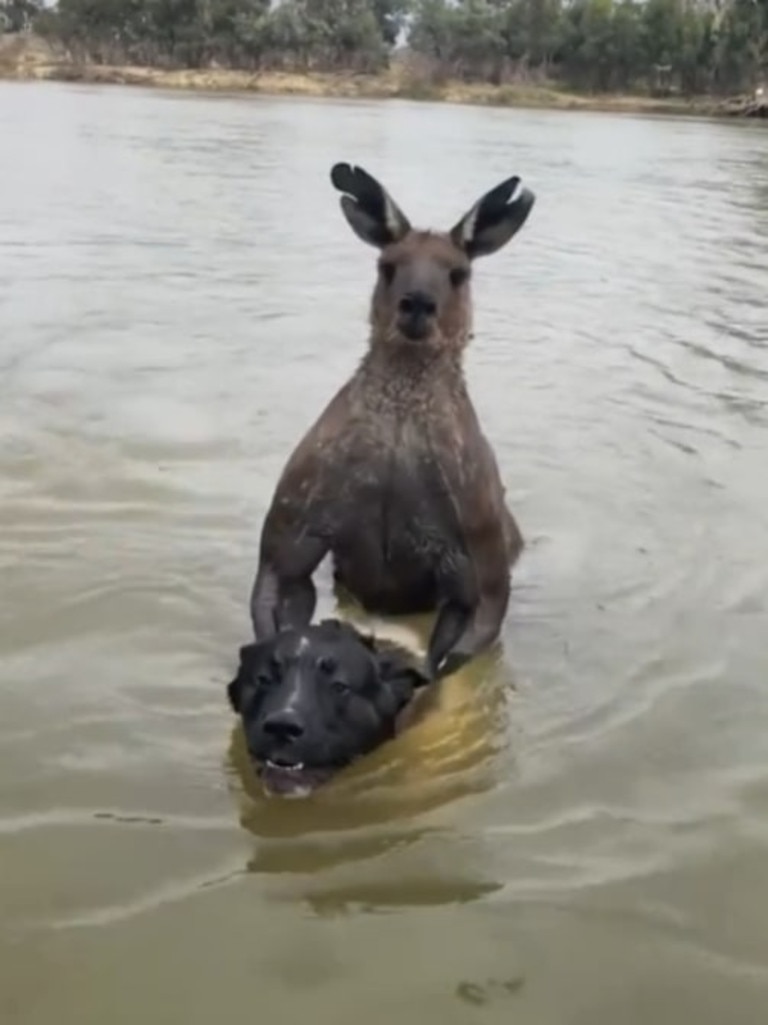 A man filmed the moment he saved his dog from a kangaroo. Picture: Tik Tok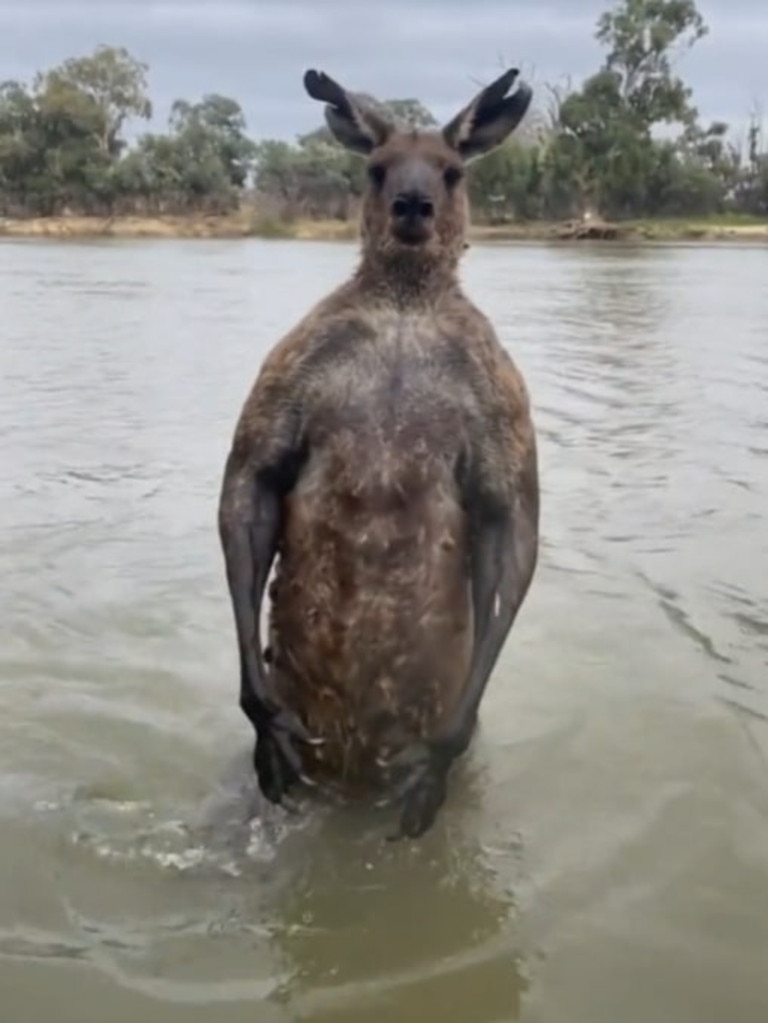 The kangaroo flexed its muscle as the man retreated to shore. Just look at those claws. Picture: Tik Tok
With great determination, the man rushes in to rescue his distressed pet, telling the kangaroo, "Let my dog go!"
Moments later, the video captures the kangaroo making a sudden move toward the man, with its claws and arm visible, before the screen goes black, plunging* into the water.
The sounds of a scuffle* can be heard before the video returns, showing the kangaroo standing tall in the river, facing the man, while the dog is finally safe.
The man splashes water at the kangaroo before making his way back to shore, laughing to himself while exchanging words with the unflinching* kangaroo.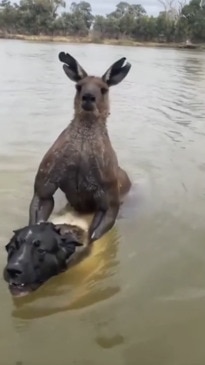 People from around the world were left puzzled by this encounter with a creature considered an iconic* part of Australian culture* and wildlife.
One person asked, "So do kangaroos eat dogs?"
But a Facebook user known as "Jae Bea" contacted Kids News to dispute the man's version of events.
"Kangaroos go to water only when being chased by (a perceived threat) and if need be, may attempt to drown predators in self-defence," Jae Bea wrote.
Claiming to be a "wildlife carer of 20 years", Jae Bea asked for her real name to be withheld but said the dog should have been leased and that it was the owner who "put the dog on this dangerous path."
"The man waded into the water and you (can) see by the kangaroo's stance that it was stressed to the maximum," she wrote. "Being chased and having someone punch (it) in the face is a highly stressful situation."
Wildlife Victoria CEO Lisa Palma agreed it was important to remember and understand that kangaroos are wild animals that view human beings and dogs as predators.
"In this situation, it's highly likely the dog has chased the kangaroo and as a result the kangaroo has tried to escape by entering the waterway," she said. "The normal response of a kangaroo when chased by a perceived predator is to flee in fright.
"Wildlife Victoria recommends that dog owners keep their pets on lead, especially in areas known to have an existing mob of kangaroos."
WILDLIFE VICTORIA
Wildlife Victoria does not recommend members of the public approach kangaroos. Wildlife Victoria's Emergency Response Service operates 24/7 and its team of trained operators can provide expert advice over the phone or dispatch an experienced volunteer to attend. Please call Wildlife Victoria on 03 8400 7300 if you encounter an injured kangaroo.
FACTS ABOUT KANGAROOS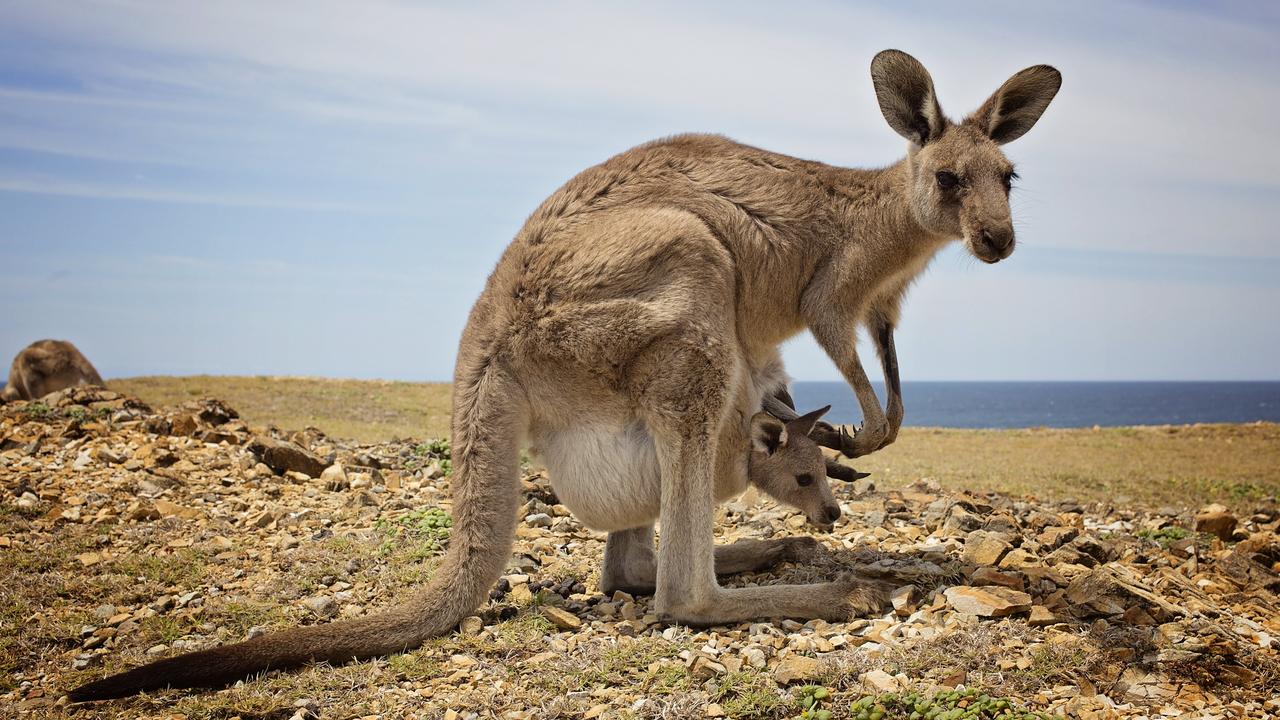 A kangaroo and her joey at Look at Me Now Headland in NSW. Picture: News Regional Media
1. Marsupial mums
Kangaroos are marsupials, which means they carry and nurse their babies in a pouch on their belly. A baby kangaroo is called a joey. When joeys are born, they're only about the size of a jelly bean. After birth, they crawl into their mother's pouch to continue growing.
2. Super ears
Kangaroos have excellent hearing, and their ears can move independently, allowing them to listen for sounds coming from different directions.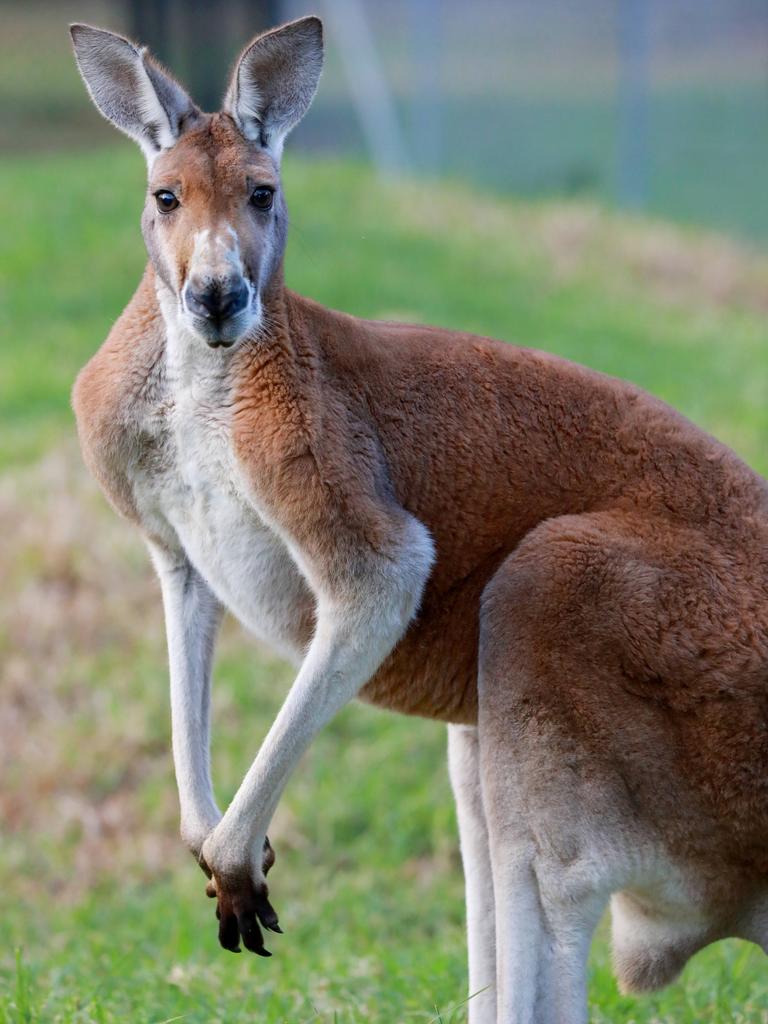 Kangaroos inside Central Gardens in Merrylands live alongside brush tail and ring tail possums. Picture: AAP/Angelo Velardo
3. Built for speed and distance
While a comfortable travel speed for these marsupials is around 25km/hr, they can reach speeds of 70 km/h. They can jump more than nine meters in a single hop, making them some of the best jumpers in the animal kingdom.
4. No sweat
Kangaroos don't sweat like humans do. Instead, they lick their arms to cool down because they have special sweat glands in their skin.
5. Great swimmers
While they're known for their hopping, kangaroos are also good swimmers. They can use their powerful legs to swim if they need to cross water.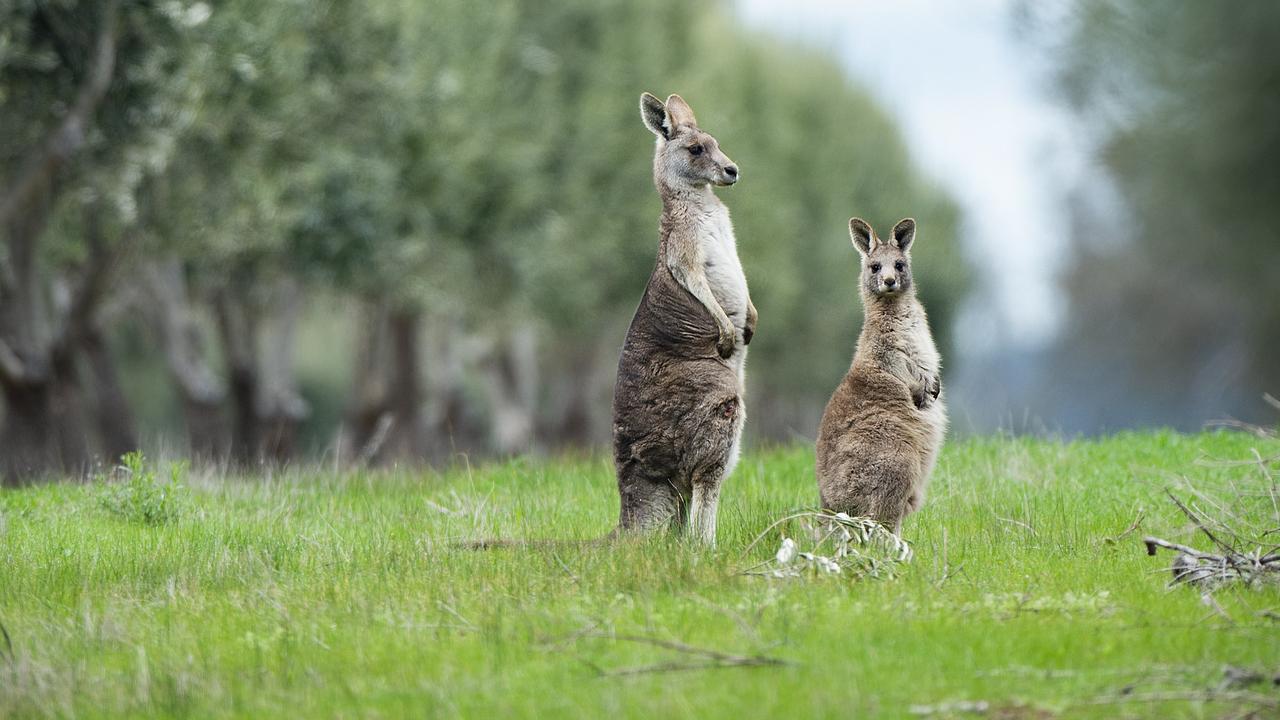 There are more than two kangaroos per person in Australia. Picture: Zoe Phillips
6. Four types
There are four different kangaroo species; red, eastern grey, western grey and antilopine kangaroos, with the red kangaroo being the largest.
7. Human connection
Even though we look very different, scientists discovered that kangaroos and humans share a family connection that goes back an astonishing 150 million years. Our genes have some parts that are almost the same, making kangaroos a fantastic key to unlocking the secrets of our own history.
Interestingly, there are more kangaroos in Australian than people with more than two kangaroos for every person in this country
Kangaroo facts quiz:
What is a baby kangaroo called?
How do kangaroos cool down when it's hot?
How fast can kangaroos jump in a single hop?
What special feature of kangaroos allows them to listen for sounds from different directions?
How many different kangaroo species are there, and which one is the largest?
What surprising connection do scientists discover between kangaroos and humans in terms of genes?
In Australia, how many kangaroos are there for every person?
GLOSSARY
internet sensation: a person, video, image, or piece of content that becomes extremely popular and widely known on the internet
documenting: making a record or a video of something
expertise: knowing a lot about something and being very good at it
Brazilian Jiu-Jitsu: a type of sport or fighting style
towering: extremely tall or very high
captioned: adding words or a message to a picture or video
surface: the top layer or the outside of something
plunging: falling quickly into something
scuffle: a noisy, messy fight or argument
unflinching: not getting scared or backing down
encounter: a meeting or an unexpected meeting with someone or something
iconic: something very famous and important
culture: the customs, beliefs, and way of life of a group of people
EXTRA READING
Fat Bear Week winner announced
What you need to know this snake season
Quirky dating dance leads to endangered chick boom
QUICK QUIZ
What made the man in the story an "internet sensation"?
How did the kangaroo's behaviour change when the man approached to rescue his dog?
Name the style of martial arts the man did
What did the man do to rescue his dog from the kangaroo?
What happened to the dog in the story?
LISTEN TO THIS STORY
CLASSROOM ACTIVITIES
1. Man vs. Roo
What are some of the human physical and social characteristics that this fighting kangaroo displays? List them below:
–
–
–
–
Did you know kangaroos could be aggressive? Explain your answer.
Time: allow 15 minutes to complete this activity
Curriculum Links: English, Science, Personal and Social, Critical and Creative Thinking
2. Extension
Why do you think this kangaroo was trying to hold this man's dog in the water?
This happens quite regularly and they use water to their advantage when they are scared.
What could you do to protect your pet dogs around them?
Time: allow 10 minutes to complete this activity
Curriculum Links: English, Science, Personal and Social, Critical and Creative Thinking
VCOP ACTIVITY
Proper noun police
A proper noun is a noun that names a particular person, place or thing. It always has a capital letter.
How many proper nouns can you find within this article? Find them all and sort them into the category of name, place, time (date/month).
Can you find any proper nouns included in your writing?
What are they?
Can you sort them into their categories?