Devastating* bushfires, drought, tree clearing and disease have cut Australia's koala population in half in the past 20 years.
Conservationists* say the falling numbers are so bad our national icon* could be extinct* by 2050.
This year's bushfires in Queensland and NSW killed so many koalas that they are soon likely to be declared an endangered species* by government authorities in those states and the Australian Capital Territory.
A report released this month by the World Wildlife Fund shows Queensland's koala population has crashed by at least 50 per cent since 2001 because of forest destruction*, lack of rain, the spread of the disease chlamydia and the recent bushfires.
It also found that more than 6000 koalas died in the NSW bushfires.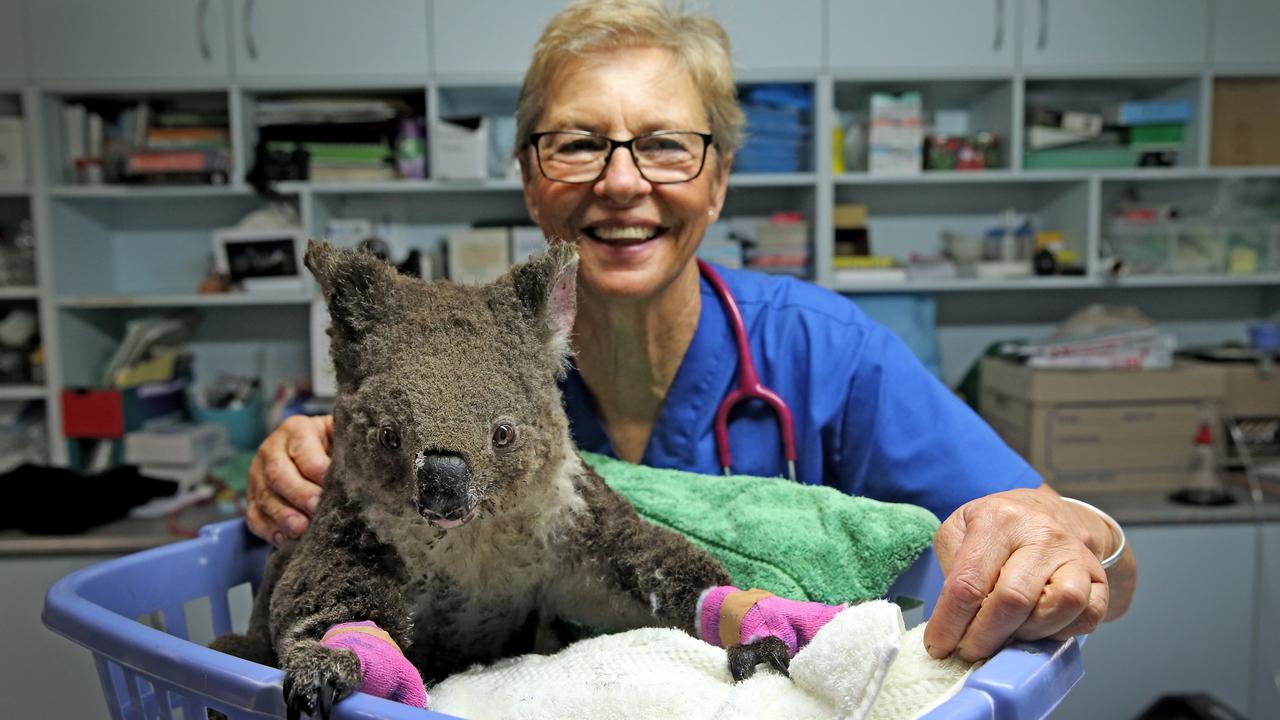 Queensland Shadow Environment Minister David Crisafulli said the report was a"wake up call"*.
"We urgently need a plan that locks away the key areas that must be saved," he said.
Another report found the New South Wales koala population has suffered a decline of between 33 per cent and 61 per cent since 2001.
"Koalas were already on the path to extinction in eastern Australia,'' a WWF spokesman said.
"Then came the 2019-2020 bushfires when the koala became the unfortunate wildlife icon of the crisis both internationally and domestically.
"Many important populations were directly in the path of the fires, and may not recover without serious and long-term rescue efforts.''
It is understood the Federal Government's Threatened Species Scientific Committee is already considering the conservation status* of the koala, which is currently listed as vulnerable.
Raising the koala to endangered species status would increase protection for forests and woodlands where koalas live, help to raise funding and increase public support for the species.
WWF-Australia conservation scientist Dr Stuart Blanch said: "Ecologists* estimate koala numbers in Queensland, New South Wales and the ACT have likely more than halved since 2000. We call on the Australian environment minister to use federal environmental law to list them as 'endangered' in eastern states to increase legal protections for forests and woodlands where koalas live."
GLOSSARY
devastating: extremely damaging
conservationists: people who act for the protection and preservation of the environment and wildlife
icon: symbol
extinct: when a species no longer has living members
endangered species: when a species is at risk of dying out
destruction: so damaged it is at risk of disappearing
wake-up call: an alert or warning
status: standing or rank
ecologists: an expert in the branch of biology that deals with the relations of organisms to one another
EXTRA READING
Procession of caterpillars a sign of frosty times
Wild beasts come out to play as humans stay in
Why do grey seals clap like humans?
QUICK QUIZ
Name the four reasons why koala numbers are falling.
How many koalas died in the NSW bushfires this year?
What does WWF stand for?
What is the current conservation status of the koala?
By which year could the koala become extinct?
LISTEN TO THIS STORY


CLASSROOM ACTIVITIES
1. Spread the word
Create a poster (either by hand or on the computer) to inform the public about the decline in the koala population. Your poster should be colourful and eye-catch and include:
– A headline with impact
– A picture that appeals to the viewer's emotions
– The reasons for the decline in population
– A graph or visual representation of the decrease in koala numbers
Time: allow 40 minutes to complete this activity
Curriculum Links: English; Visual Arts, ICT Capability
2. Extension
The article talks about the possibility of raising the koala's conservation status to 'endangered'. Do some further research to find the answer to these related questions:
(a) What is the koala's current conservation status?
(b) How is the term 'endangered' defined by the WWF?
(c) What are the names of some other Australian animals that are considered endangered?
Time: allow 20 minutes to complete this activity
Curriculum Links: English; ICT Capability

VCOP ACTIVITY
Proper Noun Police
A proper noun is a noun that names a particular person, place or thing. It always has a capital letter.
How many proper nouns can you find within this article? Find them all and sort them into the category of name, place, time (date/month).
Can you find any proper nouns included in your writing?
What are they?
Can you sort them into their categories?
HAVE YOUR SAY: What changes do you think Australia should make to save the koala?
No one-word answers. Use full sentences to explain your thinking. No comments will show until approved by editors.