Mobs* of hungry, thirsty emus have invaded the streets of the South Australian town of Peterborough.
High school staff called the council for help to shoo about 80 emus from the oval this week. On Mother's Day, the native birds ate flowers left on graves in the local cemetery.
A dry autumn in the area has left the emus without enough to eat or drink.
Mayor Ruth Whittle said the birds were a traffic safety issue.
"It's causing serious traffic problems, it's very dangerous on the roads, we've had emus and kangaroos, and one couple had to stay here two days last week because their car was a write-off* after an accident with one," Mrs Whittle said.
At least one emu has wandered down the main street, others have eaten plants in town gardens and they have been gathering in large mobs near water troughs in paddocks just outside the town of 1400 people.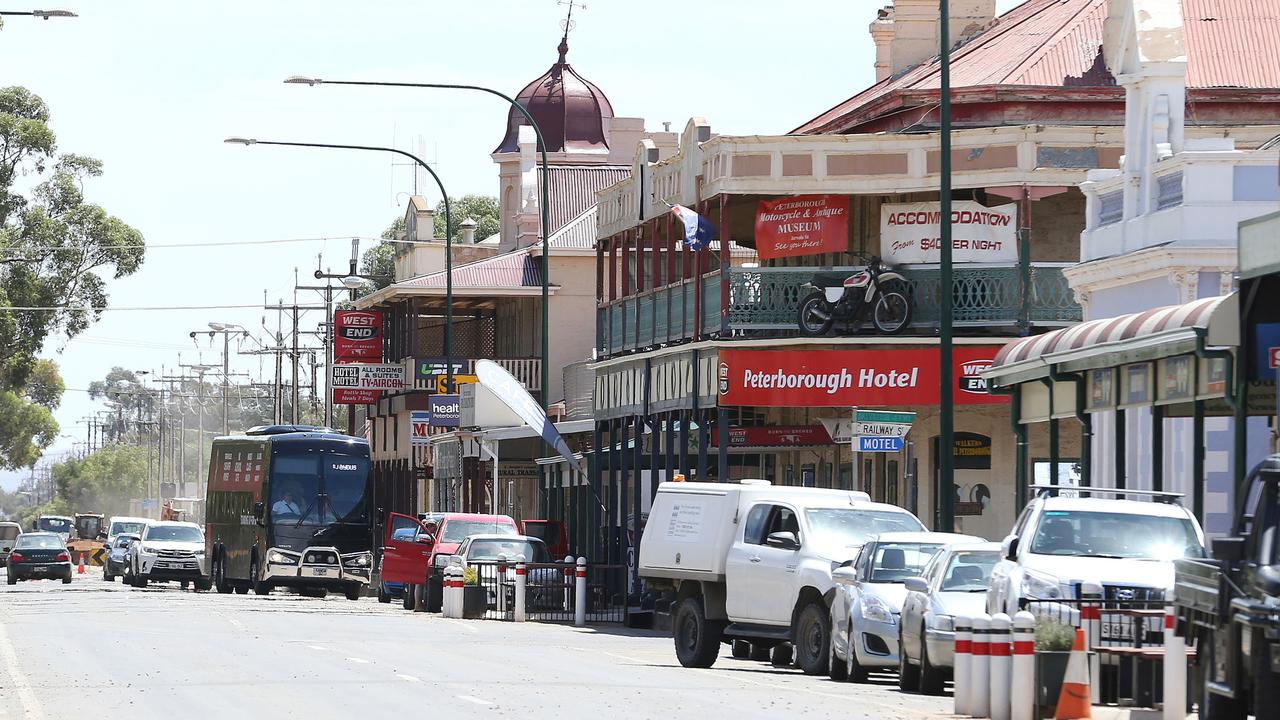 They have also caused problems for farmers as the protected emus have eaten seed sown in paddocks before it had an opportunity to germinate*.
The native birds, along with kangaroos, were heading into the town about three hours' drive north of Adelaide in search of food and water as "we just haven't had any rain", Mrs Whittle said, adding she'd never seen emus in such large numbers in the area.
Local Shirley Dearlove said emus were in the main street, in people's gardens and most farmers had emus on their properties.
"We have people asking when they come in off the Orroroo road is someone out there farming emus?" she said.
The council's Lawrence Heath is on the frontline* in keeping the town emu safe, saying "it's bizarre seeing them wandering around the streets not giving a hoot".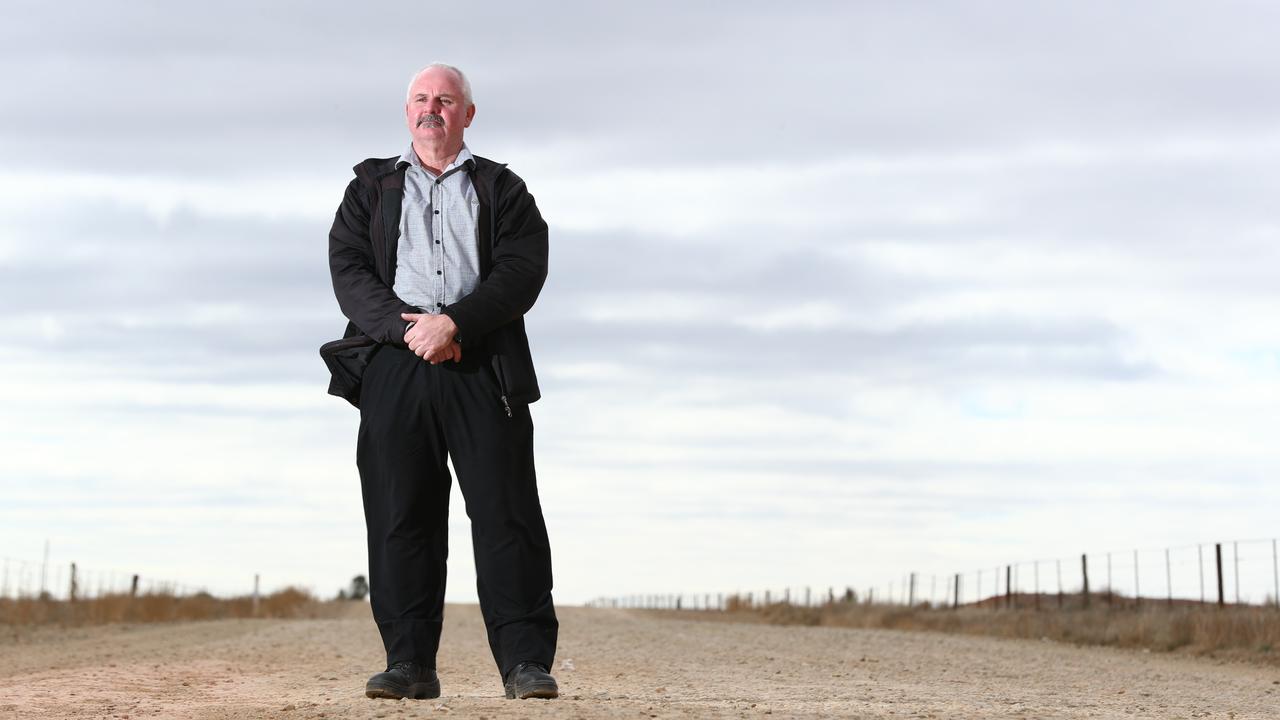 The council has warned school students to keep clear of the animals.
Mr Heath said Natural Resources Management staff told him emu numbers increased after good rain last year. But after a dry period, the bigger population was struggling to find food. Like all native animals, emus are protected, which means their numbers can't be controlled as introduced — non-native — animals such as foxes or rabbits can be.
There was little staff could do except move birds away from roads and the town's airstrip so planes could land safely.
"I've never seen this number before and I've spoken to a lot others who are saying the same," Mr Heath said.
KNOW YOUR EMU
Emus are Australia's largest bird and the world's second largest, after ostriches. They stand 1.6-1.9m tall and can weigh up to 45kg.
Females lay huge eggs that are about 13cm long and can weight about half a kilogram. Once they've laid them, they leave the males to sit on them to keep them warm for about eight weeks.
One set of eyelids is not enough for an emu. They have two sets: one for blinking and one to keep out the dust.
Emus can't fly but they do have wings, which they use to cool themselves.
They're fast! They can run almost 50kmh, which means they don't really have predators*, apart from the occasional crocodile and wild dogs.
Emus are nomads, which means they don't have a home but move around to where there's food. They eat grasshoppers, beetles, cockroaches and plants.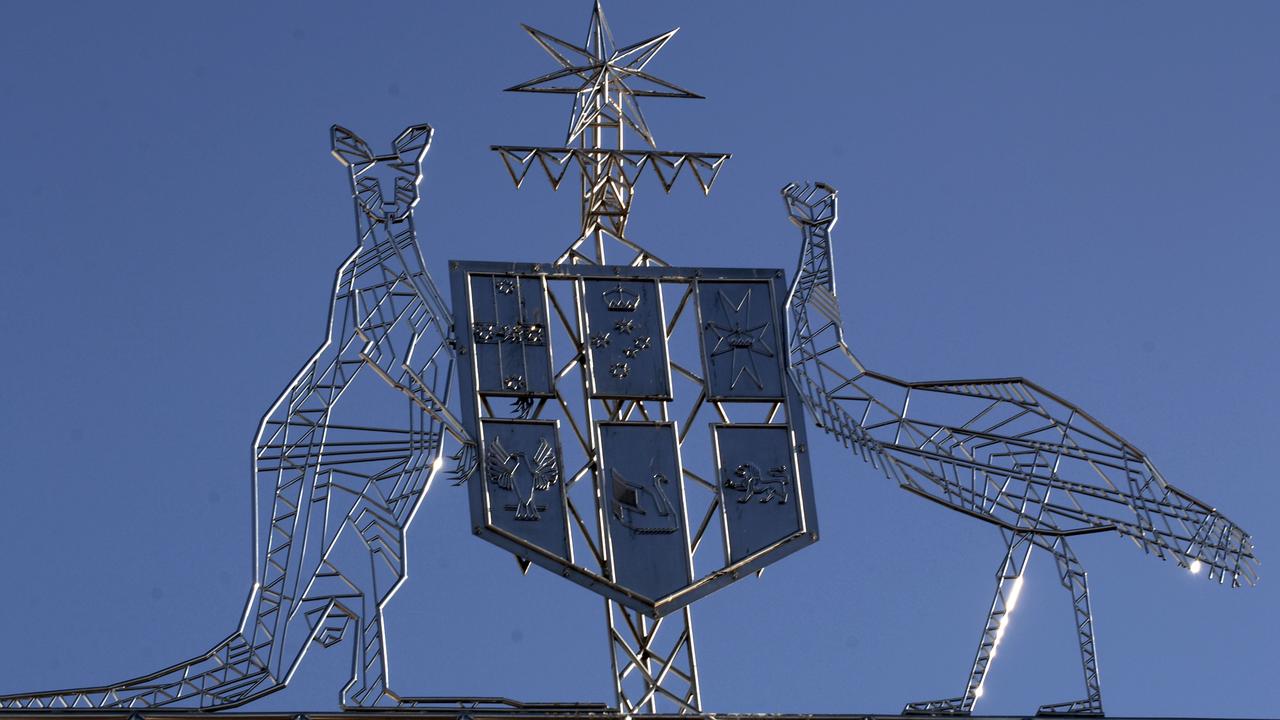 EXTRA READING
Town where polar bears outnumber people
GLOSSARY
mobs: groups
write-off: not able to be repaired
germinate: sprout
frontline: most directly responsible
LISTEN TO TODAY'S STORY
QUICK QUIZ
What did the emus do on Mother's Day?
What is the population of Peterborough?
What happened last year to increase emu numbers?
Why have wings if you can't fly?
What do male emus do with emu eggs?
CLASSROOM ACTIVITIES
1. Solving the problem
Think about what could be done to help solve this problem. Write a list of at least five solutions. Next to each solution, write sentences explaining how and why this is a good idea. Then write some points on what would need to be done or organised to make the solution happen.
Time: Allow at least 20 minutes
Curriculum Links: Critical and Creative Thinking
2. Extension
Write a story that begins with: "It was just another day at school. That is, until we saw the emus."
Time: Allow 30 minutes
Curriculum Links: English.
VCOP ACTIVITY
After reading the article, with a partner highlight all the openers you can find in blue. Discuss if they are powerful and varied openers or not. Why do you think the journalists has used a mix of simple and power openers? Would you change any, and why?
IN ONE SENTENCE, TELL US WHAT YOU THINK ABOUT THIS STORY
Please do not use one-word answers. Explain what you enjoyed or found interesting about the article. Use lots of adjectives.