Yoshi the endangered loggerhead turtle has reached Australia after a two-year, 37,000km swim from Africa, prompting scientists to wonder if she was born here.
It is thought to be the longest animal journey — by distance and duration* — ever recorded by a satellite tag.
The turtle was released from an aquarium in South Africa in December 2017, 20 years after she was rescued by Japanese fishermen.
Yoshi's satellite tag or tracker means scientists have been able to know where she is and how fast she has swum for her entire journey.
Scientists in Western Australian are waiting to meet her if she comes ashore to nest, allowing them to replace her satellite tag, which is nearing the end of its expected life.
In the time it has been active, more than 20,000 messages from the tag have been received.
By the end of February, Yoshi was just 66km off the WA coast near Point Samson. This put her inside Australian waters, which means she is protected under Australian law.
It's the first time Yoshi is known to have visited a country outside Africa.
ABOUT YOSHI
Yoshi arrived in Cape Town, South Africa in July 1997 on a Japanese fishing boat as a youngster weighing 2kg and with an injury on the side of her shell. The captain of the fishing boat named her Yoshitaro, after the cook on-board, who is a small man. He contacted the Two Oceans Aquarium in Cape Town and asked for help.
Over her 20 years at the aquarium, Yoshi grew to 180kg and became known as the "Queen of the Exhibit".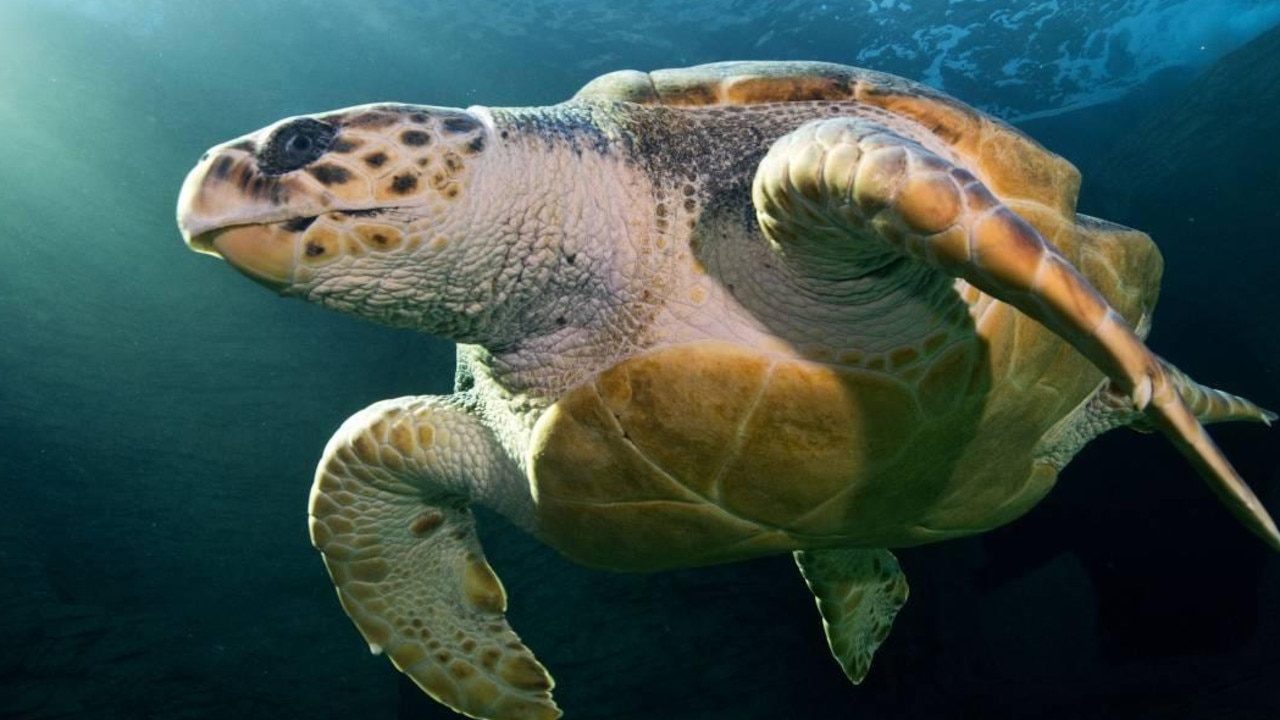 Aquarium staff knew she was maturing and her breeding instincts started. The next 18 months were spent preparing her for life back in the ocean, including daily exercise to increase her fitness.
On December 16, 2017, Yoshi was released into the ocean.
YOSHI'S JOURNEY
Once Yoshi was in the ocean, she swam up the west coast of Africa near Namibia and Angola.
She then turned south and swam back past the coast where she was released, before setting out across the Indian Ocean towards WA.
She appears to be heading towards Point Samson, a small fishing town in WA's Pilbara region, home to some of Australia's most famous turtle nesting beaches. The area is also home to several biodiversity-rich* snorkelling hot spots, such as Honeymoon Cove.
Scientists are wondering if Yoshi is planning to nest or just after a good feed on the coral reefs in the area.
Yoshi has travelled 37,000km in the 26 months since her release, covering an average of 48km a day.
According to South Africa's Department of Environmental Affairs Oceans and Coasts division, who we have helped monitor Yoshi's travels, this is the longest animal journey that has ever been recorded using a satellite tag, both by distance and duration.
The latest tracking data shows she has slowed slightly to about 46km a day, which some scientists believe may indicate she is preparing to breed, though no one can be sure.
"Yoshi has always done things her way, and she might just keep us guessing for a while longer", said Maryke Musson, CEO of the Two Oceans Aquarium Education Foundation. "Perhaps she is just filling up on some tasty morsels*, or perhaps this stop will be a more significant spot on her journey. We should know pretty soon whether Yoshi is an Australian after all, and if she is about to add to the global loggerhead population. Yoshi has done us all proud and we cannot wait to see what she will get up to next."
Yoshi swims to Australia
YOSHI'S LEGACY*
When Yoshi was released from the Two Oceans Aquarium in 2017, Conservation Coordinator Talitha Noble commented that "she has left a Yoshi-sized hole in the Ocean Exhibit."
Inspired by the successful rehabilitation and release of Yoshi, the Two Oceans Aquarium now has a major turtle rescue program, which releases hundreds of endangered sea turtles each year.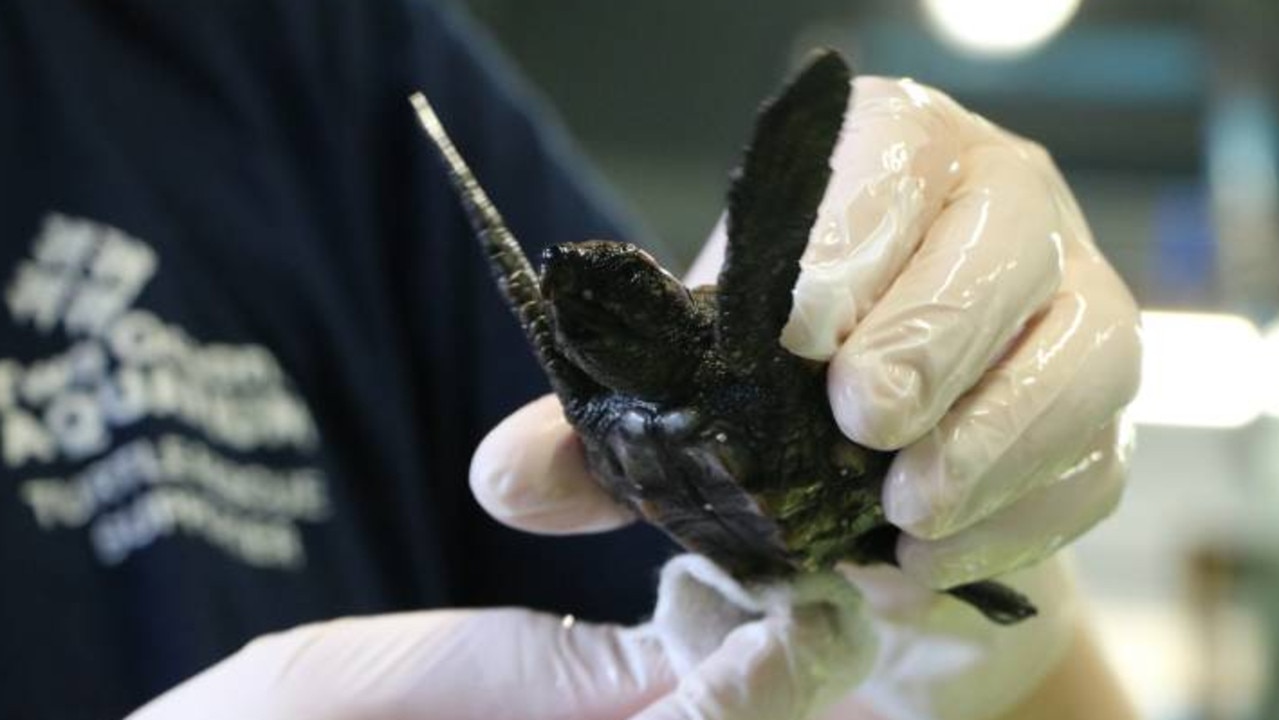 "Yoshi's journey back in the wild has not only enthralled* us all, but also provided us with some incredible scientific data," said Michael Farquhar, CEO of the Two Oceans Aquarium. "The tracking of animals such as Yoshi is fascinating and gives us valuable information so that we can better educate people about these animals and also look to protect them more effectively in the wild."
GLOSSARY
duration: how long something goes for
biodiversity-rich: a big range of plants and animals
morsels: small pieces of food; snacks; mouthfuls
legacy: left behind for the future, usually meaning something good
enthralled: captured the attention of; fascinated
EXTRA READING
Australian-first dolphin happiness study
UNESCO bid for ancient art gallery
Getting to know the mysterious blue whale
Saddest elephant in the world dies
QUICK QUIZ
Which countries in Africa did Yoshi visit?
How heavy was Yoshi when she was found? Approximately how heavy is she now?
Who found Yoshi and how did she get her name?
What do turtles do on the WA coast where she seems to be headed?
What is Yoshi's legacy at the aquarium?
LISTEN TO THIS STORY
CLASSROOM ACTIVITIES
1. Yoshi Merchandise
Work with a partner to design and sketch a line of 'Yoshi' merchandise to sell at a major retail store such as Myer or Kmart. You can advertise that all profits raised from 'Yoshi' branded products will go back into the Turtle rescue program at Two Oceans Aquarium in South Africa.
Firstly come up with 5 products and designs, then sketch them.
Think of a slogan for 'Yoshi' based merchandise.
Outline a plan for marketing your products:
Target market
Price range
Why you think these items will sell
How and where you will advertise
State how will you advertise the profits going back into the turtle program
Share your products and marketing plan with the class and compare similarities and differences between yours and others' ideas.
Time: allow 45 minutes to complete this activity
Curriculum Links: English, Visual Arts, Critical and creative thinking
2. Extension
While Yoshi is now living the life swimming around the world, he was held in an aquarium for 20 years. Outline the advantages and disadvantages of breeding and keeping animals in captivity (such as aquariums and zoos) compared to them living in the wild left to their own devices.
Time: allow 15 minutes to complete this activity
Curriculum Links: English, Critical and creative thinking
VCOP ACTIVITY
Why do you think Yoshi is coming to Australia to nest?
Why does this make her Australian?
Look up facts about turtles and nesting to confirm your predictions.
Pretend Yoshi's story has been pitched to Disney's pictures to turn into an animation.
Write an exciting blurb that can be turned into the movie trailer.
HAVE YOUR SAY: What do you think Yoshi will do next?
No one-word answers. Use full sentences to explain your thinking. No comments will be published until approved by editors.