Guide Dogs Australia is celebrating 60 years of pairing blind and vision-impaired Australians with canine companions to improve their quality of life.
Guide Dogs, also known as assistance animals or seeing eye dogs, are dogs trained to help blind and low-vision people get around and lead more independent* and active lives.
In 1950, Dr Arnold Cook arrived in Western Australia with his best mate Dreana the black Labrador, Australia's first Guide Dog.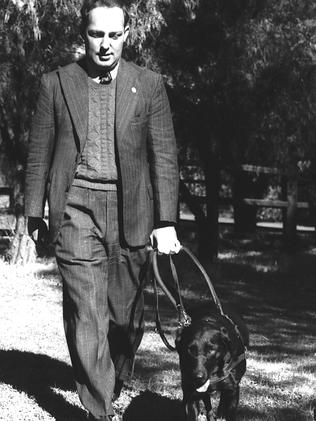 Within a year of Dr Cook and Dreana's arrival word had spread and a WA branch of the Guide Dog Association had been established. By 1957, every state in Australia had their own branch and Guide Dogs were beginning to change the lives of Australians forever.
Events and special projects have been happening across the country this year in celebration of the diamond jubilee* anniversary.
Guide Dogs NSW/ACT launched a series of short stories to celebrate the work of the dogs and communicate their importance.
60 Tails includes 60 stories from people who have worked with the organisation or been affected by the work of Guide Dogs.
The Victorian branch released a commemorative newspaper called The Puppy Press and a lapel* pin, as well as partnerships with fashion labels Gorman and Elk.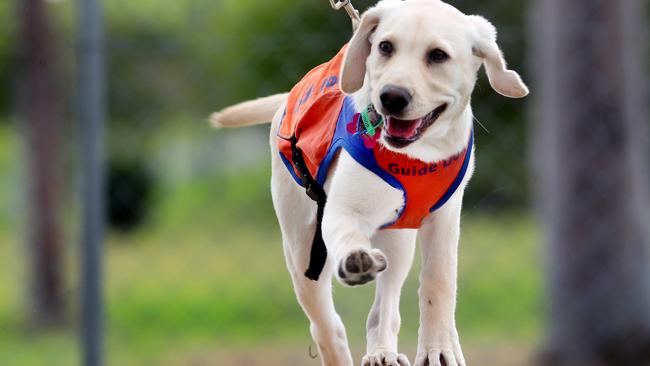 Guide Dogs Victoria boss Karen Hayes said low vision was on the rise in Australia.
"As the incidence of low vision and blindness grows in the Australian community there is an even greater need for Guide Dogs," she said.
"In fact, there are over 570,000 people with blindness or low vision in Australia.
"This number is expected to increase to more than 800,000 Australians by the year 2020."
Labrador Retrievers are the most popular breed to be used as a Guide Dog. Other popular breeds are Golden Retrievers, German Shepherds and crosses of these breeds.
While it is very temping to pat cute Guide Dogs you see in the street, it is important to remember that they are working animals and have an important job to do, so it's best just to look.

GLOSSARY
independent: able to help oneself and do things alone
diamond jubilee: 60th anniversary
lapel: collar
LISTEN TO TODAY'S STORY
CLASSROOM ACTIVITIES
1. Comprehension
Answer each of the following questions in a sentence to show that you have understood the article.
Explain how the Guide Dogs got started in Australia.
Why are Guide Dogs important to blind or vision impaired people?
What is happening to commemorate 60 years of Guide Dogs Australia?
If you see a Guide Dog, what should you do and why?
Extension
Have you seen a Guide Dog working, or another type of dog or animal with a job to do?
Write about what you saw, how it made you feel and what you thought about it.
Time: allow 20 minutes to complete this activity
Curriculum links: English

2. Word play
In this article you might have noticed some crafty use of dog related words, including alliteration and puns.
Explain what these terms mean and come up with your own dog related examples for each.
Extension
Tongue twisters often use alliteration. Make up your own tongue twister either dog, hound or canine.
Time: allow 15 minutes to complete this activity.
Curriculum links: English.
VCOP ACTIVITY
After reading the article, with a partner, highlight as many connectives as you can find in pink. Discuss if these are being used as conjunctions, or to join ideas and create flow.
EXTRA READING
CAPTURING OUR WONDERFUL, WILD WORLD

IN A SENTENCE, SHARE YOUR THOUGHTS ON TODAY'S STORY
Kids News loves reading your best grammar, vocabulary and spelling. We publish the best comments.