Grunt the pig has been banned from walking the streets of his home city.
His owner has been told he now faces a fine of $806 if he walks the pig on council land.
Grunt and his owner, Matthew Evans, have become local celebrities around the northeast Victorian city of Wangaratta while out on past walks, but their popularity has so far not been enough to get the council to change its mind.
"I've been walking him around for two years, since he was six months old," Mr Evans said.
"He's a people pig — I walk him down the main street and he gets patted by the locals and their kids.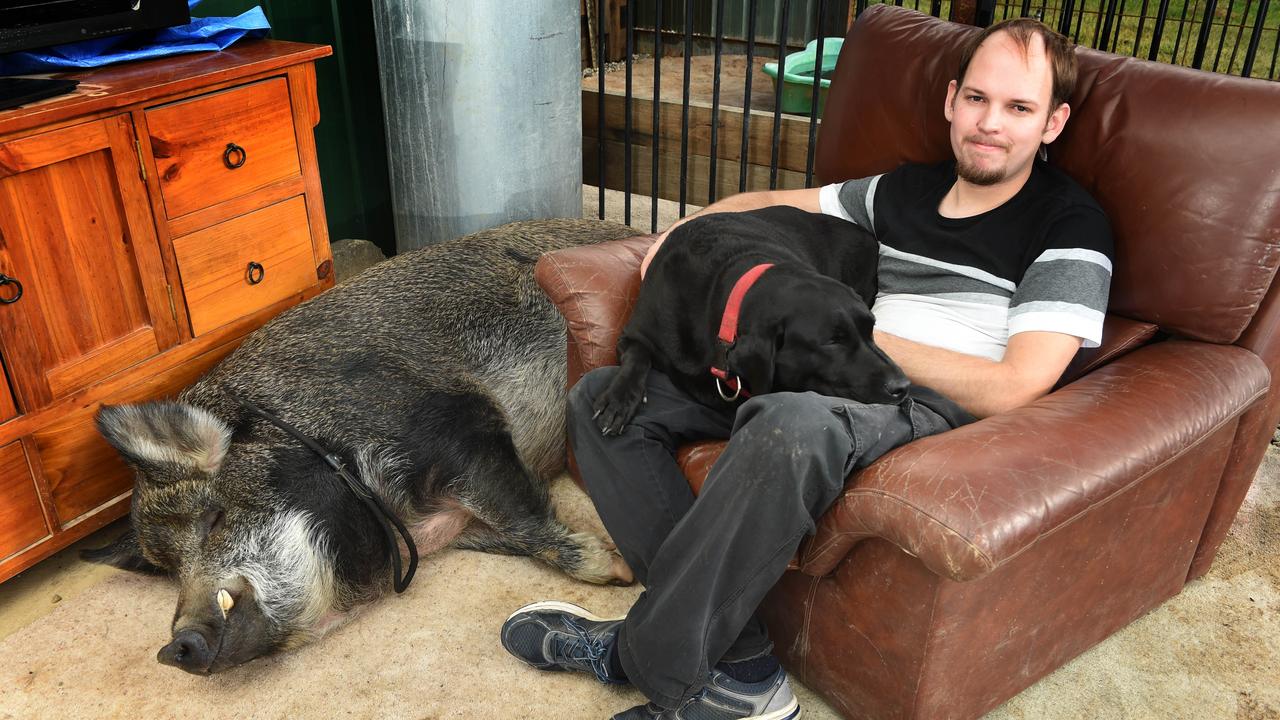 "This ban has come out of nowhere. Just last year, I was asked to walk him around the Show."
Mr Evans accused the council of hypocrisy* after a councillor walked a sheep around town as part of the opening of a new pedestrian crossing.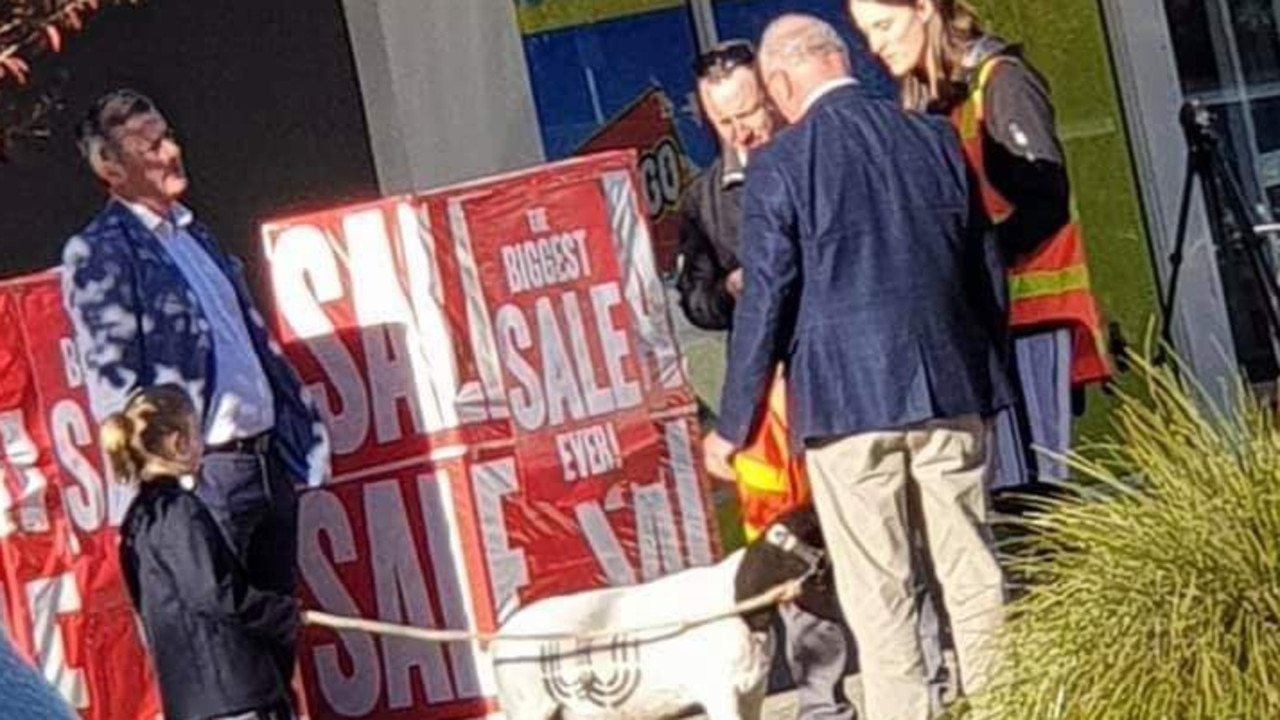 Wangaratta Mayor Dean Rees said the size of the animal had to be considered, no matter how ­docile* and domesticated* it might be.
"I've met the pig numerous times, and he's very happy to have a pat and a scratch behind the ears," Mr Rees said.
"It's just an issue of a 300kg pig with big tusks and teeth potentially getting spooked in a public place and hurting someone. It's about prevention more than anything."
Mr Rees said the warning came after several complaints about the pig's behaviour in public.
"There was a particular incident where the council and police were called in to help after the pig broke free recently," he said.
"Unfortunately, when people complain, we do have to take action, similar to how we'd act if we had complaints about a big dog."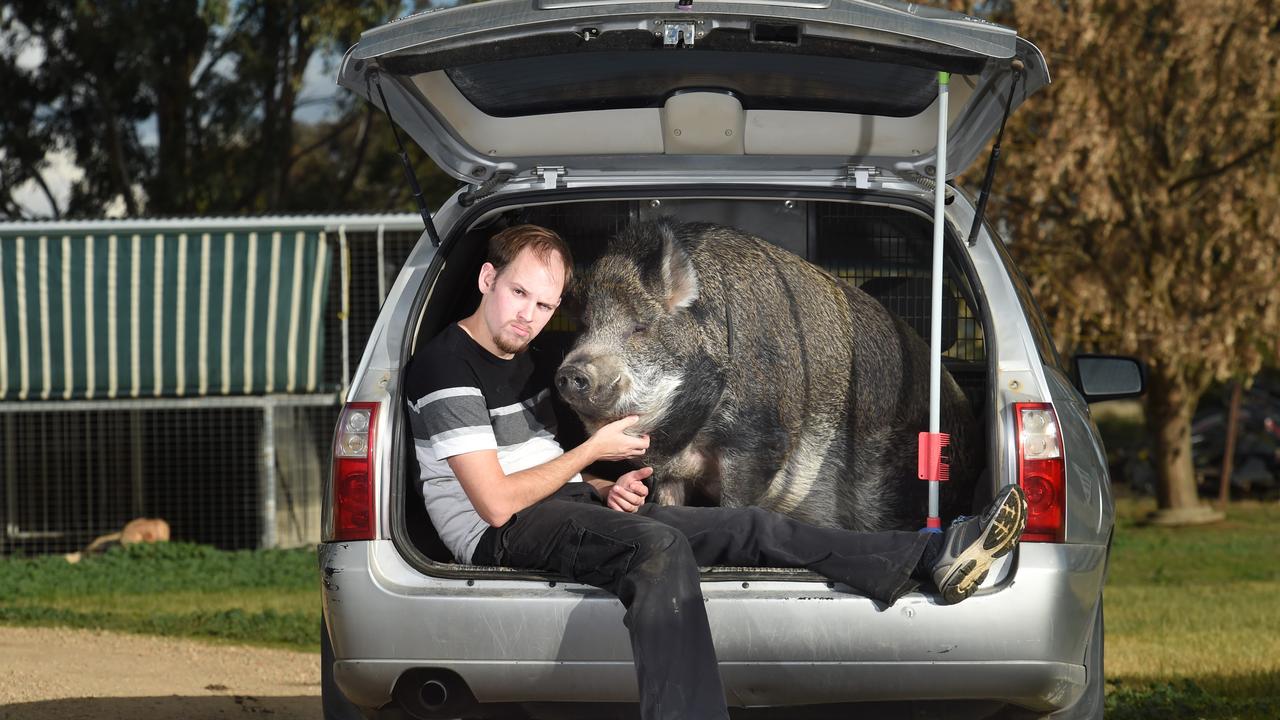 Mr Evans denied Grunt was a threat if he broke free and argued fears over his size and weight were unfounded*.
"He slipped his lead once and ran off after being spooked by a kangaroo, but he went straight home," Mr Evans said.
"He's big, but he's also very slow. If he was coming at you, you'd have a lot of time to get away."
VIDEO: Animals love going for a walk, but sometimes they like to take time out
GLOSSARY
hypocrisy: falseness; saying someone shouldn't do something and then doing it yourself
docile: quiet and not aggressive
domesticated: tame, not wild
unfounded: not backed up by evidence or facts
EXTRA READING
Victory in quest to save Bacon
Cute orphans become best mates
New laws to protect animals' feelings
QUICK QUIZ
How much would the fine be?
What does a sheep have to do with this story?
What does hypocrisy mean?
How heavy is Grunt?
Does Grunt's owners believe the pig is fast enough to do anyone any harm?
LISTEN TO THIS STORY
CLASSROOM ACTIVITIES
1. Grunt the pig
This is a tricky argument about whether Grunt the pig should or shouldn't be allowed to walk around the streets of his local town. Work with a partner and write some dot points FOR and AGAINST Grunt walking the streets.
Which side do you have more arguments for? Do you agree with this side of the argument?
Time: allow 15 minutes to complete this activity
Curriculum Links: English, Critical and Creative Thinking
2. Extension
Choose the side that you had more arguments on and write a letter to the Wangaratta council listing all the reasons as to whether Grunt the pig should or shouldn't be allowed to walk the streets.
Time: allow 20 minutes to complete this activity
Curriculum Links: English, Critical and Creative Thinking
VCOP ACTIVITY
With a partner see if you can identify all the doing words/verbs in this text. Highlight them in yellow and then make a list of them all down your page. Now see if you and your partner can come up with a synonym for the chosen verb. Make sure it still makes sense in the context it was taken from.
Try to replace some of the original verbs with your synonyms and discuss if any are better and why.
HAVE YOUR SAY: Do you think Grunt should be able to walk on council land? Why or why not? How would you feel if you passed him on the footpath? How would you feel if he got loose near you?
No one-word answers. Use full sentences to explain your thinking. No comments will be published until approved by editors.