Giant 'sea slayer' with massive jaw 'ruled ocean' 170 million years ago
A colossal sea creature with a 1.3-metre jaw, named Lorrainosaurus, rewrites history as scientists unveil an ancient megapredator from the dinosaur era
A new sea creature from the time of the dinosaurs has been identified, and when you read more about it, you'll be very glad it's not around today. Picture: 10tons/Musée National d'Histoire Naturelle de Luxembourg
A new Jurassic* sea creature has been identified, and it used to rule the ocean as a megapredator*.
The sea creature is named Lorrainosaurus and was alive during the dinosaur times* around 170 million years ago.
Lorrainosaurus had a 1.3-metre-long jaw and a torpedo-shaped* body.
Its jaw bone was also around 30cm.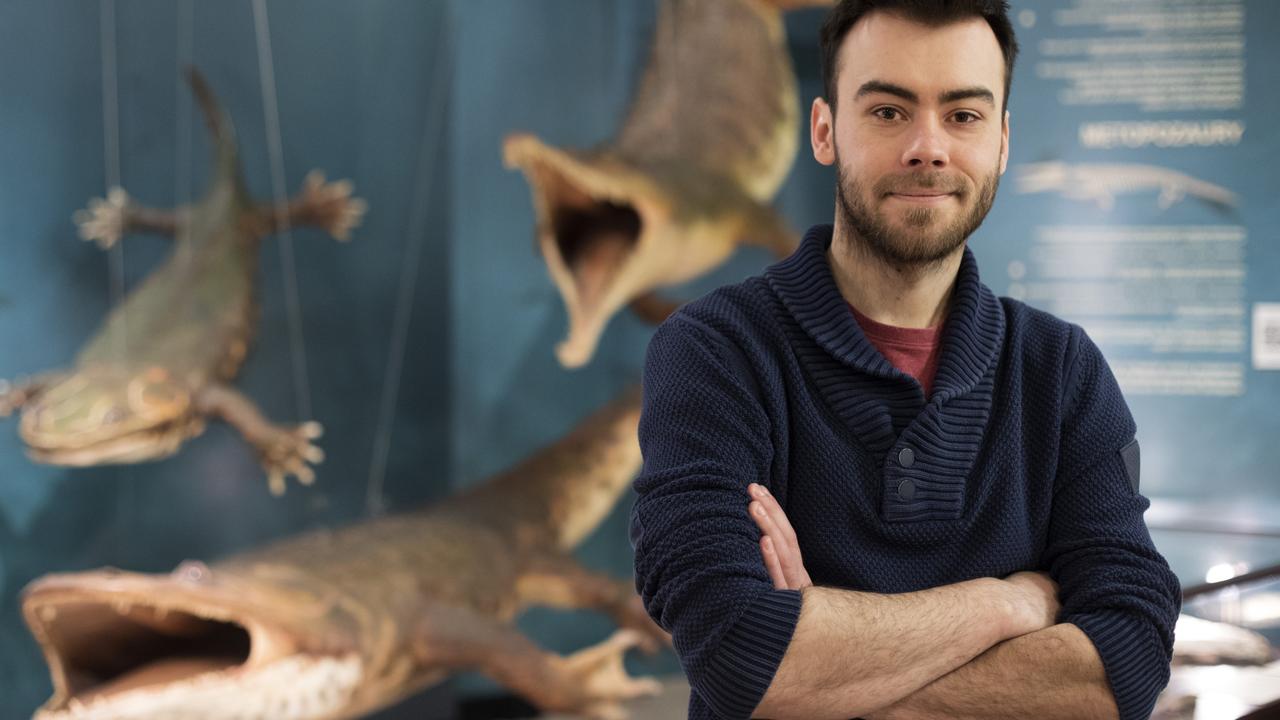 Dr Daniel Madzia, Institute of Paleobiology, Polish Academy of Sciences, Warsaw, is part of the research team that identified oceanic mega predator the Lorrainosaurus. Picture: supplied
They were a part of the pliosaur* species called Thalassophonea* which loosely translate to mean "sea slayers".
The findings were published in the Journal of Scientific Reports on October 16.
Fossils of this amazing animal were discovered in 1983 in northeastern France, once called Lorraine.
Scientists recently re-examined these fossils using advanced techniques*. They confirmed that Lorrainosaurus belongs to the oldest group of super-predatory* pliosaurs.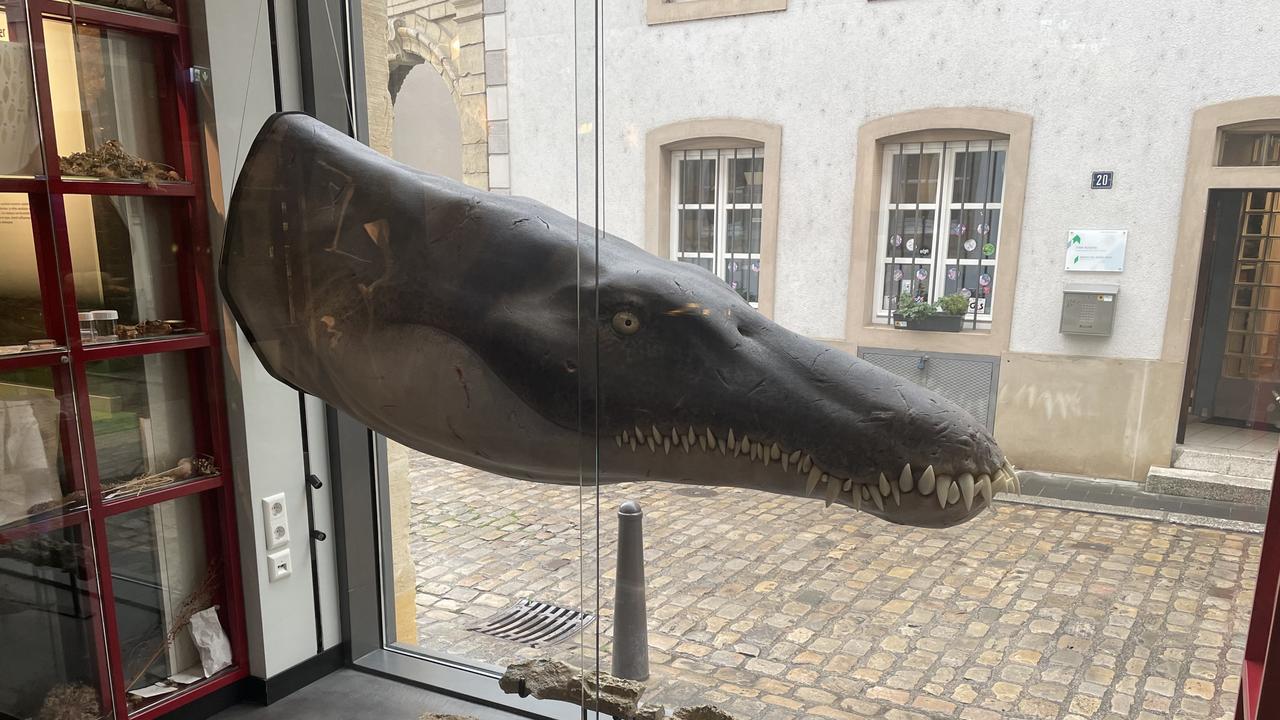 The Lorrainosaurus lower jaw on public display. Picture: Ben Thuy/Musée National d'Histoire Naturelle de Luxembourg
There were about five fossils they re-examined including three different parts of its jaw, a tooth crown with a root, and a part of its fin.
This sea creature needed its own special spot on the pliosaur family tree because it had wider and more wedge-shaped jaw bones, making it unique.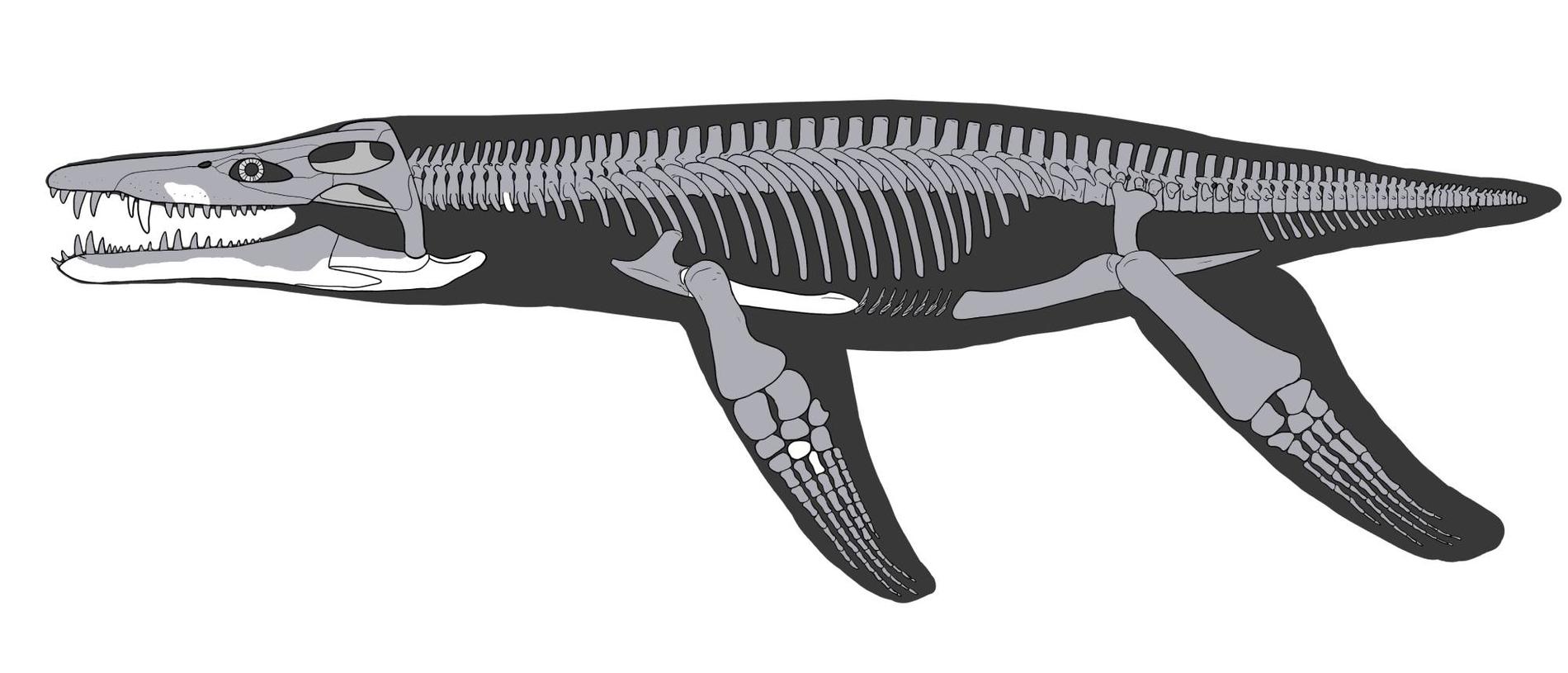 This skeletal reconstruction of the Lorrainosaurus indicates the preserved parts in white. Picture: Joschua Knüppe
Lorrainosaurus was part of a group of mighty sea predators. These pliosaurs were like a powerful dynasty, ruling the ancient oceans.
"Pliosaurids were the rulers of the Mesozoic seas," co-author Daniel Madzia, a palaeontologist* with the Institute of Paleobiology at the Polish Academy of Sciences, told Live Science.
"With our animal, we are at the very beginning of a fascinating evolutionary* history that we don't really understand yet."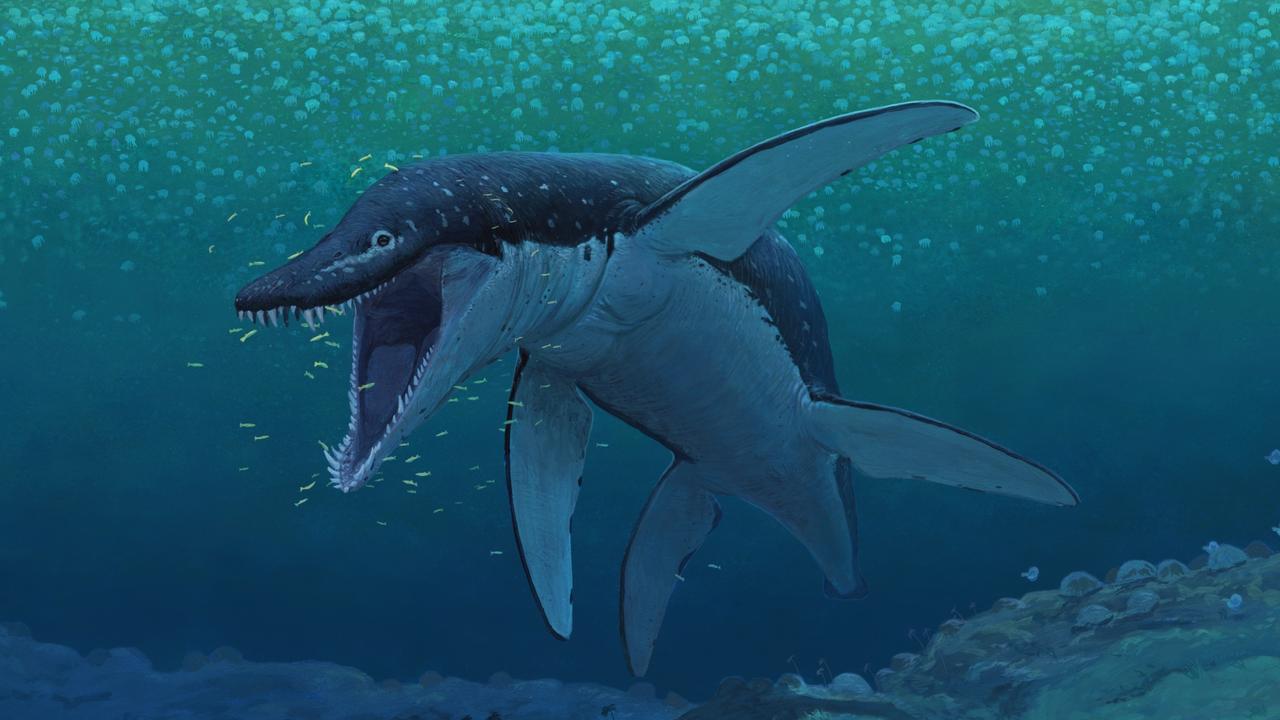 Artist's impression of the megapredator Lorrainosaurus. Picture: Joschua Knüppe
With its huge jaw, Lorrainosaurus could crush its prey easily and had its pickings when it came to its diet as other species were no match for it.
It would eat other massive sea creatures including sharks, sea turtles, other plesiosaurs, and more.
"It ate whatever it wanted to eat," Madzia said, per Live Science.
"It was one of the largest marine predators of its time."
This story was originally published by The Sun and is reproduced here with permission
GLOSSARY
Jurassic: a very long time ago when dinosaurs lived
megapredator: a really big and powerful predator
dinosaur times: the time when dinosaurs lived on earth
torpedo-shaped: shaped like a torpedo, which is a type of underwater missile
pliosaur: a group of ancient carnivorous sea reptiles characterised by massive heads, short necks, and streamlined tear-shaped bodies.
thalassophonea: a specific group of pliosaurs that became extinct during the Middle Jurassic to the start of the Late Cretaceous
fossils: the remains of ancient animals or plants that have turned into rock
advanced techniques: using special and modern methods
super-predatory: very skilled at hunting
Mesozoic: a period of Earth 252-66 million years ago, the time of the dinosaurs. This era includes the Triassic, Jurassic, and Cretaceous Periods
palaeontologist: a scientist who studies ancient creatures and plants
evolutionary: about how animals and plants change over a very long time
EXTRA READING
Tassie Tiger comeback on track
Mystery surrounds half-eaten great white shark
What you need to know this snake season
QUICK QUIZ
What is the name of the newly discovered sea creature from the Jurassic period?
How long was Lorrainosaurus's jaw?
What group of sea creatures did Lorrainosaurus belong to?
Where were the fossils of Lorrainosaurus discovered?
What kind of animals did Lorrainosaurus like to eat?
LISTEN TO THIS STORY
CLASSROOM ACTIVITIES
1. Lorrainosaurus caricature
Read the detailed description of this Lorrainosaurus creature in the Kids News article, and study the pictures, to enable you to sketch a caricature of this creature.
A caricature is a picture, description, or imitation of a person in which certain striking characteristics are exaggerated in order to create a comic or grotesque effect.
Use a grey lead pencil or colours to complete your caricature and share with your classmates.
Time: allow 30 minutes to complete this activity
Curriculum Links: Visual Arts, Personal and Social, Critical and Creative Thinking
2. Extension
Draw a food chain under the title of "Lorrainosaurus" of what prey this sea creature might have lived on.
Time: allow 15 minutes to complete this activity
Curriculum Links: English, Science
VCOP ACTIVITY
Imaginative dialogue
Imagine you were present during the interview with researchers who worked to identify the Lorrainosaurus.
Create a conversation between two characters from the article – you may need to include yourself as one of the characters. Don't forget to try to use facts and details from the article to help make your dialogue as realistic as possible.
Go through your writing and highlight any punctuation you have used in green. Make sure you carefully check the punctuation used for the dialogue and ensure you have opened and closed the speaking in the correct places.