Wildlife officials suspect a giant python skin belonging to the world's longest snake species may have been smuggled* into Australia after it was found in a Queensland park.
The 7m long skin, found lying on the grass by Redlynch resident Stuart Morris in Ryan Weare Park in Cairns last week, belongs to a reticulated python and appears to have been freshly cut from the animal. How it got to the park, however, is still a mystery.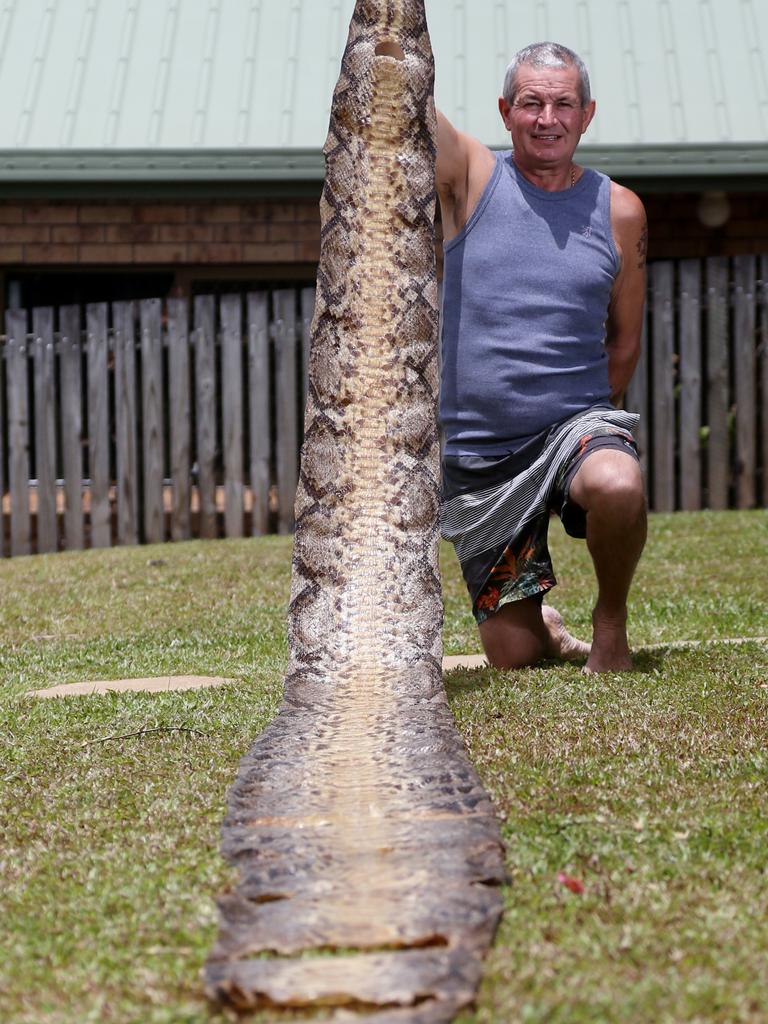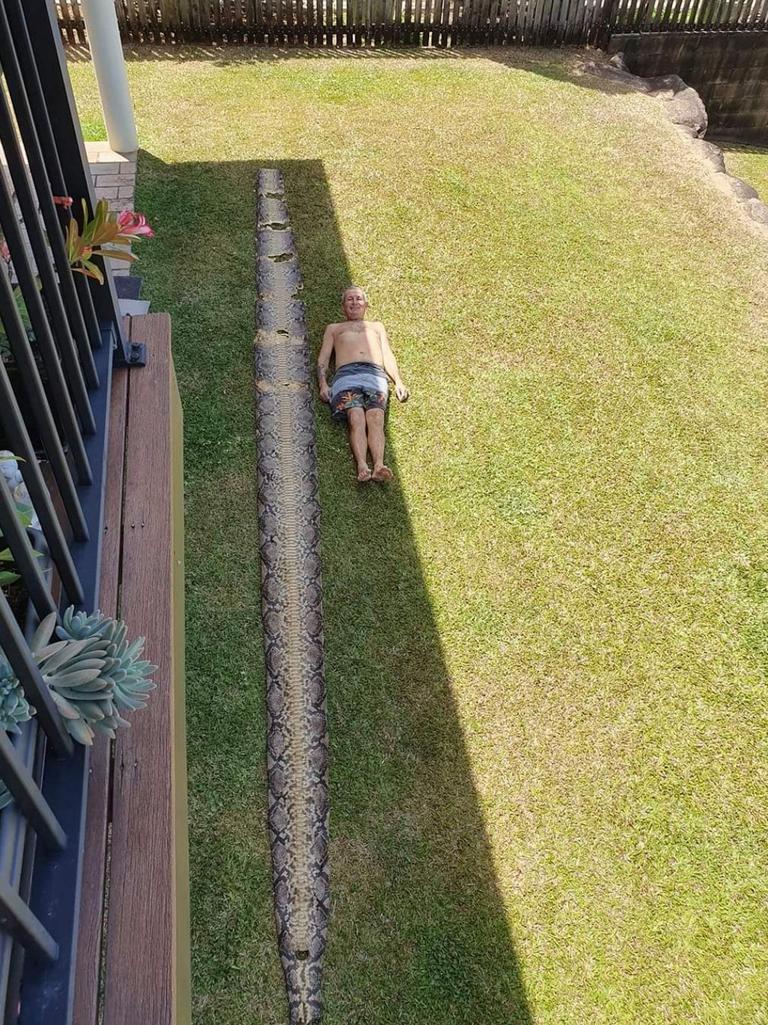 The reticulated python is native* to the jungles of South East Asia, the Philippines and parts of the Indonesian archipelago*.
The Department of Environment and Water has records of only three live reticulated pythons being approved for import into Australia, for non-commercial* exhibition purposes, since June 2005.
Only one of those snakes was approved for Queensland, but it is understood that animal remained in the state's southeast.
The Cairns Tropical Zoo, which shut down in 2015, had a reticulated python on display, however that animal was transferred to Hartley's Crocodile Adventures at Wangetti, where it is still alive and being exhibited.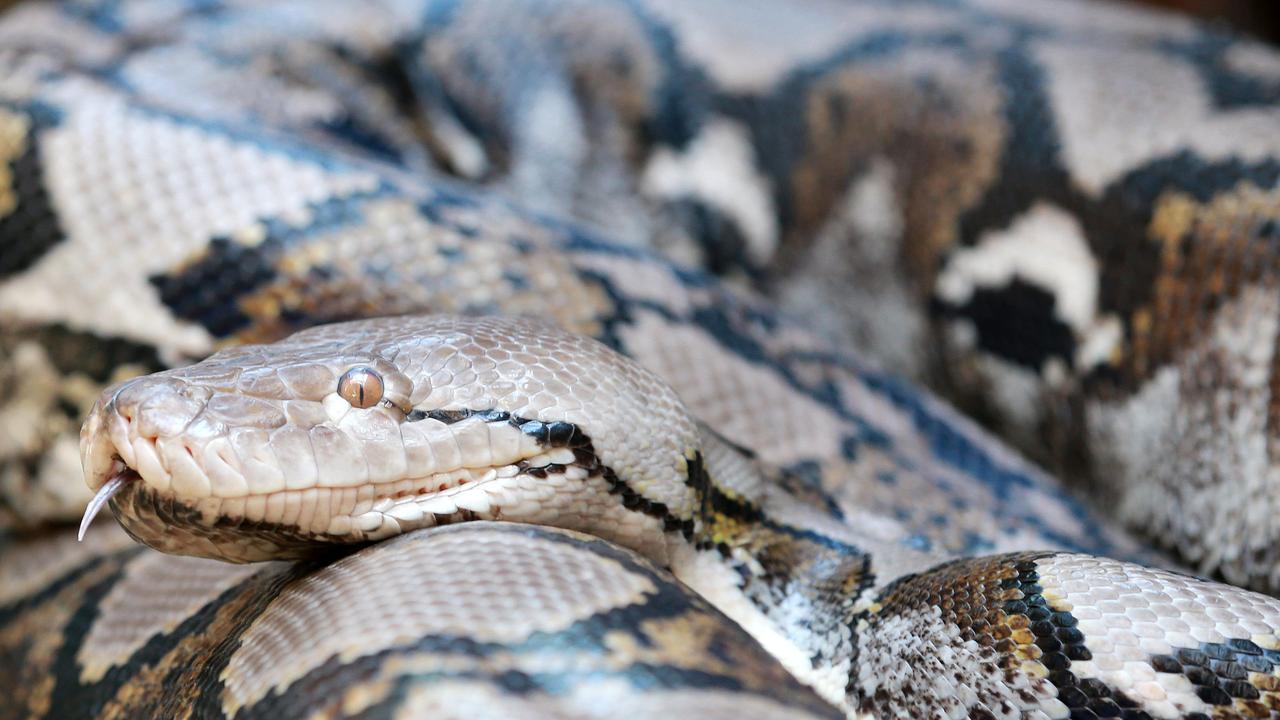 The Department of Environment's spokesman said it was not aware of any live reticulated pythons being kept legally as pets in Cairns.
He said the species represented a major biosecurity* threat to Australia.
"Python species, including the reticulated python, are considered to be highly invasive* and pose a significant threat to the Australian environment," he said.
"The importation* of python species into Australia is only permitted into high-security facilities such as zoos and similar institutions," he said.
"The related Burmese python has become established in the southeast of the United States, particularly Florida, and have been linked to severe impacts on the ecosystems* in this region."
Python skin is regarded as highly valuable in South-East Asia, where an estimated $1 billion worth of deals are done each year.
The skins are used mostly for fashion items, with raw skins fetching $US100 each, according to the International Trade Centre.
VIDEO: Watch as Monster, one of Australia's reticulated pythons held in captivity, is weighed.
FACTS ABOUT THE RETICULATED PYTHON
Holds the world record for the longest snake
Can grow up to 10m long
Non-venomous
Has backward-curved teeth to hold their prey like a fork as they wrap around and suffocate the prey to death
Eats small mammals, birds, deer and pigs
Found in moist places such as rainforests and wetlands
Spend a lot of time living in water, but can also be found in trees or cracks in caves
Lays eggs and coils up and shivers to keep them warm
BOA CONSTRICTOR ON THE LOOSE
Meanwhile, in NSW, a 2.5m adult boa constrictor is "on the loose" after freshly shed snakeskin was found at a property west of Sydney.
The NSW Government issued a warning to the public on Friday, after the snake's skin was found two days earlier at a building site on Torumba Circuit in the Cascades Estate in Silverdale.
Biosecurity officers are scouring the Cascades Estate for the huge reptile, with fears small pets and even children could be at risk.
Locals have been asked to be on the lookout for it and to report any sightings.
Scott Charlton from NSW Government warned people not to make contact with the animal if they see it.
"Observe and, if possible, photograph the animal," he wrote in a letter to residents of the Cascades Estate. "If it is moving try and watch where it goes."
Native to Central and South America, boa constrictors are one of the larger species of snakes and can grow up to 4m and weigh up to 45kg. While they're not venomous, the giant serpents strangle or "constrict" prey.
They're prohibited in NSW outside of zoos.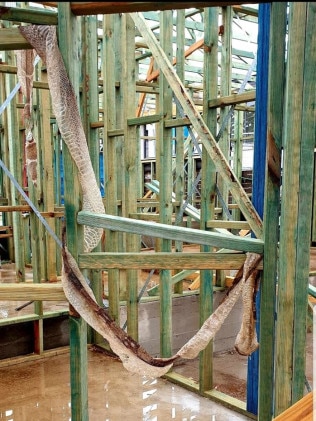 GLOSSARY
smuggled: move goods illegally in or out of a country
native: place of origin or birth
archipelago: large group of islands
non-commercial: not intended to make money
biosecurity: rules to protect the population against harmful biological or biochemical substances
invasive: spreading quickly and causing harm
importation: bringing goods into a country for sale
ecosystems: a biological community of interacting organisms and their physical environment
EXTRA READING
Incredible video of snake eating snake
Invention to spy on kids on its way
First-ever diamond inside a diamond
QUICK QUIZ
What sort of skin was found?
How long was it?
Why is the importation of pythons a biosecurity threat?
What sort of teeth do these animals have? Why?
What is python skin used for in South East Asia?
LISTEN TO THIS STORY

CLASSROOM ACTIVITIES
1. Understanding the impacts of invasion
In the article, we learn that authorities are concerned because reticulated pythons are considered "highly invasive". Based on what you have read and inferred from the article, write a one-paragraph explanation of what an invasive species is and the impact of introducing them into an environment.
Then, do some research to identify another species that has been introduced to Australia that has proven to be invasive. Explain when, where and why it was introduced and the negative impact that it has had.
Time: allow 25 minutes to complete this activity
Curriculum Links: English; Science; Information and Communication Technology Capability
2. Extension
Design an information poster that could be displayed at Australian airports and seaports, warning against the illegal importation of animals. Think about what words or images you could use that would have the greatest impact.
Time: allow 30 minutes to complete this activity
Curriculum Links: English; Media Arts; Information and Communication Technology Capability

VCOP ACTIVITY
The glossary of terms helps you to understand and learn the ambitious vocabulary being used in the article. Can you use the words outlined in the glossary to create new sentences? Challenge yourself to include other VCOP (vocabulary, connectives, openers and punctuation) elements in your sentence/s. Have another look through the article, can you find any other Wow Words not outlined in the glossary?
HAVE YOUR SAY: Do you like snakes or are you afraid of them?
No one-word answers. Use full sentences to explain your thinking. No comments will show until approved by editors.