Experts have discovered that cold-blooded frogs once lived on a warm Antarctica, after finding 40 million-year-old frog fossils.
The specimens*, discovered by Swedish vertebrate* palaeontologist* Dr Thomas Mörs, are most likely related to a species currently living in South America.
Mörs, who works with the Swedish Museum of Natural History, announced the find last week in the Nature journal called Scientific Reports.
The research team collected the frog fossils between 2011 and 2013 during an expedition to barren, rocky and freezing cold Seymour Island, which sits on the Antarctic Peninsula more than 1100km south of Tierra del Fuego on South America.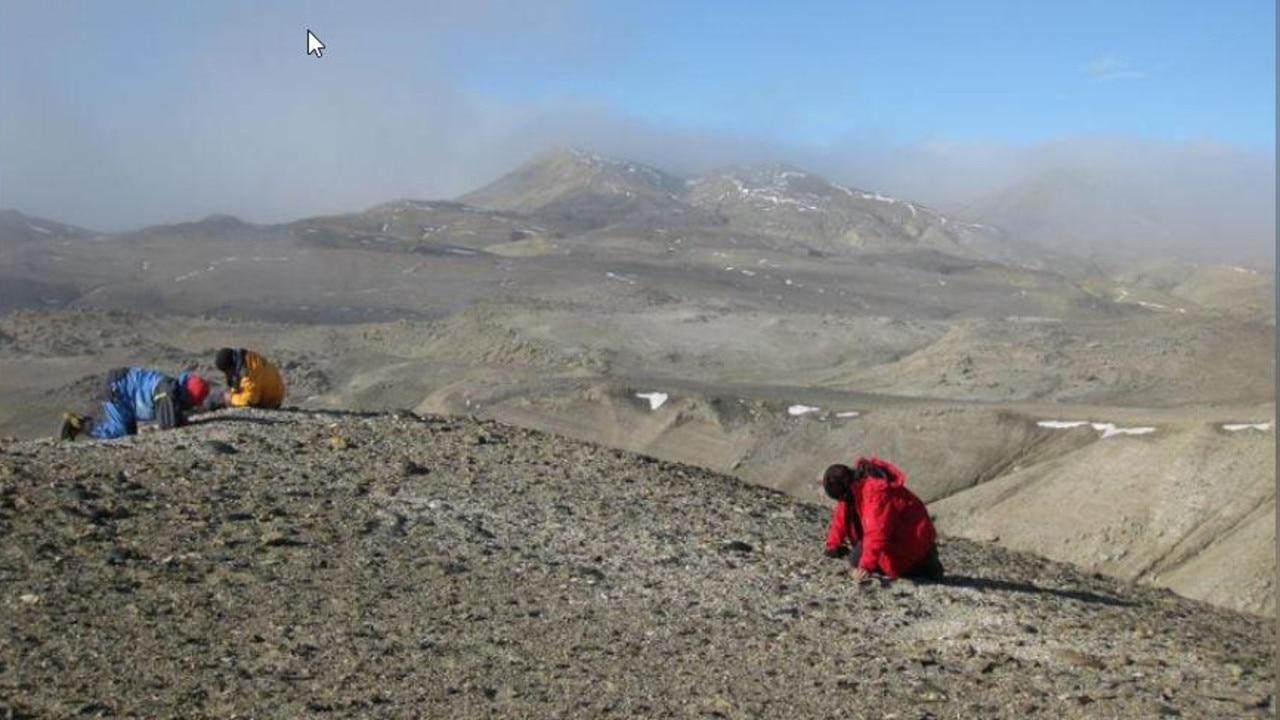 However, the frog only leapt into the spotlight in 2015 after Mörs had time to examine the thousands of samples they had collected. He also found fossilised water lily seeds and shark and ray teeth.
"It was a total unexpected discovery under the microscope. I first found the hip bone, and I directly realised that I found an Antarctic frog – the first. And the first Antarctic amphibian for over 200 million years. So exciting," said Mörs.
Mörs also found a frog skull.
The hip bone resembles those of a living family of frogs called helmeted frogs. Helmeted frogs are native to Chile in wet woodlands called Nothofagus forests, where the warm-season temperature averages 14C. Chile's helmeted frogs are part of a group called Australobatrachia, or "southern frogs," that also has members living in Australia and New Guinea.
The discovery shows how Antarctica, six million years before becoming the land of ice and snow of today, was home to forests and rivers teeming* with life.
"It tells us that whole ecosystems can be wiped out by global climate change, and that it might go fast," Mörs said.
Frogs first appeared during the Triassic Period roughly 250 million years ago, before the dinosaurs.
"Frogs were known from all continents, except Antarctica," Mörs added. "And now we know that they lived on all seven, before one of them froze."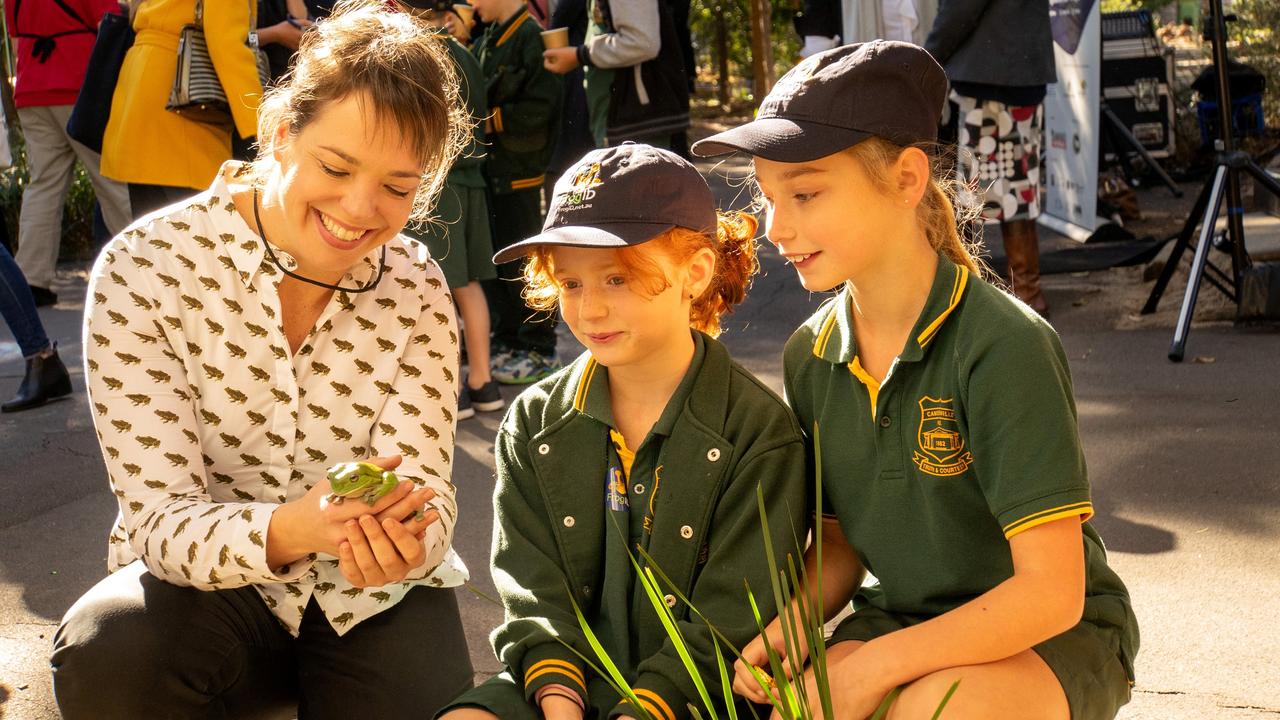 JOIN THE FROG-FINDING MISSION
Australian kids are being asked to join a frog rescue mission.
The Australian Museum has launched its FrogID Kids Competition as part of its FrogID national citizen science project. The competition invites kids to share what they've learned about frogs for the chance to win frog-themed prizes.
The FrogID science rescue mission invites people all over Australia to record frog calls. Scientists then use the call and location information to better understand how many of which frogs live where and which species' numbers may be reducing.
By February this year, the project had more than 50,000 frog calls and information on its online database.
Frogs are among the most threatened group of species on Earth and it's difficult for scientists to know how to save them if they don't know much about them. There are thought to be about 240 species of frogs in Australia.
For information on the FrogID Kids Competition — open until May 20 — visit
australianmuseum.net.au/get-involved/citizen-science/frogid/frogid-competition/
GLOSSARY
specimens: samples for science research
vertebrate: animal with a backbone
palaeontologist: scientist who studies fossils
teeming: full of or swarming with
EXTRA READING
Hitchhiking frog crosses Nullarbor
Life on remote Goudier Island, Antarctica
Antarctica's hottest day ever recorded
Human-sized extinct penguin found
QUICK QUIZ
Where did they find the frog fossils?
When did frog species first appear or evolve on Earth?
How many continents have frogs lived on?
What is FrogID?
What is the point of FrogID?
LISTEN TO THIS STORY
CLASSROOM ACTIVITIES
1. Frog Frenzy Find a Word
Did you know Frogs are amphibians. The word amphibian comes from the Greek word 'amphibios', which means "to live a double life". This refers to most amphibians having two parts to their life cycle – the first in water during the egg and larva stage and the second on land during the adult stage.
Complete the find-a-word below, which is from the activity page at https://media.australianmuseum.net.au/media/dd/documents/FrogID-activity_Sheet.1ae51ba.pdf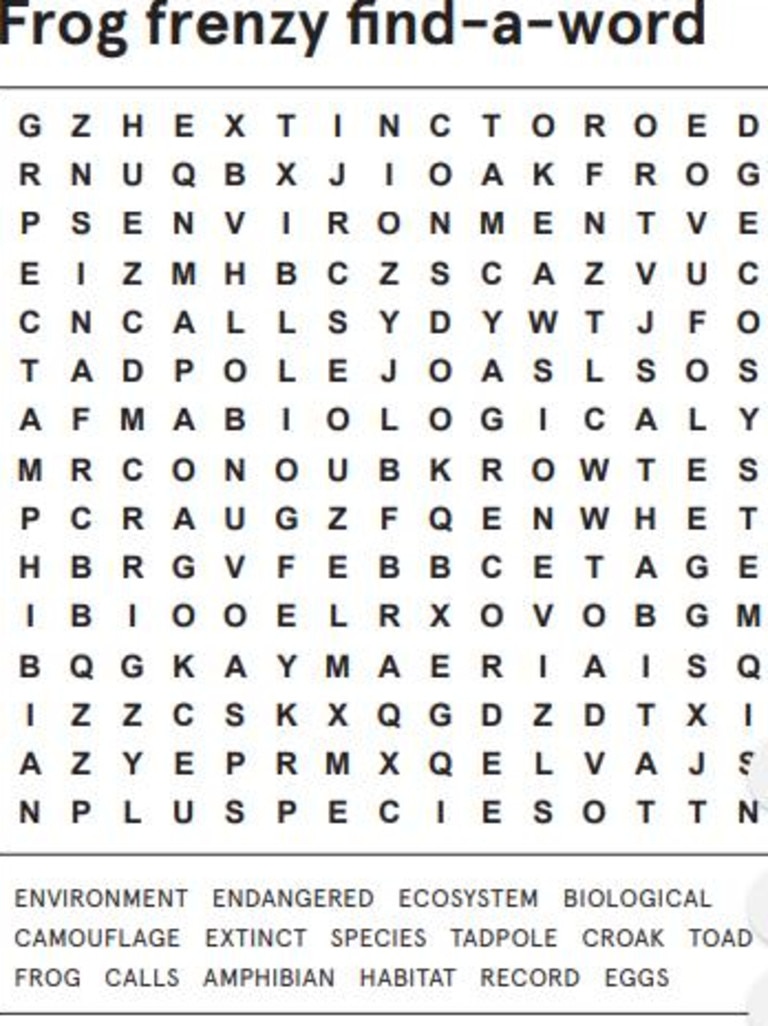 Time: allow 15 minutes to complete this activity
Curriculum Links: English
2. Extension
In the Kids News article, Dr Mors is quoted as saying "It tells us that whole ecosystems can be wiped out by global climate change, and that it might go fast."
What do you think this means? Discuss with a friend over video chat.
Do you hear any frogs around your house? Would you be interested in downloading the FrogID app to help scientists gather more information?
Time: allow 20 minutes to complete this activity
Curriculum Links: English, Science, Personal and social
VCOP ACTIVITY
Proper Noun Police
A proper noun is a noun that names a particular person, place or thing. It always has a capital letter.
How many proper nouns can you find within this article? Find them all and sort them into the category of name, place, time (date/month).
Can you find any proper nouns included in your writing?
What are they?
Can you sort them into their categories?
HAVE YOUR SAY: Describe frogs you've seen or those you'd like to see.
No one-word answers. Use full sentences to explain your thinking. No comments will be published until approved by editors.