Two shocked divers got the fright of their lives when they encountered* a giant sea worm almost 8m long.
Steve Hathaway, 56, and Andrew Buttle, 48, were diving off the coast of Whakaari, a stratovolcano* on White Island, New Zealand, when they discovered the massive jelly-like worm.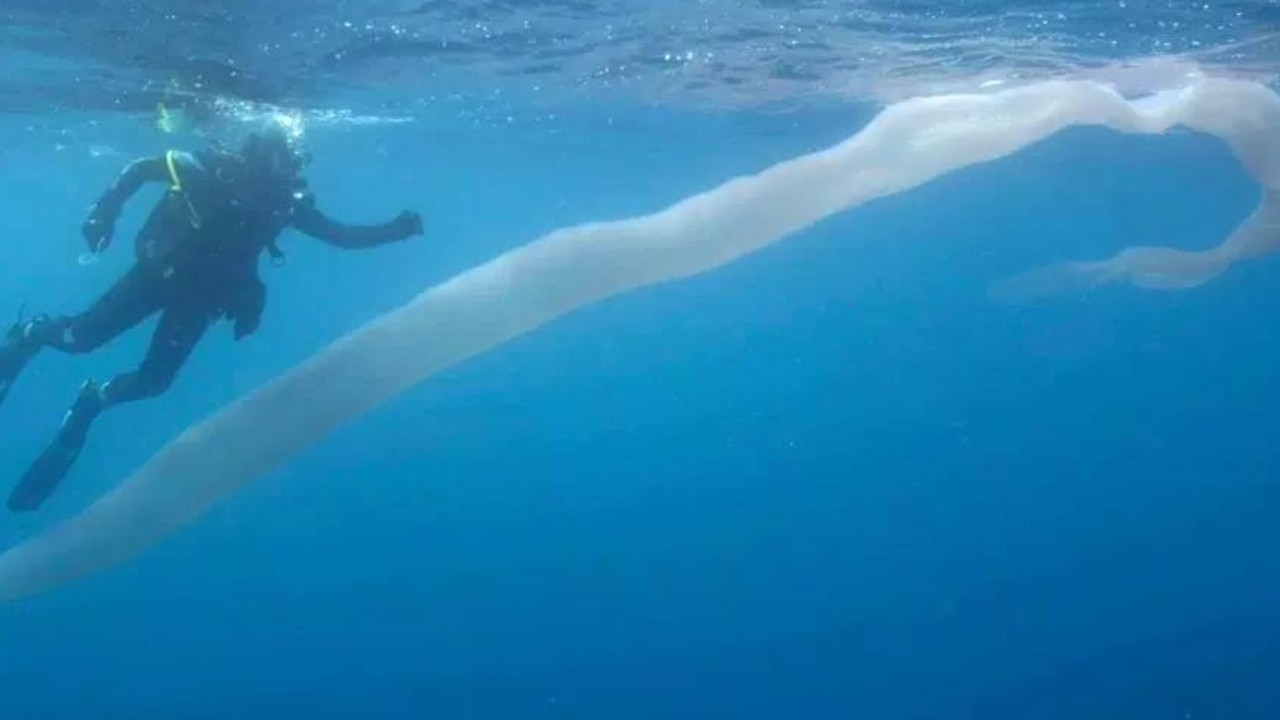 The men were diving to film the island, which Andrew inherited from his grandfather, but their focus was stolen by the hollow tube, which they believed to be a pyrosome. The worm moved delicately through the water, occasionally shuddering and pulsating* while the divers swam gently around it so not to disturb it.
A pyrosome is not one creature, but a tubular* colony* of hundreds of thousands of organisms.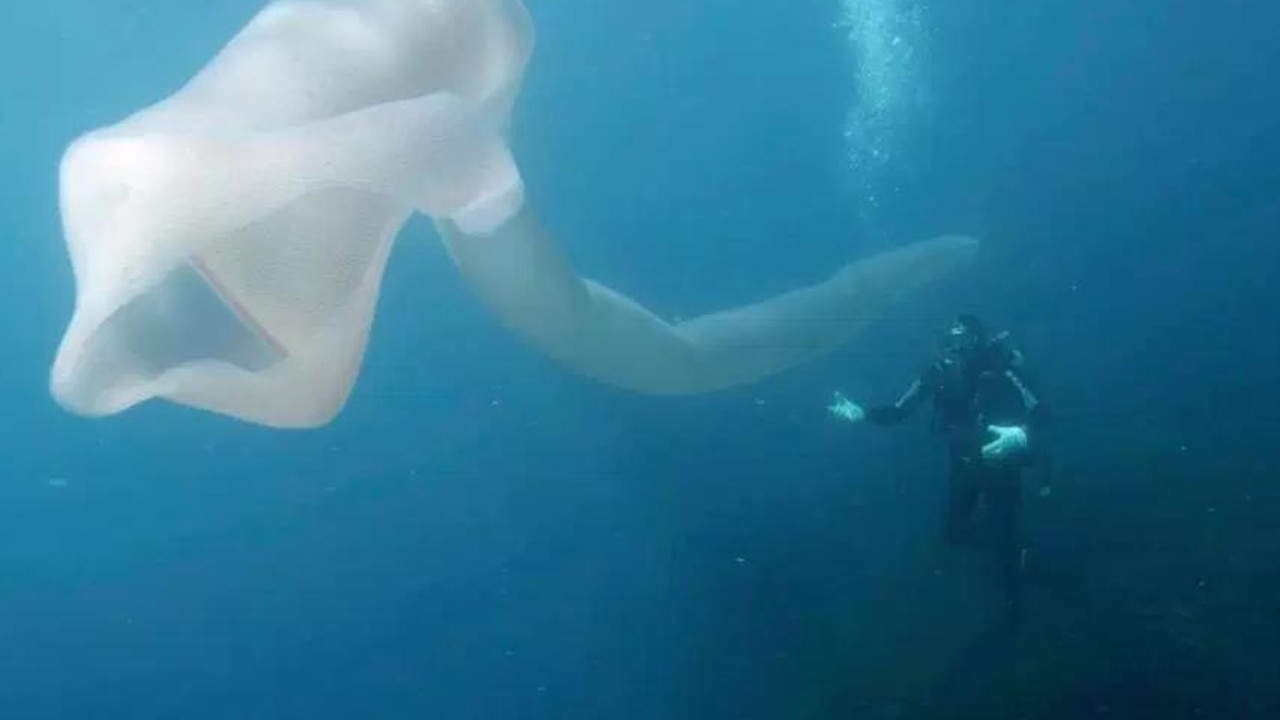 At a depth of around 10m, the organism slowly travelled around 200m, taking on many different shapes and sizes.
Mr Buttle said: "Having never seen one in person or even footage or photos of one before, I was quite incredulous* and elated* that such a creature existed.
"It was very puzzling but also fantastic to be able to view it right up close and spend so much time with it.
"The island is 48km from the (New Zealand) mainland, and there is a vast amount of fish life and nutrients in the water that may have had the right circumstances to become so large.
"I believe it is possibly a pyrosome — occasionally they are caught in nets but not many intact large specimens* have been caught to my knowledge.
"At times there can be blooms of thousands of small versions of these creatures in many parts of the world, but not something I had ever seen before."
Mr Hathaway, who founded Young Ocean Explorers, a children's website about oceans, said: "Without a doubt the highlight of the trip was to find the pyrosome — I've wanted to see one for many years now.
"The ocean is such a fascinating place and much more fascinating to explore when you actually understand some of what you see, such as the different behaviours."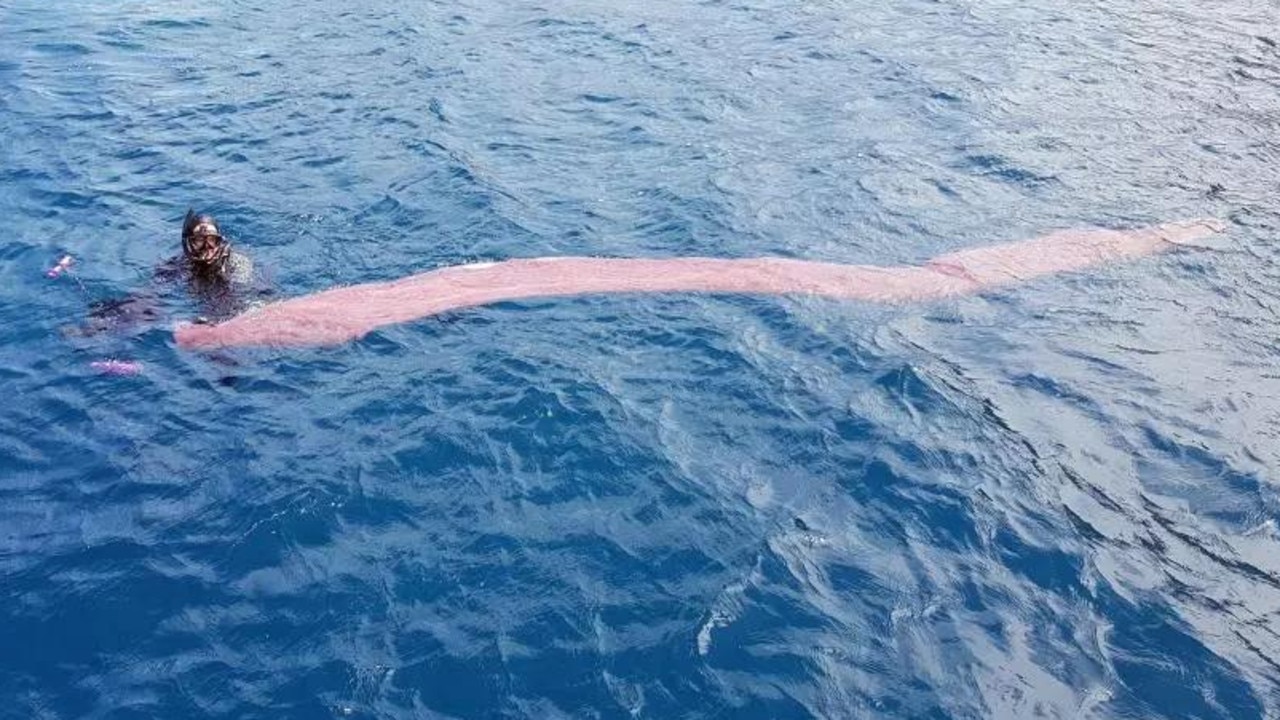 ABOUT PYROSOMES
They are cylindrical* colonies made up of thousands of tiny organisms called zooids.
Pyrosomes range massively in size from less than 1cm to up to 20m in length.
Each cylindrical colony feeds on plankton by filtering water.
Most species of pyrosomes, including sea pickles, live in tropical and subtropical water.
The gelatinous* creatures are commonly found off the coast of southern California, US.
Humans rarely see pyrosomes, but scientists believe the ocean is full of them.
This story appeared in The Sun and was reproduced with permission.
EXTRA READING
Amazing undersea world discovered
Scientists discover 'headless chicken monster'
Incredible moment a whale high-fived a diver
Octopus may be an alien from outer space
GLOSSARY
encountered: came upon
stratovolcano: a type of volcano made up of layers of ash and lava
pulsating: expanding and contracting
tubular: tube shaped
colony: a group of organisms living together
incredulous: can't believe your eyes
elated: overjoyed
specimens: examples of
cylindrical: cylinder shaped
gelatinous: jelly like
LISTEN TO THIS STORY
QUICK QUIZ
1. How long was it?
2. Why were the men out in the water?
3. What is a pyrosome?
4. Why do they think it became so large?
5. Are there many in the ocean?
CLASSROOM ACTIVITIES
Pyrosome Poetry
Write a diamante poem on the Pyrosome found by the two divers in the Kids News article.
A diamante poem forms the shape of a diamond, and is constructed like this:
Line 1: Noun or subject – one word
Line 2: Two Adjectives that describe line 1
Line 3: Three "ing" words that describe line 1
Line 4: Four nouns – the first two are connected with line 1; the last two are connected with line 7
Line 5: Three "ing" words that describe line 7
Line 6: Two adjectives that describe line 7
Line 7: Noun synonym for the subject
An example is-
Pencil
Sharp, skinny
Writing, answering, erasing
Wood, lead, ink, plastic
Drawing, smudging, leaking
Durable, comfortable
Pen
Extension: Invent a marketing strategy for Andrew Buttle to use when advertising eco-tours on his island to show off sea life such as this amazing pyrosome!
Time: Allow 30 minutes
Curriculum links: English
VCOP ACTIVITY
After reading the article, with a partner, highlight as many wow words or ambitious pieces of vocabulary that you can find in yellow. Discuss the meanings of these words and see if you can use them orally in another sentence.
HAVE YOUR SAY: What is the weirdest sea creature you have ever heard of or seen? Use full sentences. No one-word answers.