Dinosaurs might have caught colds, just like humans, new research has found.
A team of researchers believes unusual bony growths found on the fossilised neck of a young diplodocid* are the first evidence dinosaurs caught and suffered colds and other respiratory* illnesses.
They believe the bony growths probably grew in response to a nasty infection in the dinosaur's respiratory system.
Their research, published in Scientific Reports, found it was possible the young diplodocid experienced flu or pneumonia-like symptoms such as weight loss, coughing, fever and breathing difficulties.
The illness might have even caused the dinosaur's death, according to study author Dr Cary Woodruff, a palaeontologist from the Great Plains Dinosaur Museum in Montana, in the US.
"I do think, one way or another, it ultimately contributed to the death of this animal," Dr Woodruff said.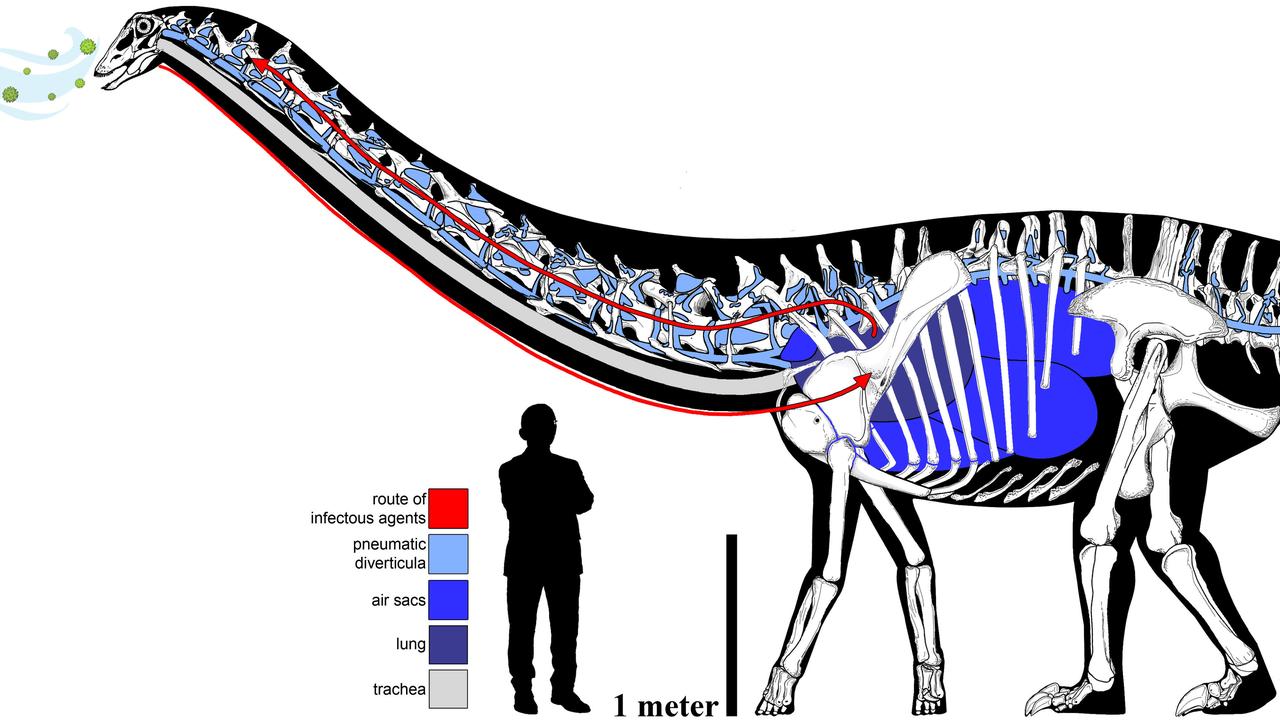 The fossil of the diplodocid – a large, long-necked, plant-eating sauropod* nicknamed Dolly – dates back about 150 million years to the late Jurassic period and was discovered in Montana in 1990.
Palaeontologists recovered a complete skull and some neck vertebrae*. Analysis* of the bones found that Dolly was between 15 and 20 years old when it died and would have been 18m long and weighed about five tonnes.
When Dr Woodruff and colleagues took a closer look at three of Dolly's neck bones in 2018, they found bony, "broccoli-shaped" growths.
The growths appeared in areas where they would have attached to air-filled sacs. These air sacs would have connected to the lungs and formed part of the dinosaur's respiratory system. CT* imaging of the growths revealed they were made of abnormal bone and probably formed in response to an infection that started in the air sacs and then spread to the neck bones.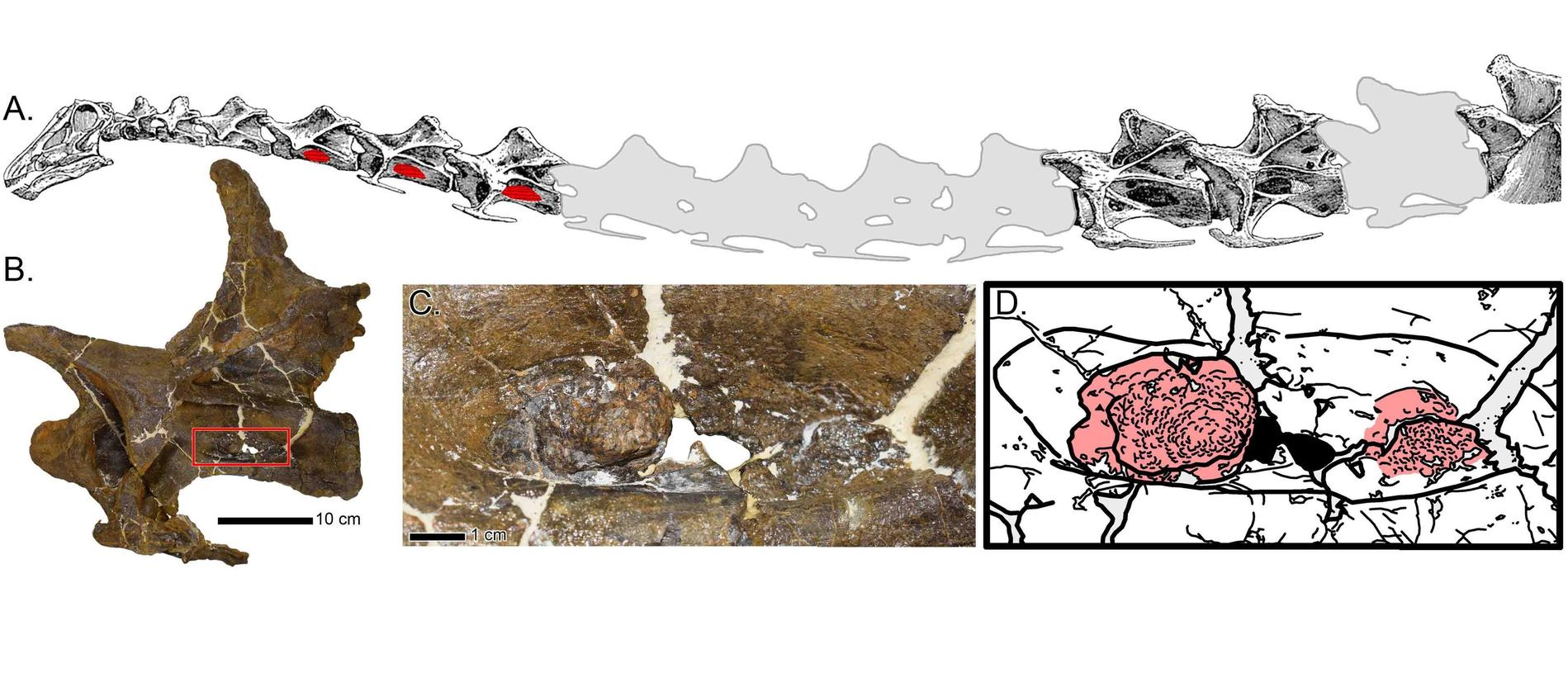 This is similar to how modern-day birds and reptiles can get bone infections when they get aspergillosis, a respiratory infection caused by a common type of fungus.
"If you could hop in that time machine and go back to when Dolly was alive with this infection, you would have very clearly, evidently been able to see that this was a very, very sick animal," Dr Woodruff said.
Previous research has found that dinosaurs suffered from cancer, gout, and infections from injuries, but this study is the first to present evidence of a respiratory infection in a dinosaur.
GLOSSARY
diplodocid: a family or group of large, plant-eating dinosaurs with four legs and a long neck and tail
respiratory: to do with breathing
sauropod: large, plant-eating dinosaurs with four legs and a long neck and tail. Diplodocids are a group of sauropod dinosaurs
vertebrae: small, interlocking bones that formed the dinosaurs long neck
analysis: the detailed study or examination of something
CT: stands for computerised tomography. This is the use of X-rays to make three-dimensional images
EXTRA READING
Lump on leg shows dinosaurs got cancer
Young dinosaur was crocodile's last meal
Dino's slashing tail weapon sets it apart
Meet Australia's largest dinosaur
QUICK QUIZ
What did the researchers find on the dinosaurs neck?
What symptoms do the researchers think the dinosaur might have suffered?
Where is Dr Cary Woodruff from?
What nickname has been given to the diplodocid fossil?
How old was this dinosaur that to have been when it died?
LISTEN TO THIS STORY
CLASSROOM ACTIVITIES
1. Dinosaur health plan
Write up a health plan for this very poorly feeling dinosaur back in the ages. It had what looks like a very bad cold/flu that could even have been pneumonia. If you could take care of this lovely dinosaur, fill out the following health care plan about what it, or its carers or parents, might do to help it recover.
Health Care Plan for Dolly the Dinosaur:
Medication:
Physiotherapy:
Diet and liquids:
Lifestyle modifications:
Living arrangements/shelter:
How to stop the spread to other dinosaurs:
Time: allow 25 minutes to complete this activity
Curriculum Links: English, Health and Physical education, Critical and creative thinking
2. Extension
What are some telltale signs that this dinosaur was clearly very sick?

Do you see these same signs in humans and other animals?
How would you have made Dolly feel better?
Time: allow 10 minutes to complete this activity
Curriculum Links: English, Health and Physical education, Critical and creative thinking
VCOP ACTIVITY
Adjectives
An adjective is a describing word. They are often found describing a noun. To start with look at the words before the nouns.
Search for all the adjectives you can find in the article
Did you find any repeat adjectives or are they all different?
Extension:
Pick three of your favourite adjectives from the text and put them in your own sentences to show other ways to use them.
Have you used any in your writing?