A new species of Cretaceous* crocodile has been named in Queensland.
First discovered in Winton in 2010, the fossilised* remains included a surprise: gut evidence of the croc's last meal.
Now the Confractosuchus sauroktonos – meaning "broken dinosaur killer"- has been named in honour of the unlucky ornithopod* found in the crocodile's stomach.
The discovery is the first evidence of crocodile/dinosaur predation* in Australia and suggests that dinosaurs were an important resource in the Cretaceous ecological* food web.
Recovered from a sheep station, the fossilised bones are thought to be approximately 95-million-years-old.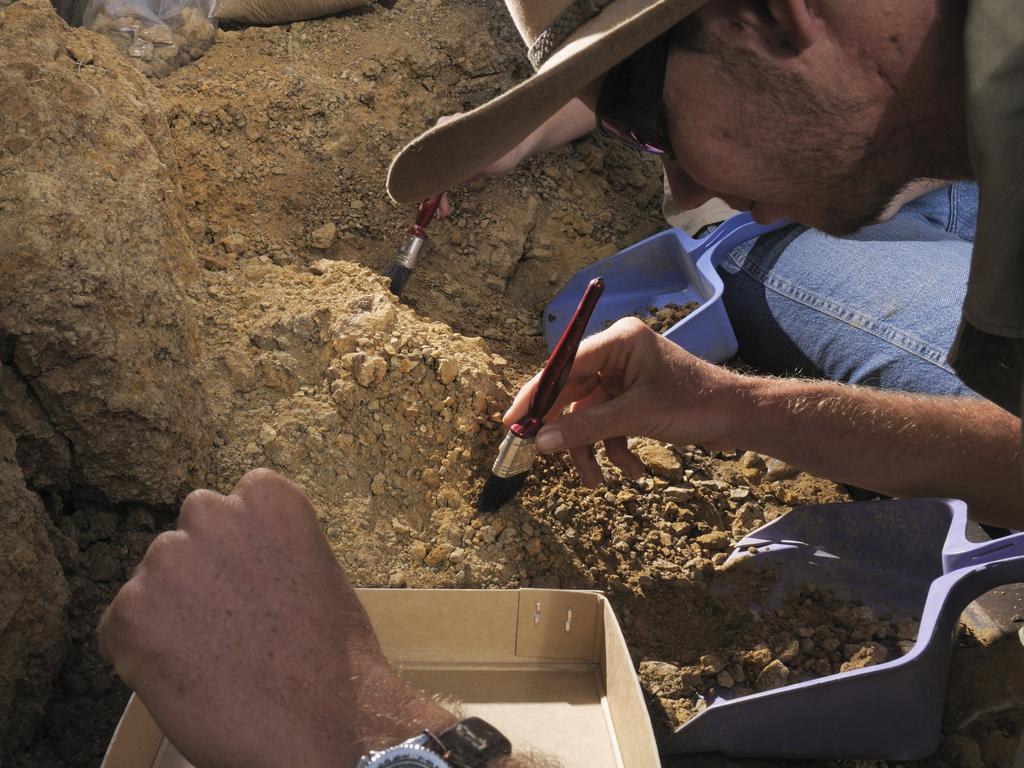 The gut contents of the Cretaceous-aged crocodile are an extremely rare find, with only a handful of examples of dinosaur predation known globally. Reconstruction of Confractosuchus was led by Australian Age of Dinosaurs Museum research associate Dr Matt White through the University of New England, in collaboration with the Australian Nuclear Science and Technology Organisation (ANSTO).
The small, densely packed bone fragments were too fragile for rock to be removed using conventional methods, so ANSTO senior instrument scientist Dr Joseph Bevitt used micro scanning technologies to identify where bones were located. The museum's Dr White then used the scans to digitally prepare the specimen over 10 months, so that a 3D reconstruction of the bones could be made.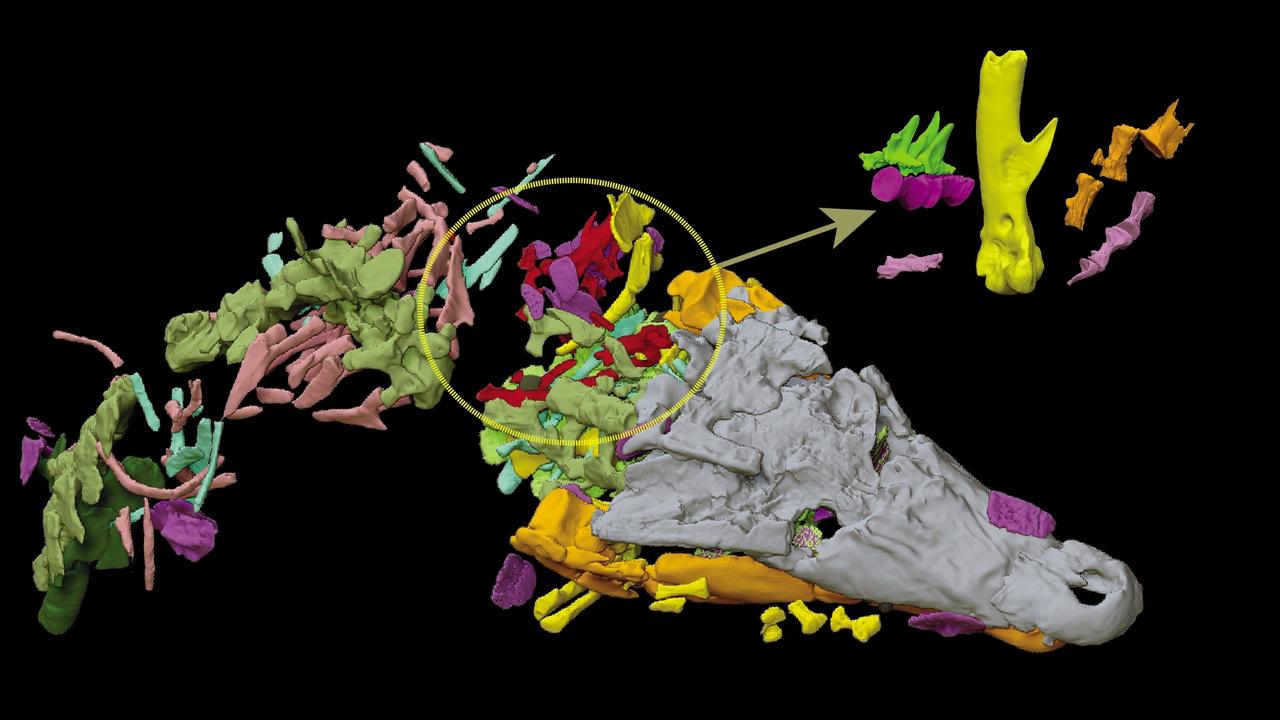 According to Dr White, the number of bones present was staggering, with 35 per cent of the crocodile preserved. The skeleton of Confractosuchus includes a near complete skull, though its tail and hind limbs are missing.
"At the time of its death, this freshwater crocodile was around 2.5m long and still growing," Dr White said. "While Confractosuchus would not have specialised in eating dinosaurs, it would not have overlooked an easy meal, such as the young ornithopod remains found in its stomach."
Evidence suggests Confractosuchus either killed the juvenile dino – a mere snack at around 1.7kg – or scavenged* it soon after its death. One of the ornithopod's femurs* was sheared* in half and the other femur was bitten so hard that a tooth mark was left on the surface of the bone.
"It is likely dinosaurs constituted an important resource in the Cretaceous ecological food web," Dr White said. "Given the lack of comparable global specimens, this prehistoric crocodile and its last meal will continue to provide clues to the relationships and behaviours of animals that inhabited Australia millions of years ago."
The dino-munching croc joins other significant specimens on display at the Australian Age of Dinosaurs Museum, including Australia's most complete carnivorous dinosaur and most complete pterosaur.
The museum's executive chairman, David Elliott OAM, said the crocodile was one of its most exciting additions.
"The Winton area has produced the majority of Australia's large dinosaur fossils, so adding a crocodile that preyed on dinosaurs provides an extraordinary insight into the complex ecology that existed in Cretaceous Winton," he said.
GLOSSARY
Cretaceous: covering the late Mesozoic Era, lasting from 145 to 66 million years ago
fossilised: preserved remains, or traces of remains, of ancient organisms
ornithopod: a commonly two-legged (bipedal), herbivorous dinosaur
predation: the preying of one animal on others
ecological: patterns of relationships between different living things
femur: thigh bone, upper hind limb
scavenge: search and collect unwanted or leftover food
sheared: broken off
EXTRA READING
Case of mistaken dino identity
Earliest evidence dinos lived in herds
Meet Australia's largest dinosaur
QUICK QUIZ
Where were the fossilised remains found?
What is their estimated age?
What does the name given to the ancient crocodile mean?
What percentage of the crocodile was preserved?
What is the unlucky ornithopod thought to have weighed?
LISTEN TO THIS STORY
CLASSROOM ACTIVITIES
1. Cartoon crocodile
Draw a cartoon picture of a crocodile and a dinosaur with a small speech bubble in each to represent what they are thinking. Their thoughts should be linked to this Kids News story, which showed that the crocodile did in fact eat this small dinosaur.
Time: allow 25 minutes to complete this activity
Curriculum Links: English; Visual Art
2. Extension
Winton, in outback Queensland, is known as the dinosaur capital of Australia and is the home of the only recorded dinosaur stampede, which you can see evidence of at the Australian Age of Dinosaurs Museum. Why do you think Winton may have been so popular with the dinosaurs? Look up its location and history on a map and see what you can discover.

Time: allow 20 minutes to complete this activity
Curriculum Links: English; Science; Critical and Creative Thinking
VCOP ACTIVITY
Opener up-level it
Make a list of all the openers in the article. Pick three that repeat and see if you can replace them with another word, or shuffle the order of the sentence to bring a new opener to the front.
Don't forget to re-read the sentence to make sure it still makes sense, and that it actually sounds better.