Chaos after US tarantula crossing as deadliest spider in Oz could help treat heart disease
A tarantula looking for company has caused a crash in the US but it's funnel-webs to the rescue in Australia as scientists look to use our deadliest spider's venom to treat heart attack and stroke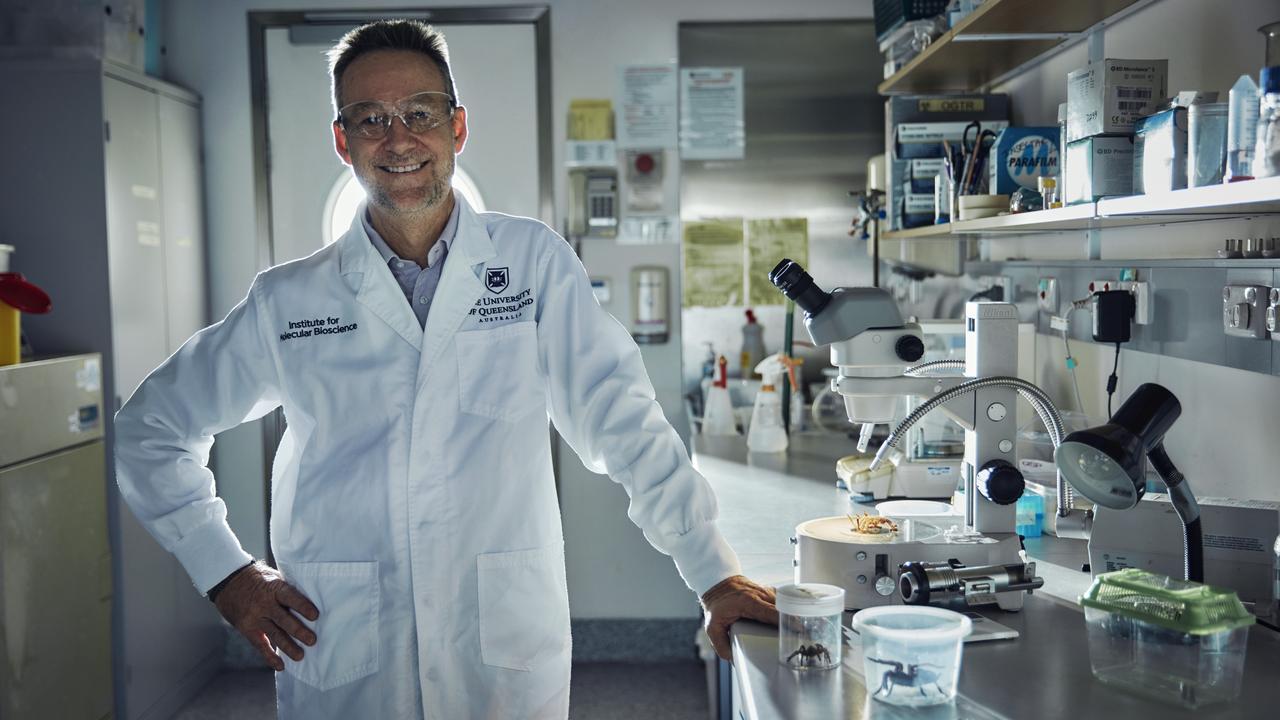 Glenn King, won a prestigious Prime Minister's Award worth $250,000 for his research into molecules in venom from funnel-web spiders native to K'gari (Fraser Island). Picture: Supplied
An intrepid tarantula caused chaos in the US last weekend after crossing a road in front of a camper van. The tourists reportedly braked and swerved after spotting the spider gamely making its way across the road in Death Valley national park.
The tarantula, thought to be looking for love, managed to skedaddle unharmed, but not before causing a motorcyclist to crash into the rear of the offcourse campervan. The rider was transported to hospital as park rangers urged visitors and motorists to use caution during tarantula mating season.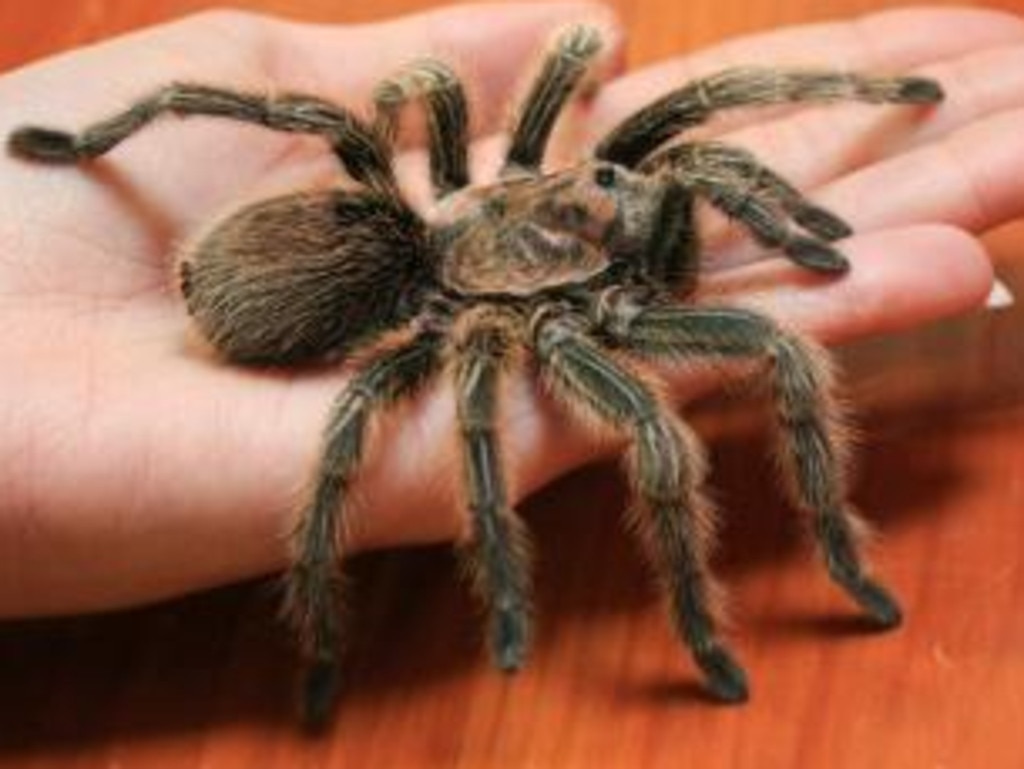 According to the US National Park Service, it is tarantula mating season in North America. Picture: file image
But Australia's most feared spider is making different headlines as an action hero arachnid. The venom* of the deadly funnel-web spider could potentially limit damage to a person's brain and heart when they suffer a heart attack or stroke*, a Queensland researcher* has found.
The man behind the breakthrough*, Professor Glenn King, from the University of Queensland's Institute for Molecular Bioscience, believes venom molecules* could be the difference between life and death, and improve a survivor's quality of life.
Trials* to advance this study will begin next year.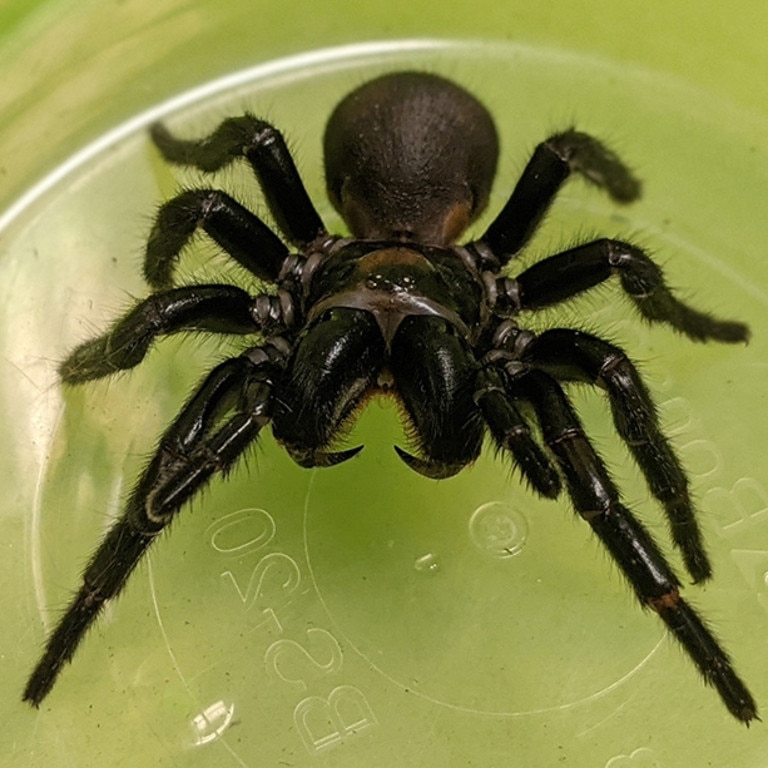 Funnel-web spiders have been centric to Prof Kings' research for 25 years. Picture: supplied
Prof King has been researching spider venom for more than 25 years for various uses.
He started as a cancer biologist* trying to understand how proteins* cause cancer, before moving into spider venom and using it to create a new range of insecticides*.
He then delved into the medical potential of venom molecules and made incredible discoveries with the IB001 molecule in funnel-web spider venom from K'gari (Fraser Island).
The IB001 molecule could be administered* by first responders* rather than only at hospital, broadening the potential positive impacts for patients no matter where they are.
"When we have a stroke, there is no oxygen getting to that part of the brain," he said.
"But the brain is also producing a lot of lactic acid* that it can't clear, so it builds up and the brain becomes acidic and neurons* (experience cell death).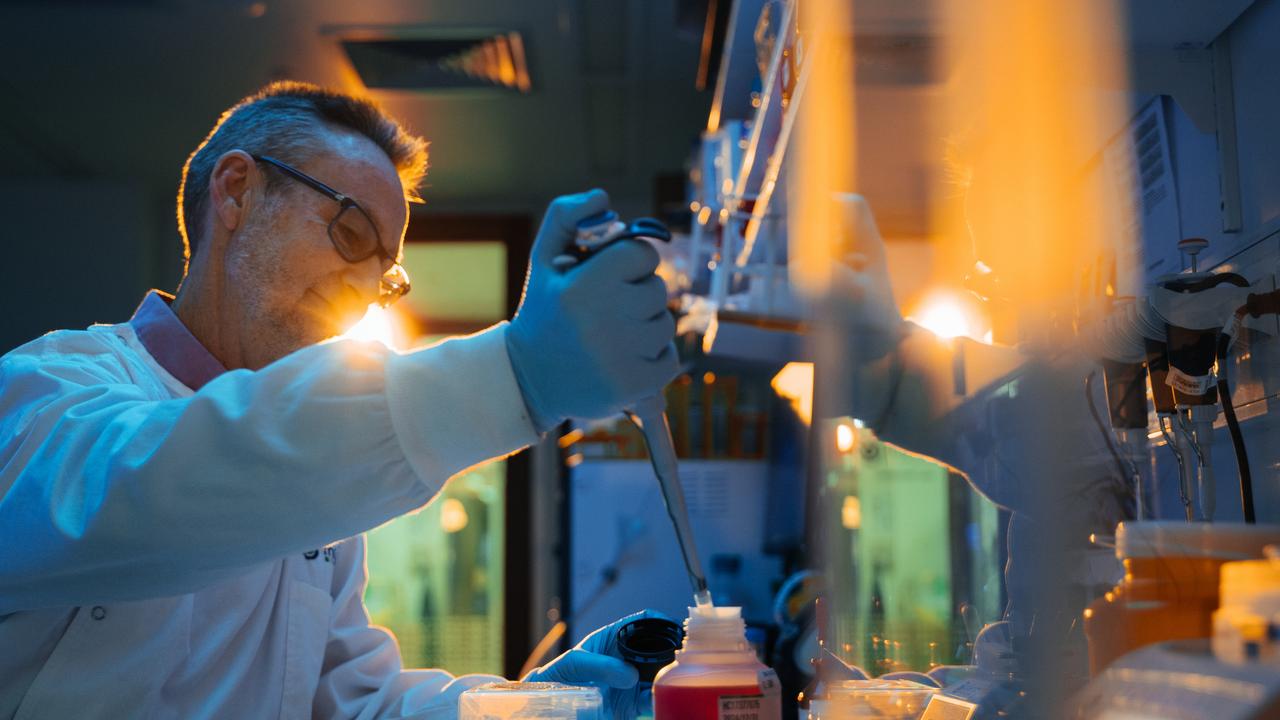 Clinical trials to further Prof King's research and bring it closer to being available to help people will start next year. Picture: supplied
"These molecules can block that (cell death) signal and save neurons in the patient's brain.
"We believe we can administer the molecule eight hours after the stroke and spare up to two-thirds of the brain damage that could have occurred.
"The heart is the other organ that is really sensitive to a lack of oxygen, but we found the venom molecule protected the heart after a heart attack."
Prof King said the venom molecule also had potential to protect a heart during a transplant* procedure and increase the number of hearts that make it into their recipient's* body.
"The issue is that we don't have a single drug that will protect the heart during a heart attack or the brain during a stroke, they are at mercy* of whatever happens," he said.
"We're aiming to protect the heart and brain and hopefully save a lot of people, but also ensure those who survive a heart attack or stroke have a much better quality of life*."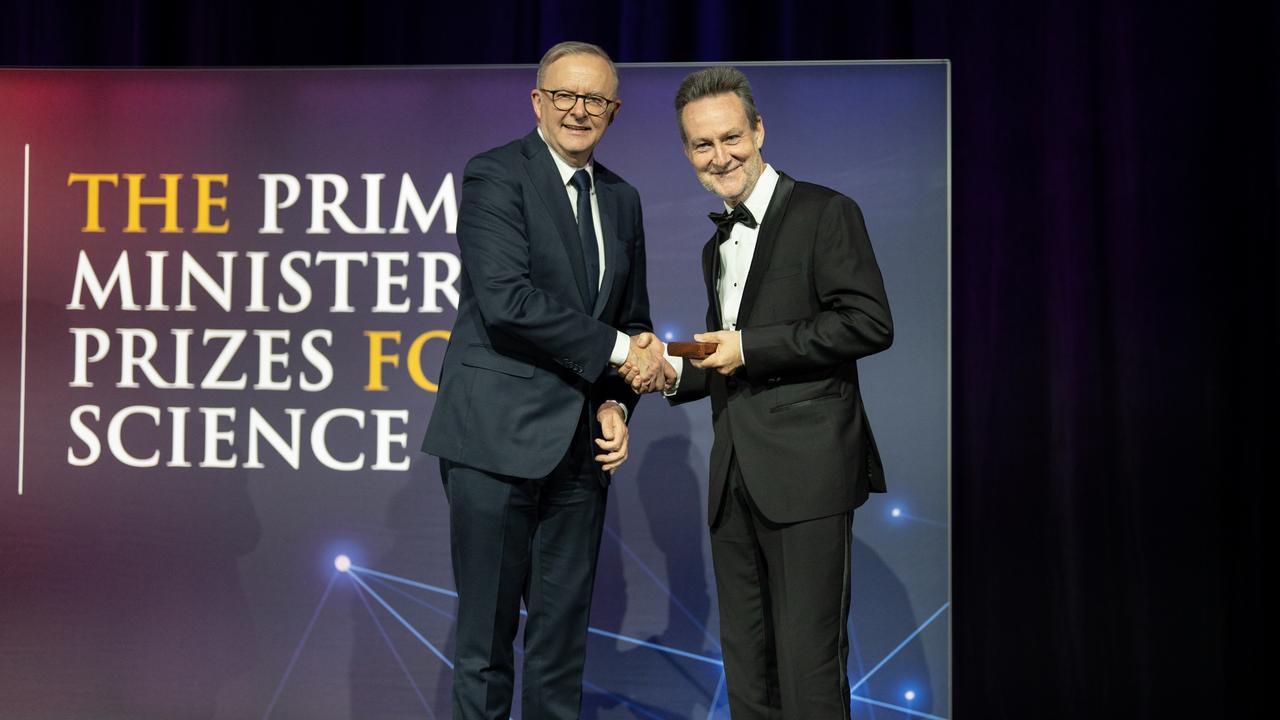 Prime Minister Anthony Albanese presented Prof King with the Prime Minister's Prize for Science Innovation last month, which included $250,000 for his research. Picture: supplied
Prof King was awarded the Prime Minister's Prize for Science Innovation, which comes with $250,000 prize money, at a special ceremony in Canberra.
"The most important thing is the recognition, knowing the Prime Minister and Science Minister recognise what we are doing and want to support it," he said.
"Hopefully we can inspire younger scientists to take these risks. You don't always succeed, but we need more people to take these risks."
Prof King co-founded a Brisbane-based company, Infensa Bioscience, which will run the clinical trials* next year investigating the benefits of the venom molecule for heart attack and heart transplant patients.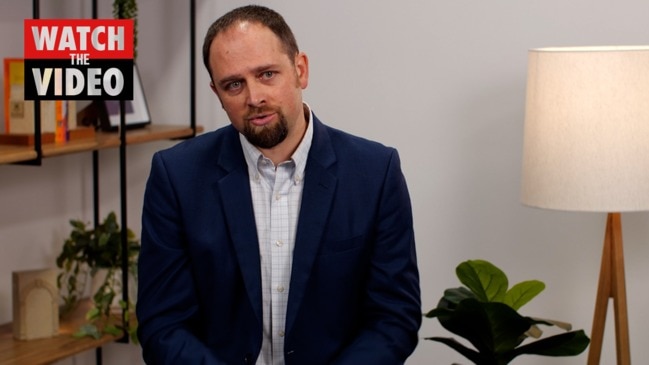 GLOSSARY
venom: a poisonous substance that some animals, like spiders, have to defend themselves or catch their prey
stroke: when the blood flow to the brain stops or is interrupted. Without blood flow, brain cells do not get enough oxygen and can die
researcher: a person who studies and learns about things to find out more about them
breakthrough: a significant discovery or achievement, something new and important
molecules: tiny particles that make up everything, like building blocks of matter
trials: tests or experiments to see if something works or is safe
biologist: a scientist who studies living things, like animals and plants
proteins: a type of substance in our bodies that does many important jobs
insecticides: substances used to kill insects, like bugs or pests
administered: given or applied, like giving medicine to someone
first responder: a person whose job entails being first on the scene of an emergency, such as paramedic or firefighter
lactic acid: a chemical that our muscles produce when they work hard
neurons: special cells in our brains and bodies that help us think and feel
cell death: when cells in our bodies stop working and die
transplant: moving an organ or body part from one person to another to save a life
recipient: the person who receives something, like an organ in a transplant
mercy: being at the mercy of something means you have no control over it, like being helpless
quality of life: how good or comfortable a person's life is
clinical trials: testing new medicines or treatments on people to see if they are safe and effective
EXTRA READING
Putting the bite on hungry kids
New drug to help humans regrow their own teeth
Human embryo grown from stem cells
QUICK QUIZ
What does Professor Glenn King believe venom molecules from deadly funnel-web spiders could do for heart attack and stroke patients?
When are trials to advance this study scheduled to begin?
What is the name of the venom molecule from funnel-web spiders that could be administered by first responders to save neurons in the brain?
What two organs in the human body are really sensitive to a lack of oxygen?
Why does Prof King think the venom molecule could be beneficial during heart transplant procedures?
LISTEN TO THIS STORY
CLASSROOM ACTIVITIES
1. Scientist discovery
Hopefully this Kids News story inspires the younger generation to become the future of science to make some more life-changing discoveries.
If you were to become a scientist, list three areas that you would like to research to make a difference in the world?
–
–
–
What animal or other products can you think of, like this spider venom, that might be able to be used in modern day medicine?
Time: allow 15 minutes to complete this activity
Curriculum Links: English, Science, Personal and Social, Critical and Creative Thinking
2. Extension
What do you think motivates scientists such as Professor King to work their whole life researching things such as proteins causing cancer and spider venom helping stroke and heart attack victims?
Time: allow 10 minutes to complete this activity
Curriculum Links: English, Science, Critical and Creative Thinking
VCOP ACTIVITY
Venom with a purpose
The hardest part of writing can be coming up with a good idea to get you started. You need a seed, that will grow into a bigger idea.
Today your goal is to develop some story/text ideas based on the potential use of funnel-web spider venom for medical purposes as described in the article. Let your creativity flow and think about how science and nature can bring about positive changes in people's lives!
Begin by reading the article about funnel-web spider venom's potential use in medical treatments for heart attacks and strokes. Imagine you are an author, and you want to write a story or informative text about the fascinating discovery of venom's medical potential. Your task is to generate three creative story/text ideas inspired by this article.
Be imaginative! Think about different perspectives and angles that could make engaging stories or informative texts. How can spider venom be used in saving lives and improving the quality of life?
Each idea should be brief but intriguing. It doesn't have to be a full story; just a concept or a direction for a story or text.
Consider how these stories or texts could inspire or educate people about the potential benefits of spider venom.
Extension: Select the idea you find the most exciting and interesting. Write a brief introduction or description of your chosen idea. This should be a short paragraph that introduces the concept or topic of your story or text.
Don't forget to read back over your beginning out loud to check that it makes sense and it is engaging.
Now you are ready to share!
Share your chosen idea and its introduction with a friend or family member. Ask them which one they find most engaging and why.