A world-leading scientist is studying dolphins in Australia to find out if they are happy.
Animal behaviour expert Dr Isabella Clegg is in Coffs Harbour, NSW for the Australian-first study into the welfare* of five dolphins at the Dolphin Marine Conservation Park.
The dolphins' carers and park owners would like to know whether Bucky, Calamity, Zippy, Bella and Jet would be happier in their pool or in a sea-pen sanctuary in the nearby harbour.
Zippy, Bella and Jet have never been in the ocean. Bucky and Calamity were both born in the wild but were later rescued.
All five dolphins are Indo-Pacific bottlenose dolphins and are the only dolphins at the marine park.
Dr Clegg will study the dolphins in their current home in the tourist park's pools and the results can then be compared with future studies if the dolphins are moved to sea pens.
Dr Clegg completed a major research project (called a PhD) in 2017 at the University of Paris in France on dolphin welfare and how to measure animal emotions.
In this study, she will look at the personality of each of the five dolphins and their behaviour with each other and with humans.
If they are moved to sea pens, the dolphins can be studied again to help everyone decide where the dolphins are happiest. If they are found to be happier in the pools, they can come back from the sea pens.
"A lot of projects and places want to (create sea pens) because they assume it will be better for the animal's welfare," Dr Clegg told ABC.
"But it's really important to check by doing such a welfare study before and after they move just to ensure* that they are in a better situation than before."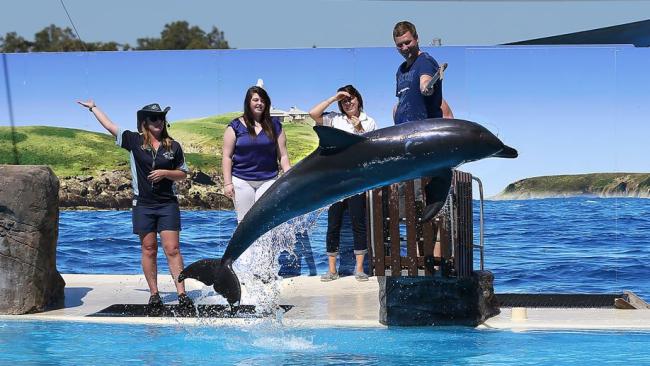 Animal activists — people who work to improve the welfare of animals — have protested in the past about dolphins being kept in captivity* at Dolphin Marine Conservation Park.
Dr Clegg told ABC that so far, she had seen positive signs of the dolphins' welfare at the park and "good social bonds*" between the animals.
The marine park announced in March that it will no longer breed dolphins in captivity, making its current family the last generation in captivity.
The decision means Sea World in Queensland is the last marine park in Australia to continue breeding dolphins in captivity.
DR CLEGG'S FIRST STUDY
The three-year research project Dr Clegg carried out at a marine park in France involved watching dolphins in three different situations: alone in a pool, alone in a pool with toys and playing with a human trainer or carer in the pool.
The dolphins showed their enthusiasm for playing with humans by actions such as being more active, swimming around the pool more, spending time at the side of the pool and "spy hopping", which is peering above the water surface to look in the direction trainers usually come from.
"All dolphins look forward most to interacting with a familiar human," Dr Clegg told BBC.
Neither the French study nor the Australian study can tell us whether dolphins prefer being in the wild over being in captivity, but the French study told researchers dolphins like interacting with people.
VIDEO: Dolphins frolicking in the ocean around a surfer at Secret Harbour, Perth, WA
Video captures dolphins frolicking
THE DOLPHIN FAMILY
BUCKY: male born around 1970, named after Nambucca, NSW, the place from where he was rescued in 1970. He and his mother Sandy became stranded on an oyster bed and became badly sunburnt and dehydrated*. Father to Zippy, Bella and Jet.
CALAMITY: female born around 1981, rescued from the Tweed River, NSW, in 1992 after becoming tangled in discarded fishing line. She was released into the river but was rescued again 18 months later tangled in fishing line and plants and badly injured. Mother to Bella and Jet.
ZIPPY: male born June 26, 1988 at Dolphin Marine Conservation Park. Dad is Bucky and mum is another rescued dolphin named Buttons. The name Zipper is a play on his mother's name.
BELLA: female born July 11, 2005 at Dolphin Marine Conservation Park. Dad is Bucky and mum is Calamity.
JET: male born December 3, 2009 at Dolphin Marine Conservation Park. Dad is Bucky and mum is Calamity.
INDO-PACIFIC BOTTLENOSE DOLPHINS
Also called Indian Ocean bottlenose dolphins or spotted bottlenose dolphins
Scientific name Tursiops aduncus
Grow to 2.6m long and weigh up to 230kg
Live around the entire coast of mainland Australia but not around Tasmania
Also lives close to the coast of India, South China, the east coast of Africa and countries bordering the Red Sea
Not listed as threatened or endangered
GLOSSARY
welfare: health and happiness
ensure: make certain something will happen
captivity: opposite to in the wild
social bonds: relationships with other animals, including humans
dehydrated: dried out, as in not having had enough to drink
EXTRA READING
New laws to protect animals' feelings
Australia's last flamingo dies at zoo
Saddest elephant in the world dies
Big win in fight against extinction
QUICK QUIZ
Where was Bucky born?
What does an animal activist do?
What did the Dolphin Marine Conservation Park announce in March about breeding?
What can the studies tell us about dolphins in the wild?
Who is the oldest and who is the youngest of the dolphin family?
LISTEN TO THIS STORY
CLASSROOM ACTIVITIES
1. Animal welfare
Work with a partner and list a range of possible indicators or tests that scientists could use to check if an animal was 'happy'. It doesn't have to be just aimed at dolphins, it could also include other animals and pets.
Do you think your pets are happy if you have any? How do you tell?
Record your answers in a table with two columns. Label the first column TYPE OF ANIMAL and the second column HAPPINESS INDICATOR OR TEST
Example: Dog/How many times per day tail wags
Time: allow 15 minutes to complete this activity
Curriculum Links: English, Personal and Social, Critical and Creative Thinking
2. Extension
Write the points For and Against dolphins living in a pool at a marine park versus a sea-pen sanctuary in the harbour.
Time: allow 15 minutes to complete this activity
Curriculum Links: English, Ethical, Critical and Creative Thinking
VCOP ACTIVITY
Proper noun hunt
On a print out of the article, go through with your green highlighter in hand looking for all the proper nouns used.
Highlight their capital letter in green to flag them.
(If you are reading off a screen, list them in green down the left side of a blank page.)
When you have finished, write a definition for a proper noun for a younger student.
Explain what they are, and also how we have to write them.
HAVE YOUR SAY: Where do you think dolphins are happiest? Have you seen a dolphin in captivity?
No one-word answers. Use full sentences to explain your thinking. No comments will be published until approved by editors.