Bobi, the world's oldest dog, has died in Portugal at the age of 31
Bobi, the 31-year-old dog who set a Guinness World Record earlier this year for being the oldest living dog, has sadly died in Portugal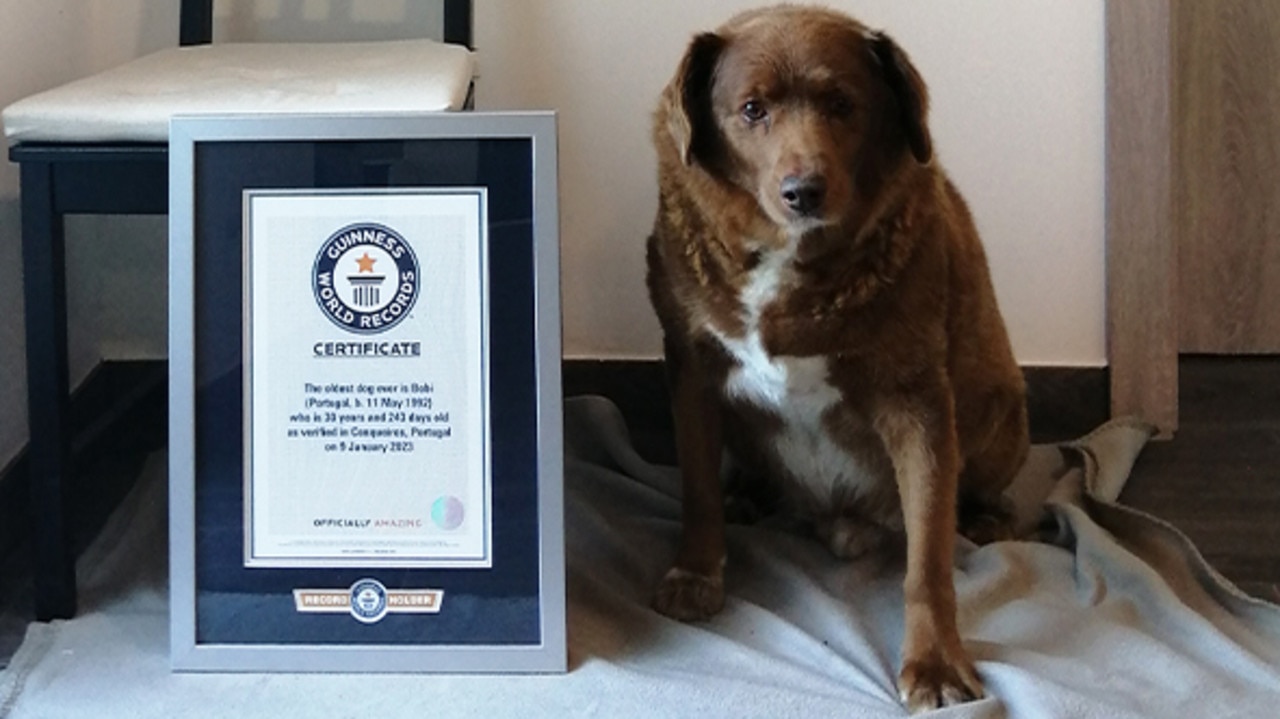 Bobi with his world record certificate. Picture: Guinness World Records
Bobi, who was recognised as the world's oldest living dog earlier this year, has died at the age of 31.
Guinness World Records said Bobi, a purebred Rafeiro do Alentejo, a breed of Portuguese dog, was born on May 11 in 1992, making him the oldest dog in history.
His owner Leonel Costa said the guard dog passed away at the weekend in a veterinary hospital.
His death came just five months after he celebrated his 31st birthday and the world record in May at a party at his home in the Portuguese village of Conqueiros, where he lived his entire life.
More than 100 people attended Bobi's "very traditional" Portuguese party, Mr Costa said.
Local meats and fish were served to 100 guests, with extra for Bobi, who only ate human food. A dance troupe* performed with Bobi participating in one of their routines.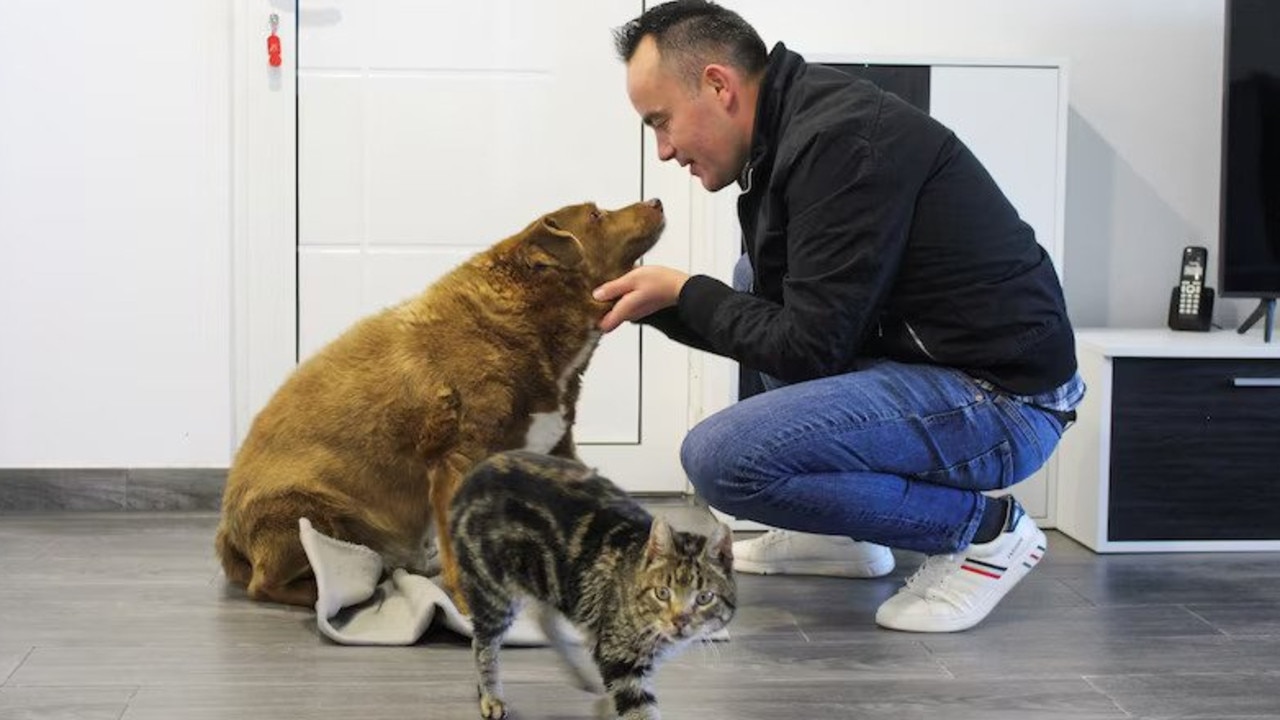 Owner Leonel Costa with Bobi.
Mr Costa has owned several old-age dogs in the past, including Bobi's mother, Gira, who lived to 18, but said he never imagined any of his dogs would reach their 30s.
"We see situations like this as a normal result of the life that they have, but Bobi is one of a kind," Mr Costa said in May.
He said he believes the "calm, peaceful environment" in which Bobi lived had helped his longevity*.
Throughout his life, Bobi freely roamed* the forests surrounding the Costa house. He had never been chained or leashed.
The "very sociable" dog was never lonely because he grew up surrounded by many other animals, Mr Costa said.
Bobi aged seven in 1992. Picture: Guinness World Records
Bobi's birth date has been confirmed by the Veterinary Medical Service of the Municipality of Leiria, which registered Bobi in 1992, and a government-approved pet database.
Mr Costa, now 38, was only 8 years old when Bobi was born.
GLOSSARY
troupe: a group of dancers
longevity: a long life
roamed: move from place to place without a plan
EXTRA READING
Meet Australia's oldest ever man
The ugliest mutt on Earth
Aussies set Guinness World records
QUICK QUIZ
1. What sort of dog breed was Bobi?
2. What sort of food did Bobi eat?
3. Give three reasons why his owner thinks he lived so long.
4. If one dog year is equivalent to 7 human years, how old was Bobi in human years?
5. Is the birth date official? How do you know?
LISTEN TO THIS STORY
CLASSROOM ACTIVITIES
1. News: condensed
Identify the most important pieces of information in this article and write a condensed version of it using 50 words or less.
Draw a picture or diagram to support your condensed news story.
Time: allow 25 minutes to complete this activity
Curriculum Links: English; Science
2. Extension
Compare your condensed news story with a classmate. Did you both include the same information or are your stories quite different? Discuss your choices and then work together to create a final condensed version of the story that you both agree tells the important parts that a reader would need or want to know.
Time: allow 20 minutes to complete this activity
Curriculum Links: English
VCOP ACTIVITY
1. Opener up-level it
Make a list of all the openers in the article. Pick three that repeat and see if you can replace them with another word, or shuffle the order of the sentence to bring a new opener to the front.
Don't forget to re-read the sentence to make sure it still makes sense, and that it actually sounds better.