Australia's last flamingo, Chile, has died at the Adelaide Zoo in South Australia.
Zoos SA, which runs Adelaide Zoo, announced at the weekend that Chile was peacefully put to sleep after she became unwell from health problems caused by old age.
The Chilean Flamingo, aged in her late 60s, was one of the zoo's oldest and most popular residents.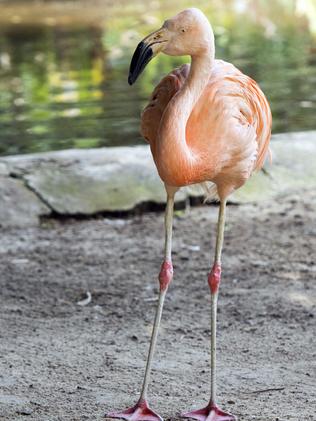 The sad news follows the death of her companion*, Greater, who died in 2014, aged 83.
Zoos SA Chief Executive Elaine Bensted said that in recent months Chile had been struggling to cope with arthritis and other problems associated with her advanced* age.
"Chile was one of the oldest known flamingos in captivity*," Ms Bensted said.
"Last week, Chile's health took a turn for the worse and our veterinary team began a course of medication to try and improve her condition and ensure her comfort.
"In the end, her health continued to deteriorate* and our veterinary team decided there was no additional medical treatment that would have improved Chile's quality of life.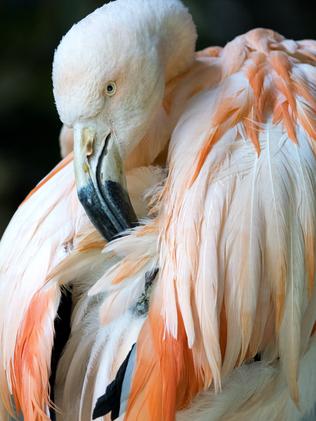 "The decision was made to humanely* put Chile to sleep and although this is an extremely sad loss for us all, it was the right thing to do."
Adelaide Zoo Curator of Conservation and Native Fauna Dr Phil Ainsley said Chile held a special place in the hearts of all South Australians, zoo staff and supporters.
"We were extremely lucky to have called Chile a member of our Adelaide Zoo family for so long. Her long-life is a true testament* to the stellar* care provided by our dedicated zoo staff over the years," Dr Ainsley said.
There is currently a temporary ban on bringing flamingos into Australia and at this time it is not known when Adelaide Zoo could expect to house flamingos once more.
The Chilean Flamingo is found in most parts of South America, living in tropical and warm climates. It's estimated there are about 300,000 individuals remaining in the wild.
While we didn't have a video of Chile, we thought you'd enjoy this one of a nine-day-old flamingo chick born at the Auckland Zoo in New Zealand.
GLOSSARY
companion: someone or something you spend a lot of time with
advanced: well developed
captivity: being confined (or caged)
deteriorate: become worse
humanely: in a way that shows great care and compassion
testament: proof of something
stellar: outstanding
LISTEN TO TODAY'S STORY
QUICK QUIZ

1. Which Australian zoo did Chile the flamingo live in?
2. What sort of flamingo was she?
3. Where are flamingos like Chile usually found in the world?
4. How many flamingos remain in the wild?
5. Will the zoo get more flamingos? Why or why not?
CLASSROOM ACTIVITIES
1. Rest in Peace Chile
Write an obituary for Chile the flamingo that passed away. An obituary is a notice of death, sometimes placed in newspapers, that gives a brief biography of the person or in this case, bird's, life. Use the information contained in the article to write your obituary.
Extension: Write a poem about the life of Chile to include in a memorial service for the much loved flamingo.
Time: Allow 30 minutes
Curriculum links: English
2. Remembering Chile
Work with a partner to brainstorm a list of ideas of how the zoo could make a lasting memorial to Chile so that visitors to the zoo can see and visit the memorial site in years to come and to remember her life at the Adelaide Zoo. If time allows, you might want to write or email your ideas to the Zoo.
Extension: Why do you think there might be a ban on the importation of flamingos to Australia?
Time: Allow 25 minutes
Curriculum links: Critical & Creative Thinking, Personal & Social, English
VCOP ACTIVITY
With a partner see if you can you identify all the doing words/verbs in this text? Highlight them in yellow and then make a list of them all down your page. Now see if you and your partner can come up with a synonym for the chosen verb- make sure it still makes the context it was taken from.
Try and see if you can replace some of the original verbs with your synonyms and discuss if any are better and why.
Curriculum Links: English, Big Write and VCOP
IN ONE SENTENCE, TELL US WHAT YOU THINK ABOUT THIS STORY
Please do not use one-word answers. Explain what you enjoyed or found interesting about the article. Use lots of adjectives.