Adelaide Zoo's giant pandas Wang Wang and Fu Ni have failed to have a baby panda and will be sent back to China unless the Australian Government steps in.
The pandas came to Australia in 2009 on a 10-year loan from Woolong Nature Reserve in Sichuan, China, as part of an international breeding program.
Borrowing pandas is a big deal. The loan agreement was signed 10 years ago by the then-Australian Prime Minister John Howard and the then-Chinese President Hu Jintao.
The loan ends later this year.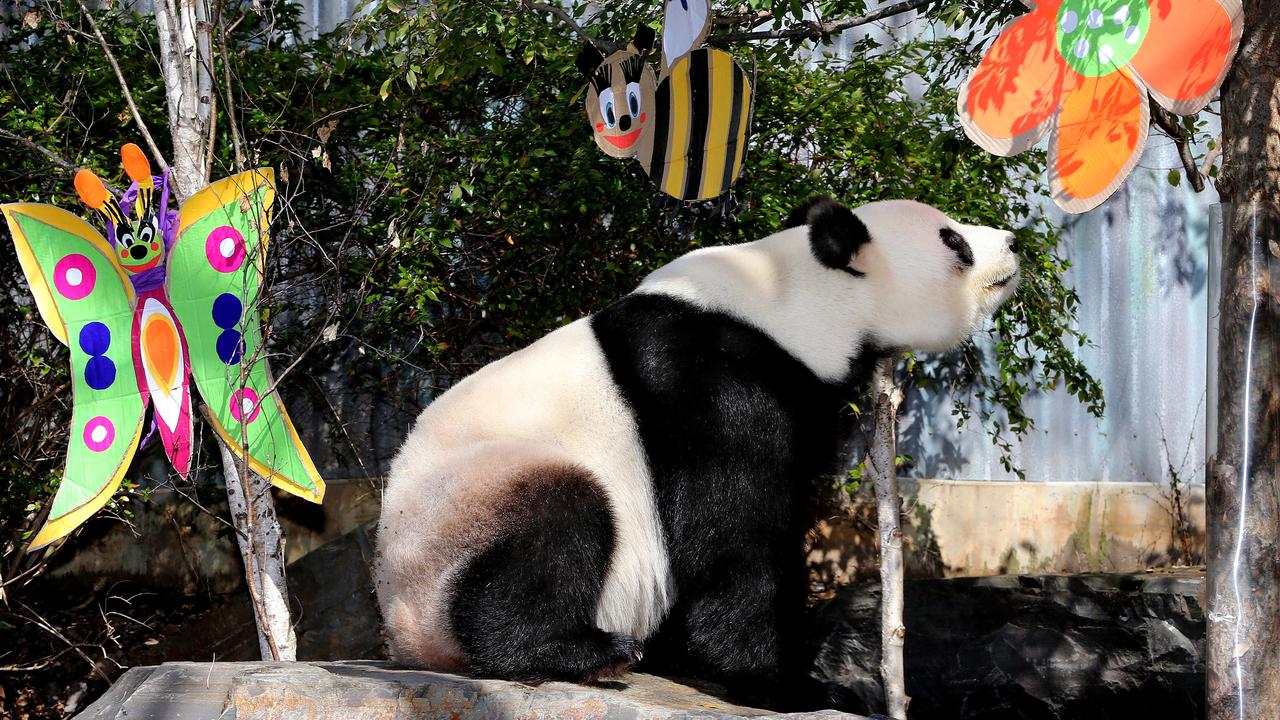 Zookeepers and vets have been watching the pandas closely and testing Fu Ni's hormones* and now know that, like every other year, she is not pregnant and will not have a baby panda this year.
It is very difficult, even for vets, to tell when a panda is pregnant because they can experience what is called a pseudo* pregnancy. This is not a pregnancy, but the panda's behaviour and hormone levels are the same as if she really was pregnant.
VIDEO: Giant panda Fu Ni and one of her keepers at Adelaide Zoo
Zoos SA Senior Veterinarian Ian Smith said the team had been treating Fu Ni as though she was pregnant since September, just in case she was.
"Apart from a birth, the only definitive* way to confirm pregnancy in pandas is through a comprehensive* ultrasound* examination* where a foetus* can be seen in the last few weeks of a pregnancy.
"Their complicated reproductive* biology* presents a number of challenges for panda breeding around the world."
Zoos SA Chief Executive Elaine Bensted said Zoos SA's focus now was extending the loan when it ends in November 2019.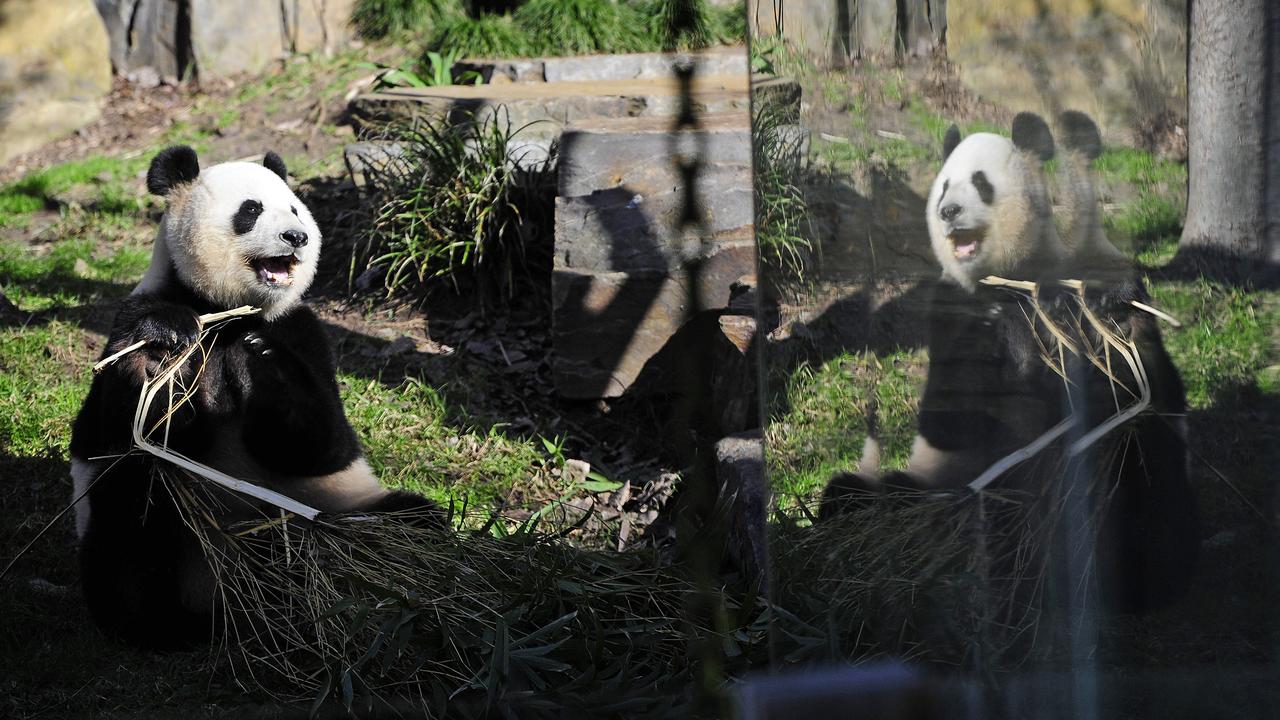 "We'd be thrilled to see Australia's involvement in giant panda conservation extended and for Adelaide Zoo to continue to be home to the Australasia's only giant pandas," she said.
"Ultimately*, the decision rests with the Australian Government as they provide the funding that goes to giant panda conservation in China. We're talking with the government and we hope to have an answer in the near future."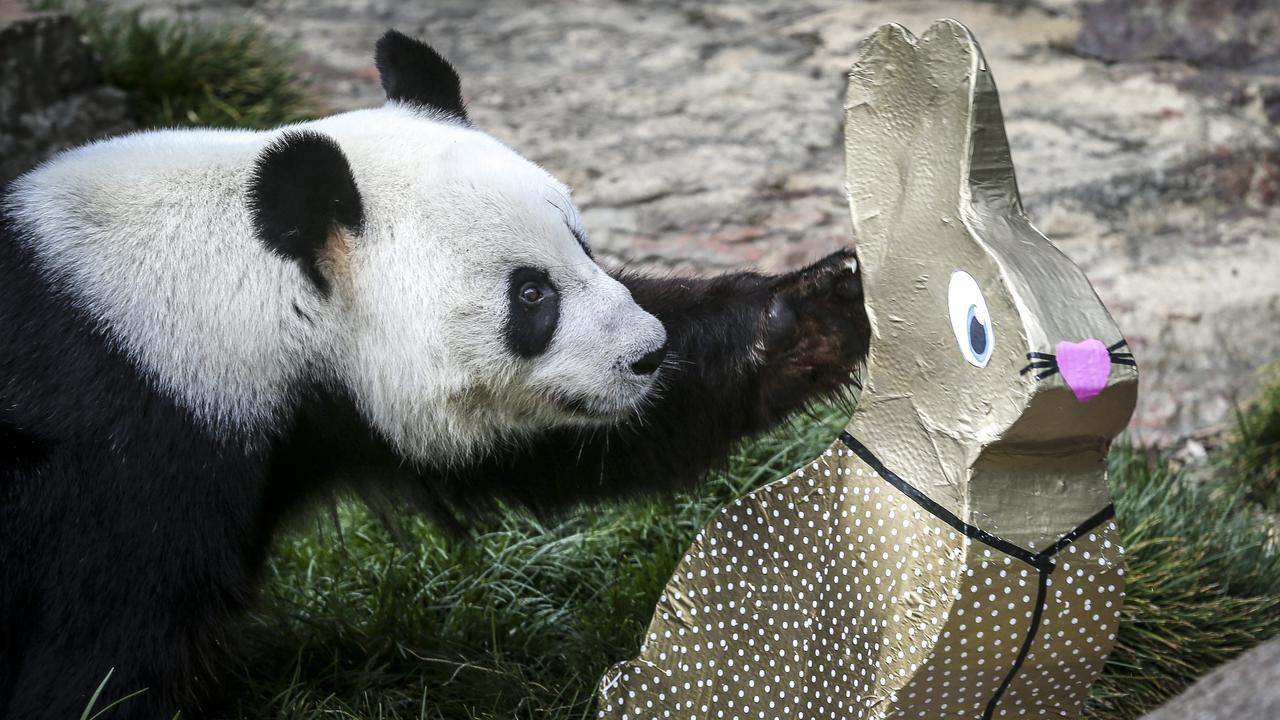 Wang Wang and Fu Ni are the only giant pandas in Australia and the southern hemisphere's only breeding pair.
The species is classified as vulnerable* to extinction, which means that zoo breeding programs are very important. Both Wang Wang and Fu Ni were born at Woolong as part of a breeding program.
GLOSSARY
hormones: natural chemical messengers the body makes to tell it what to do, such as grow, sleep or allow it to become pregnant
pseudo: pretend
definitive: final, ultimate
comprehensive: covers everything
ultrasound: image taken inside the body; used to see if the animal is pregnant
examination: look over
foetus: unborn animal
reproductive: relating to having babies
biology: science of living things
ultimately: finally
vulnerable: at risk of
EXTRA READING
Great, great grandfather giraffe Mukulu has died
Kids campaign to save orang-utan habitat
QUICK QUIZ
When did the pandas arrive in Australia?
What is a pseudo pregnancy and why is this confusing for zookeepers?
When is the loan due to end?
Who has the final say about whether they stay or go?
Are giant pandas in danger of extinction?
LISTEN TO THIS STORY
CLASSROOM ACTIVITIES
1. Convince the government
Write a letter to the Australian Government explaining why you believe they should or should not provide the funding needed to extend Wang Wang and Fu Ni's stay in Australia. Your letter should follow a persuasive text format by providing an opening statement of your opinion, reasoned arguments (at least 3) and a closing call to action.
Time: allow 30 minutes to complete this activity
Curriculum Links: English
2. Extension
Find out what the "vulnerable to extinction" classification means and the reasons why giant pandas have reached this point.
Time: allow 15 minutes to complete this activity
Curriculum Links: English
VCOP ACTIVITY
After reading the article, with a partner, highlight as many pieces of punctuation as you can find in green. Discuss how these are being used, where and how often. What level of the punctuation pyramid is the journalist using in this article?
HAVE YOUR SAY: Should Wang Wang and Fu Ni stay in Australia?
No one-word answers. Use full sentences to explain your thinking.