Australian researchers have finally captured an elusive and rare giant rat on camera
It's bigger than most cats, can crack open coconuts with its teeth and has been a champion at hiding from humans. Now Australian researchers have captured this giant rodent on film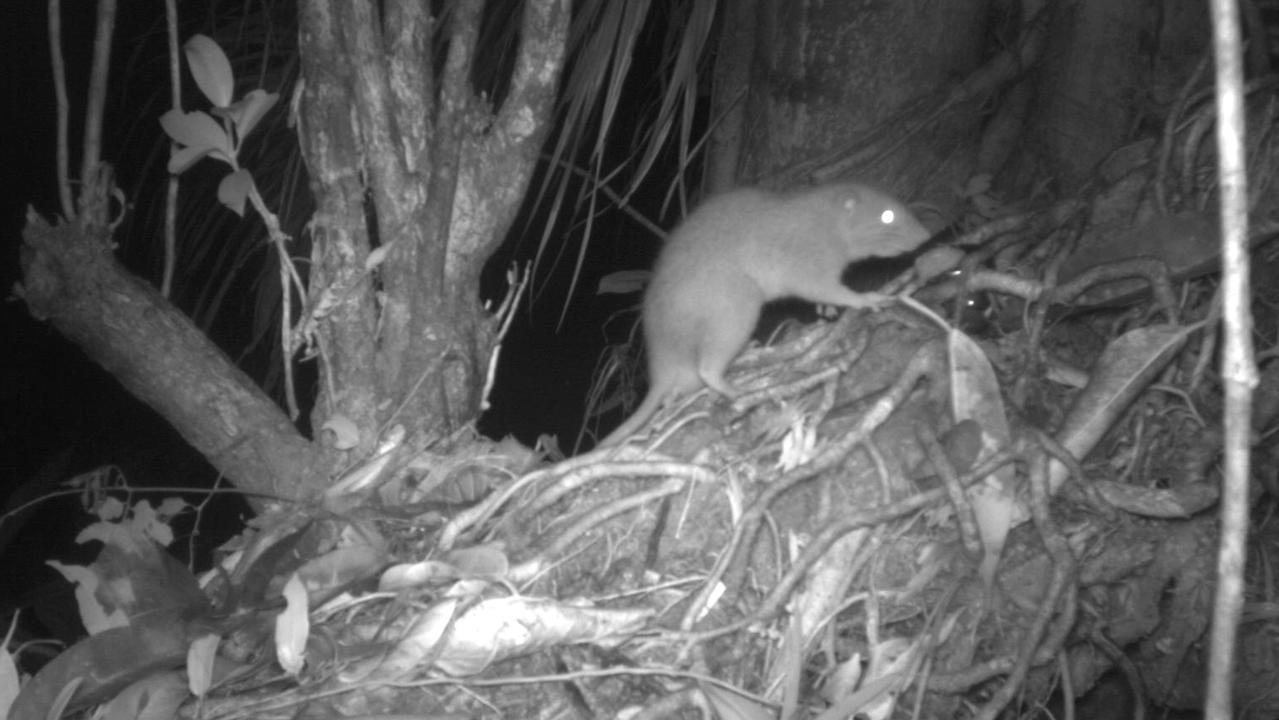 The Uromys vika giant rat which lives on the Solomon Islands. It's the first time one of the world's rarest rodents has been captured on camera, thanks to researchers from the University of Melbourne. Picture: supplied
A rare giant, coconut-cracking rat has been captured on camera for the first time by Australian researchers.
The elusive* rat, which can be up to four times the size of city rodents*, was first identified as a species* in 2017 after a single, dead specimen* was found two years before in 2015.
The 45cm rodent is only found on one small island, Vangunu, in the Solomon Islands.
University of Melbourne mammalogist* Tyrone Lavery said the night-time camera images showed four rats.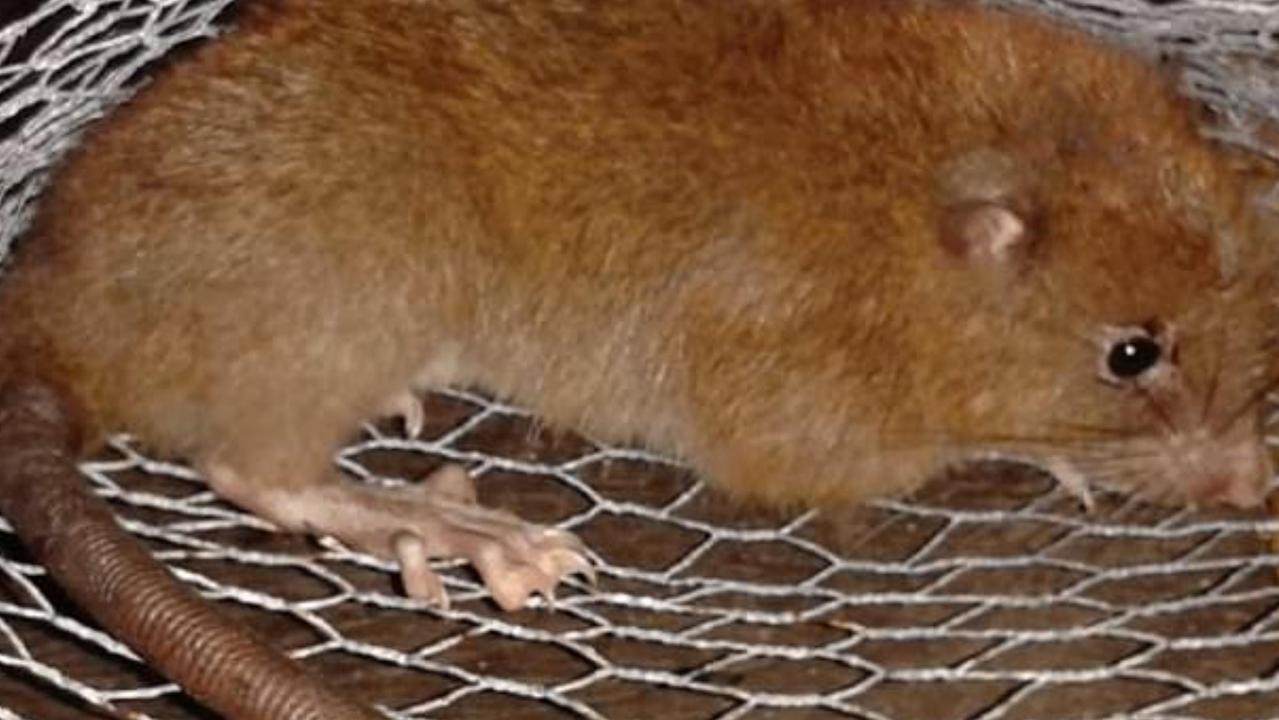 Uromys vika giant rats can crack coconuts with their strong teeth.
The story of the rat, named Uromys vika, was told through the local Vangunu people who helped researchers locate and photograph the animal.
"To work that hard and work with people with traditional knowledge, it was a massive reward and to name a species is pretty special," Dr Lavery said.
The rare rodent is at least twice the size of a common rat, lives in the trees and can chew through coconuts and nuts with its sharp teeth, he said.
Dr Lavery said he estimated that fewer than 100 of the rats survived and it is now listed as critically endangered* because of logging in its forest habitat*.
"This comes at a critical juncture* for the future of Vangunu's last forests – which the community of Zaira* have been fighting to protect from logging* for 16 years," he said.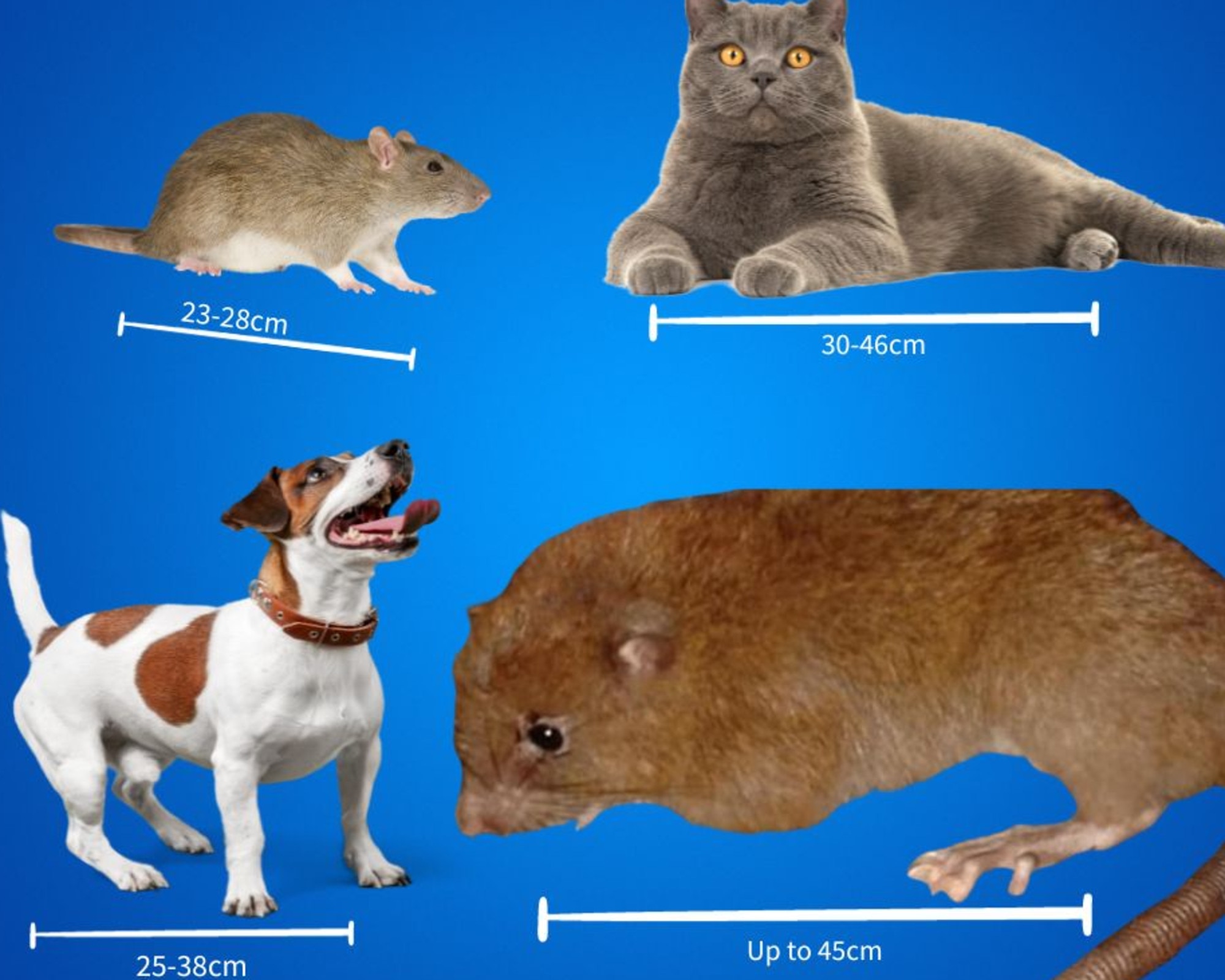 How the giant rat compares to other garden variety animals.
The images and report have been published in the Ecology and Evolution journal.
Fellow author Kevin Sese, from the Solomon Islands National University, said the fieldwork was guided by the Vangunu people's knowledge of Uromys vika, and that the night-time field cameras captured a total of 95 images.
Mr Sese said the local community had long insisted the species lived in their forests but they had never been scientifically documented, until now.
Dr Lavery said the research team used oil lamps scented with sesame oil to attract the rats.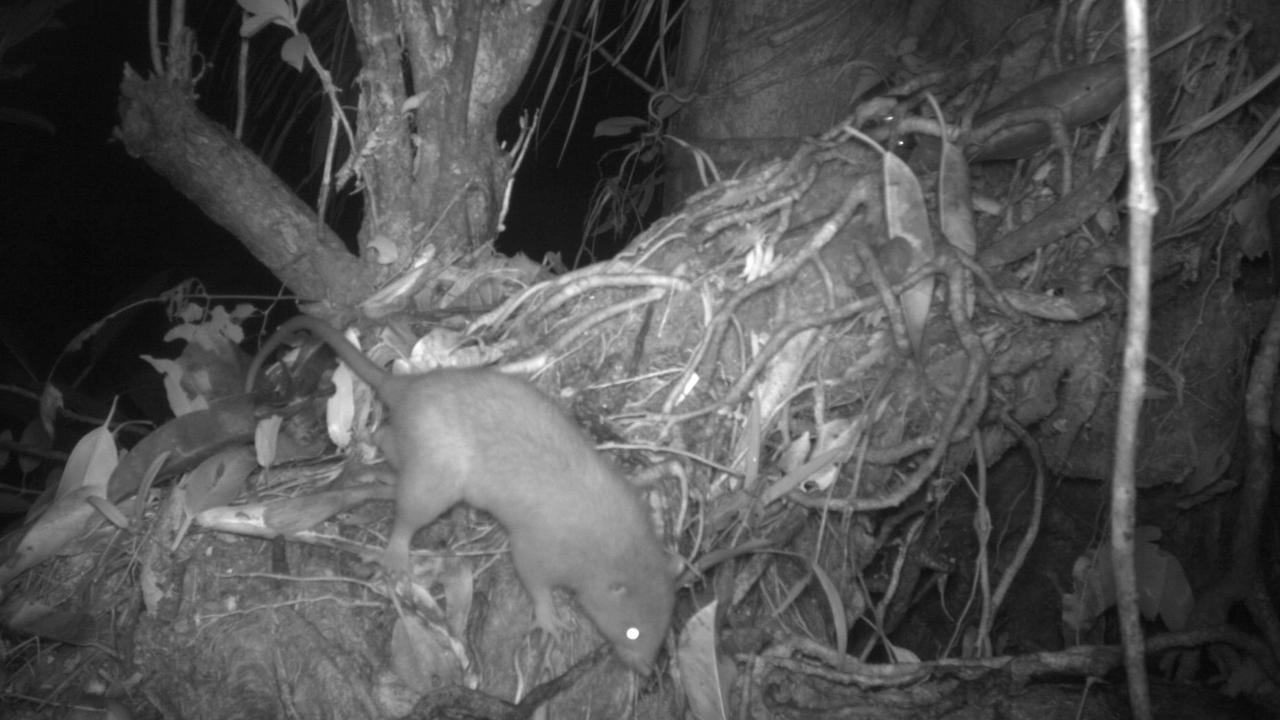 The Uromys vika giant rat scurries in the forest at night. Picture: supplied
POLL
GLOSSARY
elusive: difficult to find or catch
rodents: another name for rats
species: a group of living organisms consisting of similar individuals capable of exchanging genes or interbreeding
specimen: an example of something
mammalogist: a person skilled in the study of mammals
critically endangered: considered to be facing an extremely high risk of extinction in the wild
habitat: natural home of animals, plants and organisms
juncture: a particular point in time
Zaira: an area of pristine coast and forests on Vangunu
logging: the act of cutting down trees and preparing the timber
EXTRA READING
Farmers in ding-dong battle to save noisy cowbells
Tassie Tiger comeback on track
Meet Earl, the hardest-working dog in Australia
QUICK QUIZ
1. When was the rat first discovered and first identified?
2. Where is the only geographic location where it is found?
3. Name three characteristics of the rat?
4. How did the researchers attract the rats to capture the images?
5. What is the rat's natural habitat?
LISTEN TO THIS STORY
CLASSROOM ACTIVITIES
1. Habitat protection
How can the community of Zaira protect their forest and limit logging ruining the habitat of the Uromys vika rat?
Work with a partner and list three ideas to stop the destruction of the forest.
1.
2.
3.
Time: allow 15 minutes to complete this activity
Curriculum Links: English, Science, Personal and Social, Critical and Creative Thinking
2. Extension
If you were to find an unknown animal species in your area, what name would you give it to represent the animal, area and person (you!) who discovered it.
Time: allow 10 minutes to complete this activity
Curriculum Links: English, Science, Personal and Social, Critical and Creative Thinking
VCOP ACTIVITY
1. BAB it!
Show you have read and understood the article by writing three sentences using the connectives "because'', "and", and "but" (BAB). Your sentences can share different facts or opinions, or the same ones but written about in different ways.