An elephant described as the "saddest in the world" has died after more than four decades living on her own in a Spanish zoo.
The female Asian elephant arrived at the Cordoba Zoo when she was three years old, in 1976.
Flavia was separated from her herd and taken to the zoo and spent the next 43 years in solitary* confinement*.
It is not known why she was kept on her own.
Reports claimed the elephant had been suffering from deep depression for the past few years and was unable to stand at the time of her death.
She was humanely* put to sleep by veterinarians on March 1.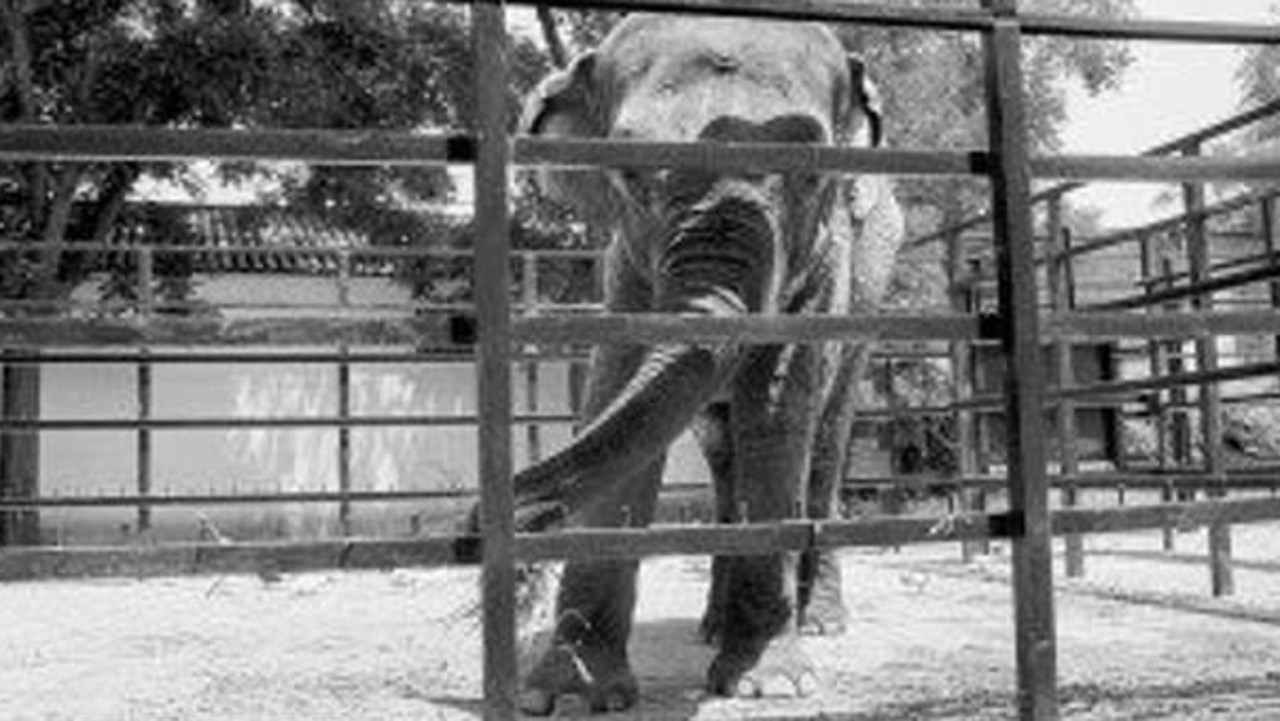 Flavia was the face of several animal rights* campaigns to stop elephants being kept in captivity*.
Animalist Party Against Mistreatment of Animals said they had been working to save Flavia from captivity until her very last moments.
Experts from Belgium and France, who saw Flavia in January, said she had lived all of her life in confinement and solitude* and was a symbol of the sad life of animals in zoos.
VIDEO: Tiny Asian elephant calf born at Dubbo Zoo in Australia
However, Amparo Pernichi, environmental spokeswoman for Cordoba Zoo, said it was "sad news" for the zoo — particularly those who cared for her.
"In the last six months, the physical state of Flavia got worst, but especially in the last two weeks," she said.
Keepers at the zoo posted a video in tribute to her, saying: "On March 1, 2019, Córdoba woke up with the sad news of the death of our beloved elephant Flavia.
"We want to pay tribute (to her) for accompanying us for more than 40 years, teaching us to take care of her species*, their habitat* and the environment at the hands of their closest family."
This story originally appeared on The Sun and is republished with permission.
GLOSSARY
solitary: alone
confinement: being held or imprisoned
humanely: in a caring way
animal rights: the rights of animals to live free from human abuse
captivity: being held or imprisoned
solitude: state of being alone
species: same type of animal
habitat: natural home
EXTRA READING
Scientists discover why zebras have stripes
Kids campaign to save orang-utan habitat

QUICK QUIZ
In which country was the zoo Flavia lived in?
How old was Flavia when she was taken from her herd?
What type of campaigns was she the face of?
What is solitary confinement?
What mental illness was she suffering?

LISTEN TO THIS STORY
CLASSROOM ACTIVITIES
1. Draw your own word cloud
Write down as many words as you can that are relevant to Flavia's story. Write the most important words or feelings in large letters and ones you believe are less relevant in smaller letters. See this example.
Time: allow 15 minutes for this activity
Curriculum links: English, Humanities
2. Extension
Create a debate. Create teams of three with one side in favour of keeping animals in zoos and the other side against keeping animals in zoos. Form your arguments and then present 3 minute presentations on why you are either for or against. Get your classmates to determine which side was most convincing.
Time: allow 60 minutes for this activity
Curriculum links: English, Ethical Understanding
VCOP ACTIVITY
After reading the article, with a partner, highlight as many pieces of punctuation as you can find in green. Discuss how these are being used, where and how often. What level of the punctuation pyramid is the journalist using in this article?
HAVE YOUR SAY: Do you think animals should be kept in zoos? Why or why not?
No one-word answers. Use full sentences to explain your thinking. No comments will be shown until approved by editors